QAnon March 12 2019 – Whistleblower
QAnon March 12 2019 – Whistleblower. By Interstellar. Source 8Chan. Updated 23:23 UTC
Clicks on the Ads Keep Us Alive 🙂
Q !!mG7VJxZNCI ID: 4e2d8f No.5631220 Mar 12 2019 00:17:15 (UTC)
Papadopoulos met the Senate Intel Committee today to testify re: Gaeta? Sep '18 piece re: connections to Misfud/Downer and Gaeta's role in Steele dossier being used for Carter Page FISA warrant (which allowed to hop spying on Trump campaign).
#QAnon drop No. 3031…
1. Link to @GeorgePapa19 Tweet with image from @jeremyherb ==> Coffee in hand.
2. Link 2 EpochTimes ==> Interview With FBI's Gaeta, Central to Russiagate, Among 53 Transcripts Slated for Release.
HouseIntelComm voted on Sept. 28 to release the transcripts of 53 interviews conducted during their investigation of Russian Interference during the 2016 Election. Transcripts include DNI Clapper, AG Lynch, Deputy AG SallyYates and National Security Advisor Susan Rice.
And another FBI Deep State player is revealed. His deposition testimony about to be dumped for public to consume. Gaeta was Christopher Steele's connection to the FBI. Gaeta was assistant legal attaché for FBI in Rome. Now we finally see the direct link between FBI Ana Steele. Gaeta allowed the Steele Dossier to become the cornerstone of the FBI basis to obtain FISA warrant on Carter Page which led to umbrella surveillance of Trump campaign. It was reported by Fake News before that Gaeta talked to Steele via phone only one time shortly before 7/16.
This was a lie as Gaeta met in person with Steele in early June. He obtained his "Intel" from Russians who were highly unreliable and this was the basis the FBI used for FISA warrants. FBI claimed they obtained intel from Australian Downer who heard it from @GeorgePapa19 When Papa told Downer Russians may have Hillary's emails. Shortly thereafter Wikileaks dropped HRC and Podesta emails and FBI basically assumed this must have been what Papa has knowledge of. Papa now testifying to Senate intel committee. 53 transcripts to be released.
Q !!mG7VJxZNCI ID: 4e2d8f No.5631245 Mar 12 2019 00:18:09 (UTC)
#QAnon drop No. 3032…
And… Q notes how the relevant intel is Michael Gaeta, with the FBI in Rome. AT the time he was running Mifsud, Christipher Steele and Ohr in Rome. Steele's "American contact in Rome" was the head of FBI's Eurasian serious crime division ==> Gaeta.
Q !!mG7VJxZNCI ID: a71319 No.5631851 Mar 12 2019 00:49:45 (UTC)
Some very suspicious things have taken place today concerning my family. I can't get into detail, but it left us all more than a little disturbed. Please pray for us and for our protection. For the public record, "I am not suicidal, am in good health, and avoid risky behavior."

— ❌Nate Cain❌ ⭐⭐⭐🙏👪🇺🇸 (@cain_nate) 12 marzo 2019
Stay in the LIGHT.
Remain in open comms w/ Sen Graham & Grassley re: Whistleblower Protection Act.
They will take your phone calls.
Q
@cain_nate > Clinton Foundation whistleblower > home raided by FBI last Nov. Grassley requested explanation from Wray for raid. Nate was scheduled to be Hannity guest on 3 Dec but GHWB funeral led to cancellation. Raid was needed to protect him & info. Praying for his safety.
#QAnon drop No. 3033…
Link to @cain_nate Tweet. Nate Cain is the Whistleblower that once worked with the Clinton Foundation. Q notes to stay in touch with Graham and Grassley. The Whistleblower Protection Act has over 20 statutes to protect from retaliations.
Q told @cain_nate to stay in the light and stay close to @LindseyGrahamSC and @ChuckGrassley as a whistleblower. He is one of th me main witnesses and whistleblowers as to Uranium 1. He is concerned for his family as he should be. Q posted re Nate a few months ago.
FBI made a raid on his house a few months ago to secure the evidence he has against Clinton Foundation and Uranium 1.
Q !!mG7VJxZNCI ID: f7f7c4 No.5639743 Mar 12 2019 15:25:42 (UTC)
This entire convo is very telling…

SH: "We learned today that those investigations have been ongoing, and they're happening, and they're real…"
SC: "That's right."
SH: "And there's other things that are about to happen that I know you know."

Optics. https://t.co/iaaLp8Q11P pic.twitter.com/vyOvHkKTII

— M3thods (@M2Madness) March 12, 2019
Do you believe the timing is a coincidence?
Stay tuned!
Q
#QAnon drop No. 3034…
Link 2 @M2Madness Tweet ==> Q drops is the timing a coincidence? Stay tuned for March Madness!
Timing falling into place perfectly. Hannity confirming with Carter they both know what's about to drop. Referring likely to sealed indictments becoming unsealed.
Q !!mG7VJxZNCI ID: f7f7c4 No.5639954 Mar 12 2019 15:37:01 (UTC)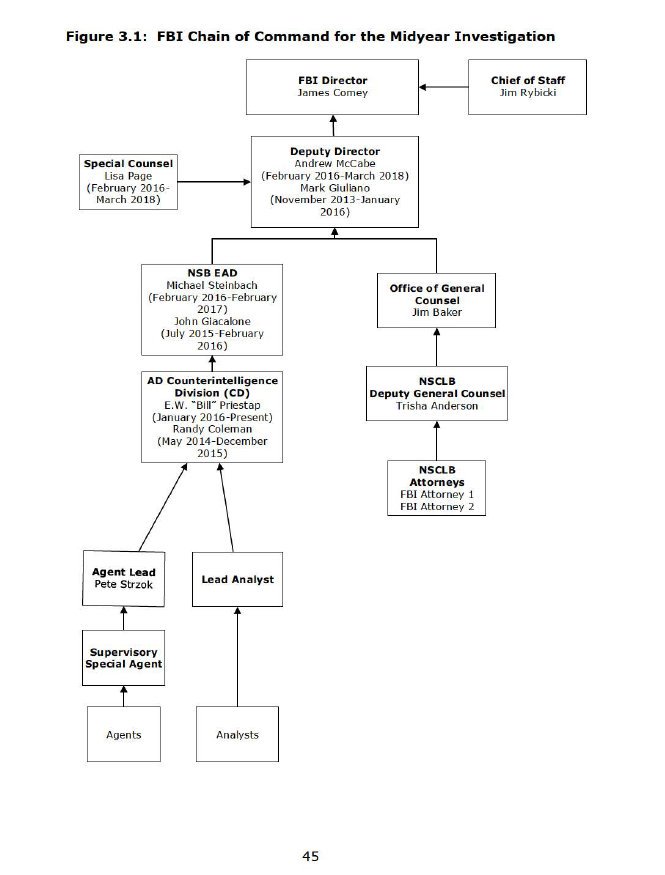 #QAnon drop No. 3035…
Image ==> Hierarchy of Conspirators!
Link: ==> OIG Report from June 2018.
They're all Leftist and Clintonistas. And Lisa Barsoomian is RR's wife and has represented both HRC and BC.
SCRIBD doc ==> RR's Conflict of Interest.
Mueller took the original U1 sample to Russia for HRC.
Congressional Record ==> The above is a damning exposure of RR and Mueller as relates to the U1 conspiracy to hand over Nuclear materials to Russia. HRC ran Pay For Play.
Clinton pay for play spider web is on display. The entire FBI chain of command was corrupted by the Clintons. Not only the FBI Chain of Command, but also DOJ second in command, Rod Rosenstein was corrupted by the Clinton pay for play spider web. RR's wife was Bill's atty.
Q attaches the FBI Chain Of Command flow chart. All of the names at the top have been fired due to being corrupted by the Clintons in some form or another. Many of them committed treason. We know Strzok and Page discussed assassination of @Potus. McCabe and Comey likely discussed the same.
QAnon also attaches the OIG's review of the DOJ and FBI actions in advance of the 2016 election. Those pages, which have been redacted, will be published once @Potus orders disclosure. I believe this is still the redacted version.
Q also cites to this 4/27/18 congressional records of discussion re: RR and Mueller involvement in Uranium 1, and congressman saying Mueller should have been disqualified from ever being special counsel due to his Uranium 1 conflict. Both RR and Mueller were involved in illegal attempts by Russia to gain control of US uranium, and RR and Mueller knew the DOJ had a secret informant involved providing info to Mueller and RR about the illegalities of Clintons securing uranium deal with Russia for cash. Mueller and RR put the cabash on the investigation.
Point is Mueller was actively covering for Clintons and threatened to prosecute Campbell (U1 whistleblower) if he talked about the crimes being committed. Point being, @Potus has had a "trump" card on Mueller and RR this whole time. RR and Mueller are beholden to @Potus.
Q !!mG7VJxZNCI ID: 7c4fdb No.5640195 Mar 12 2019 15:50:23 (UTC)
Wondering if DC indictments have nothing to do w/POTUS family mbrs but ARE for U1-linked parties. Likelihood of POTUS appointing rogue AG who would indict his family mbrs are as high as unicorns being real. Barr has power to approve/rescind indictments.
#QAnon drop No. 3036…
Link to GatewayPundit ==> on what is an exposure of yet another "Unkown Source" story that is circulating. Logic dictates that POTUS wouldn't tell AG Barr it was okay to indict three of his children.
Another research effort is dropped re: DC Sealed Indictments, which had numbered in the few dozen and have dropped off post Sessions removal. AG Barr has the power to accept the filing of indictments. Once filed a sealed indictment needs a judge for its removal. Clearly POTUS didn't install a rogue #AG in Barr, and again this story, while a good DS fictional read, is yet again another Deep State Media attempt at the disbursal of Propaganda & Lies.
Barr's Senate confirm was 54-45 (mirrors).
Do Unicorns exist? Apparently in the minds of those that are experiencing Panic.
Appears this Gatewaypundit article is Fake News when it says AG Barr met with Mueller and gave him authority to indict @Potus three children and Jared Kushner. Why would @potus have appointed Barr if he knew Barr would allow for indictments on false pretense? Makes no sense.
Q humor… no, unicorns do not exist… meaning this article is a fairy tale. The opposite occurred. Mueller's indictment count decreased after AG Barr took over. Barr did not let Mueller move forward with indictments of @Potus kids. So, was Mueller aware of of these indictments filed by other lawyers on his team, and was this a set up by @potus allowing Mueller's team of former Clinton buddies hang themselves?
It seems like @Potus has had control of Mueller all along but it is confusing. Mueller may have gone rogue.
Q !!mG7VJxZNCI ID: e6b070 No.5641102 Mar 12 2019 16:41:35 (UTC)
Q !!mG7VJxZNCI ID: 4fe510 No.5643022 Mar 12 2019 18:55:14 (UTC)
>Decide for yourself (be free from outside opinion).
>Decide for yourself (be objective in your conclusions).
>Decide for yourself (be true in your own beliefs).
>Decide for yourself (be open to following the facts).
>Decide for yourself (be strong in defending your beliefs).
>Decide for yourself (be resistant to blindly accepting fact-less statements).
>Decide for yourself (be free)
Those who attack you.
Those who mock you.
Those who cull you.
Those who control you.
Those who label you.
Do they represent you?
Or, do they represent themselves (in some form)?
Mental Enslavement.
The Great Awakening ('Freedom of Thought'), was designed and created not only as a backchannel to the public (away from the longstanding 'mind' control of the corrupt & heavily biased media) to endure future events through transparency and regeneration of individual thought (breaking the chains of 'group-think'), but, more importantly, aid in the construction of a vehicle (a 'ship') that provides the scattered ('free thinkers') with a 'starter' new social-networking platform which allows for freedom of thought, expression, and patriotism or national pride (the feeling of love, devotion and sense of attachment to a homeland and alliance with other citizens who share the same sentiment).
When 'non-dogmatic' information becomes FREE & TRANSPARENT it becomes a threat to those who attempt to control the narrative and/or the stable.
When you are awake, you stand on the outside of the stable ('group-think' collective), and have 'free thought'.
"Free thought" is a philosophical viewpoint which holds that positions regarding truth should be formed on the basis of logic, reason, and empiricism, rather than authority, tradition, revelation, or dogma.
When you are awake, you are able to clearly see.
The choice is yours, and yours alone.
Trust and put faith in yourself.
You are not alone and you are not in the minority.
Difficult truths will soon see the light of day.
WWG1WGA!!!
Q
Q !!mG7VJxZNCI ID: 507382 No.5645404 Mar 12 2019 21:33:26 (UTC)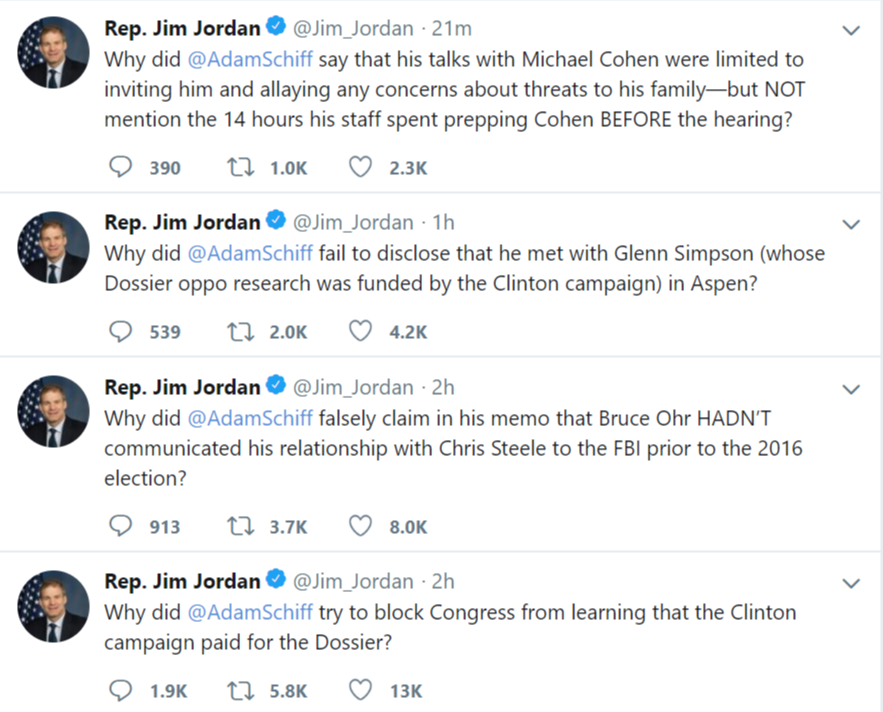 "Change You Can Believe In"
"Forward"
"Greater Together"
"Betting on America"
"We Don't Quit"
"Winning the Future"
"We Can't Wait"
"An America/Economy Built to Last"
Q
@Jim_Jordan asks why @AdamSchiff met with all those witnesses & key players in Spygate coup vs POTUS. Q posts Hussein's multiple ridiculous campaign slogans making it clear Hussein is the one who ordered this Russia hoax.
#QAnon drop No. 3039…
@Jim_Jordan Tweets on Deep State Criminal Obstructionist @RepAdamSchiff's actions.
The text is a series of Hussein quotes and you know what the reality behind them was…
Q having a little fun with Hussein, Michael… I mean Michelle, and HRC campaign slogans. @potus keeps his promises. We will see these traitors behind bars.
Q !!mG7VJxZNCI ID: 5293d4 No.5645633 Mar 12 2019 21:48:00 (UTC)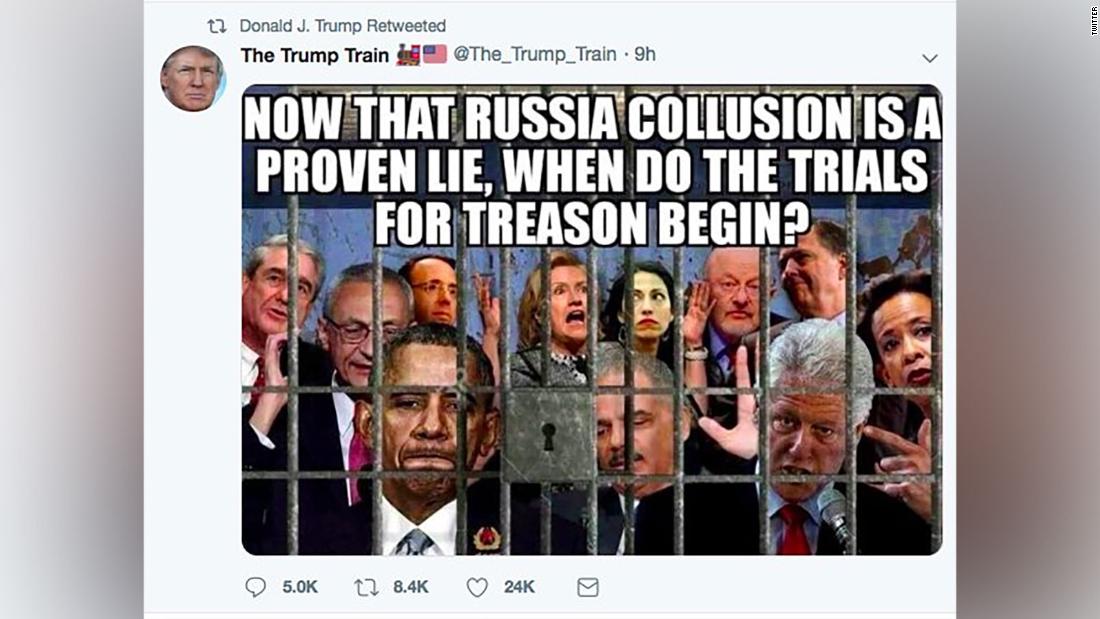 Promises made?
Promises (soon-to-be) kept?
Has POTUS made a statement/assertion that didn't end up being proven correct?
Change We Can Believe In.
When They Go Low, We Go High.
Let Freedom Ring!
Q
5th time Q asked if POTUS has ever made a statement that didn't end up being proven correct. No, he hasn't!
This graphic reminds me of Q posting:
"A picture is worth many sentences."
Hussein & HRC campaign slogans. Indictments coming soon?
#QAnon drop No. 3040…
Image of @realDonaldTrump Tweet withe the image of the conspirators. This is an old version lacking the Q requested additional of Brennan. That cell is getting over crowded. Text is more Hussein quotes, all of which the World now knows, were lies!
The tweet was an Retweet from @realDonaldTrump and was originally tweeted by @The_Trump_Train on 28th Nov 2018. Faces are still being added to this meme. RR and Mueller behind the bars 😉
Where's Brennan in photo? Is Q telling us he's already been executed ? #Q told us to update this meme with Brennan photo when it was first posted. Why would Q post the old meme without Brennan?
So what's the significance of having only 11 criminals in this meme? Number 12 is missing. Brennan. Q told us to add him into the meme later making 12. Brennan is missing from this. Is Q telling us Brennan is the first to be indicted?
Q !!mG7VJxZNCI ID: 5293d4 No.5645954 Mar 12 2019 22:01:57 (UTC)
Promises made?
Promises (soon-to-be) kept?
Has POTUS made a statement/assertion that didn't end up being proven correct?
Change We Can Believe In.
When They Go Low, We Go High.
Let Freedom Ring!
Q
This result – unity and change – is why so many freedom-loving PATRIOTS around the world have held fast in the face of all the ridicule/mocking, libel, doxxing, attacks by MSM, Swamp RATS, celebs, shills, etc. Seeing JUSTICE served and the return of POWER to WE, the People!
#QAnon No. 3041…
We stand at the ready!
Return Power To The People and unseal those indictments! #DoItQ+
UnSealing of first indictments will bring unity and change. Whatever is in those indictments will open many eyes to the truth of who the Dems really are. Ready for some action Q.
Q !!mG7VJxZNCI ID: 223a30 No.5646668 Mar 12 2019 17:32:47 (UTC)
This video rings more true every time I watch it. It's why for the better part of the past 1.5 yrs I've had it pinned on my timeline. Q+ (highest ranking anon) posted 12 links on 12 March & look who shows up 12 seconds in! Bye, Barry!
#QAnon No. 3042…
Link to Youtube video AND great speech by @realonaldTrump [ ! ] This Video Will Get Donald Trump Elected.
The best part of this drop is it's a Q+ drop!!!
Q+ aka @potus just posted several links to multiple YouTube vids of his speech that got him elected. Same video and link. Posted it 12 times for a reason. 12 days from now is March 24
Did Kevin set his alarm? — Transparency and Prosecution is the only way forward to save our Republic and safeguard such criminal and treasonous acts from occurring again.
UPDATED 20 UTC — QAnon 12 September – Fires – Arson. Stay safe! Be vigilant. Not organized? Painfully obvious? See something. Say something. Q
UPDATED 21:00 UTC —- "Tyranny, like hell, is not easily conquered; yet we have this consolation with us, that the harder the conflict, the more glorious the triumph." ― Thomas Paine, The American Crisis – Q
Clicks on the Ads Keep Us Alive 🙂
Man
Man is born free, and everywhere he is in chains.
J.J. Rousseau
2021 Server & Site Tech Support - 4200 €

0.2%

0.2%
Support Disclosure News Italia
We are working hard, and every day, to keep this blog. Like you we are fighting for the truth. If you want to work with us you are welcome, please email us! The blog costs are at our expense, advertising reimburse us very marginally so if you like our work and find it useful buy usacoffee clicking the donation button below that will directu to your PayPal. We need the help of people like you!
Bitcoin & Cryptocurrencies Donation
1M9dohWnHBwNLSPd6afRaJackrw6wK9bxY