QAnon March 08 2019 – Future Proves Past
QAnon March 08 2019 – Future Proves Past. By Interstellar. Source 8Chan. Updated 10:01 UTC
Clicks on the Ads Keep Us Alive 🙂
Q !!mG7VJxZNCI ID: f9e971 No.5568629 Mar 8 2019 03:59:58 (UTC)
>>5565314 (/pb)
Something you should explore further.
Impressive, most impressive.
Q
Anon discovers "Keystone" in Vault 7 nad says: "Q was saying trump gave Admiral Rogers permission to use Keystone and Activate malware in order to collect data on DS. Furthermore who uses a magicwand? A wizard. (W&W)".
Q is very impressed with anon and encourages further exploration.
#QAnon drop No. 2998…
Q was lurking on the QReasearch board & is commenting on an Anon File where the anon lays out how they found Keystone in Vault7. Having read this drop you will understand that POTUS gave Adm Rogers permission to spy on aspects of the Deep State.
This all ties to methods in use to surveil using embedded malware and many seeming obtuse notes dropped by Q fit into this narrative.
Angelfire is an example of an implant with multiple components. They are labeled with names like Keystone. Q was impressed.
Good work anon. Meaning: @Potus gave the green light to Adm Rogers to "flip the switch" and activate CIA malware installed on cabal members' cells and computers via Facebook apps NSA/ wizards and warlocks tracking and spying on cabal via their own methods.
Funny how the Cabal just hate it when @potus uses their own methods and mechanisms against them. @potus activated keystone. The deep state has had no idea they were being surveilled. They thought merely changing out burner phones every week would protect them. Wrong.
Q !!mG7VJxZNCI ID: f9e971 No.5568772 Mar 8 2019 04:07:53 (UTC)
Why is the Department of Homeland Security reportedly building secret dossiers on journalists & immigration lawyers? Apparent profiling mirrors the behavior of autocrats. I will be demanding answers. https://t.co/31jhHcY2x5

— Richard Blumenthal (@SenBlumenthal) March 7, 2019
Glimpse of something much bigger to come?
Actions have consequences.
Remember, it goes both ways.
Nobody is safe.
Leak was plugged.
Q
There are likely similar dossiers on MANY traitors working against our country w/foreign entities. FISA goes both ways. Another leak caught/plugged.
"The documents were provided to NBC 7 by a Homeland Security source on the condition of anonymity…"
#QAnon drop No. 2999…
Link to @SenBlumenthal Tweet where he asks why DHS is keeping dossier on Deep State Media and immigration lawyers? Think Sealed Indictments, "We have it all" and Draining The Swamp.
It's a peak of the D5 releases that are to come.
NBC7 obtained and released the docs which show some 50 people have been tracked and data compiled. Of course there are records being keep on DS activities. QAnon notes that the leak has been plugged and notes "Remember" [FISA] goes both ways.
@SenBlumenthal is whining about journalists and immigration lawyers being "targeted" by DHS. Why are they being targeted? Because they are engaging in treason and assisting in seditious overthrow of the US by working to ensure illegals are funneled into the US and are able to vote.
Q !!mG7VJxZNCI ID: 285835 No.5568867 Mar 8 2019 04:14:19 (UTC)
Keep the calendar up-to-date, Patriot.
Check off and log.
Future proves past.
Q
Graphic tying Barr mtg w/Huber today (7 Mar) as predicted in 9 Feb Q drop: "Barr meeting Huber & OIG".
#QAnon drop No. 3000…
Link to @Davidwmiller91 Tweet with graphic showing drop 2681 from 9th Feb 2019 and to today's meeting between Barr, Huber and OIG.
The countdown is moving forward. Check off "- Barr meeting Huber and OIG."
Q notes the calendar should be kept up to date. That was recently updated in drop No. 2681. These are 2 points that look to go with the countdown.
DHS has prepared dossiers on many of these journalists and lawyers. My how the tables have been turned. Q saying this info was leaked and now @SenBlumenthal blabbing his mouth about illegal targeting of poor journalists and immigration lawyers. #qanon Q notes what Many of us observed earlier today that Huber was meeting with Barr as Q pointed out in a prior post. Keep the calendar updated.
Q !!mG7VJxZNCI ID: 285835 No.5569036 Mar 8 2019 04:21:40 (UTC)
@LindseyGrahamSC sends memo to AG Barr req ALL docs NLT 21 Mar re: FISA vs Trump campaign, CS dossier, def brfs re: HRC, Trump, & other 2016 Pres candidates.
This is why winning Senate was critical. @senjudiciary has significant role in DOJ oversight.
#QAnon drop No. 3001…
Repost of 2444 ==> "We got what we needed." (#Senate)
Link to SCRIBDDoc on Lindsey Graham, Head of Senate Judiciary Committee, Requests Docs on Carter Page FISA from AG Barr.
The action has moved, per The Plan, to the Senate.
Q reminding anons it was all about the Senate during these last elections. Senate now investigating. FISA warrants and q attached link of letter from Sem Graham to Barr asking for this info as Q laid out would take place. Q lnks photo of Middle Eastern patriot.
Q !!mG7VJxZNCI ID: 285835 No.5569206 Mar 8 2019 04:28:54 (UTC)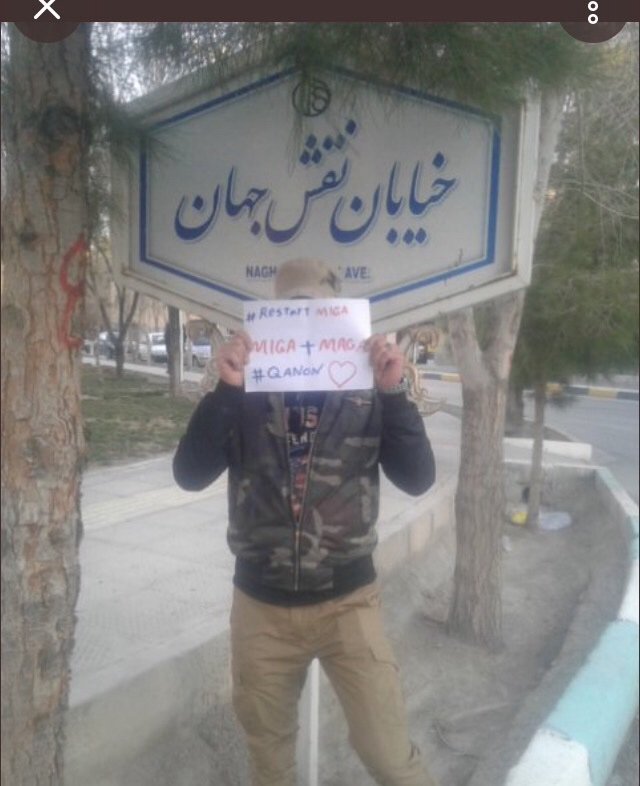 We stand TOGETHER in this FIGHT.
WWG1WGA!!!
Q
Iran freedom fighter holds sign with #Restart #MIGA > Make Iran Great Again!
Looked up #RestartMIGA and found this tweet:
This truly is a WW movement. No wonder the FAKE NEWS MEDIA & FAKE MAGAs are desperate to silence us. Too late, b*tchez.
#QAnon drop No. 3002…
Q drops an image from Iran with a man holding a QAnon sign which also has MIGA ==> Make Iran Great Again. The movement is WW! We stand together…
Q !!mG7VJxZNCI ID: 285835 No.5569206 Mar 8 2019 04:28:54 (UTC)
[Parts 3-9] will be more reveals about who, what, where, why, & how C_A-controlled FB acquired far too much control/insight/influence over our lives? Searching "Facebook" yields multiple recent news stories. Trying to get ahead of the hammer dropping?
#QAnon drop No. 3003…
Link to Bing Search on Facebook. Looks to be mostly about their planned efforts to curb Anti Vaccine posts.
Q text reads the parts 3 of 9 (are) coming soon.
Parts 3-9 re: Facebook as a Clown operation coming soon.
Did Kevin set his alarm? — Transparency and Prosecution is the only way forward to save our Republic and safeguard such criminal and treasonous acts from occurring again.
UPDATED 20 UTC — QAnon 12 September – Fires – Arson. Stay safe! Be vigilant. Not organized? Painfully obvious? See something. Say something. Q
UPDATED 21:00 UTC —- "Tyranny, like hell, is not easily conquered; yet we have this consolation with us, that the harder the conflict, the more glorious the triumph." ― Thomas Paine, The American Crisis – Q
Clicks on the Ads Keep Us Alive 🙂
Freedom
Freedom is the right to tell people what they do not want to hear.
George Orwell
2021 Server & Site Tech Support - 4200 €

6%

6%
Support Disclosure News Italia
We are working hard, and every day, to keep this blog. Like you we are fighting for the truth. If you want to work with us you are welcome, please email us! The blog costs are at our expense, advertising reimburse us very marginally so if you like our work and find it useful buy usacoffee clicking the donation button below that will directu to your PayPal. We need the help of people like you!
Bitcoin & Cryptocurrencies Donation
1M9dohWnHBwNLSPd6afRaJackrw6wK9bxY