Clicks on the Ads Keep Us Alive 🙂
Q !!Hs1Jq13jV6 ID: 7b393f No.9504553 Jun 6 2020 18:32:28 (UTC)
https://s3.amazonaws.com/lifesite/Open_Letter_President_Donald_Trump.pdf
The Armor of God
Finally, be strong in the Lord and in his mighty power. Put on the full armor of God, so that you can take your stand against the devil's schemes. For our struggle is not against flesh and blood, but against the rulers, against the authorities, against the powers of this dark world and against the spiritual forces of evil in the heavenly realms. Therefore put on the full armor of God, so that when the day of evil comes, you may be able to stand your ground, and after you have done everything, to stand. Stand firm then, with the belt of truth buckled around your waist, with the breastplate of righteousness in place, and with your feet fitted with the readiness that comes from the gospel of peace. In addition to all this, take up the shield of faith, with which you can extinguish all the flaming arrows of the evil one. 17 Take the helmet of salvation and the sword of the Spirit, which is the word of God.
And pray in the Spirit on all occasions with all kinds of prayers and requests. With this in mind, be alert and always keep on praying for all the Lord's people.
Have faith in Humanity.
Have faith in Yourself.
Have faith in God.
The Great Awakening.
Q
Carlo Maria Viganò; born 16 January 1941) is an archbishop of the Catholic Church who served as the Apostolic Nuncio to the United States from 19 October 2011 to 12 April 2016. He previously served as Secretary-General of the Governorate of Vatican City State from 16 July 2009 to 3 September 2011. He is best known for his role in the Vatican leaks scandal in 2012 and a 2018 letter in which he accused Pope Francis and other Church leaders of covering up sexual abuse allegations against then-cardinal Theodore McCarrick.
Q has told us 4x it's going to be "BIBLICAL". Carlo Maria Viganò uses the same word.
This powerful letter lays out the war between DARK & LIGHT.
Q has posted re: "Put on the full armor of God" 11x. If you haven't yet done so, it's time.
Read the letter by Carlo Maria Vigano firmer Archbishop in Roman Catholic Church. He retired in 2018 after rebuking Pope Francis in an 11 page letter for his and the Catholic Church's attempt to cover up the sexual abuse of Cardinal McCarrick.
Vigano says in this 3 page letter to @realDonaldTrump there is also a "deep church" that works alongside the Deep State. The ideals of the deep church align with Masonic ideas. Vigano expresses support for Potus as he fights against the Invisible Enemy. Undoubtedly Vigano follows Q. Q then recites Ephesians 6:10-18 to remind us that once again we are in a spiritual war against Satan and his minions. Powerful.
Q posted a letter from Archbishop Viganò to POTUS accusing the deep state of perpetrating the pandemic and the riots. Vigano calls the media corrupt for giving legitimacy to violence, injustice, and crime and accuses them of working for a globalist cabal.
Q's response is from Ephesians Chapter 6. (Note: all verse numbers were removed except verse 17.)
Q !!Hs1Jq13jV6 ID: 4fde16 No.9505231 Jun 6 2020 16:18:13 (UTC)
READ: The UCMJ (Uniform Code of Military Justice) is the legal foundation for the military justice system and lists offenses. +100 Articles. Article 2 and Article 88 posted here #MyHighlighter pic.twitter.com/PMy1e1fpB4

— Catherine Herridge (@CBS_Herridge) June 6, 2020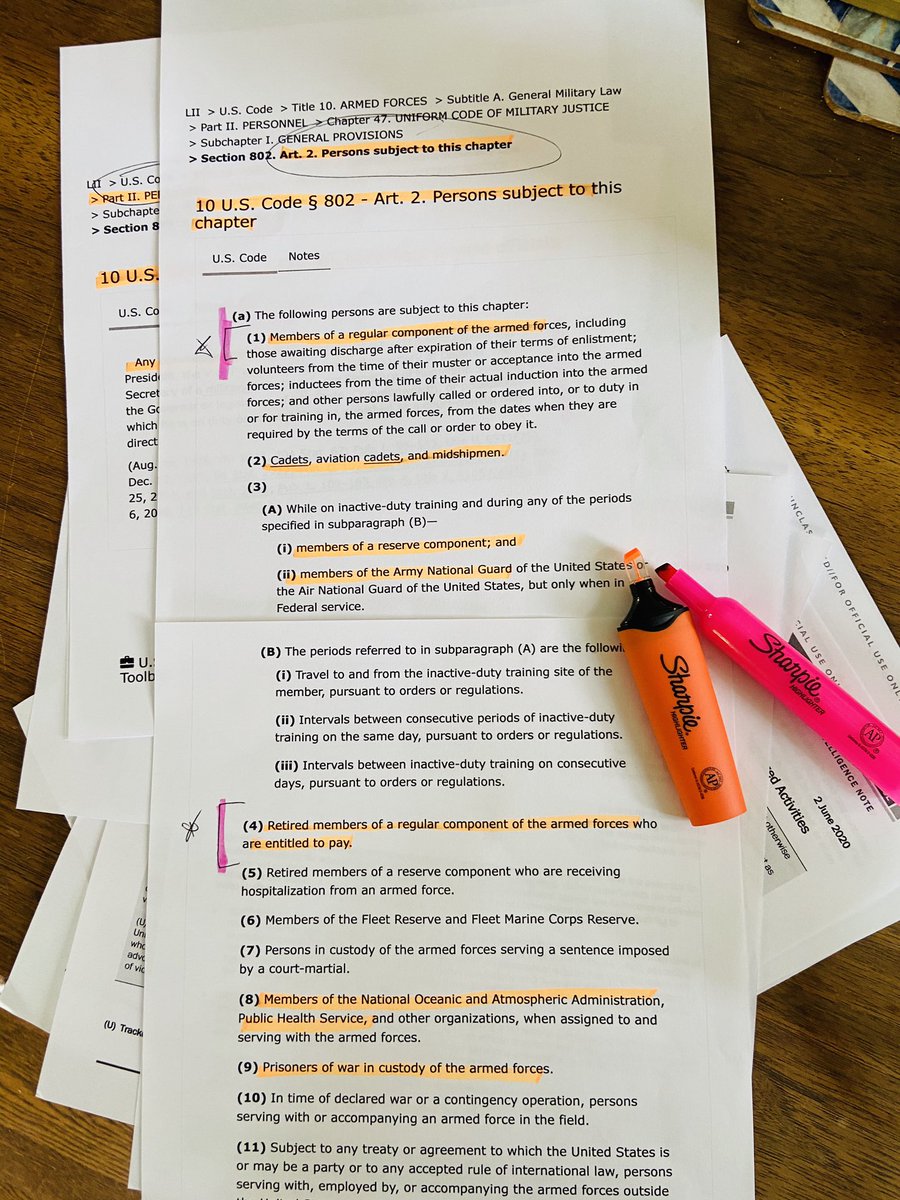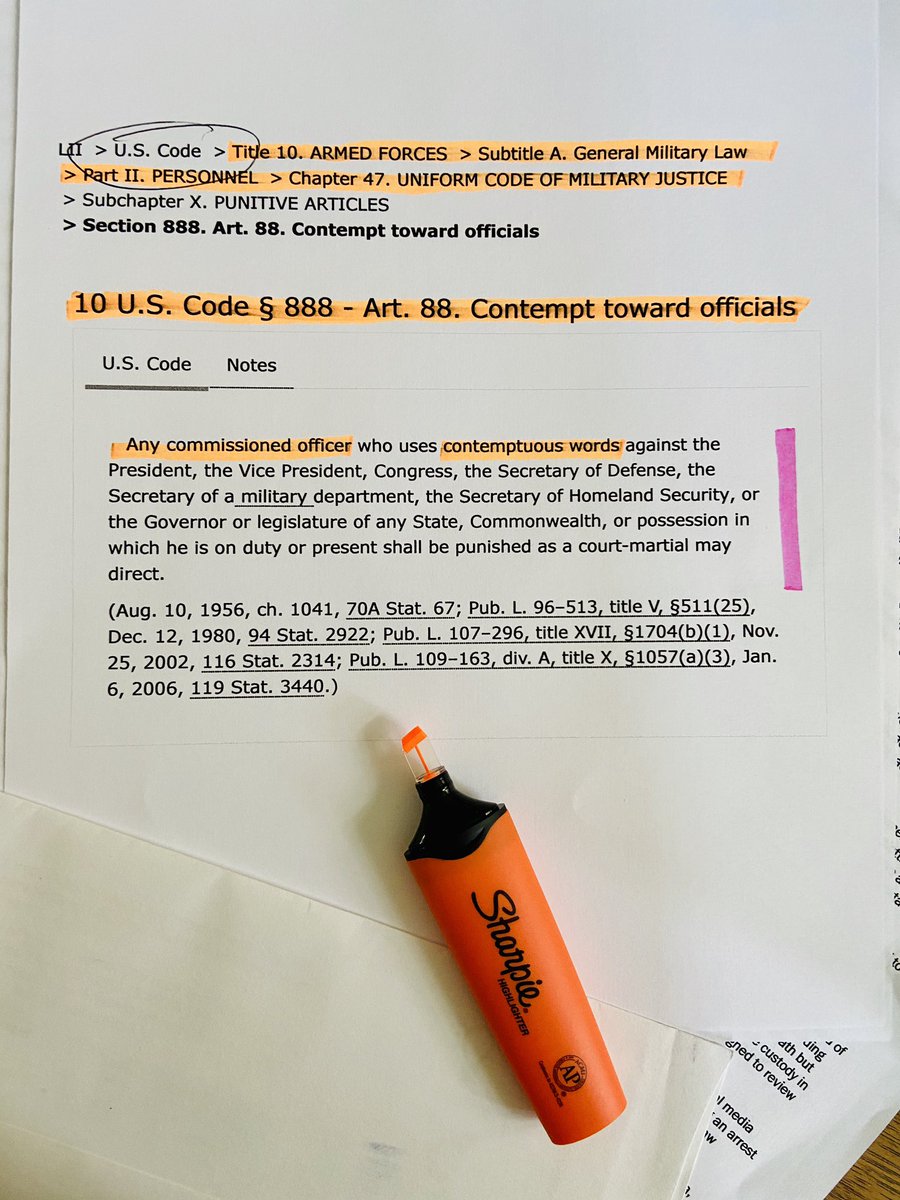 Several active & retired mil officers violated Art 88. Clapper, Hayden, Mattis, McChrystal + those planning mutiny if POTUS invokes Insurrection Act. 18 U.S. Code § 2387 – Activities Affecting Armed Forces Generally also applies.
@CBS_Herridge highlights "Retired members of a regular component of the armed forces who are entitled to pay" are subj to UCMJ. Article 88 "Contempt Toward Officials" prohibits any commissioned officer who uses contemptuous words against the President, the Vice President, etc.
Q confirms "follow the pen" references not only @potus pen but Herridge's pen. Pink marker facing downward. Yellow upward.
Homeland Security and Governmental Affairs Committee Gabe @SenRonJohnson the go ahead to issue subpoenas to:
1. The FBI for production of all records related to crossfire hurricane
2. The State Dept for any comms between State Dept employees and Christopher Steele
3. The Office of DNI for production of all records related to unmasking requests
4. Subpoenas to 30+ names related to issues described in numbers 1 through 3 above.
According to Her notes, it appears subpoenas will be issued to Brennan, Clapper and Kavalek as relates to unmasking issues.
The pink and yellow highlights likely designate the names being subpoenaed for the other 2 categories.
Q !!Hs1Jq13jV6 ID: 4fde16 No.9505682 Jun 6 2020 16:42:42 (UTC)
From @nytimes:

• Text your relatives & loved ones that you won't visit or talk to them until they protest for Black lives or give $ to social justice groups

This is nuts. Our media is a far left activist group that wants a race war and cultural revolution. That's where we are. pic.twitter.com/FFXIAmOguU

— Robby Starbuck (@robbystarbuck) June 6, 2020
Do you see what is happening?
Q
@TuckerCarlson did segment re: 1932, Soviets began promoting 13-year-old peasant boy, Pavlik Morozov who denounced his own father to the secret police for committing counter-revolutionary acts. They executed him by firing squad.
Q !!Hs1Jq13jV6 ID: 1bdfa8 No.9506457 Jun 6 2020 20:37:17 (UTC)
POTUS told Barr he wanted NG to be armed so they could protect themselves from rioters & looters but Esper on his own told DC National Guard leadership to take weapons of NG coming in from other states & no helmets. WHY??
Q !!Hs1Jq13jV6 ID: 1bdfa8 No.9506457 Jun 6 2020 20:37:17 (UTC)
"CASTLE_ROCK_GODSPEED"
"Have I not commanded you? Be strong and courageous. Do not be afraid; do not be discouraged,for the Lord your God will be with you wherever you go." ~ Joshua 1:9
Did Kevin set his alarm? — Transparency and Prosecution is the only way forward to save our Republic and safeguard such criminal and treasonous acts from occurring again.
UPDATED 20 UTC — QAnon 12 September – Fires – Arson. Stay safe! Be vigilant. Not organized? Painfully obvious? See something. Say something. Q
UPDATED 21:00 UTC —- "Tyranny, like hell, is not easily conquered; yet we have this consolation with us, that the harder the conflict, the more glorious the triumph." ― Thomas Paine, The American Crisis – Q
Clicks on the Ads Keep Us Alive 🙂
Enemies
Always forgive your enemies. Nothing annoys them so much.
Oscar Wilde
2021 Server & Site Tech Support - 4200 €

0.2%

0.2%
Support Disclosure News Italia
We are working hard, and every day, to keep this blog. Like you we are fighting for the truth. If you want to work with us you are welcome, please email us! The blog costs are at our expense, advertising reimburse us very marginally so if you like our work and find it useful buy usacoffee clicking the donation button below that will directu to your PayPal. We need the help of people like you!
Bitcoin & Cryptocurrencies Donation
1M9dohWnHBwNLSPd6afRaJackrw6wK9bxY