QAnon 30 July 2020
Silence
Clicks on the Ads Keep Us Alive 🙂
Q !!Hs1Jq13jV6 ID: e67fbb No.10125966 Jul 30 2020 16:25:50 (UTC)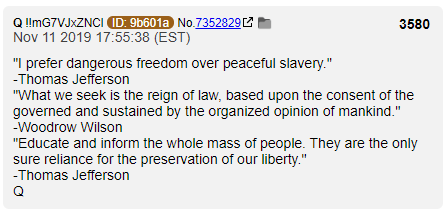 Based on how majority of Americans just accept mask mandates, it appears they prefer "peaceful slavery". Dem tyrants appear to have "consent of the governed". We MUST educate & inform the masses if we are to reclaim/preserve our liberty.
Q !!Hs1Jq13jV6 ID: e67fbb No.10125999 Jul 30 2020 16:27:45 (UTC)
Do not mistake silence for inaction.
Q
This reminded me of past reference re: silent running (used to evade adversarial threats).
"Sometimes silence is necessary in order to protect select 'public' releases."
Some MOABs coming tomorrow?
We know by now operators are usually the most active when Q is silent.
Do whatever it takes Q. We are with you and POTUS.
Did Kevin set his alarm? — Transparency and Prosecution is the only way forward to save our Republic and safeguard such criminal and treasonous acts from occurring again.
UPDATED 20 UTC — QAnon 12 September – Fires – Arson. Stay safe! Be vigilant. Not organized? Painfully obvious? See something. Say something. Q
UPDATED 21:00 UTC —- "Tyranny, like hell, is not easily conquered; yet we have this consolation with us, that the harder the conflict, the more glorious the triumph." ― Thomas Paine, The American Crisis – Q
Clicks on the Ads Keep Us Alive 🙂
Freedom
Freedom is the right to tell people what they do not want to hear.
George Orwell
2021 Server & Site Tech Support - 4200 €

0.2%

0.2%
Support Disclosure News Italia
We are working hard, and every day, to keep this blog. Like you we are fighting for the truth. If you want to work with us you are welcome, please email us! The blog costs are at our expense, advertising reimburse us very marginally so if you like our work and find it useful buy usacoffee clicking the donation button below that will directu to your PayPal. We need the help of people like you!
Bitcoin & Cryptocurrencies Donation
1M9dohWnHBwNLSPd6afRaJackrw6wK9bxY