QAnon 26 August 2020
United We Stand
Clicks on the Ads Keep Us Alive 🙂
Q !!Hs1Jq13jV6 ID: c02f77 No.10426984 Aug 26 2020 17:23:33 (UTC)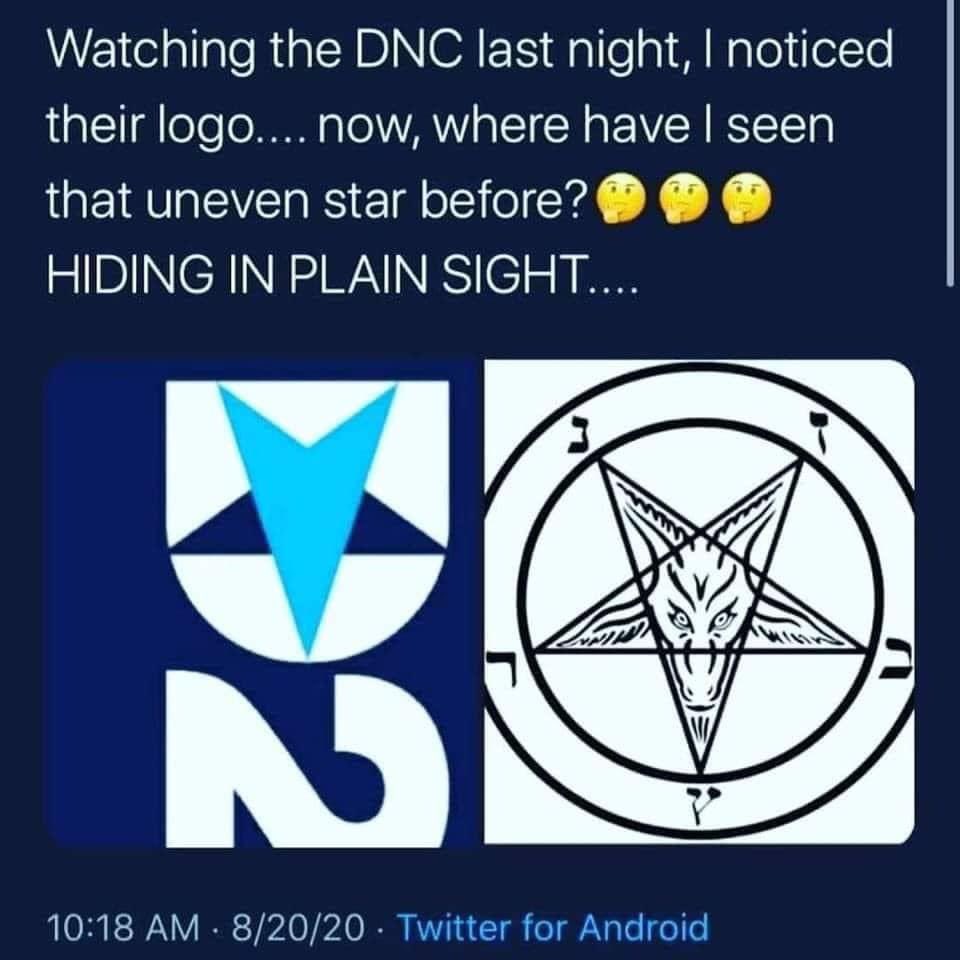 Two Democrat Caucus Meetings removed "UNDER GOD" from the Pledge of Allegiance. It sounded not only strange, but terrible. That's where they're coming from!

— Donald J. Trump (@realDonaldTrump) August 23, 2020
One party discusses God.
One party discusses Darkness.
One party promotes God.
One party eliminates God.
Symbolism will be their downfall.
The Great Deceiver(s).
When was the last time you witnessed a [D] party leader being Patriotic [exhibiting National Pride (love of Country)]?
When was the last time you witnessed a [D] party leader 'speak out against' the riots [violence in the streets]?
When was the last time you witnessed a [D] party leader support those who took an oath to protect and defend?
When was the last time you witnessed a [D] party leader support and call for UNITY across our Nation?
ALL ASSETS DEPLOYED.
INFORMATION WARFARE.
INFILTRATION.
DESTRUCTION OF AMERICA.
Have Faith in Humanity.
Have Faith in Yourself.
UNITED WE STAND.
GOD WINS.
Q
The contrast between last week's DNC & this week's RNC is as stark as dark vs light, evil vs good. As Q told us from the beginning (confirming what most of us already knew), "These people worship Satan _ some openly show it."
What's astonishing to me is how so many refuse to see it. They need to be fully exposed for their heinous crimes against children.
This isn't a joke. This isn't some conspiratorial satanic panic. This is the Democrat party. They worship Satan. They make sacrifices to satan. They push abortion to satisfy their god Molech's demand for innocent human and baby blood. They thrive off pain and evil.
Notice the symbol of the pentagram in the Democrat logo for the DNC convention. Baphomet
God wins
My last post on twitter which was the result of my suspension I asked about the elite and satanic ritual abuse. They don't like being exposed for their Satanic worship
Did Kevin set his alarm? — Transparency and Prosecution is the only way forward to save our Republic and safeguard such criminal and treasonous acts from occurring again.
UPDATED 20 UTC — QAnon 12 September – Fires – Arson. Stay safe! Be vigilant. Not organized? Painfully obvious? See something. Say something. Q
UPDATED 21:00 UTC —- "Tyranny, like hell, is not easily conquered; yet we have this consolation with us, that the harder the conflict, the more glorious the triumph." ― Thomas Paine, The American Crisis – Q
Clicks on the Ads Keep Us Alive 🙂
America
My fellow Americans, ask not what your country can do for you, ask what you can do for your country.
John F. Kennedy
2021 Server & Site Tech Support - 4200 €

0.2%

0.2%
Support Disclosure News Italia
We are working hard, and every day, to keep this blog. Like you we are fighting for the truth. If you want to work with us you are welcome, please email us! The blog costs are at our expense, advertising reimburse us very marginally so if you like our work and find it useful buy usacoffee clicking the donation button below that will directu to your PayPal. We need the help of people like you!
Bitcoin & Cryptocurrencies Donation
1M9dohWnHBwNLSPd6afRaJackrw6wK9bxY