Planet K2-18b – Neioh – Pleiadian Collective
September 2019
About Kabamur - One of Many, Many of One - Pleiadian Collective
Messages from Family of Taygeta (IKAI, AYA, LAKA, NEIOH, AKATU, KABAMUR), Pleiadian Collective, Galactic Federation of Light +++
I will try to clarify some of what I am speaking about, for those who might be unfamiliar with me.
When speaking of Satanism I do not mean a literal biblical interpretation. However the basic concept of good + evil remains true.
Satan was the alias of a certain negative ET, as other figures in 'mythology'. Luciferianism refers to the same dark groups.
Other practices like Thelema or even Scientology are all in service to the same dark forces. All deception against humanity + One True God.
These dark forces have twisted true spiritual knowledge, like the original teachings of the Soul incarnation known as Jesus – Sananda.
Many benevolent beings such as this have incarnated here to teach humanity Higher Truths of Love, Compassion + Unity of all life.
All of these understandings have been corrupted and misused by organizations which claimed to support these teachers.
There have been positive + negative ET visitors throughout Earth's history who have either pretended to be gods or were just seen that way.
The Cabal, Illuminati, Shadow Gvt all use false light to conceal actions which are controlled by non-physical entities, some call demonic.
These parasites are Archons, cause for most wars, false flags, human suffering. This has been happening for many thousands of years.
Rituals, war + all forms of trauma are multi-dimensional acts which transfer energy from a human victim to another being.
They inhabit many control structures within our society. These beings are both non-physical + also incarnated into human bodies.
We are all Souls having a temporary physical experience. The body is a vehicle. We are all extensions of God-Source experiencing Creation.
Many things happening in the world were foreseen long ago. These are not the end times, only a transition. Apocalypse means 'to unveil'.
Those who are interested in the esoteric aspects of what I am talking about should research for themselves.
For those who are religious, I do not discount your beliefs at all. There is just more to it than we've been allowed to know.
Truth remains that the only thing real is LOVE. GOD, however you choose to define this, is only Love. All else is temporary + illusion.
This Universe is larger than most can comprehend, and it is FULL of life. We are soon to become a galactic civilization + we must be ready.
Understand the limitations of the human senses. And that not all things exist on the thin layer we know as 3D. Life is everywhere.
Many of these Beings are here now, and there is much activity happening that people cannot see – on many planes of existence.
Open Contact with positive races is not far off. Not already because of issues of free will and much manipulation by the negative groups.
We are all one human race and we must see the true enemy are those who try to divide us. We must Unite if we are to be free.
We must CHOOSE the future we want. We create our reality with every thought and every action. Right now we are choosing. What will it be?
Kabamur Pleiadian Collective
Clicks on the Ads Keep Us Alive 😊
Planet K2-18b
Astronomers have for the first time discovered water in the atmosphere of a planet orbiting within the habitable zone of a distant star.
The finding makes the world – Planet K2-18b – a plausible candidate in the search for alien life.
Within 10 years, new space telescopes might be able to determine whether the atmosphere of Planet K2-18b contains gases that could be produced by living organisms.
The lead scientist, Prof Giovanna Tinetti of University College London (UCL), described the discovery as "mind blowing".
"This is the first time that we have detected water on a planet in the habitable zone around a star where the temperature is potentially compatible with the presence of life," she said.
The new Planet K2-18b is just over twice the size of Earth – in a planet category known as a "Super Earth" – and has a temperature cool enough to have liquid water, between zero and 40C.
Planet K2-18b is 111 light-years – about 650 million million miles – from Earth, too far to send a probe. So the only option is to wait for the next generation of space telescopes to be launched in the 2020s and to look for gases in the planet's atmosphere that could only be produced by living organisms.
.
These articles about K2-18b are Disclosure previews.
There are people who already know that this planet is inhabited by very human-like Beings.
They are about 1 million of them living on a planet twice as big as Earth.
They are peaceful & seldom have left the planet they call ARKEE.
They grow their own food & drink water. They have animals but not the same as ours.
They have covered structures for rain & sleep out in the open most of the time.
More will come out about this planet & others.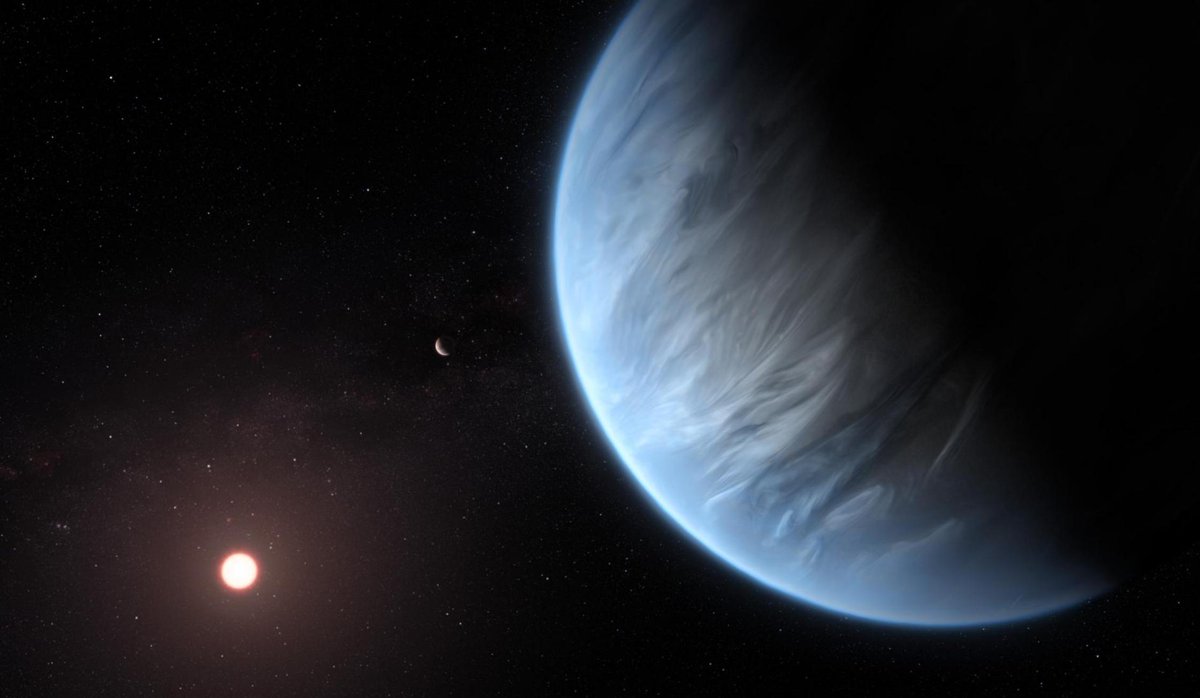 Planet K2-18b
NEIOH
We Are The Pleiadian Collective!
There is a reason they do not care to leave their planet. They are Celestial Humans.
This means they are not part Angel and Human but brought by Angels millions of years ago, from other planets like Earth, not yet known to Earth.
These were children that were of a Higher Density than Earth.
They are able to do many things done in the Pleiades such as fly in body form. They simply lift off and fly around.
They grew up as Family and the Angels taught them everything.
They do not mate or reproduce and this desire was changed in them as children to survive and to live a Peaceful and kind life and learn of a different way.
They know of others such as Pleiadians and are visited.
They have Pure Souls and do not comprehend war.
They are highly evolved and intelligent.
Fully Awakened and able to choose, yet the Celestial Gift of the Angels has kept them alive and they do not experience death.
They sleep for long periods of days at times and they grow from small children to adult size.
They do not age as in wrinkles or bad health because of Celestial Nature.
These are unknown to most other Races but Pleiadians know Angels and Archangels well and We were welcomed here as Family to be with them and teach them.
They are only interested in sharing, Heartfelt activities and having fun in nature.
They access all Multiverses with eyes closed. They travel in Consciousness.
They speak but are also Telepathic.
They will always remain on their home planet.
These that are called #ARKEA were saved from harm. Some were to be killed or sacrificed. Others were abandoned. Even at a Higher Density, some beings chose darkness.
This is not the only Celestial Planet. There are many.
After the Shift, the New Earth will also be welcomed to visit the Celestial Planets.
These Beautiful Beings know of Earth and Meditate Continually and send Loving Energy.
They are happy to be seen now and they realize the Shift is soon so Discovery is Sacred to them.
Pleiadians brought the Crystals we know as Celestite and Celestine from ARKEE as Gifts for EARTH.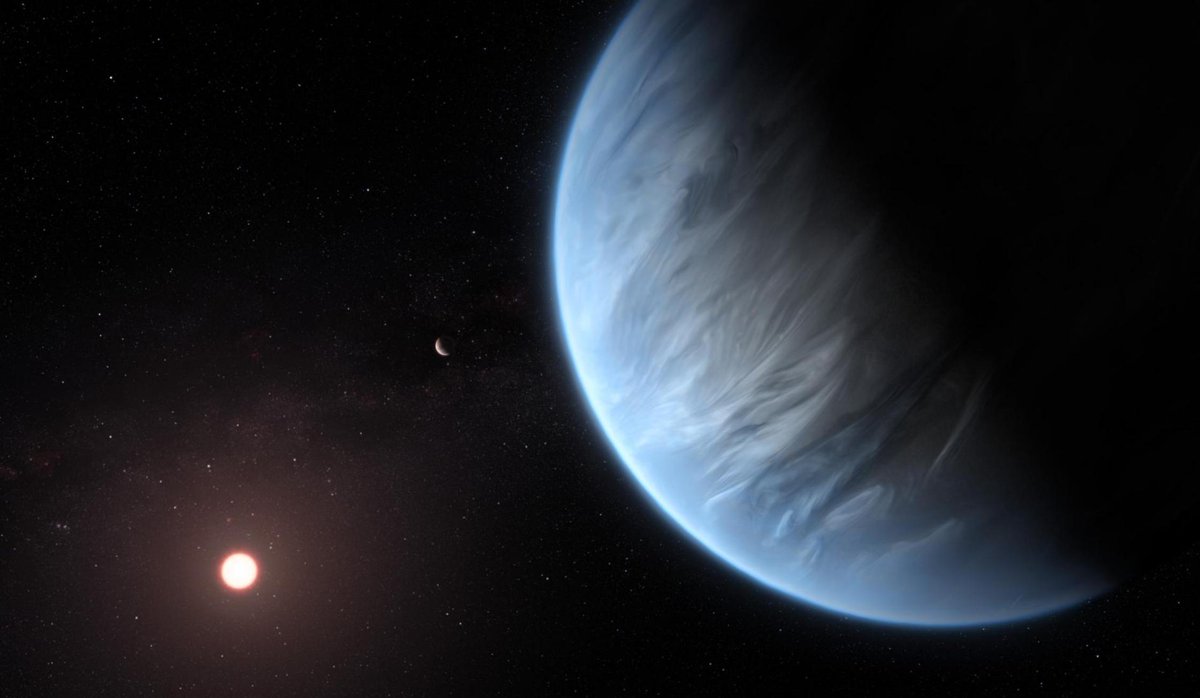 Planet K2-18b
NEIOH
We Are The Pleiadian Collective!
More From The Pleiadian Collective
Planet K2-18b – Neioh – Pleiadian Collective
Beloved Friends! How Wonderful It Is To Be Uniting As One! How Sacred To Be Living In A Waking Dream Of Duality While Discovering Divine Appointments. As You Know In Truth, There Are No Coincidences. Enjoy These Moments Together In Light As We Progress On The Journey Of Oneness!
Clicks on the Ads Keep Us Alive ✨
Zen
I have lived with several Zen masters -- all of them cats.
Eckhart Tolle
2022 Server & Site Tech Support 4200 €

51%

51%
Support Disclosure News Italia
We are working hard, and every day, to keep this blog. Like you we are fighting for the truth. If you want to work with us you are welcome, please email us! The blog costs are at our expense, advertising reimburse us very marginally so if you like our work and find it useful buy us a coffee clicking the donation button below that will direct you to your PayPal. We need the help of people like you!
Bitcoin & Cryptocurrencies Donation
1M9dohWnHBwNLSPd6afRaJackrw6wK9bxY