News Burst Space Edition
February 2020
Clicks on the Ads Keep Us Alive 🙂
News Burst Space Edition
Dec 30 1983 WaPo – A heavenly body possibly as large as the giant planet Jupiter and possibly so close to Earth that it would be part of this solar system has been found in the direction of the constellation Orion by an orbiting telescope aboard the U.S. infrared astronomical satellite. So mysterious is the object that astronomers do not know if it is a planet, a giant comet, a nearby "protostar" that never got hot enough to become a star, a distant galaxy so young that it is still in the process of forming its first stars or a galaxy so shrouded in dust that none of the light cast by its stars ever gets through. "All I can tell you is that we don't know what it is," Dr. Gerry Neugebauer, IRAS chief scientist for California's Jet Propulsion Laboratory and director of the Palomar Observatory for the California Institute of Technology, said in an interview.
One of the brightest stars in the sky has been dimming. But, while it might be signaling that it's ready to explode, it's probably just fading because of strange, stellar physics. Betelgeuse, a reddish star that's one of the brightest in the night sky, has been noticeably "fainting," or getting dimmer. The approximately 8.5 million-year-old star, which is part of the Orion constellation, has been one of the most recognizable stars in the sky because of its brightness and coloration. But this recent, dramatic fading has prompted scientists to suggest that the star might be entering a pre-supernova phase, dimming before it collapses and "dies" in a fiery supernova explosion. If the star does become a supernova, Betelgeuse would likely be as bright as, or even brighter than the moon for weeks or even more.
2016 – Mars is emerging from an ice age, a finding that could shed light on the past and future climates of both Mars and Earth, researchers said. The orbit of Mars regularly undergoes changes that greatly affect how much sunlight reaches the planet's surface, which in turn can strongly alter the Red Planet's climate. Similar orbital variations called Milankovitch cycles are known to happen on Earth. Previous Martian climate models suggested that such orbital changes could lead to ice ages on Mars, when ice would cover most of the planet. Now, researchers said they have found evidence of these ice ages on Mars.
Two Rezonans-N radars capable of spotting hypersonic targets will be deployed on the Kola Peninsula in the Russian Arctic by the end of the year 2020. "Two Rezonans-N radar stations will be deployed on the Kola Peninsula in 2020 to boost the combat potential of the Northern Fleet. One radar is already being fielded while the second station has been delivered to the peninsula and is due to be deployed by the end of 2020," the source said. Space age Rezonans-NE are very high frequency artificial intelligence aided early warning phased-array radar systems in the Arctic, these radar systems are able to detect aircraft flying at Mach 20 speeds (over 15,300 miles per hour).
Something in space is sending Earth signals. The mystery signal, known as FRB 180916.J0158+65 was first discovered in 2017, but has continued repeating steadily, albeit at a rate some 600 times fainter than the first bright flare. In their study, scientists analysed 28 bursts which took place between September 2018 and October 2019, confirming the pattern, and excitedly concluding "that this is the first detected periodicity of any kind in an FRB source." The new FRB was tracked down to SDSS J015800.28+264253.0, a star-forming galaxy about 500 million light years from Earth.
To the American Red Cross, New York City.
The retrospect is glorious, the prospect is inspiring: Much might be said of both. But one idea dominates my mind. This — my best, my dearest — is for your noble cause.
I have observed electrical actions, which have appeared inexplicable. Faint and uncertain though they were, they have given me a deep conviction and foreknowledge, that ere long all human beings on this globe, as one, will turn their eyes to the firmament above, with feelings of love and reverence, thrilled by the glad news: "Brethren! We have a message from another world, unknown and remote. It reads: one… two… three…"
Christmas 1900
Nikola Tesla – IMG
"Most certainly, some planets are not inhabited, but others are, and among these there must exist life under all conditions and phases of development. Personally, I base my faith on the feeble planetary electrical disturbances which I discovered in the summer of 1899, and which, according to my investigations, could not have originated from the sun, the moon or Venus. Further study science has satisfied me that they must have emanated from Mars. All doubt in this regard will soon be dispelled."
1910
Nikola Tesla IMG
When Tesla died, his estate was to go to his nephew, Sava Kosanovic, who at the time was the Yugoslav ambassador to the U.S. (thanks to his familial connection with Serbia's most celebrated inventor). According to the recently declassified documents, some in the FBI feared Kosanovic was trying to wrest control of Tesla's technology in order to "make such information available to the enemy," and even considered arresting him to prevent this. In 1952, after a U.S. court declared Kosanovic the rightful heir to his uncle's estate, Tesla's files and other materials were sent to Belgrade, Serbia, where they now reside in the Nikola Tesla Museum there. But while the FBI originally recorded some 80 trunks among Tesla's effects, only 60 arrived in Belgrade, Seifer says. "Maybe they packed the 80 into 60, but there is the possibility that…the government did keep the missing trunks."
News Burst Space Edition Bonus Img
Christmas 1900
Nikola Tesla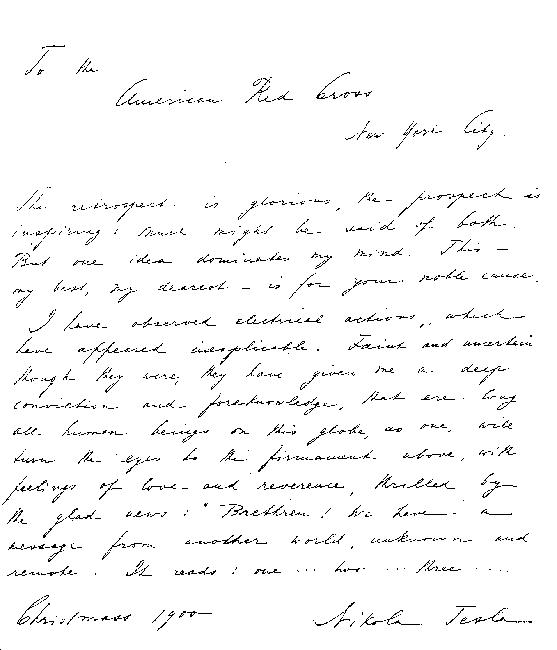 News Burst Space Edition Bonus Img
How to Signal to Mars – Tesla
Nikola Tesla
Clicks on the Ads Keep Us Alive ✨
Dream
You can't reach anything if you don't dream about it. Everything in existence, was before conceived like a dream, everything achieved, was before thought. One thing is sure, if you can't imagine... you can't achieve.
Stephen Littleword
2021 Server & Site Tech Support 4200 €

51%

51%
Support Disclosure News Italia
We are working hard, and every day, to keep this blog. Like you we are fighting for the truth. If you want to work with us you are welcome, please email us! The blog costs are at our expense, advertising reimburse us very marginally so if you like our work and find it useful buy usacoffee clicking the donation button below that will directu to your PayPal. We need the help of people like you!
Bitcoin & Cryptocurrencies Donation
1M9dohWnHBwNLSPd6afRaJackrw6wK9bxY