Clicks on the Ads Keep Us Alive 😊
News Burst 6 May 2020 – Live Feed
In a video of Trump's Tuesday morning scrum with reporters, the president can be heard telling a reporter that he is allowing Dr. Fauci to testify before the Senate – and not the House – because the House is "a set up". Trump and Dr. Fauci initially said the doctor wouldn't testify because he's too busy dealing with the ongoing public health crisis that has killed more than a quarter of a million people around the world and brought the American economy to a standstill.
Three US universities are responding to the coronavirus crisis by creating (irony of all ironies) a Chinese style social credit surveillance system that will 'score' people based on their exposure to the virus. Researchers at the University of Southern California, Emory University, and the University of Texas Health Science Center are jointly working on the system after receiving federal grant funding. Like the Chinese social credit system, the scheme will consist of a mobile app for contact tracing the virus, and promises to track the real-time location and symptoms of individuals to calculate "personal risk scores". The score would be used to determine the need "for quarantine and decontamination," according to the report, with "aggregate risk scores" also assigned to "locations like your neighborhood grocery store."
Tanzania has suspended the head of its national health laboratory in charge of testing for the coronavirus and ordered an investigation, a day after President John Magufuli questioned the tests' accuracy. Magufuli said on Sunday the imported test kits were faulty as they had returned positive results on a goat and a pawpaw — among several non-human samples submitted for testing, with technicians left deliberately unaware of their origins. He did not say where the kits had been imported from or why the authorities had been suspicious of the results. Catherine Sungura, acting head of communications at the ministry of health, said in a statement on Monday the director of the laboratory and its quality assurance manager had been immediately suspended "to pave way for the investigation".
President Trump has addressed the bizarre headline-grabbing development which has jolted Venezuela back center-stage in the news and in Washington. On Tuesday afternoon Trump told reporters at the White House he had no knowledge or involvement in the latest failed plot to oust Nicolas Maduro, which resulted in the capture and detention of two American former special forces soldiers – dubbed "mercenaries" by Maduro – who were involved in an apparent 'invasion' from the sea, likely launched out of neighboring Colombia.
The US will report "very definitively" on the origins of the Covid-19 virus over time, President Donald Trump has said without any further details. Washington has been claiming it came from a Chinese lab, but provided no evidence.
"We will be reporting very definitively over a period of time," Trump told reporters at the White House on Tuesday. Trump said last week that he had a "high degree of confidence" that the novel coronavirus originated from a laboratory in Wuhan, but he has not offered any evidence publicly to back up the claim.
Out of control drone drama began on Saturday, when the advanced unmanned aerial vehicle disappeared after its control systems malfunctioned and shut off by mistake. Latvian authorities have called off the search for the advanced drone that was reported missing days ago on Tuesday evening, with the device believed to have run out of fuel. The out of control drone forced Latvian aviation officials to introduce restrictions for flights into Latvia, with at least one Riga-bound flight forced to land in Tallinn, Estonia instead. The drone was an experimental prototype of an advanced new model of special purpose UAVs, fitted with cutting-edge electronics and GPS.
The European Union has called for a worldwide investigation into the origins and spread of Covid-19 in a move its foreign policy chief described as "standing aside from the battlefield between China and the US". The EU said the bloc and its 27 member states would co-sponsor a draft resolution calling for an "independent review" into the novel coronavirus that causes the disease when the World Health Assembly convenes for a virtual meeting on May 18.
Lisa Page is melting down on Twitter: "Yesterday was my two year anniversary of leaving the FBI. Two years have passed and I've lived a thousand lives and yet, everything is immovably the same." "Except that now I speak out. No doubt my haters wish it wasn't so, but I do and I will and I am not going to stop. And yes, I know: insurance policy treason deep state traitorous slut coup plotter. I know. It's okay. I know."
Airbnb Inc is laying off 25% of its workforce, or nearly 1,900 employees, the home rental startup said on Tuesday. "Airbnb's business has been hit hard, with revenue this year forecasted to be less than half of what we earned in 2019," founder Brian Chesky said in a memo to employees.
Researchers in Oregon State University's College of Agricultural Sciences have taken a step closer to solving one of nature's most remarkable mysteries: How do salmon, when it's time to spawn, find their way back from distant ocean locations to the stream where they hatched? A new study into the life cycle of salmon, involving magnetic pulses, reinforces one hypothesis: The fish use microscopic crystals of magnetite in their tissue as both a map and compass and navigate via the Earth's magnetic field.
Whales had enuff. In Tonga from 2004 – 2017 it became a race to be out on the water first, increasing pressure on the whales with more boats, and operators who continually disregarded government recommendations. Licensed boats not suitable for the intended purpose of whale watching were overloaded with passengers, many without the proper safety equipment required for survey, without adequate seating, shelter or toilet facilities, which are required under law. In Vava'u there has been an on water death, a shark attack, swapping out of local guides for foreign guides, overloading of boats, more people swimming in the water than recommended, people being left behind in the water to be collected by another company and returned to their original boat, people put into the water in unsafe conditions, manipulation of 3rd party insurances, nonpayment of fees, incorrect information given in applying for a license. Skippers and guides passing courses when they have no clear understanding of what is involved. No one has been fined. The whales are moving offshore being displaced from their calving grounds. Fewer are being seen year after year around the inside of the Vava'u island group. The whale's behavior is also changing due to the extreme boat pressure being put on them, becoming more evasive to boats each year. This is not only in Vava'u, many other countries are seeing the impact of tourism based whale activities – and many of those are non-swim operators.
Sun Activity
Plasma filament activity is elevated. Solar wind is calm. Minor active regions are continuing to appear but also continuing to be small weak productions of a solar cycle slowly gearing up.
Strongest EQ in Europe M4.9 Crete, Greece
Strongest EQ in North America M3.2 Alaska
Strongest EQ on the Planet 5.2 Guatemala
Deepest EQ M3.8 155 km Colombia
News Burst 6 May 2020 Bonus Img
New M4.9 in Crete, Greece at 17:20 UTC on may 5th pressuring South Italy, Albania and North Africa for possible ~M4 quakes.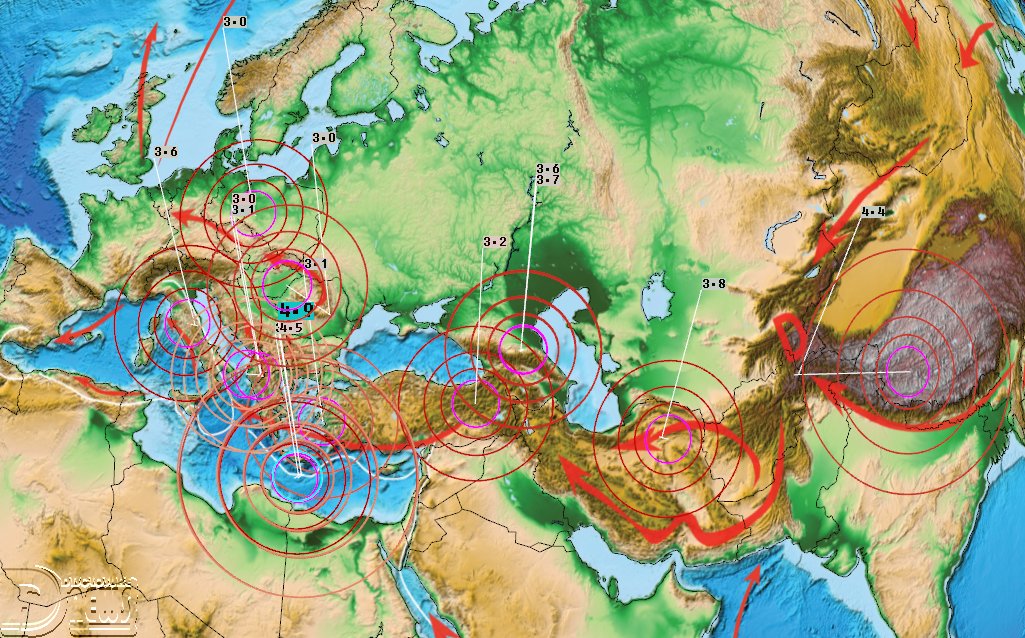 News Burst 6 May 2020 Bonus VIDEO
Twitter staff asked to see the film, supposedly to understand what parts were likely to "trigger" users so as to better prepare their response.
"Once prominent Western scientists such as Jeffrey Sachs of Columbia University and John Mearsheimer of the University of Chicago have all but disappeared from the mainstream media."
"We need widespread acknowledgment of the stakes before we can have useful policy discussions," Hendrycks told a US media outlet.
Clicks on the Ads Keep Us Alive ✨
Soul
You need to know people's soul to appreciate their face.
Amedeo Modigliani
2023 Server & Site Tech Support 4200 €

25%

25%
Support Disclosure News Italia
We are working hard, and every day, to keep this blog. Like you we are fighting for the truth. If you want to work with us you are welcome, please email us! The blog costs are at our expense, advertising reimburse us very marginally so if you like our work and find it useful buy us a coffee clicking the donation button below that will direct you to your PayPal. We need the help of people like you!
Bitcoin & Cryptocurrencies Donation
1M9dohWnHBwNLSPd6afRaJackrw6wK9bxY