Clicks on the Ads Keep Us Alive 😊
News Burst 5 May 2020
Iceland has a very wholesome suggestion for citizens craving physical contact in the age of social distancing: Find the nearest tree and give it a hug.
As Lonely Planet reports, the Icelandic Forest Service (IFS) says that spending at least five minutes a day hugging your arboreal neighbors is a great way to beat loneliness in quarantine. Paths have been plowed through the snow in East Iceland to give residents easier access to trees, and trails have been expanded so hikers can get outdoors while keeping their distance. The IFS even updated its website with photos of people embracing trees of all shapes and sizes.
Three frontline health care workers have mysteriously fallen out of hospital windows in Russia over the past two weeks, heightening public attention to the working conditions for doctors and medical professionals amid the coronavirus pandemic. Two of those health care workers are dead, and one remains hospitalized. All three incidents, which are being investigated by Russian law enforcement authorities, have prompted intense discussion in the Russian press and on social media. Alexander Shulepov, an ambulance doctor in Voronezh, a city about 320 miles south of Moscow, is in serious condition after falling from a hospital window on Saturday. Shulepov was hospitalized for coronavirus on April 22, the same day he and his colleague Alexander Kosyakin posted a video online saying that Shulepov had been forced to continue working after testing positive for coronavirus. Kosyakin had previously criticized hospital administration for protective gear shortages on his social media and was questioned by the police for allegedly spreading fake news.
Nepal Airlines Corporation has asked the government for Rs4 billion to buy new aircraft to serve remote mountain airfields, as the Chinese planes in its domestic fleet are proving more hassle than they are worth. The state-owned carrier wants to procure five planes suitable for the Nepali skies, and put itself in a position to be able to compete with private operators which always seem to be a jump ahead. Newly-appointed executive chairman Sushil Ghimire said they had asked the Finance Ministry to arrange the funds through the upcoming budget slated to be presented on May 29.
In one Nawalpur village, women are using remittance to start businesses and prevent their husbands from migrating again. When remittance is plied into the productive sector, it can end the cycle of migration and provide a safety net for migrant families. In the village of Jugepani in Hupsekot Rural Municipality, Nawalpur district, the majority of men work abroad. Only the women, children and elderly are left behind. Phumisara Thapa decided to start cucumber farming, everybody was skeptical. Some even tried to dissuade her, saying farming would cost a lot of money and she didn't have the experience to run a commercial farm. But farming wasn't new to Thapa; it was the only other thing she did, besides her household chores. "I only had Rs5,000 and I needed Rs20,000 to start farming," said 29-year-old Thapa. "So I decided to ask my husband to invest."
Bhopal, India: Sign language, GPS and a group of determined officers and counsellors came together in an incredible operation to rescue 23 deaf-mute youths stranded in Delhi and Gurugram. As one of the officials involved in the mission put it, bringing home nearly 65,000 from all over the country was perhaps less complicated than getting this group home. TOI had reported on April 29 how deaf-mute workers from MP, who are stranded in several states due to the lockdown, are suffering in silence and had sent SOS via photographs that said 'help me, I can't hear or speak'. Indore sign language expert Gyanendra Purohit and his wife Monica got in touch with them.
The carcasses of two rhinos suspected to have been poached have been discovered in the Purros area in the Kunene region, Namibia. Environment ministry spokesperson Romeo Muyunda confirmed the discovery of the carcasses on Wednesday, adding that no arrests have been made thus far in connection with the killing of the two endangered animals. "I can confirm that two rhino carcasses were discovered in the Purros area on 13 April. At the time of the discovery the carcasses were at least a week to two weeks old. Investigations continue in this [and] no suspects arrested yet," Muyunda said. Information about the killing of the two rhinos became public after the latest weekly wildlife crime statistics report indicated that no case of wildlife crime was registered in Namibia during the week of 20 to 26 April.
Kenya, like at least ten other African states, is also interested in using the "organic" treatment introduced by the Government of Madagascar to assist patients who have contracted the Covid-19 virus. It was Uhuru Kenyatta who confirmed Kenya's interest, with his participation in a teleconference involving 10 African heads of state. With Kenyatta, Presidents Cyril Ramaphosa (President of South Africa and the African Union), Abdul Fatah El Sisi (Egypt), President Felix Tshisekedi (DRC), Paul Kagame (Rwanda), Ali Bongo (Gabon), Mahamadou Issoufou (Niger), Idris Derby (Chad), Boubacar Keita (Mali) and of course Andry Rajoelina (Madagascar) discussed the adoption of the organic herbal tea called Covid CVO. During the conference they discussed in detail the effectiveness of this natural medicine developed, it seems, successfully from Madagascar to treat their patients.
Across much of California, fossil fuel companies are leaving thousands of oil and gas wells unplugged and idle, potentially threatening the health of people living nearby and handing taxpayers a multibillion-dollar bill for the environmental cleanup. From Kern County to Los Angeles, companies haven't set aside anywhere near enough money to ensure these drilling sites are cleaned up and made safe for future generations, according to a months-long data analysis and investigation by the Los Angeles Times and the Center for Public Integrity. Of particular concern are about 35,000 wells sitting idle, with production suspended, half of them for more than a decade. Though California recently toughened its regulations to ensure more cleanup funds are available, those measures don't go far enough, according to a recent state report and the Times/Public Integrity analysis.
The mayor of Prague has confirmed he is under police protection, days after a news report suggested he was the target of an assassination plot. Czech newspaper Respekt alleges a Russian agent carrying the poison ricin arrived in the country three weeks ago. The Russian embassy said the report had "absolutely no basis" and that it "categorically rejects" the allegation. Dmitry Peskov, a spokesman for Russian President Vladimir Putin, dismissed the news report as fake. Mr Hrib said he had filed a report to the authorities after noticing he was being followed close to his home, and had seen the same person "multiple times", but he added that he could not confirm if the protection was related to this report.
The mayor of Prague recently backed a decision to change the name of the square outside the Russian embassy to that of a murdered Russian opposition leader, Boris Nemtsov. The Czech capital also removed the statue of Russian World War Two military hero Marshal Ivan Konev this month.
In the lively neighbourhood of Medina in Dakar, Senegal horse-drawn carts jingle around crowded buses and makeshift stalls sell everything from clothes to mobile phones. In a narrow alley, behind a bustling street, noisy beats pulsate from a colourful building, a community centre. Inside, Jah Moko invites young people to write some lyrics on pieces of paper. The Malian born musician is trying to encourage them to become the voice of their communities through music. "Music is our spiritual battle. It is an engagement to sensitise and educate young people to love our continent and have faith in themselves," he says. While some African artists want to move to Europe to pursue opportunities, Jah Moko quit his career as a music producer in France after 10 years to settle in Senegal and create the Jah Moko Family project, a band based in Dakar. The band's musical influences include West-African reggae and Afro-beat and they use traditional African sounds.
Earth is entering a stream of debris from Halley's Comet, source of the annual eta Aquarid meteor shower. The shower's peak on May 5th and 6th will be muted by the glare of a nearly full Moon, reducing the number of visible meteors to no more than about 10 per hour. The best time to look is during the hours before sunrise on Tuesday and again on Wednesday.
Sun Activity
Sunspot number: 0
Spotless Days
Current Stretch: 3 days
2020 total: 94 days (75%)
2019 total: 281 days (77%)
Strongest EQ in Europe M4.5 Crete, Greece
Strongest EQ in North America M3.4 Alaska
Strongest EQ on the Planet 5.6 Japan
Deepest EQ M4.9 280 km Tonga
News Burst 5 May 2020 Bonus Img
QAnon
Consider the vastness of space…
"We Are With You"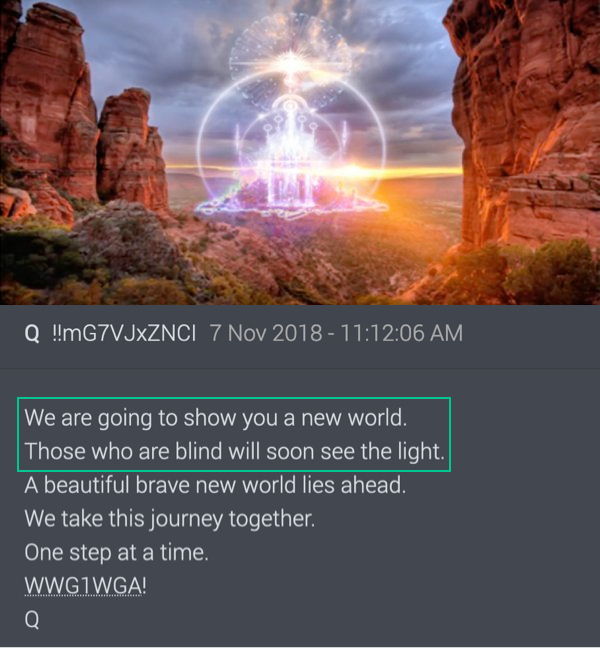 News Burst 5 May 2020 Bonus VIDEO
A mythical aura has long surrounded a medieval German settlement that sank in 1362 after being pummeled by a ferocious storm. It has been dubbed by some as the Atlantis of the North Sea.
Kelly, a former U.S. Navy captain, stood up to share a UAP experience he had while flying an F-14 Tomcat. "I remember one time I was flying in the warning areas off of the Virginia Beach military operating area there…"
In some parts of Antarctica had been compensated by the increase in size of ice shelves in other areas of the continent.
Clicks on the Ads Keep Us Alive ✨
Enemies
Always forgive your enemies. Nothing annoys them so much.
Oscar Wilde
2023 Server & Site Tech Support 4200 €

25%

25%
Support Disclosure News Italia
We are working hard, and every day, to keep this blog. Like you we are fighting for the truth. If you want to work with us you are welcome, please email us! The blog costs are at our expense, advertising reimburse us very marginally so if you like our work and find it useful buy us a coffee clicking the donation button below that will direct you to your PayPal. We need the help of people like you!
Bitcoin & Cryptocurrencies Donation
1M9dohWnHBwNLSPd6afRaJackrw6wK9bxY