Clicks on the Ads Keep Us Alive 😊
News Burst 4 March 2021 – Featured News
Google has fired Margaret Mitchell, the founder and co-head of its artificial intelligence ethics unit, for violating the company's code of conduct. The firing came less than three months after the controversial exit of another senior figure in the company's AI ethics unit, Timnit Gebru. Google said that an investigation found Mitchell had moved files outside the company. Despite her position in the company, Mitchell was a fierce critic of Google. Both Mitchell and Gebru had campaigned for more diversity at Google and raised concerns about censorship within the company. According to her LinkedIn, Mitchell joined Google in 2016 as a senior research scientist. Two years later, she helped start the ethical AI team alongside Gebru.
We have been discussing erosion of free speech and academic freedom protections at colleges and universities around the United States. Most faculty have been conspicuously silent as their colleagues are attacked, suspended, or even fired for taking opposing views on systemic racism, police brutality, or movements like Black Lives Matter. In Sweden, the response has been quite different after Professor Jonas Ludvigsson, announced that he would stop all further research on Covid-19 after a campaign of abuse and harassment following his study on the low threat that the virus poses to children and teachers. The country is ramping up protections for academics to combat such cancelling campaign.
The world's most beautiful subway system is set to become one of the planet's most high-tech, with Moscow Metro head of security revealing that passengers will soon be able to pay for rides with their faces before the end of 2021. According to Andrey Kichigin, as reported by Interfax on Tuesday, the Russian capital will implement 'FacePay' technology later this year. Currently in testing, it will be available for use at both turnstiles and cash desks. Thus far, test participants have successfully passed through the barriers 2,000 times. Although the public cannot yet use the system, it has already been used to catch more than 900 criminal suspects, with the technology also performing a second function of identifying those wanted by the police.
Thai singer and anti-government activist Chai-amorn Kaewwiboonpan, also known as Ammy from the band, The Bottom Blues, confessed to burning the portrait of Thailand's King Maha Vajiralongkorn after his arrest, local news reported on Wednesday. The police claim to have evidence and witnesses linking the singer to the offence and other perpetrators are yet unidentified. Currently, the singer if found guilty, he will face a sentence of up to 15 years in prison for slander and additional penalties for other offenses.
A court in Tokyo ruled on Wednesday to detain two Americans suspected of helping former Nissan boss Carlos Ghosn jump bail in Japan and escape to Lebanon in 2019, media said. The US Supreme Court last month cleared the way for the extradition of Michael Taylor and his son Peter after a months-long legal battle. They arrived in Japan on Tuesday. The Tokyo district court approved a request by prosecutors to keep the two in custody until March 12, the Kyodo news agency said. The suspects are accused of having smuggled Ghosn out of his home in Tokyo in a musical instrument case. A private jet flew him to Turkey and then to his childhood home in Lebanon. Ghosn, who was arrested on charges of financial wrongdoing, said he had escaped political persecution.
The European Union has summoned its ambassador to Cuba, Alberto Navarro, back to Brussels for explanations over signing an open letter addressed to US President Joe Biden calling on him to stop meddling in Cuba's domestic affairs, an EU spokesperson told the Politico newspaper on Saturday. Other than Navarro, the letter was reportedly mostly signed by Cuban officials and citizens.
Turkey is ready to start negotiations with Egypt on the delimitation of maritime zones in the Mediterranean Sea provided that Cairo respects the borders of Ankara's continental shelf and relations between the countries improve, Turkish Foreign Minister Mevlut Cavusoglu said on Wednesday. In November 2019, Turkey signed a deal with the Tripoli-based Libyan government to appropriate the lion's share of the Mediterranean waters that Greece considers a part of its exclusive economic zone. Greece accused Turkey of the violation of its sovereignty after Ankara published a map that demonstrated that Turkey had taken a significant part of Athens' maritime territory.
Epstein's monster mansion in Manhattan is on the brink of being sold – after its price-tag was slashed by more than $16million. The 28,000 sq ft home, on New York's Upper East Side, was put up for sale by the billionaire pedophile's estate last summer. But buyers were put off by the $62million asking price and the fact that some of Epstein's most heinous crimes were said to have been committed inside.
Bermuda Triangle
Illuminati Card Game
News Burst 4 March 2021 – Bonus IMG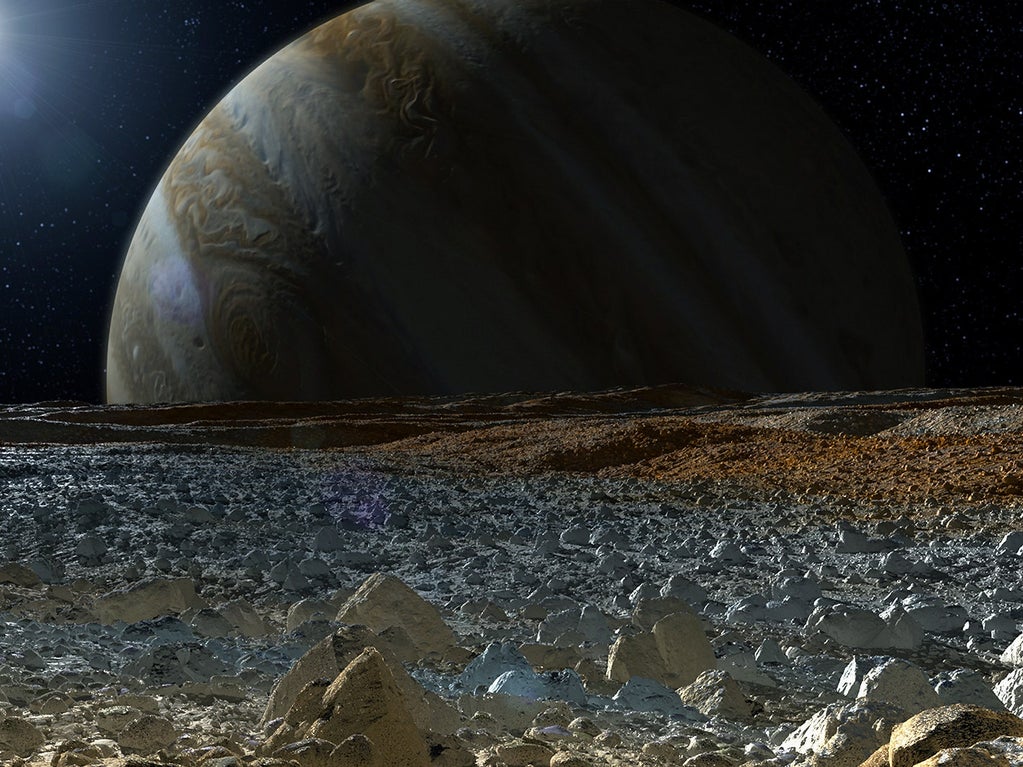 How Jupiter appears from its satellite Europa's surface ~ NASA
News Burst 4 March 2021 – Bonus IMG
Space Hurricane
For the first time, a team of researchers from China, the US, Norway, and the UK, have spotted an eye-catching phenomenon above the North Pole, in what they're calling a "space hurricane." The new study said a 600-mile-wide swirling mass of plasma "rained" electrons down on the North Pole. It was only until now that the existence of space hurricanes has been confirmed. Mike Lockwood, a space scientist at the University of Reading in the UK and the co-author of the study titled "A space hurricane over the Earth's polar ionosphere," which was recently published in Nature, said observations made by satellites in August 2014 confirm the existence of "space hurricanes" above Earth. Lockwood said this particular swirling mass of plasma spun counterclockwise hundreds of miles above the North Pole before eventually fizzling. "Tropical storms are associated with huge amounts of energy, and these space hurricanes must be created by unusually large and rapid transfer of solar wind energy and charged particles into the Earth's upper atmosphere," Lockwood said.
News Burst 4 March 2021 – Bonus IMG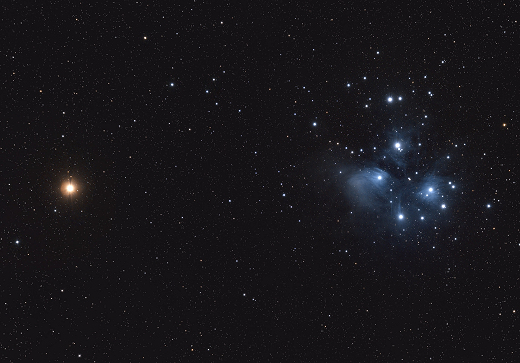 Mars And The Pleiades In Conjunction
When the sun goes down tonight, step outside and look up. Mars and the Pleiades star cluster are having a beautiful naked-eye conjunction–the closest they'll be until 2038. The conjunction is easy to find among the bright winter constellations of Orion, Gemini, and Taurus.
News Burst 4 March 2021 – Bonus Video
'UFO on Fire' in São Paulo, Brazil
"Recorded at 4am in Rio Branco, São Paulo, Brazil on 2/14/21. There was at least 4 different recordings"
'UFOs dropping fire' are Pleiadians putting on a show for us.
News Burst 4 March 2021 – Bonus Video
Las Vegas, NV – 2/3/21
Galactic Federation waits patiently for skeptics and doubters to figure out this isn't a hoax, and it will never stop. It will only increase from here.
Why so much activity in LV? There's a GF base in the mountains near Nellis AFB.
News Burst 4 March 2021 – Bonus Video
Encinitas, California – 28th February 2021
News Burst 4 March 2021 – Earthquakes
Massive M6.3 in Greece
A powerful earthquake of M6.3 struck central Greece this morning, we did not see it coming but we saw the massive push from the deep earthquakes in the Pacific in the last few days. Seems like this seismic wave traveled all along to Europe without leaving any trace in between, there is the very possibility that the force crossed through the Earth core to reach the other side of the planet, as can be seen in the video below. In the last week or so we have witnessed a very strong pressure applied on the European Plate, we did not see much of a release, if not in Iceland and with the Mount Etna eruption. Will we see the expansion? It's possible but not likely, eventually with M5s, and Eastern Europe better be in great alert, Italy as well might see a M4 or M5, difficult situation for all Europe, we do need +++ mitigation.
Earthquakes Last 36 Hours – M4 and Above
5.000 °C / 9,032 °F
Temperature isnide a conventional chemical bomb.
Billionaires like Bill Gates have long said that they, theoretically, would be in favor of paying much more money in personal taxes. And yet the "philanthropist" Bill Gates and some of the wealthiest people in the world are staying silent on a series of active proposals that would do just that, sidestepping a legislative package in their home state of Washington that targets them specifically.
The reaction to Prince Philip's death from elites across the world has confirmed that the structures which produce and reproduce these strata are globally recognised and connected. ~ Dr Lisa McKenzie
At least ten villages and communities in St Vincent have been designated 'red zones' since volcano La Soufriere's eruption this week, with the West Indies nation's emergency agency warning of deadly pyroclastic flows from the column of ash.
Clicks on the Ads Keep Us Alive ✨
Violence
Violence is the last refuge of the incompetent.
Isaac Asimov
2021 Server & Site Tech Support 4200 €

78%

78%
Support Disclosure News Italia
We are working hard, and every day, to keep this blog. Like you we are fighting for the truth. If you want to work with us you are welcome, please email us! The blog costs are at our expense, advertising reimburse us very marginally so if you like our work and find it useful buy usacoffee clicking the donation button below that will directu to your PayPal. We need the help of people like you!
Bitcoin & Cryptocurrencies Donation
1M9dohWnHBwNLSPd6afRaJackrw6wK9bxY