Clicks on the Ads Keep Us Alive 😊
News Burst 31 May 2020
A law enforcement task force that includes the Environment and Forestry Ministry and the West Kalimantan Natural Resources Conservation Agency (Indonesia), has taken two men into custody for allegedly selling protected plants. The men, 23-year-old RB and 32-year-old MT, were apprehended in Sekadau Hilir district, Sekadau regency, West Kalimantan, on Wednesday. RB and MT were allegedly selling the plants to AC, a nursery owner in Taiwan who sells tropical plants from Southeast Asian countries. The plants sold reportedly included 25 tropical pitcher plants, locally known as kantong semar, as well as silver Komalomena, Vilodendrum boceri, turtle back Labisia and silver Alocasia.
US President Donald Trump said he is severing ties with the World Health Organization over its handling of the coronavirus pandemic, as the death toll from the disease spiked again in the United States and Brazil. Trump's move signals an end to hundreds of millions of dollars in funding to the United Nations agency just when it needs it most, with outbreaks in many parts of the world yet to reach their peak. Trump initially suspended funding to the WHO last month, accusing it of not doing enough to curb the early spread of the virus and being too lenient with China, where the virus emerged late last year. On Friday he made that decision permanent in a major blow for the UN agency's finances, as the United States is by far its biggest contributor, pumping in $400 million last year. "Because they have failed to make the requested and greatly needed reforms, we will be today terminating our relationship with the World Health Organization," Trump told reporters.
A collective of mothers searching for their disappeared children had its drone shot out of the sky while using it to examine a rugged area of Sinaloa (Mexico) on Wednesday. Deeming their work an essential activity, the Sabuesos Guerreras (Warrior Sleuths) have continued to look for their loved ones during the quarantine period. The group denounced the action on Thursday morning, saying "at least they didn't shoot at us." "It wasn't too high, about the height of a house, and they shot it down. We just kept exploring the area to continue our search, without caring if we bothered anyone," said the group. They also said they would not file an official report of the incident as they haven't received any help from police during any of their search efforts so far. Wednesday's incident was not the first time the group has been attacked. Their "Sabuesomóvil," a vehicle used to carry out searches, was stolen, and many members report having been threatened in attempts to intimidate them into giving up their efforts.
The European Commission on Wednesday published its highly anticipated proposal for a stimulus package designed to help member states to get back on their feet after the blow delivered by the coronavirus pandemic. Two-thirds of the massive, 750-billion-euro recovery fund would be disbursed in direct financial support and one-third in loans. A finnish Member of the European Parliament claimed that the recovery fund, along with other financial mechanisms, is an attempt to tighten the grip on Finland and other EU member states. "The EU elite is increasing its control over member states unscrupulously under the guise of the coronavirus crisis so that no other country can make a Brexit-like divorce from the federation that is the EU," he slammed. The recovery fund, he said, is obviously not in the best interests of North European Coutries. "The EU is violating its own rules and making other countries pay for the poor economic management of Italy and Spain."
The Finnish path to happiness relies on 'kalsarikänni', a term that literally means 'drinking at home, alone, in your underwear'. It's about letting go and being yourself, no affectation and no performance. Find your most comfortable underwear – the really holey ones where you've forgotten their original colour. Perhaps invest in some wool socks, too. 'Kalsarikänni' does not require expensive furniture and artisanal hot chocolate in the house – just your drink of choice, a comfy sofa and a TV show you're happy to binge watch.
The region outside Moscow where the famous Russian saint St. Sergius of Radonezh once lived attracts not only Orthodox believers, but also those on a quest to seek out mysterious anomalies and ancient pagan treasures. Archeologists ventured into the area only at the beginning of the 20th century, but found little worth their efforts. In Soviet times, the place was investigated using aerial photography, and this revealed a layout similar to the famous Stonehenge in the UK.
Daesh, aka IS/ISIS/Islamic State, has published a new tape praising the COVID-19 pandemic as God's "punishment" for its foes. The authenticity of the 39-minute speech has yet to be verified, although it came from the Sunni terrorist group's main media arm, which publishes its propaganda, including video messages. The voice on the time is purportedly of Daesh spokesperson Abu Hamzah Al-Qurashi, who last spoke on 27 January.
The eastern Syrian provinces of al-Hasakah and Deir ez-Zor remain a major source of tensions between Damascus and Washington amid the ongoing tense standoff between Syrian forces, local civilians and US troops and their allies. Children and teens in the villages of al-Qahira and al-Dushaisha in the al-Hasakah countryside have intercepted a convoy of US military vehicles, pelting it with stones. Video of the incident provided by the Syrian Arab News Agency shows more than a dozen children, some as young as 5-6 years old, picking up stones and throwing them at the tan trucks, one of them flying an American flag.
Researchers with the Sanmenxia Archaeology Institute in Central China's Henan Province have dug out a 2,000-year-old swan-shaped bronze vessel which they say contains more than 3 litres of a mysterious liquid – now the subject of testing. What was initially deemed as some early type of grain alcohol came out of a delicate object – a swan head-shaped pot with "lifelike" features. Along with a slew of other burial objects, the bronzeware pot was spotted inside an intact grave from around 221 BC that was discovered by accident, when an urban development project was carried out in the area. According to researcher Yan Fei, more than 3 litres of brownish liquid poured out from a small hole.
Scores of dead fishes were found floating in India's Kommaghatta lake in Bengaluru on Friday. Locals allege that the lake has become a dumping ground for nearby factories. Amid reports of an improved environment due to the COVID-19 lockdown, Friday saw the results of government apathy over the state of rivers around the city of Bengaluru, known as India's IT hub. Bengaluru witnessed the sight and stench of tonnes of dead fishes floating on the Kommaghatta Lake. In a video, a local fisherman can be seen clearing a heap of fish on the water through a raft.
Deaths of a large number of bats with no physical signs of trauma were reported from Belghat area of Gorakhpur, Uttar Pradesh on 26 May. The locals stated that as many as 52 bats dropped dead within an hour in one area sending the villagers into panic. The death of hundreds of bats in several states of India, including Uttar Pradesh and Bihar, is haunting villagers, who think of it as an ominous sign of the onset of something dreadful. In a similar incident on 26 May, the same day as the incident happened in Uttar Pradesh, the animal husbandry department of Bihar confirmed the death of around 200 bats near Ara in Bhojpur district. A team of doctors visited the area and collected the samples of the dead nocturnal creatures for testing. "We have experienced heatwaves earlier too and deaths on such a large scale have never taken place earlier. There is something wrong about this though the officials are trying to downplay the issue. How can 52 bats drop dead within an hour?" a local Ashok Varma told the media.
Researchers from Schmidt Ocean Institute who have been observing Moore Reef, next to Australia's Queensland, discovered something resembling an "underwater tornado" during a live streamed expedition on May. According to the conversation between researchers that was captured on the VIDEO and later shared by the institute on YouTube, they were no less surprised by the mysterious occurrence than their viewers, believing at first that it was their own equipment that was creating the swirl. But then the scientist comes to the conclusion that the vortex was naturally occurring.
At least 13 members of Joe Biden's campaign staff have made donations to a group that helps Minneapolis protesters get out of jail on bail, according to a report. The staffers posted on Twitter that they contributed money to a group called the Minnesota Freedom Fund, which opposes the practice of making people who are arrested pay money to avoid pre-trial imprisonment, Reuters reported.
The world's largest all-electric-powered utility aircraft conducted its maiden flight on Thursday. The electric-powered Cessna 208B Caravan is a utility aircraft produced by Cessna Aircraft Company, has been traditionally used for flight training to recreation, commuter airlines to VIP transport, cargo carriers, humanitarian missions, and Special Forces operations. Propulsion company Magnix and AeroTEC, an engineering and flight test specialist, swapped out the plane's Pratt & Whitney Canada PT6 turboprop engine with an all-electric propulsion system, that can produce 750hp. After the successful test flight, the plane is now considered the largest all-electric passenger aircraft ever to fly.
Sun Activity
A new-cycle sunpot that unleashed a flurry of solar flares on May 29th has disintegrated–so quickly that it didn't even have time to be officially numbered. Solar Minimum is back. But the episode shows that it might not last much longer.
Sunspot number: 0
Spotless Days
Current Stretch: 29 days
2020 total: 120 days (79%)
2019 total: 281 days (77%)
Strongest EQ in Europe M4.6 SE of Crete, Greece
Strongest EQ in North America M4.3 California
Strongest EQ on the Planet M6.0 Peru
Deepest EQ M4.7 611 km Fiji
News Burst 31 May 2020 – Bonus Img
Locust Outbreak
With India battling the worst desert locust outbreak in three decades, the insects have now damaged crops in five states — Rajasthan, Madhya Pradesh, Uttar Pradesh, Gujarat and Maharashtra — with the Centre issuing a warning to 12 states. These locusts started arriving in Rajasthan around the first fortnight of April, much ahead of the normal July-October normal. So far, the locusts have attacked predominately at Dausa in Rajasthan, Jhansi in Uttar Pradesh and Chattarpur district of Madhya Pradesh.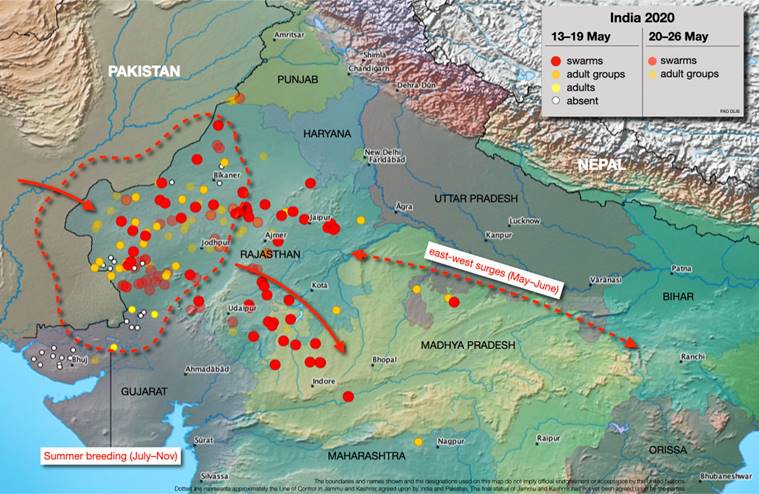 News Burst 31 May 2020 – Bonus VIDEO
New Crop Circle Wiltshire 29 May 2020
Activated from beneath to manifest as the virus that has threatened the planet, this was created for You! This is assurance to You that you will Thrive and Expand In Consciousness! Our Intention is a Message of Comfort and Healing! This too shall pass and Light covers you each moment! – NEIOH
NASA's Parker Solar Probe may have finally picked up signals of the culprit behind Venus' mysterious "lightning" storms.
"The Space Force should safeguard US interests on the moon. The potential for conflict beyond Earth is coming."
The new constitutional provision mandates that Pyongyang "deter war and protect regional and global peace by rapidly developing nuclear weapons to a higher level," Kim said.
Clicks on the Ads Keep Us Alive ✨
Strong
That which does not kill us makes us stronger.
Nietzche
2023 Server & Site Tech Support 4200 €

70%

70%
Support Disclosure News Italia
We are working hard, and every day, to keep this blog. Like you we are fighting for the truth. If you want to work with us you are welcome, please email us! The blog costs are at our expense, advertising reimburse us very marginally so if you like our work and find it useful buy us a coffee clicking the donation button below that will direct you to your PayPal. We need the help of people like you!
Bitcoin & Cryptocurrencies Donation
1M9dohWnHBwNLSPd6afRaJackrw6wK9bxY