Clicks on the Ads Keep Us Alive 😊
News Burst 31 March 2021 – Featured News
Supreme Court justices are exempt from oversight under the federal judicial code of conduct, and it is left up to them in order to self-regulate their recusal from cases. Ideally, justices identify any conflict of interest which may cause them to be biased while deciding a case (ex. financial conflicts of interest) and they voluntary recuse themselves from the case in order to prevent a biased ruling from being handed down. Unfortunately, Justice Clarence Thomas has failed to conform to this code of conduct, particularly in regard to cases involving Monsanto Co. In the 1970s—from 1976 to 1979—Clarence Thomas worked as a corporate lawyer for the Monsanto Corporation, thus creating a serious conflict of interest for him when deciding any case involving Monsanto.
Federal prosecutors filed sex-trafficking charges Monday against Ghislaine Maxwell, the longtime companion of sex offender Jeffrey Epstein, expanding their criminal case ahead of her anticipated trial this summer. The new alleged offenses also widen the time frame law enforcement is scrutinizing. In Maxwell's original indictment, announced upon her arrest last year, the charges pertained only to suspected crimes dating to the mid-1990s. The girl cited in court papers Monday was enlisted by Maxwell and paid to give Epstein sexualized massages between 2001 and 2004, according to the new indictment. Maxwell and Epstein compensated the girl with "hundreds of dollars in cash for each encounter" at his home in Palm Beach, Fla., and encouraged her "to recruit other girls to engage in paid sex acts with Epstein, which she did," the document adds. Epstein employees, including Maxwell, who managed his properties, also allegedly sent her gifts, including lingerie.
On March 5, it was announced that the "People of Truth" organization filed a complaint with the Hague Tribunal against the Israeli government for conducting illegal experiments on Israeli citizens through Pfizer. "We address you in the name of "Anshei Emet", a brotherhood of doctors, physicists, scientists, lawyers, activists and the people who have made the choice to exercise their democratic right not to participate in the experimental medical treatment against COVID19 and who feel under severe pressure, harsh and illegal, by the government, members of the Knesset, ministers, publicly elected representatives, mayors and superiors." "It has already been proven that many people died, were paralyzed, injured and disabled by the vaccine," the complaint states.
The ratings hemorrhage by CNN and MSNBC is real and dramatic. Fox News also suffered a post-election drop because of its betrayal of the President, but has achieved some measure of stability. That said, Fox is way below where it was last August.
The U.S. Supreme Court on Monday denied efforts to require former Secretary of State Hillary Clinton to face a deposition over her unsecured email setup while she served in the Obama administration. In an unsigned order issued with no comment, the justices denied an appeal from the conservative legal group Judicial Watch, mainly keeping in place a federal appeals court ruling from last August which stated that Clinton could not be forced to sit for a deposition. Judicial Watch had wanted to depose Clinton, her aide Cheryl Mills, and other State Department employees over Clinton's use of an unsecured personal email server — even for classified information — in a case seeking public access to State Department emails. Clinton's emails were subject to multiple investigations, including an FBI investigation which declined to charge her with violating federal record-keeping requirements or other crimes, despite clear evidence of violations. Clinton's emails were a major political issue in her failed 2016 bid against former President Donald Trump. Judicial Watch President Tom Fitton issued a statement accusing the court of upholding a "double standard" and undermining faith in public institutions. "Hillary Clinton ignored the law but received special protection from both the courts and law enforcement," he said. "For countless Americans, this double standard of justice has destroyed confidence in the fair administration of justice."
Apple Loses Court Battle With Swatch Over Steve Jobs' 'One More Thing' Phrase. The battle is part of a wider fight between Apple and Swatch over watch naming that dates back to the launch of Apple's own device in 2015, when the US-based company was stopped from calling its version the "iWatch." The long-running trademark dispute, during which the Cupertino-based company had repeatedly objected, claiming that the expression has been associated with Apple for over 20 years, ended with London judge Iain Purvis ruling that Apple cannot keep its founder's turn of phrase to itself, siding with Swatch Group AG. According to the report, the judge said in his decision that Swatch's attempt to register the phrase could have been an attempt to "annoy" Apple, but Apple can't stop it from doing so. The judge decided that the phrase was most likely coined by the fictional TV detective Columbo.
A court in Vietnam on Tuesday (Mar 30) sentenced a Facebook user to 10 years in prison after finding him guilty of spreading "anti-state propaganda" on social media, police said. Vu Tien Chi, 55, was convicted of "making, storing, spreading information, materials, items for the purpose of opposing the state" at a one-day trial in the Central Highlands province of Lam Dong, the Ministry of Public Security said in a news release. Despite sweeping economic reform and increasing openness to social change, Vietnam's ruling Communist Party retains tight media censorship and tolerates little criticism. Chi was accused of sharing 338 articles and 181 videos on his social media to "distort and defame the people's administration, infringe the interests of the Communist Party of Vietnam and state", the ministry said.
A court in Vietnam handed a two-year suspended jail term to a Vietnam Airlines flight attendant on Tuesday (Mar 30) after finding him guilty of breaking COVID-19 quarantine rules and spreading the virus to others, police said. After a one-day trial at the People's Court of Ho Chi Minh City, Duong Tan Hau, 29, was convicted of "spreading dangerous infectious diseases", Vietnam's Ministry of Public Security said in a statement. Hau breached the country's 14-day quarantine regulations and met 46 other people following his flight from Japan in November, according to the indictment posted on a police ministry website. Hau had mingled with other people during a stint in state quarantine and visited cafes, restaurants and attended English classes while he was supposed to be self-isolating, the indictment said. He tested positive for COVID-19 on Nov 28. Hau's violations resulted in the quarantine and testing of about 2,000 other people in the city at a cost of 4.48 billion dong (US$194,192), the indictment said. State media said he had infected at least three other people.
Earlier this year, use of the AstraZeneca coronavirus vaccine was suspended in some countries following reports of severe side-effects, including a rare blood condition that causes clots and haemorrhages. Germany's vaccine regulator, the Paul Ehrlich Institute (PEI) said it has recorded 31 cases of a rare blood clot in the brain after people were vaccinated against COVID-19 with an AstraZeneca jab. Nine of these cases have resulted in deaths, the PEI added.
A government minister appeared on morning television to urge Brits to "call out" others if they were seen engaging "in an odd way," such as hugging their loved ones.
Grounded container vessel Ever Given has been fully refloated and is being towed to the Great Bitter Lakes region for its technical examination, Boskalis subsidiary SMIT Salvage said in an update. "The chartered vessel will be repositioned to the Great Bitter Lake in the Canal for an inspection of its seaworthiness. The outcome of that inspection will determine whether the ship can resume its scheduled service. Once the inspection is finalized, decisions will be made regarding arrangements for cargo currently on board. Once the inspection is finalized, decisions will be made regarding arrangements for cargo currently on board.
AstraZeneca has renamed its Covid-19 vaccine, a move that coincides with the company's struggle to reassure the public that its drug is safe, following numerous reports of potential adverse effects. The debut of 'Vaxzevria' comes as AstraZeneca fends off growing uncertainty about its drug, which was created in tandem with Oxford University. More than a dozen countries across Europe have temporarily halted their rollout of the vaccine following reports of blood clots. EU health officials, as well as the pharma firm, have maintained that the vaccine is safe and not related to the medical episodes, some of which led to death.
Just say no
Illuminati Card Game
News Burst 31 March 2021 – Bonus IMG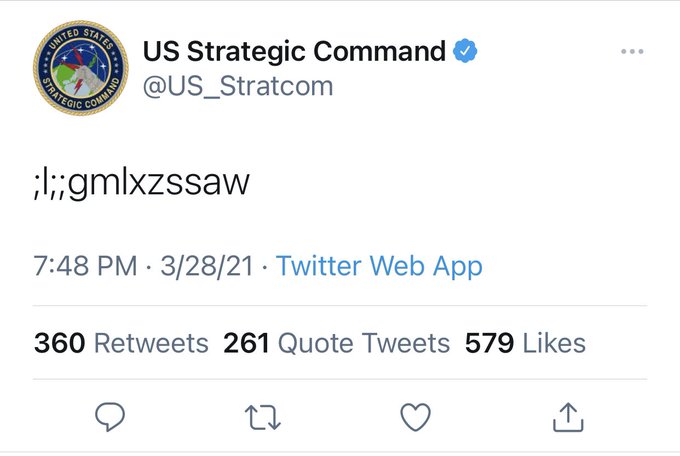 ;l;;gmlxzssaw
United States Strategic Command (STRATCOM) posted on its official Twitter feed the computer cipher message: ";l;;gmlxzssaw"—that was followed nearly 8-hours later, at 03:18 UTC on 29 March, by STRATCOM posting another message below their prior one stating: "Apologies for any confusion…Please disregard this post". ";l;;gmlxzssaw" is a character encoding using ASCII whose true message is "059 108 059 059 103 109 108 120 122 115 115 097 119 013 010"—as confirmed by ASCII to Text Conversion and verified by Decimal To Text analysis—is a valid launch code authorizing the Francis E. Warren Air Force Base in Cheyenne-Wyoming to release a single SM-65 Atlas Intercontinental Ballistic Missile containing a W49 Thermonuclear Warhead—whose directed release-to-target is Washington D.C.—but for reasons left to be explained, STRATCOM posted this nuclear launch code yesterday knowing that it was only valid during the Cold War year of 1963.
News Burst 31 March 2021 – Bonus IMG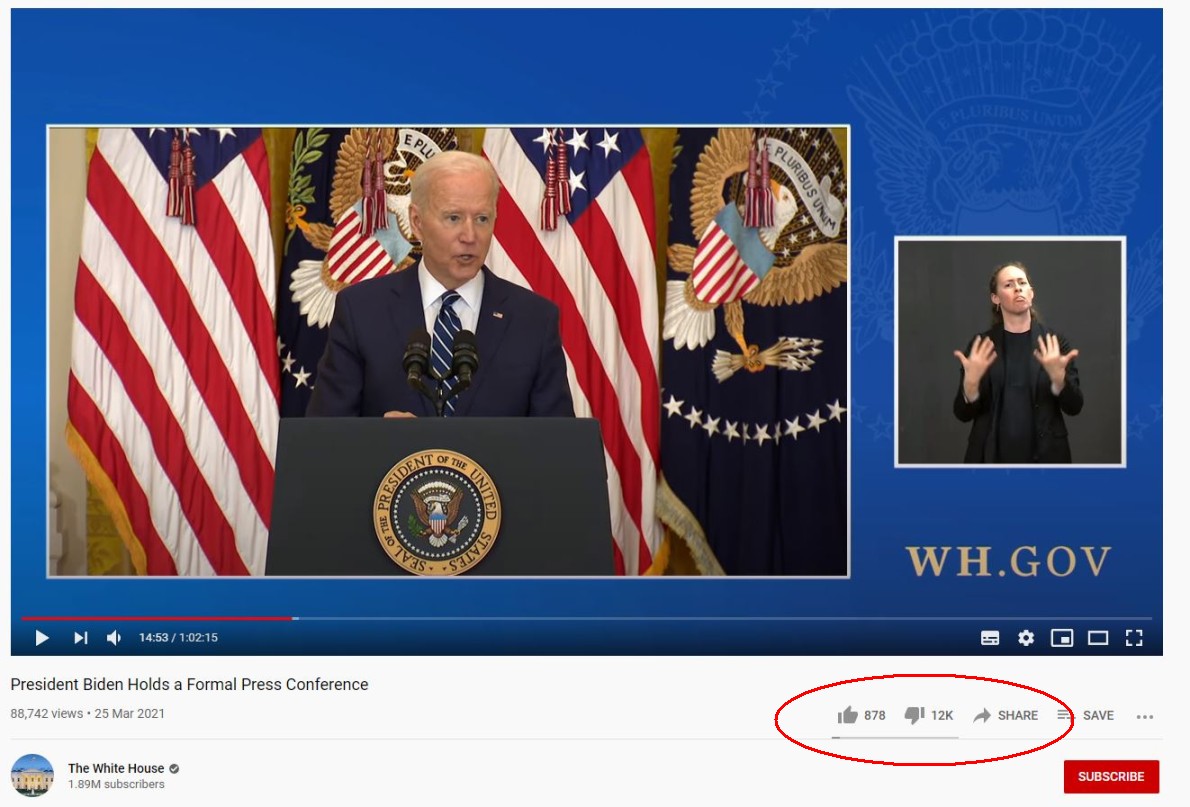 Dislike
[They] are planning to remove the thumb down…
News Burst 31 March 2021 – Bonus Video
From ISS
Russian Astronaut Films Clear Massive UFO from ISS – 2021
News Burst 31 March 2021 – Bonus Video
Geldingadalir Volcano, Iceland
News Burst 31 March 2021 – Earthquakes
Earthquakes Last 36 Hours – M4 and Above
News Burst 16 January 2022News Burst 16 January 2022 - Get The News! By Disclosure News.Clicks on the Ads Keep Us Alive 😊 News Burst 16 January 2022 - Featured News The drone at Forsmark was spotted by a security guard when it flew into a protected area at the...
Using drones equipped with these lidars, the archaeologists managed to pierce through the thick foliage of the Peruvian jungle and detect the structures buried near of the ceremonial site Chachabamba.
The number of places to search for life in our solar system could be expanded as scientists said they've discovered "compelling evidence" of a "stealth ocean world" on Saturn's icy moon of Mimas.
Hubble Telescope has spotted a black hole engaged in the formation of new stars, rather than swallowing them up.
Clicks on the Ads Keep Us Alive ✨
Creativity
I'm always thinking about creating. My future starts when I wake up every morning... Every day I find something creative to do with my life.
Miles Davis
2022 Server & Site Tech Support 4200 €

52%

52%
Support Disclosure News Italia
We are working hard, and every day, to keep this blog. Like you we are fighting for the truth. If you want to work with us you are welcome, please email us! The blog costs are at our expense, advertising reimburse us very marginally so if you like our work and find it useful buy us a coffee clicking the donation button below that will direct you to your PayPal. We need the help of people like you!
Bitcoin & Cryptocurrencies Donation
1M9dohWnHBwNLSPd6afRaJackrw6wK9bxY