Clicks on the Ads Keep Us Alive 😊
News Burst 31 July 2021 – Featured News
US Secretary of State Antony Blinken became a target of sarcasm after he raised concern on Friday over the "increasing trend of surveillance, harassment and intimidation of foreign journalists in China". Edward Snowden, who is known to be at the receiving end of US pressure for leaking sensitive information on NSA surveillance programs, took to Twitter to question Blinken over his silence on the Pegasus snooping scandal involving the US '"close partners in Israel".
A mysterious creature found in the United States was caught by employees of the Florida Fish and Wildlife in the Tamiami Canal and was then sent to the museum. After conducting DNA analysis, researchers identified the creature as being a Typhlonectes natans. The discovery baffled researchers. This snakes live in South America where they can be found in shallow water with aquatic vegetation. So how did a Typhlonectes natans end up in North America? Some researchers suggest that there is nothing dangerous about the creature, which does not behave as a serious predator. Typhlonectes natans have extremely poor eyesight and use sensory tentacles and nostrils to find food. Researchers from the Florida Museum of Natural History are now planning to conduct a study to see how far these snakes have spread in Florida and the rest of the country.
Earlier this month, it became known that Joe Biden's second son, who has no education in the arts, will exhibit his works at the Georges Berges Gallery in NY and sell them at an auction, with reports saying the items are expected to fetch up to $500,000. This has prompted concerns that Hunter is profiting off his father's presidency.
The Boring Company, the Elon Musk-headed company has finally managed to open its first fully functioning underground facility in none other than Sin City. Obtained by TechCrunch, the "Ride Script" document provides a list of situations and potential responses that can be given to curious passengers during their ride on the Las Vegas Convention Center Loop, which runs the length of 1.7 miles and currently only includes three stops. In instances where curious passengers begin to inquire about the company's billionaire founder, the script urges employees to "do your best to shut down such conversation" at first before opting to recite any of the suggested responses. "If passengers continue to force the topic, politely say, 'I'm sorry, but I really can't comment' and change the subject," the document notes.
Coinciding with the Biden administration's massive flip-flop on Covid protocol, which now requires that Americans – regardless of their vaccination status – go back to donning masks in public, Forbes published an article suggesting English speakers are the most pervasive super-spreaders of the coronavirus. How is it possible that speaking English may spread more coronavirus than other languages? The wobbly foundation for that theory is based on a 2003 scientific study that argues that the possible reason Americans traveling to China were infected by the SARS virus was because the English language is riddled with so-called "aspirated consonants" – spit-producing letters such as [p], [t], and [k], which are said to produce a lot of airborne droplets.
Amazon.com Inc. faces the biggest ever European Union privacy fine after its lead privacy watchdog hit it with a 746 million-euro ($888 million) penalty for violating the bloc's tough data protection rules. CNPD, the Luxembourg data protection authority slapped Amazon with the record fine in a July 16 decision that accused the online retailer of processing personal data in violation of the EU's General Data Protection Regulation, or GDPR. Amazon disclosed the findings in a regulatory filing on Friday, saying the decision is "without merit." "There has been no data breach, and no customer data has been exposed to any third party," Amazon said in a statement, adding that it plans to appeal. "These facts are undisputed. We strongly disagree with the CNPD's ruling."
The share of the Chinese currency in trade between Russia and China has increased, as the countries boost efforts to move away from the US dollar in response to Washington's sanctions policies, according to a top Chinese diplomat. According to Zhang, Russia has been steadily following a policy of de-dollarization of foreign trade, expanding the use of Chinese currency for buying financial products denominated in the renminbi and using it as a reserve currency over recent years. He added that the yuan has been gaining recognition from the Russian government, enterprises, and investors.
Former Cardinal Theodore McCarrick, who was defrocked after a Vatican investigation confirmed he had sexually molested adults as well as children, has been charged with sexually assaulting a teenage boy during a wedding reception in Massachusetts in 1974, court records show. McCarrick is the first cardinal in the U.S. to ever be criminally charged with a sexual crime against a minor, according to Mitchell Garabedian, a well-known lawyer for church sexual abuse victims who is representing the man alleging the abuse by McCarrick
An outbreak of Covid-19 has been confirmed on the Royal Navy's flagship, HMS Queen Elizabeth. The BBC has been told there have been around 100 cases on the aircraft carrier, which is part way through a world tour. Several other warships in the fleet accompanying it are also affected. Defence Secretary Ben Wallace said all crew on the deployment had received two doses of a Covid-19 vaccine.
1.6 billion disposable masks entered our oceans in 2020 alone. This equates to roughly 5,500 tons of plastic pollution. Disposable COVID-19 masks are expected to take more than 450 years to decompose. They break up into microplastics, endangering the very precious marine wildlife around the globe.
A German federal court on Thursday faulted aspects of Facebook's handling of "hate speech," at least in the past. It ruled that the social network giant can't delete posts without at least informing users afterward, and must give users advance notice when it moves to suspend their accounts. The Federal Court of Justice considered two cases dating back to August 2018 in which Facebook deleted comments taking aim at Muslim migrants and people of immigrant origin and suspended the users' accounts. It ordered the company to restore the posts. The court found that Facebook wasn't entitled to delete the posts and suspend the accounts under its April 2018 conditions of use, which barred users from violating "community standards" and banned "hate speech," which it did not define more precisely. It said that "users of the network are inappropriately disadvantaged, contrary to the requirement of good faith."
65,000 Americans have reportedly joined Trump's class action lawsuit against Big Tech so far. The amended complaints were filed on Tuesday, according to AFPI. Affected Americans can join the lawsuit here: https://www.takeonbigtech.com/
Casale Monferrato, Piedmont, Italy. Yesterday morning the faithful who went to the central church of San Paolo Apostolo found a sign on the main door that reads: "Whoever is not vaccinated is a serious danger, he is not welcome in this church".
News Burst 31 July 2021 – Bonus IMG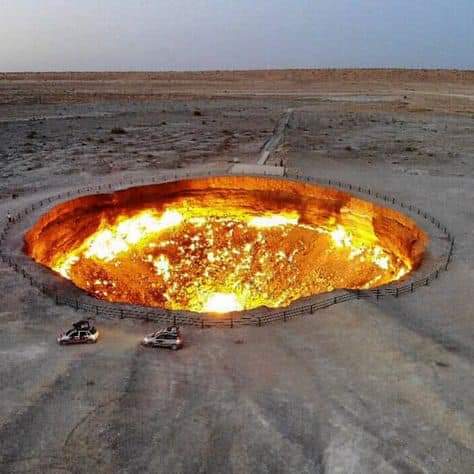 "The Gates of Hell"
"The Gates of Hell" in Turkmenistan is a 230 feet wide hole that's been burning since 1971 after a Soviet drilling accident.
News Burst 31 July 2021 – Bonus Video
Louisville, Kentucky 24 July 2021
News Burst 31 July 2021 – Bonus Video
New Paint Job For [Macaron] House
News Burst 31 July 2021 – Earthquakes
Earthquakes Last 36 Hours – M4 and Above
News Burst 30 November 2021News Burst 30 November 2021 - Get The News! By Disclosure News.Clicks on the Ads Keep Us Alive 😊 News Burst 30 November 2021 - Featured News Making his case in a fresh interview, Roger Stone accused top officials at the FBI of...
Clicks on the Ads Keep Us Alive ✨
Tired
When your legs are tired, walk with your hearth.
Paulo Coehlo
2022 Server & Site Tech Support 4200 €

47%

47%
Support Disclosure News Italia
We are working hard, and every day, to keep this blog. Like you we are fighting for the truth. If you want to work with us you are welcome, please email us! The blog costs are at our expense, advertising reimburse us very marginally so if you like our work and find it useful buy us a coffee clicking the donation button below that will direct you to your PayPal. We need the help of people like you!
Bitcoin & Cryptocurrencies Donation
1M9dohWnHBwNLSPd6afRaJackrw6wK9bxY