News Burst 30 September 2020
Clicks on the Ads Keep Us Alive 🙂
News Burst 30 September 2020 – Bonus IMG
Water On Mars
Several liquid bodies have been found under the south pole of Mars, according to a major new study. The findings could be key in the search for alien life on the planet, the researchers note, given life as we know it requires liquid water to survive. They will also be key to "planetary protection" work that ensures that humanity doesn't contaminate other planets with life from Earth during missions to explore them. The researchers call for future work to better examine Mars, its chemistry – and whether there might be any traces of what they call "astrobiological activity", or alien life. The discovery was made using MARSIS, or the Mars Advanced Radar for Subsurface and Ionosphere Sounding, which is onboard the Mars Express spacecraft sent by the European Space Agency to orbit around Mars. The instrument sends radar pulses that can penetrate the surface and ice caps of Mars. They can then be measured as they bounce back towards the spacecraft, allowing researchers to delve into the planet without actually touching it. In the new study, researchers led by Elena Pettinelli from Roma Tre University used techniques borrowed from Earth satellites to study the lakes beneath Antarctic glaciers.
News Burst 30 September 2020 – Bonus IMG
Crossroads Kitchen
Bill Clinton is said to have enjoyed a secret dinner with Ghislaine Maxwell in 2014 – years after she was first linked to Jeffrey Epstein's sex crimes. The former US president, 74, ate with close friends, including Epstein's alleged madam and former girlfriend Maxwell, at vegan restaurant Crossroads Kitchen in Los Angeles in February of that year, The Daily Beast reports. Maxwell, 58, who attended Chelsea Clinton's wedding in 2010, had been linked to Epstein's crimes in 2011 by Virginia Roberts, one of Epstein's prime accusers. Her attendance at the 2014 meal is said to have been hotly contested by Clinton's team. The former president is said to have been 'relieved' the press did not find out about the dinner. Democrat donor Steve Bing, who killed himself earlier this year, is also thought to have dined with Clinton that night.
News Burst 30 September 2020 – Bonus IMG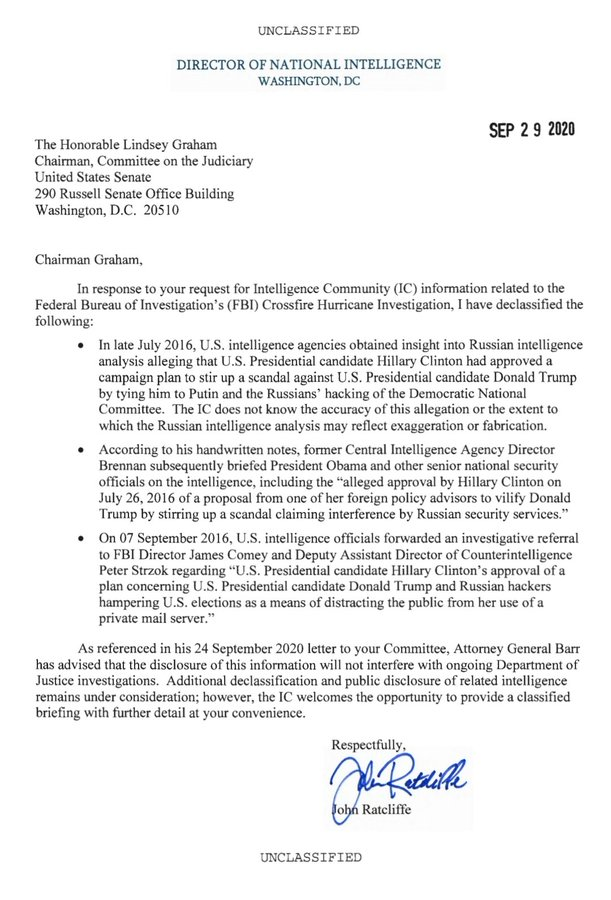 Crossfire Hurricane Investigation
News Burst 30 September 2020 – Bonus IMG
Sri Lanka
Authorities in Sri Lanka have long demanded that the United Kingdom take back the 'hazardous' or unrecyclable waste that the nation sent to the Southeast Asian island country. Sri Lanka returned 21 containers full of "recycling" to the UK on Saturday after they were discovered to be full of decomposing medical waste, according to the Daily Mail. The Sri Lankan government said that container loads of waste were shipped into the country in violation of international law relating to the moving of hazardous material. "We are working to secure compensation from those responsible for getting the containers into the country", Customs spokesman Sunil Jayaratne said. According to officials, the illegally-imported containers were loaded with rags, bandages, and body parts from mortuaries. The containers were intended to carry used mattresses, carpets, and rugs, but officials said they also contained hospital waste. Between September 2017 and March 2018, the canisters containing 260 tonnes of rubbish had arrived by ship in Colombo's primary port.
News Burst 30 September 2020 – Bonus IMG
Germany
The crows possess a form of consciousness and are smarter than they've been given credit for. The team at the University of Tubingen in Germany conducted a series of experiments on two carrion crows (Corvus corone), in which they were each shown some 20,000 light signals over the course of dozens of sessions while electrodes monitored their brain activity. "Our results, however, conclusively show that nerve cells at higher processing levels of the crow's brain are influenced by subjective experience, or more precisely produce subjective experiences." These findings suggest the existence of a pre-existing "ancient microcircuit" in the last common ancestors of humans and crows which lived 320 million years ago, which then evolved and developed in vastly different ways over the intervening millions of years, according to biopsychologist Martin Stacho.
News Burst 30 September 2020 – Bonus IMG
Working-Class Children
A recent report highlighted how the pandemic is causing severe problems for Britain's poor white children. A report was submitted to the Commons Education Select Committee on how the poorest children in the UK are being severely disadvantaged by the coronavirus crisis with regard to their education, and how this will cause longer-term economic problems for themselves and their communities. Another generation of working-class communities will be subject to even more devastation.
We understand by now that this is how the British class system works. Professor Peter Edwards, head of inorganic chemistry at Oxford, said the research left "no question whatsoever" that white working-class children, and boys in particular, were being failed. He also suggested that even raising the issue was "taboo," particularly in academic circles, as it was associated with "hard-right political thinking." The plight of working-class white children was seen as "unfashionable" and "not worthy."
News Burst 30 September 2020 – Bonus IMG
Nong Bua Lamphu
Villagers in a near three-decade battle against a mine in northeastern Thailand said they had reclaimed land that was allocated for quarrying despite their objections, reflecting a growing trend of community action against industrialization. Villagers in the Nong Bua Lamphu province said they never consented to the land being used for mining and had occupied the mining area last week after the permit expired. Villagers said that the mining had affected their health and the environment for 26 years, and that they would oppose any move to renew the permit. Instead, they pledged to turn the 36-hectare (89-acre) area into a community forest.
News Burst 30 September 2020 – Bonus IMG
South Sudan
Security officers in South Sudan have seized more than 320kg (700lb) of wild animal skins smuggled from South Africa, a wildlife official has told. The haul was confiscated at the international airport in the capital, Juba, after being flown in on an Ethiopian Airlines flight, said South Sudan's director-general for Wildlife Services, Aldo Geake. The suspected ringleader of the smuggling network had been arrested, and it was thought that the animal skins were to be smuggled to Europe, South Sudan's Minister of Wildlife Conservation and Tourism, Rizik Zachariah Hassan, was quoted by the local Eye Radio as saying. Animal skins are used for a wide variety of purposes – including making clothes, shoes and handbags.
News Burst 29 September 2020 – Bonus Video
Kabamur
Rock Hill, South Carolina 9/28/2020 | MUFON
Hearing the reaction of different kinds of people witnessing these crafts and fleets is important for disclosure too. Our Friends know when they're being seen. They need people to go through the questions on their own.
News Burst 29 September 2020 – Bonus Video
Exibition Of Seven
Rock Hill, South Carolina 9/28/2020 | MUFON
"Behold, there appeared a chariot of fire, and horses of fire…"
News Burst 29 September 2020 – Bonus Video
 Elephant Calf Rescue
An elephant calf that fell into an abandoned pit in south India was rescued by the forest department on September 22. The rescue operation was carried out in Chakkimedu a hamlet located on the forest fringe area of Vadattupara in Ernakulam district, Kerala. Residents of the hamlet heard trumpeting of elephants when a herd entered a farm land close to the forest in search of food, before the calf fell in the pit.
News Burst 29 September 2020 – Earthquakes
Earthquakes Last 36 Hours – M4 and Above
Cetaceans like dolphins and whales will no longer be kept in Canadian aquariums after the government passed a bill that prohibits their captivity. The bill, S-203, was first proposed in 2015, and it was finally passed after three years of intense legislative battles. With the bill in effect, Canada has taken another step towards becoming more environmentally responsible.
The president of the Vatican Tribunal Giuseppe Pignatone read the sentence which establishes that Angelo Caloia and Gabriele Liuzzo were sentenced to 8 years and 11 months in prison for the crimes of money laundering and aggravated embezzlement.
The discovery of an ancient idol, believed to be that of the Hindu god of the Sun, in a remote village in the Indian state of Himachal Pradesh has triggered a wave of excitement among local people. Many residents of the area view the ancient idol's discovery as a miracle.
Clicks on the Ads Keep Us Alive ✨
No Enclosures
I was born on the prairies where the wind blew free and there was nothing to break the light of the sun. I was born where there were no enclosures.
Geronimo
2021 Server & Site Tech Support 4200 €

51%

51%
Support Disclosure News Italia
We are working hard, and every day, to keep this blog. Like you we are fighting for the truth. If you want to work with us you are welcome, please email us! The blog costs are at our expense, advertising reimburse us very marginally so if you like our work and find it useful buy usacoffee clicking the donation button below that will directu to your PayPal. We need the help of people like you!
Bitcoin & Cryptocurrencies Donation
1M9dohWnHBwNLSPd6afRaJackrw6wK9bxY