Clicks on the Ads Keep Us Alive 😊
News Burst 30 April 2020
One of the world's largest lunar meteorites goes on private sale at Christie's on Thursday, valued at $2.49 million. The moon rock, weighing over 13.5 kg, was probably struck off the surface of the moon by a collision with an asteroid or comet and then showered down on the Sahara desert. Scientists can be certain that it is from the moon after comparing it with rock samples brought back by the United States' Apollo space missions to the moon.
Sweden is planning to ask the European Union to probe the origin of the Covid-19 pandemic, in a move that would potentially add further strain on the Nordic nation's already tense relations with China. This follows similar remarks made by US, Australian and German leaders who demanded further information on the virus' origin from the Beijing authorities, who have insisted the task should be left to scientists, not politicians.
While the Australian tourism industry may have dried up in the coronavirus lockdown, dive tour operators have decided to put their time to good use by planting coral along the Great Barrier Reef. The initiative is called the Coral Nurture Program. Similar projects in the area were already in place, such as the Crown-of-Thorns (a coral destroying starfish) eradication and the Eye on Reef monitoring program. But what makes this latest project unique is that it's the first time tour companies have worked together with researchers. It involves finding fragments of opportunity – coral fragments that have naturally broken off and attaching them back on to the reef using a coral clip. Approximately 1000 pieces of coral have been planted on Hastings Reef so far.
As astronauts explore the Moon during the Artemis program, they may need to make use of the resources that already exist on the lunar surface. Take water, for instance: Because it's a heavy and therefore expensive resource to launch from Earth, our future explorers might have to seek out ice to mine. Once excavated, it can be melted and purified for drinking and used for rocket fuel. But how much water is there on the Moon, and where might we find it? This is where NASA's Lunar Flashlight comes in. About the size of a briefcase, the small satellite – also known as a CubeSat – aims to detect naturally occurring surface ice believed to be at the bottom of craters on the Moon that have never seen sunlight.
The editor in chief and a social-media administrator of Iran's semiofficial ILNA news agency were detained last week over a cartoon deemed insulting to the country's leadership. The cartoon mocks those promoting fake treatments to ward off the coronavirus, including drinking camel urine and inserting violet oil in the anus, under the guise of Islamic medicine.
A commander of the logistics readiness squadron at Osan Air Base, South Korea, has been removed from his post due to a loss of confidence in his ability to lead. Lt. Col. Michael Kearney, commander of the 51st Logistics Readiness Squadron, was removed from his post by Col. John Gonzales, 51st Fighter Wing commander, on Tuesday, according to a spokesperson from the 51st Fighter Wing. "The decision was made due to loss of confidence in Kearney's ability to effectively lead the squadron," the spokesperson said in an email.
The winter of 2019-20 was highly unusual, explained Craig Long of NOAA's Climate Prediction Center. "The cold temperatures in the Northern Hemisphere polar region were present all winter long without 'weather' disrupting the circulation pattern," he wrote. "There have been previous years where part of the winter has been cold, 2010-2011 for example, but not for the entire winter. This winter is also interesting in that the stratosphere and troposphere [lower atmosphere] were coupled throughout most of the winter. By this I mean that the polar region (60°-90°N) had cold anomalies throughout the troposphere and stratosphere."
The European Union announced yesterday that Portugal has agreed to take 50 so-called "unaccompanied migrant children" from the reception centres on the Greek islands. It is one of 10 European Union member states that has agreed to accept children from the camps.
A team of geologists led by CU Boulder is digging into what may be Earth's most famous case of geologic amnesia. Researchers have spotted that phenomenon, called the "Great Unconformity," at locations around North America, including in the Grand Canyon and at the base of Pikes Peak in Colorado. There lie sites of missing time, where relatively young rocks dating back about 550 million years sit right on top of much more ancient stone—in some cases more than 3 billion years old. In other words, a huge chunk of geologic history has vanished from in between.
On Earth Day, Swiss-based air quality technology company IQAir published a COVID-19 Air Quality Report that shows how air pollution levels in 10 major cities around the globe have fallen to as much as 60 percent. The report looked at London, Los Angeles, New Delhi, New York City, Madrid, Mumbai, Rome, São Paulo, Seoul, and Wuhan.
Scientists who are tracking live underwater sound signals from ocean observatories near the port of Vancouver have found a major drop in low-frequency sound that comes from ships at sea and are hoping to take advantage of the massive pause in the movement of ships to find out about what effect this has on marine life.
The "Roulette Gang" is back in town, preying on empty expressways in Tokyo after dark when few motorists venture out due to the COVID-19 pandemic. Driving vehicles with souped up engines, they race around the loop Metropolitan Expressway network at way past the speed limit, generally being a nuisance and daring the police to catch them. The "Roulette Gang" is a coined generic term for reckless drivers who race on loop-shaped highway roads, mainly in Tokyo and Osaka.
Claims
Claims Ukraine may be hiding Hillary Clinton's missing emails.
Claims a cybersecurity company named Crowdstrike framed Russia for election interference.
Claims former vice president Joe Biden was corrupt in his dealings with Ukraine during the Obama administration and owned an Island across from Epstein's underground ritualistic island.
Claims that voter fraud in the 2016 election cost him the popular vote.
Claims that Obama had wiretapped Trump's phone.
Questions
Questions that Joe Scarborough killed one of his interns.
Questions about Fox News being partly owned by a Saudi billionaire.
Questions about whether some Muslims/& Israelis were cheering after 9/11.
Questions about whether childhood vaccines cause autism.
Questions about a former Bill Clinton aide's suicide.
Questions about President Obama's birth certificate.
Sun Activity
In a continuing show of strength from Solar Cycle 25, another new-cycle sunspot appeared on the sun today [and a fourth?]. Provisionally numbered "AR2762," it is located at high latitude in the sun's northern hemisphere.
Strongest EQ in Europe M3.8 Greece
Strongest EQ in North America M3.7 California
Strongest EQ on the Planet 5.4 Argentina
Deepest EQ M4.5 576 km Ndoi Island, Fiji
News Burst 30 April 2020 Bonus Img
Comet SWAN
Comet SWAN (C/2020 F8) is now a naked-eye object. Experienced observers around the world are pegging the comet at magnitude +5.5, technically within the range of human visibility. At the moment, naked eyes can see it only as a dim fuzzball, but with the aid of a telescope…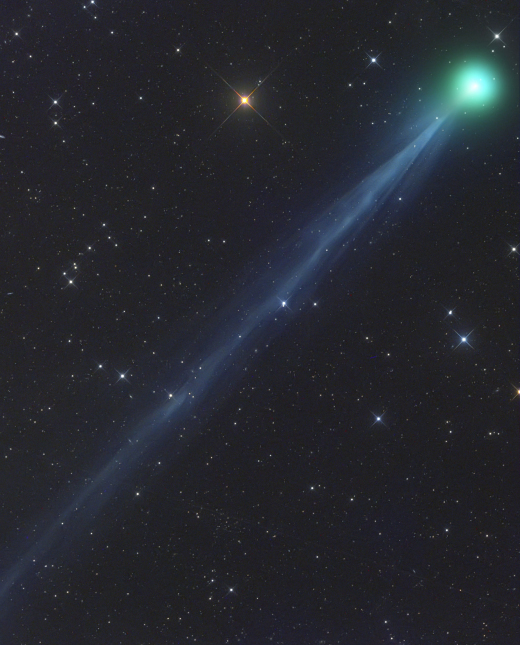 News Burst 30 April 2020 Bonus VIDEO
Ikai
Kabamur – Recorded last night, this is week #2 of Ikai's ship being visible over Sedona. Just showing the basic difference between Venus (brightest object in the sky) and a Pleiadian craft. Still phone quality video, but I'm looking into better ways to record at night.
News Burst 30 April 2020 Bonus VIDEO
Twitter staff asked to see the film, supposedly to understand what parts were likely to "trigger" users so as to better prepare their response.
"Once prominent Western scientists such as Jeffrey Sachs of Columbia University and John Mearsheimer of the University of Chicago have all but disappeared from the mainstream media."
"We need widespread acknowledgment of the stakes before we can have useful policy discussions," Hendrycks told a US media outlet.
Clicks on the Ads Keep Us Alive ✨
Today
There are only two days in the year that nothing can be done. One is called Yesterday and the other is called Tomorrow. Today is the right day to Love, Believe, Do and mostly Live.
Dalai Lama
2023 Server & Site Tech Support 4200 €

25%

25%
Support Disclosure News Italia
We are working hard, and every day, to keep this blog. Like you we are fighting for the truth. If you want to work with us you are welcome, please email us! The blog costs are at our expense, advertising reimburse us very marginally so if you like our work and find it useful buy us a coffee clicking the donation button below that will direct you to your PayPal. We need the help of people like you!
Bitcoin & Cryptocurrencies Donation
1M9dohWnHBwNLSPd6afRaJackrw6wK9bxY