Clicks on the Ads Keep Us Alive 😊
News Burst 29 July 2020 – Featured News
India has banned 47 more Chinese apps just weeks after banning 59 of them, including TikTok, a video-sharing social networking app owned by ByteDance, a Beijing-based internet company. "We have banned 47 mobile apps from China in this ongoing exercise which highlights the government's seriousness about data privacy and security," an Indian information ministry official, who asked to remain anonymous.
The French government, through the French Agency for Development (AFD), has provided a grant of 1.5 million EUR (1.7 million USD) to help restore Cambodia's post-pandemic tourism sector, according to the Cambodian Ministry of Tourism. Cambodia's tourism sector has been severely affected during the COVID-19 outbreak due to the loss of foreign visitors as a result of the suspension of flights from many countries. The ministry estimated that as of May, around 2,956 tourism-related businesses in Cambodia have been closed, leaving a further 45,405 people unemployed.
Indonesian police have charged four more people in connection with the alleged torturing to death of an Indonesian crew member found in a freezer aboard a Chinese fishing vessel, authorities said Monday (Jul 27). They were executives at Indonesian recruitment agencies which hire locals – such as 20-year-old Hasan Apriadi, who died last month – to work on Chinese ships, police said.A Chinese supervisor on the Lu Huang Yuan Yu 118 vessel has been charged in Apriadi's death and for assaulting other Indonesian crew. In all, six recruiting agency bosses are now facing human-trafficking charges, including allegations they lied to dozens of Indonesians placed aboard Chinese fishing vessels by saying that they would be working as waiters or staff in retail stores overseas, police said. "The suspects engaged in illegal recruitment and deceived the victims with false promises," said Arie Dharmanto, director of the general crimes unit for Indonesia's Riau Islands province. The suspects also face charges that they knowingly put the crew members at risk, and could be hit with a maximum life sentence if found guilty, according to police.
Huge foreign loans are given to sovereign nations by the World Bank, IMF and the likes. But the conditions that come attached to these loans are seldom told by governments to their citizens. A recent case in Belarus has exposed the conditions laid by these agencies for loans being provided for COVID-19. The President of Belarus has exposed that the World Bank coronavirus aid comes with conditions for imposing extreme lockdown measures, to model their coronavirus response on that of Italy and even changes in the economic policies which he refused as being "unacceptable".
An emerging threat actor out of China has been traced to a new hacking campaign aimed at government agencies in India and residents of Hong Kong intending to steal sensitive information, cybersecurity firm Malwarebytes revealed in the latest report. The attacks were observed during the first week of July, coinciding the passage of controversial security law in Hong Kong and India's ban of 59 China-made apps over privacy concerns, weeks after a violent skirmish along the Indo-China border. Attributing the attack with "moderate confidence" to a new Chinese APT group, Malwarebytes said they were able to track their activities based on the "unique phishing attempts" designed to compromise targets in India and Hong Kong.
Today sees the end of a music magazine that was born out of Live Aid and the arrival of the CD. Q was started in 1986 by former Smash Hits writers David Hepworth and Mark Ellen, who wanted to give readers a glossy, sometimes irreverent, high quality product.
[Tip Of The Iceberg] Days after Goldman Sachs agreed to fork over nearly $4 billion to the Malaysian government as penance for aiding and abetting the criminals who looted more than $4 billion from 1MDB (a sovereign wealth fund financed by several bond issues underwritten by Goldman Sachs), former Malaysian Prime Minister Najib Razak has been found guilty on 7 charges related to the scandal. The charges against Najib, who served as prime minister from 2009 to 2018, involved the transfer of RM42 million from former 1MDB unit SRC International into his personal bank accounts in 2014 and 2015.
INew Zealand has suspended its extradition treaty with Hong Kong and made a number of other changes in light of China's decision to pass a national security law for Hong Kong, Foreign Affairs Minister Winston Peters said on Tuesday (Jul 28).
In an odd and unprecedented ruling Iran's Supreme Court has handed over the ownership of part of the country's highest mountain, Mount Damavand, to an organization that operates under the direct supervision of Supreme Leader Ali Khamenei. Based on traditions and rules of the religious canon Shariah, endowments are "bequeathed for pious use" such as habitations for the poor and books for the use of learned men and women. Earlier, in a similar case, the Iranian Supreme Court had ruled out a complaint by the Natural Resources Office and handed over the title of 5,600 hectares of forest lands in the White Forest region to be utilized by the Endowments Organization. Some Iranians on social media have said that the land has been given to the Friday Prayer Imam of Sari in Mazandaran Province to be used for development and building villas.
Garmin, the maker of fitness trackers, smartwatches and GPS-based wearable devices, is currently dealing with a massive worldwide service interruption after getting hit by a targeted ransomware attack. The company's website and the Twitter account say, "We are currently experiencing an outage that affects Garmin.com and Garmin Connect." "This outage also affects our call centers, and we are currently unable to receive any calls, emails or online chats. We are working to resolve this issue as quickly as possible and apologize for this inconvenience." As a result, the company yesterday was forced to temporarily shut down some of its connected services, including Garmin Express, Garmin Connect mobile, and the website—restricting millions of its users from accessing the cloud services or even syncing their watches locally to the app.
A 63-year-old woman was killed in a rare shark attack off the coast of Maine on Monday. In a Monday Facebook post, the Maine Marine Patrol said it was investigating the woman's death. The incident took place in Casco Bay near Bailey Island, which is part of the town of Harpswell in Cumberland County. "According to Marine Patrol, an eye witness reported that the woman was swimming off the shore near White Sails Lane when she was injured in what appeared to be a shark attack," the individual was declared deceased after being brought to shore by nearby kayakers.
On the eve of a Big Tech antitrust hearing, citing video evidence dug up by Project Veritas, a Republican congressman has referred Facebook CEO Mark Zuckerberg to the Justice Department for lying to Congress about political bias. Zuckerberg allegedly made "materially false statements to Congress while under oath" during the April 10-11 joint hearings in 2018, Rep. Matt Gaetz (R-Florida) wrote in a letter addressed to Attorney General William Barr on Monday. While on those occasions the Facebook CEO "repeatedly and categorically denied any bias against conservative speech, persons, policies, or politics" and "dismissed the suggestion that Facebook exercises any form of editorial manipulation," recent reports from Project Veritas have shown "ample evidence of such bias and manipulation," Gaetz wrote. The criminal referral for Zuckerberg comes on the heels of undercover recordings released by Project Veritas featuring FB content moderators like Lara Kontakos who said "If someone is wearing a MAGA hat, I'm going to delete them for terrorism."
Singapore – Maserati driver barred from driving for life, jailed more than four years for dragging police officer in escape bid. For dragging a traffic police officer with his car for more than 100m in an escape bid, a Maserati driver was on Tuesday (Jul 28) sentenced to a lifetime disqualification from driving, on top of four years and seven months in prison and a S$3,700 fine. On Nov 17, 2017, Lee, who was banned from driving at the time, drove his Maserati to collect a laptop from a man at Bedok Reservoir Road. Police officer Khairulanwar Abd Kahar – who was in uniform and on a patrol motorcycle – had spotted him driving without his seat belt on and signalled for him to stop. Staff Sergeant Khairulanwar's uniform later got caught in the driver's door of the car and he was dragged along with the moving vehicle. Lee drove 124m with the officer hanging onto the door, at a speed of 79kmh to 84kmh. The officer later fell off and was given more than 20 days' of medical leave.
A friend of Ghislaine Maxwell is confident that she will strike a plea deal, exonerate Prince Andrew, and be released from prison in just "a few years." The friend said they expect the British socialite and media heiress to "survive" the case, as she awaits trial over her alleged links to late pedophile financier Jeffrey Epstein. Maxwell faces up to 35 years in prison after having pleaded not guilty to six charges. She is due to stand trial in July next year over allegations that she was Epstein's "pimp" and chief enabler. An old friend of Maxwell believes she is likely to get a cushy deal with prosecutors considering she could turn over some powerful and influential friends of Epstein over their alleged involvement in his sex ring. However, the pal added that Maxwell would also use any plea deal as an opportunity to "exonerate" disgraced Prince Andrew, the Duke of York, over his alleged links to the case.
News Burst 29 July 2020 – Bonus IMG
Ecuador has sounded the alarm after its navy discovered a huge fishing fleet of mostly Chinese-flagged vessels some 200 miles from the Galápagos Islands. About 260 ships are currently in international waters just outside a 188-mile wide exclusive economic zone around the island, but their presence has already raised the prospect of serious damage to the delicate marine ecosystem, said a former environment minister, Yolanda Kakabadse. "This fleet's size and aggressiveness against marine species is a big threat to the balance of species in the Galápagos," she told.
News Burst 29 July 2020 – Solar Activity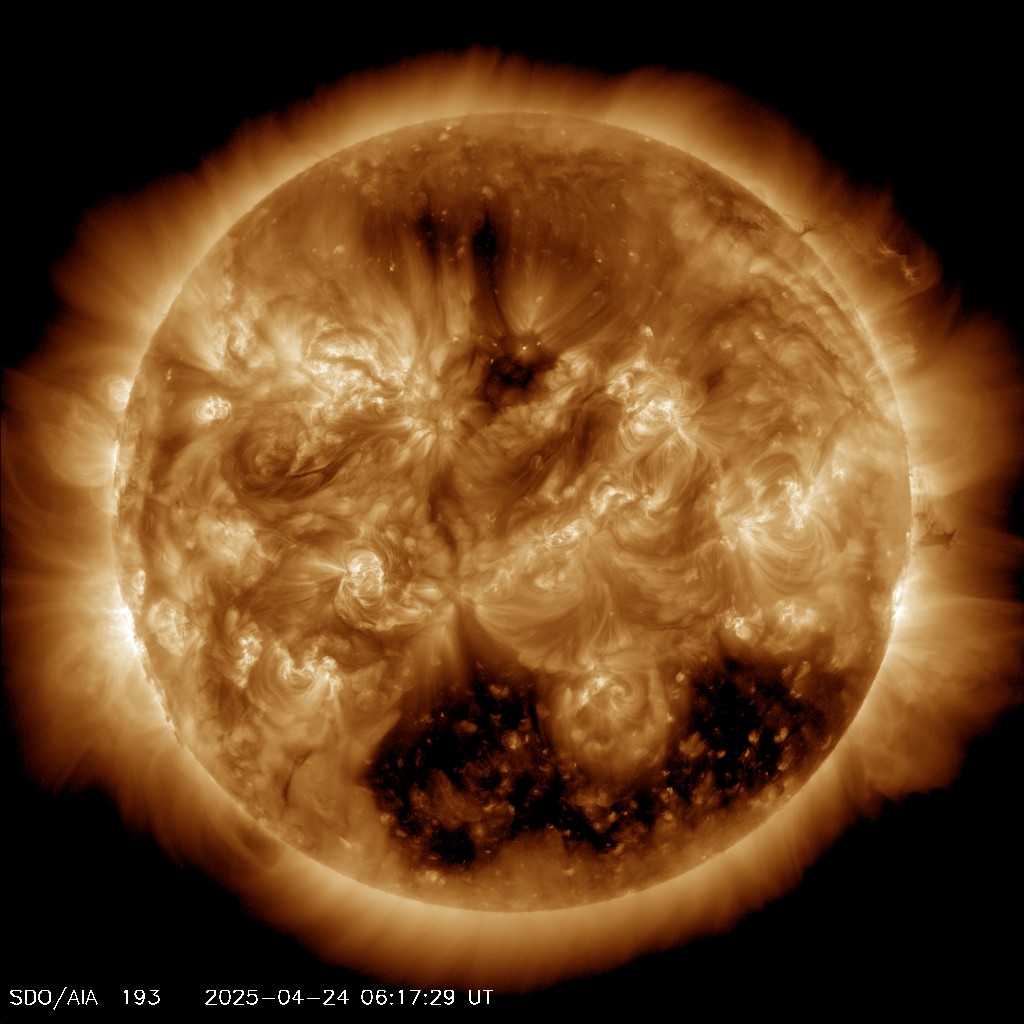 New Sunspot
Last 24 hours on our star were relatively calm in terms of eruptive activity but the northern coronal hole is visible incoming just behind the arching umbral fields of an active region. The active region on the north just cresting the limb has a very large umbral magnetic field expanse. Solar flaring from this grouping is unlikely to occur without the development of peripheral spots behind that lead umbra.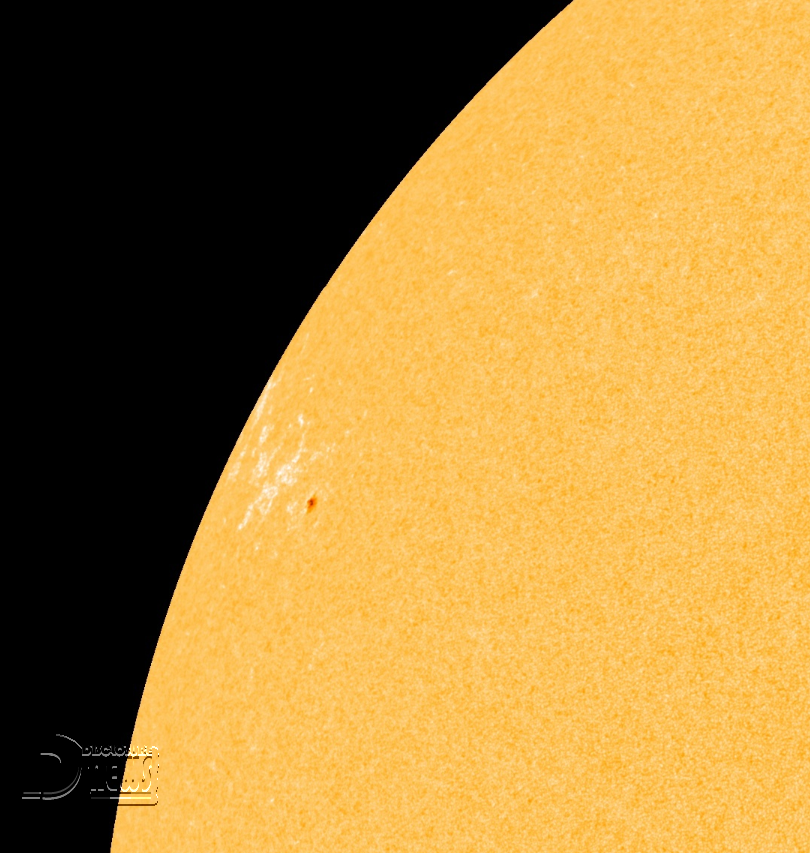 News Burst 4 July 2020 – Active Weather
Central Atlantic
Depression Nine has become Potential Tropical Cyclone Nine, chances are high as it is getting organized and ready to spin while the barometric pressure goes down. Position N of Venezuela. Wind 35-45 kts – Pressure 1007 hPa – Moving NW at 20 kts. Slowly Intensifying, 90% chances for the formation of Tropical Cyclone.
News Burst 29 July 2020 – Earthquakes
Europe – M3.4 Greece
---
North America – M6.1 Alaska
---
Central America – M4.2 El Salvador
---
South America – M4.9 Peru
---
Asia – M4.8 China
---
Pacific – M4.7 Bonin Islands, Japan Region
---
Deepest EQ – M4.8 541 km Fiji
---
Strongest EQ – M5.3 Chagos Archipelago
In this image we can see the two semi-deep earthquakes in Afghanistan on the M4, the series of movements in central Italy on the M2 and the expansion towards the Azores.
Earthquakes Last 24 Hours – M4 and Above
Dr Robinson warns that increasing hostility being directed towards countries like Russia and China threatens "super-power conflict" which would affect current and future generations profoundly. "Now is not the time for propaganda", he insists, but rather, "it is time for greater transparency and scrutiny".
Japanese amateur astronomer Yuji Nakamura was lucky enough to witness the aftermath of a star exploding some 10,000 light years from Earth using only his trusty telescope.
Future NASA missions could purposefully look for the "technosignatures" of advanced alien civilizations. Described as evidence for the use of technology or industrial activity in other parts of the Universe, the search for technosignatures has barely begun, but could unearth something surprising without much additional spend, says the study.
Clicks on the Ads Keep Us Alive ✨
Future
I look forward to a great future for America - a future in which our country will match its military strength with our moral restraint, its wealth with our wisdom, its power with our purpose.
John F. Kennedy
2022 Server & Site Tech Support 4200 €

77%

77%
Support Disclosure News Italia
We are working hard, and every day, to keep this blog. Like you we are fighting for the truth. If you want to work with us you are welcome, please email us! The blog costs are at our expense, advertising reimburse us very marginally so if you like our work and find it useful buy us a coffee clicking the donation button below that will direct you to your PayPal. We need the help of people like you!
Bitcoin & Cryptocurrencies Donation
1M9dohWnHBwNLSPd6afRaJackrw6wK9bxY