News Burst 28 July 2020 – Featured News
The potential for problems was illustrated by Scottish football team St Mirren last week. The club, based in Paisley, a town just west of Glasgow, reported seven positive test results for Covid-19 among its staff. Alarm bells went off about what this might mean for the new Scottish football season. But this "cluster" was a mirage. When the seven people were re-tested using a more accurate method, just one of them was found to be Covid-positive. There are currently two kinds of tests to see if you have the disease. One kind, the molecular real-time polymerase chain reaction (RT-PCR) test, looks for genetic material from the virus. This kind seems to be very accurate, but it's expensive and time-consuming. The other kind, the antigen test, detects specific proteins on the surface of the virus. This is quicker, easier and cheaper, but it's much less accurate. In developed countries, RT-PCR testing is the norm, but poorer countries may have to make do with antigen testing.
As the week begins with a flurry of asteroidal activity, with four space rocks set to shoot past Earth on Tuesday alone, two Indian teenagers have discovered yet another space rock due to cross paths with our planet. To kick things off, the small-house-sized asteroid 2020 OO1 will buzz by at a distance of 669,000km on July 27. Then on Tuesday, we will witness a whopping four flybys in one day, starting with the relatively safe and short-lived sojourns of 2020NZ amd 2020 OE2, 28m and 12m in diameter respectively, which will blow through our cosmic backyard at a safe distance of 3.1 million kilometers and 1.7 million kilometers. Next, the real fun begins with the car-sized (2.9m) 2020 OY4, set to skip by at a distance of just 41,500km. It will be followed by the plane-sized (26m) 2020 OR4, which will pass us at 10 times that distance, looping beyond Earth at 457,000km. Both of these might be considered a little too close for comfort, as the distance between Earth and the Moon is just 384,400km. Neither pose any real threat, however, as they are unlikely to strike us and even if they did, they would be no match for our planet's atmosphere. The brief barrage of space rocks is reason enough to set suspicious stargazers on edge, especially after two 14-year-old girls in India, Vaidehi Vekariya and Radhika Lakhani, discovered asteroid HLV2514 which will also, one day, cross paths with Earth.
A US national flag was pulled down as American staff left the US Consulate General in Chengdu, after Beijing ordered Washington to close its diplomatic office in a tit-for-tat response for the closure of Houston facility. "At 10am on July 27, according to the Chinese side's request, the US Consulate General in Chengdu was closed," the Chinese Foreign Ministry announced on Monday. After American staff left the premises, Chinese authorities "entered through the front entrance and took it over," the ministry said. Chinese media shared videos of a US flag being lowered around 6:18am local time, as the deadline approached. Beijing called the closure a "legitimate and necessary response" to Washington's "unreasonable actions" in regard to its diplomatic facility in Houston, Texas.
A new DNA study of the tequila bat could help conservationists protect both the flying mammal and the alcoholic drink. The lesser long-nosed bat, Leptonycteris yerbabuenae, plays a crucial role in pollinating the blue agave plant used to produce the Mexican spirit. However the growth in the tequila industry over the last decade has resulted in growers using cloned plants which are cut down before they flower, rather than allowing them to reproduce naturally. This results not only in less genetically diverse plants more susceptible to disease but also in lower numbers of bats. One species, the greater long-nosed bat, is on the IUCN Red List of endangered species. Farmers are now being encouraged to allow bats to pollinate part of their agave crop in return for certification of their tequila as "bat friendly".
Poland is to withdraw from a European treaty aimed at preventing violence against women, the country's justice minister announced on Saturday. Zbigniew Ziobro said the document, known as the Istanbul Convention, was "harmful" because it required schools to teach children about gender. He added that reforms introduced in the country in recent years provided sufficient protection for women. Thousands of women have protested at the move in cities across Poland. The leader who sees gay rights as a threat to Poland. Mr Ziobro said the government would formally begin the process of withdrawing from the treaty, which was ratified in 2015, on Monday. He argued that the convention violated the rights of parents and "contains elements of an ideological nature". The ruling Law and Justice (PiS) party and its coalition partners are closely aligned to the Catholic Church, and the government has promised to promote traditional family values.
Ghislaine Maxwell will be locked in her prison cell for 23 hours a day, reveals the man who used to run the jail. Until her high-profile trial next July she will be watched day and night at the Metropolitan Detention Center in Brooklyn. She will be forced to wear paper clothes and her sheets will be taken away to prevent suicide. Former warden Cameron Lindsay told Newsweek: "I would expect her to be locked down 23 hours a day. I'm sure she'll be getting legal visits though throughout the day. "She would only be moved for visiting purposes or to go to one hour of recreation a day."
Ghislaine Maxwell and Jeffrey Epstein are said to have had a "mysterious" relationship over the years. The two are thought to have linked up not long after she moved to New York in 1991. She left the UK following the death of her dad newspaper magnate Robert Maxwell, who it later emerged was scamming hundreds of millions from his own firms. Sources describes how Maxwell lived the life of luxury in New York, having a massive townhouse in Manhattan and attending every social function she could to boost her status. One pal claims that Epstein and Maxwell were not linked romantically as has been often reported, but instead their relationship was a financial one. Epstein and Maxwell's relationship was described as a "business arrangement from day one" and and Ghislaine acted like his "boss". They even speculated Epstein could have played a role in her disgraced dad's pension scam, which may have been the source of their apparent wealth. "I couldn't work out at first how, the second Ghislaine landed in New York, she was all of a sudden — overnight really — very chummy with Jeffrey," the source said.
A White House petition that was launched in April to investigate Bill and Melinda Gates for "crimes against humanity and medical malpractice" has amassed six times the number of signatures needed in order to get an official response. Created by "C.S.," the petition states that Microsoft founder Gates should not be trusted with helping finding a cure for COVID-19. In one portion, the petition states: "At the forefront of this is Bill Gates, who has publicly stated his interest in 'reducing population growth' by 10–15%, by means of vaccination. Gates, UNICEF & WHO have already been credibly accused of intentionally sterilizing Kenyan children through the use of a hidden HCG antigen in tetanus vaccines." The petition was launched on April 10. As Sunday night, more than 618,000 people have signed the petition, thereby meeting the site's terms to review the petition, place it in front of appropriate policy experts, and issue an official response. Gates, the Microsoft founder, has been one of the world's most generous health donors, but his philanthropy has sown distrust among some fearful that Gates relies too much on technology and vaccines and the World Health Organization. Robert F. Kennedy Jr., the nephew of former President John F. Kennedy, has sharply criticized Gates for what he describes as a "messianic conviction that he is ordained to save the world with technology."
A New Zealand-based Samoan chief has been sentenced to 11 years in prison for human trafficking and using 13 of his countrymen as slaves over a 25-year period. Joseph Auga Matamata, 65, also known as Villiamu Samu, was found guilty on 10 counts of trafficking and 13 counts of slavery following a five-week trial at the high court in Napier in March. During sentencing on Monday, Justice Helen Cull described Matamata's offending as "abhorrent", and ordered him to pay NZ$180,000 ($120,000) in reparations to his victims, RNZ reported, with the crown seizing half of Matamata's assets last month in a bid to recover funds for the reparations. The offending occurred between 1994 and April last year involving 13 Samoans from three villages on the island of Upolu. The youngest was just 12. The Crown argued there was a pattern to Matamata's offending, with him bringing small groups of people to New Zealand over the 25-year period for his "own financial benefit". All 13 victims, who gave evidence through translators in court, said they worked without pay and had to do chores around Matamata's house where they lived behind a tall perimeter fence and a locked gate. They were not allowed to leave, or speak to anyone at work or church, or even their families in Samoa, without his permission.
Several people warned Twitter CEO Jack Dorsey about oversight of the contractors and employees who are able to override users' security settings since 2015, Bloomberg News reported, citing former employees with knowledge of security protocols. While the concerns came to the forefront this month, after 130 high-profile users' accounts were hacked and used to promote a cryptocurrency scam, the security flaws have existed for years, to the point that in 2017 and 2018, some contractors deliberately looked into celebrity accounts, including Beyonce's, under the guise of help-desk inquiries. The people behind this month's hack reportedly reached at least one company employee by phone to gain access to security information that in turn gave them access to Twitter internal user-support tools, people familiar with the investigation told the publication. Former security employees told the publication that Twitter management has failed to manage support staff and contractors' access to sensitive information, leading contractors to find ways of accessing the data of everyone from celebrities to exes.
People gathered at Maitighar and New Baneshwor on Friday to protest against the Supreme Court's decision to shorten the prison sentence handed to Ranjan Koirala, a former deputy inspector general of the Armed Police Police Force, convicted of the murder of his wife eight-and-a-half years ago. In Maitighar, protesters shouted slogans against Chief Justice Cholendra Sumsher Rana, who was one of the judges in the bench which handed out the verdict, demanding his impeachment. Kathmandu District Court had found Koirala guilty of pre-mediated murder of his wife Gita Dhakal in January 2012 and handed life imprisonment with confiscation of his property. Dhakal's body had been cut into pieces and burnt. The Supreme Court, in its verdict, said it decided to shorten Koirala's prison sentence as he has the responsibility to raise his children, who have been without their parents for a long time.
Seven officers of the Carabinieri, Italy's military police force, were arrested on 22 July in the northern city of Piacenza, on charges including drug pushing, extortion and torture. The barracks where the Carabinieri were based has also been impounded – in an unprecedented move – with six of the officers detained in prison and one placed under house arrest, amid an investigation by the Piacenza prosecutors' office. Charges against the seven officers include trafficking and distributing drugs, receiving stolen goods, extortion, illegal arrest, torture, grievous bodily harm, embezzlement, abuse of office and fraud. "Nothing that went on that barracks was legal, they were out-and-out criminals," said Piacenza chief prosecutor Grazia Pradella – "We are confronted by shocking crimes, especially if you think they were committed by police officers." The seven Carabinieri allegedly supplied pushers with drugs and enabled them to move about during Italy's nationwide covid-19 lockdown, from early March to early June, while everyone else was confined to their homes. The officers also are accused of mistreating and torturing suspects, since at least 2017, behaviour that Pradella likened to the methods of organised crime syndicates, reports The Associated Press. Italy's defence minister Lorenzo Guerini said that these "unheard of" crimes by the Carabinieri, an arm of the Italian military with domestic policing responsibilities," must not be allowed to tarnish" the force's reputation.
Last Thursday, investors in hedge fund Angelo Gordon received an unpleasant letter advising them that a "data security incident" had taken place due to a breach of a third-party vendor used by the fund's external fund administrator, SEI Global Fund Services. The hacked "third-party vendor" in question is M.J. Brunner, a Pittsburgh- and Atlanta-based service provider that developed and supports SEI's investment dashboard and online enrollment portal, was the target of a ransomware attack that resulted in what the letter described as theft of "discrete pieces of user information associated with SEI Investor Dashboard online accounts." The attack is the latest in a string of ransomware incidents that have affected the financial-services sector through its far less secure suppliers. According to DJ, this past March financial-technology provider Finastra suffered an attack that forced it to temporarily take its systems offline. An attack on Finablr's foreign-exchange business Travelex in late December shut down its website for weeks, which had a knock-on effect on banks that use its services. Garmin's user data – which includes highly confidential personal health information – are currently locked out due to a suspected ransomware attack.
News Burst 28 July 2020 – Bonus IMG
Seattle radio host and self proclaimed "Cat Dad" Paul Gallant had taken to Twitter back in June to respond to President Trump's handling of the protesters in Seattle. Responding to a Tweet where the President was critical of the Seattle mayor, Gallant responded "Chill dawg" before saying he saw "no burning, pillaging or deaths" in his city.
Today, Paul has taken to Twitter to sing another tune: "I feel like I need to buy a firearm".
News Burst 28 July 2020 – Bonus Video
Sigar or Disk Shaped Object
News Burst 28 July 2020 – Bonus Video
Crop Circle
Yarnbury Castle – Wiltshire – Reported 26/7/2020
News Burst 4 July 2020 – Solar Activity
A sunspot is emerging over the sun's northeastern limb. Based on its high latitude, it is a likely member of new Solar Cycle 25. Right now, the sunspot looks small and faint, but the size of its magnetic canopy suggests that more might be revealed in the next ~24 hours.
News Burst 28 July 2020 – Active Weather
Eastern Pacific
Hurricane Douglas – Position NE of Hawaii – Wind velocity 80 – 100 kts↓ – Pressure 987 hPa↑ – Moving W-NW at 15 kts – Weakening.
News Burst 28 July 2020 – Earthquakes
---
Africa – M3.0 Morocco
---
North America – M5.5 Alaska
---
Central America – M3.6 Puerto Rico
---
South America – M4.6 Colombia/Equador Border
---
Asia – M5.8 Philippines
---
Pacific – M4.7 Hawaii
---
Deepest EQ – M2.5 279 km Italy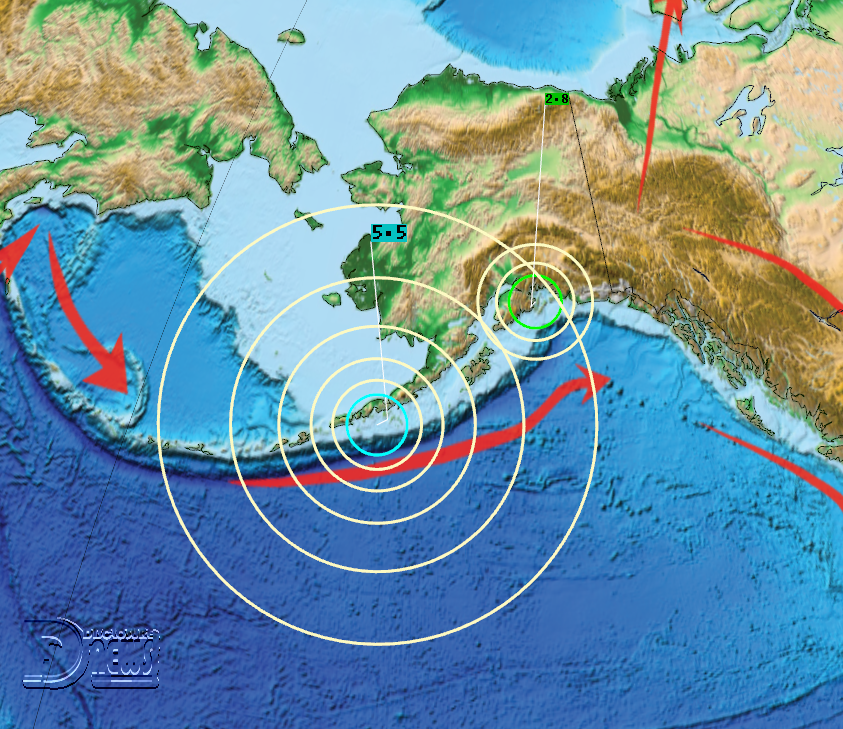 New M5.5 in the Alaskan Peninsula
M5.8 and Deep Earthquake Philippines
Just few days ago the area was struck by an M5 deep earthquake at more than 500 km depth, today, just few days later and easy guessing in this M5.8 in the Philippines.
Earthquakes Last 24 Hours – M4 and Above
"… Every farmer in this country is united against this government, and they're blockading the distribution centres of grocery stores to let the public know exactly where their food comes from and what will happen if Mark Rutte, Klaus Schwab, and the rest of the globalists get their way."
Zhao Lijian claimed the US has its own "dirty record" of creating space junk, developing offensive space weapons, and inciting space arms races by openly declaring outer space as an "operational frontier" and a "warfighting domain."
Beings of Light surround us and choose to appear. "Be not forgetful to entertain strangers: for thereby some have entertained angels unaware"
Clicks on the Ads Keep Us Alive ✨
Make New Mistakes
I hope that in this year to come, you make mistakes. Because if you are making mistakes, then you are making new things, trying new things, learning, living, pushing yourself, changing yourself, changing your world. You're doing things you've never done before, and more importantly, you're Doing Something. So that's my wish for you, and all of us, and my wish for myself. Make New Mistakes. Make glorious, amazing mistakes. Make mistakes nobody's ever made before. Don't freeze, don't stop, don't worry that it isn't good enough, or it isn't perfect, whatever it is: art, or love, or work or family or life. Whatever it is you're scared of doing, Do it. Make your mistakes, next year and forever.
Neil Gaiman
2022 Server & Site Tech Support 4200 €

71%

71%
Support Disclosure News Italia
We are working hard, and every day, to keep this blog. Like you we are fighting for the truth. If you want to work with us you are welcome, please email us! The blog costs are at our expense, advertising reimburse us very marginally so if you like our work and find it useful buy us a coffee clicking the donation button below that will direct you to your PayPal. We need the help of people like you!
Bitcoin & Cryptocurrencies Donation
1M9dohWnHBwNLSPd6afRaJackrw6wK9bxY