News Burst 27 July 2020 – Featured News
Huge crowds calling for the resignation of Israeli PM Benjamin Netanyahu rallied outside his home in Jerusalem on Saturday amid growing discontent over the government's Covid-19 response, high unemployment, and corruption. More than 5,000 people gathered on Balfour Street, now a site of frequent anti-government demonstrations making it the biggest of several protests this week. Demonstrators also rallied elsewhere in Israel. The protesters' grievances focus mainly on Netanyahu's handling of the pandemic, including a strict lockdown that caused unemployment to surge and a spike in cases after the abrupt lifting of safety measures in May. Demonstrators also are decrying legislation passed this week that granted the government emergency powers until 2021, as well as Netanyahu's refusal to step down as prime minister despite facing corruption charges.
When schools in Britain eventually reopen in September, children filling into the classrooms won't just be learning their reading, writing and arithmetic. On top of these fundamentals, their teachers will spoon-feed them blatant propaganda that would make Herr Goebbels blush. The propaganda source in question is The Day, a news site founded by a team of established journalists and directed at teens. Designed for use in the classroom, each of The Day's stories is presented alongside a range of thought-provoking questions and exercises to help young people learn to "think for themselves and engage with the world." A recent article describes Russian President Vladimir Putin as "the most dangerous man in the world" and suggests "nothing can be done to bring this rogue state [Russia] to heel." Moscow's entire foreign policy is "shameless" and Putin is described as a man who delights in stoking unrest in the West. The widely-debunked accusations of Russian interference into the 2016 US election are treated as fact, as are the rumors that Putin meddled in the UK's Brexit referendum and in last year's general election. The children are also offered Bill Browder's opinion that Russia is a "mafia state running a mafia operation." Browder, the site omits, is a magnate and fraudster who made billions of dollars in Russia during the privatization rush of the 1990s and reinvented himself as an anti-Putin activist once his revenue stream was cut off. Below the article, kids are asked to answer a number of questions, such as "Should Russia be expelled from the United Nations?" and even to write a creative story about what it would be like to meet Putin during his KGB days. For good measure, the New York Times' recent evidence-free and widely criticized story claiming Russia paid bounties to the Taliban to kill US troops in Afghanistan is suggested as further reading to help kids become an "expert" on all things Putin.
Jack Ma, CEO of Alibaba, has been pulled into a lawsuit filed by a former Indian employee who claims the company's mobile apps censor content. The case comes after India imposed a sweeping ban on Chinese apps. A district court in Gurugram has summoned Ma in the case, which concerns two Alibaba mobile applications, UC News and UC Browser. The suit alleges that the former employee was sacked after raising objections about the company's practices. The plaintiff, who reportedly worked as an associate director at the UC Web office in Gurugram until October 2017, is seeking $268,000 in damages. Examples of alleged false stories spread by the UC apps included a sensational headline from 2018 declaring that war had broken out between India and Pakistan. The lawsuit also details a "sensitive words list" which allegedly censored keywords in Hindi and English such as "India-China border" and "Sino-India war."
The labourers on Tuti Island in Sudan's capital Khartoum fear a giant dam Ethiopia is building close to the border between the two countries could endanger their livelihood. They worry the Grand Ethiopian Renaissance Dam upstream could weaken the Blue Nile's force, putting at risk an industry that locals say provided bricks for some of Khartoum's first modern public buildings around a century ago. Pottery makers, farmers and fishermen around the Nile's convergence share similar concerns, though other residents displaced by flooding last summer see benefit in a dam that will regulate the powerful river's waters. The dam "will stabilise the Nile and we will get less flooding", said Mutasim al-Jeiry, a 50-year-old potter in a village outside Khartoum's twin city of Omdurman, where workers craft jars with clay from the river. "But on the other hand we will get less clay and less water. Farmers, brick and pottery makers will be seriously affected," he predicts.
The number of forest fires in the Pantanal ecoregion of Brazil, the world's largest tropical wetlands, has nearly tripled in 2020 compared to the same period last year, according to satellite data released Thursday. Brazil's national space agency, INPE, identified 3,506 fires from January 1 to July 22 in the Pantanal, a 192 percent increase from 2019 and the most for the period since records began in 1998. The trend is all the more troubling given that 2019 already saw a six-fold increase in fires in the region across the full year. The space agency's map of the Pantanal currently shows a rash of red dots representing fires.
NASA announced a new method which it will be using to better study newly-formed stars: a stratospheric balloon floating 24.6 miles above the Earth's surface. In just three short years, NASA will be sending a balloon 24.6 miles into the stratosphere above Antarctica that will serve as a tool to better study the cosmos, more specifically newly-formed stars, and even more specifically, the gas surrounding such astronomical objects. This football field-sized balloon will actually be carrying an 8.4-foot telescope called ASTHROS (Astrophysics Stratospheric Telescope for High Spectral Resolution Observations at Submillimeter-wavelengths) which "observes far-infrared light, or light with wavelengths much longer than what is visible to the human eye."
The Earl of Snowdon appears to have been named in Jeffrey Esptein's little black book of contacts. According to reports, the Queen's nephew David Armstrong-Jones – better known as David Linley – seems to have been listed among a string of other high profile names compiled by the paedophile financier. There is no suggestion that the Earl has done anything wrong, or even had any kind of personal relationship with Epstein or Ghislaine Maxwell. Prince Andrew is preparing to fight back against the possible disclosure this week of further damaging allegations about his friendship with paedophile Jeffrey Epstein and alleged accomplice Ghislaine Maxwell.
Ilcic Dumitru, 19, and Ioan Dumitru, 24, two romanian brothers duped a young woman into coming to the UK on the promise of a factory job but made her sleep with up to 15 men a day – even after she became pregnant with a client's baby. The 20-year-old slavery victim was forced to pick up clients the day she arrived in Britain from Romania and threatened with being attacked if she did not make money for the pair of pimps.
Global Fishing Watch used satellite technologies to analyse marine traffic in northeast Asia in 2017 and 2018 and found that hundreds of Chinese fishing vessels were sailing in waters off North Korea. In 2017 more than 100 boats landed on the Japanese coast with 35 bodies on board and more have been found on beaches since. At the time the Japanese Coast guard said the washed up ships could have ended up there due to bad weather and the notoriously unsettled sea in the area. Fishing in North Korean waters violates international law but that didn't appear to deter the 900 Chinese ships in 2017 and 700 in 2018, according to Global Fishing Watch's report. The NGO says that the ships would have caught more than 160,000 metric tons of valuable Pacific flying squid in 2017 and 2018 worth more than $440 million. This amount would have been more than South Korea and Japan's haul combined during the same period. Jaeyoon Park, a senior data scientist at Global Fishing Watch and co-lead author of the study, told that the vessels spotted comprised 'about one-third the size of China's entire distant water fishing fleet. It is the largest known case of illegal fishing perpetrated by vessels originating from one country operating in another nation's waters. The experts who worked on the study – which was published on Wednesday – were able to track the vessels using technology that is only now available.
News Burst 27 July 2020 – Bonus IMG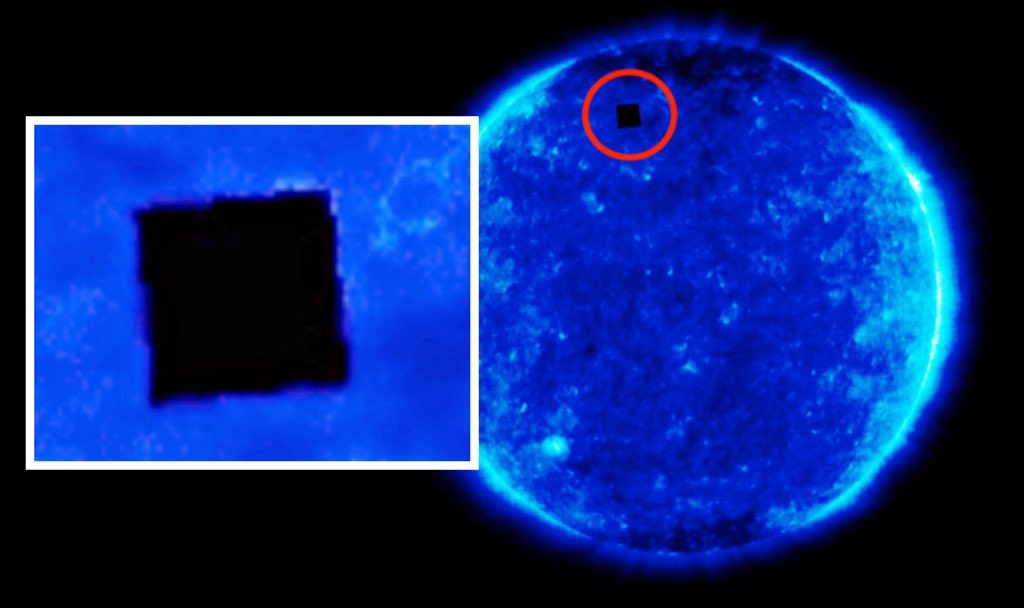 A prominent ufologist claims that NASA's SOHO satellite has captured images of an "Alien Cube Ship" that is 10 times bigger than the Earth. In a post on his ETdatabase blog dedicated to UFOs, Scott Waring writes that the enormous cube reportedly comes and goes from the Sun in order to gather energy. The mysterious object was captured by the Solar and Heliospheric Observatory (SOHO), which was developed together with the European Space Agency. The mission, launched in 1996, studies the Sun's interior and exterior. Over the past 25 years, SOHO has also discovered more than 3,000 comets.
News Burst 27 July 2020 – Solar Activity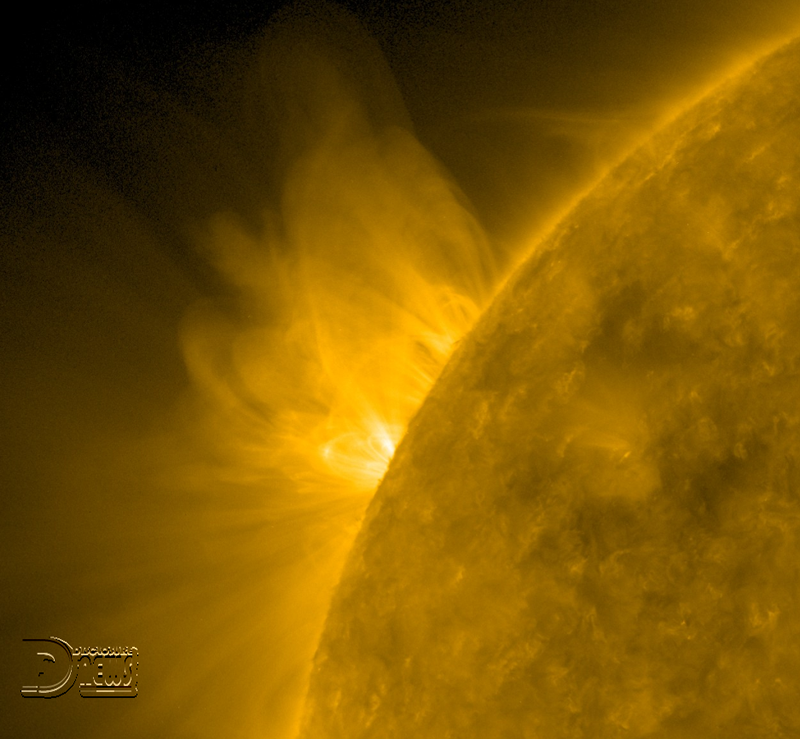 Sunspot In The Offing
Today there is one sunspot facing Earth. Soon there could be two. A new sunspot is about to rotate over the sun's northeastern limb. The sunspot's approach is heralded by its towering magnetic canopy. NASA's SDO photographed the plasma-filled structure on July 26th. Look for a dark core to emerge sometime in the next 24 to 48 hours, doubling the number of Solar Cycle 25 active regions on the solar disk.
News Burst 27 July 2020 – Active Weather
Eastern Pacific
Hurricane Douglas has reachead Hawaii – Wind velocity 75 – 90 kts↓ – Pressure 987 hPa↑ – Moving W-NW at 14 kts↓ – Weakening
Gulf Of Mexico
Tropical Depression Hanna Position North Mexico – Wind velocity 30 – 40 kts – Pressure 1002 hPa – Moving W-WSW at 8 kts – Dissolving.
News Burst 27 July 2020 – Earthquakes
Europe – M4.5 Albania
---
Africa – M4.8 Zimbabwe
---
North America – M4.4 Alaska/Nevada
---
Central America – M4.2 Dominican Republic
---
South America – M6.3 South Sandwich Islands
---
Asia – M5.3 Taiwan
---
Pacific – M5.2 Philippines
---
Deepest EQ – M5.4 565 km Fiji
---
Earthquakes Last 24 Hours – M4 and Above
A newly-discovered asteroid designated 2021 AH8 flew past Earth at a distance of 0.14 LD / 0.00035 AU (52 360 km / 32 534 miles) from the center of our planet at 19:22 UTC on January 4, 2021. This is the 9th known asteroid to fly past Earth since the start of the year.
Future Mars missions will want to move underground for applications such as accessing water ice, or for hunting for microbial life under the surface, NASA noted. Why InSight failed to dig into the Martian surface came down to "unexpected properties" of the soil, the agency said, which proved harder to push through than the material that two previous Mars missions encountered. InSight's extended mission will not only include quake monitoring, the craft will also collect data via a radio experiment to learn whether the planet's core is solid or liquid.
Nepal – Fifteen different associations from the agriculture sector on Saturday announced the formation of a struggle committee and protest programmes against the government's decision to introduce foreign investment in the agriculture sector.
Clicks on the Ads Keep Us Alive ✨
Rain
If you want to see a rainbow, you have to learn to love the rain.
Paulo Coehlo
2021 Server & Site Tech Support 4200 €

51%

51%
Support Disclosure News Italia
We are working hard, and every day, to keep this blog. Like you we are fighting for the truth. If you want to work with us you are welcome, please email us! The blog costs are at our expense, advertising reimburse us very marginally so if you like our work and find it useful buy usacoffee clicking the donation button below that will directu to your PayPal. We need the help of people like you!
Bitcoin & Cryptocurrencies Donation
1M9dohWnHBwNLSPd6afRaJackrw6wK9bxY