News Burst 26 July 2020 – Featured News
Chinese and US researchers from the Dalian University of Technology, the China University of Geosciences, the University of Hong Kong, Hampton University and Northeastern University believe they may have 'cracked' the billions of years' old mystery of how Earth's shell split into 15 tectonic plates which have governed the movement of the continents ever since. In a paper entitled 'Breaking Earth's Shell Into a Global Plate Network', recently published in an issue of the peer-reviewed Nature Communications journal, scientists posited, using complex mathematical simulations and 3D spherical shell models, that our planet's once uniform shell may have heated up again after solidifying and cooling, with immense thermal pressures causing it to expand and ultimately – crack. Assuming a planetary radius of 6,371 km, researchers calculated that the lithosphere, Earth's solid outer shell, could withstand only about 1 km worth of expansion before fracturing began. The idea that Earth probably formed with a solid shell is itself a relatively new one, with researchers from the University of Maryland, Curtin University and the Geological Survey of Western Australia seeking to confirm that this was the case in a 2017 paper which examined rocks as old as 3.5 billion years old collected from Western Australia's East Pilbara Terrane.
The radio host Charlamagne tha God has ripped Joe Biden for calling Donald Trump the first racist president in US history. "How the hell can Donald Trump be the first racist president in a country where 12 presidents before him owned slaves?" the radio host said on his show The Breakfast Club on Friday. The former vice president generated much controversy in May when he said on The Breakfast Club that black voters who support Donald Trump "ain't black". He later apologised for the comment, which he described as "cavalier".
The existence of an Unidentified Aerial Phenomenon Task Force (UAPTF) run by the Office of Naval Intelligence, whose aim is "to standardize collection and reporting" of "unidentified aerial phenomenon," was revealed in a Senate 2021 intelligence authorization bill in June. The bill passed the House on Thursday and has now moved on to the Senate. If approved there, the UAPTF could be forced to issue a public report on UFO sightings every six months. Senator Marco Rubio, the Florida Republican who is the acting chairman of the Senate Select Committee on Intelligence, agrees and has also called for more transparency from the program. Rubio previously stated concerns that US rivals China or Russia had made "some technological leap" that "allows them to conduct this sort of activity." "Maybe there is a completely, sort of, boring explanation for it. But we need to find out," he added. Astrophysicist Eric W. Davis claims he worked as a consultant with the program, and when discussing some of the technology he had seen, he bluntly declared to the media, "We couldn't make it ourselves."
Caracas has won the right to file a court appeal on the decision of the English High Court, which blocked the Maduro government from getting back $1 billion in gold held by the Bank of England. Earlier this month, British judges said that they recognize self-proclaimed leader Juan Guaido and not Nicolas Maduro as Venezuela's president. The decision was crucial for the long legal battle for the country's bullion reserves stored in London, as both the Venezuelan government and opposition laid claim to the gold stockpile. "It is incredibly rare for a trial judge to give leave to appeal against their own judgment, and we are pleased to have been granted a limited appeal," Sarosh Zaiwalla, a London-based lawyer representing the Banco Central de Venezuela.
The European Union's Data Protection Board has ordered data transfers between the EU and the US under the 'Privacy Shield' protocol to cease immediately after the instrument was found incompatible with EU law by a court. In a landmark ruling last week, the EU Court of Justice ruled that an EU-US data flow agreement named 'Privacy Shield' is not private enough to pass muster with European law. The case was taken against Facebook by an Austrian activist after National Security Agency contractor Edward Snowden revealed that the US government was sifting through people's online communications and data, including data transferred under 'Privacy Shield' and its predecessor, 'Safe Harbor'. Tech firms will have no grace period to switch their privacy protocols, and must comply immediately, the European Data Protection Board (EDPB) said in a statement on Friday. Furthermore, the onus is on these firms to ensure that whatever protocol they switch to is legally sound.
Ukrainian President Volodymyr Zelenskiy on Thursday called on law enforcement to find and punish those responsible for an arson attack on the family home of a prominent anticorruption activist known for criticising top officials and businessmen.
"The culprits must be found and punished," Zelenskiy said in a statement. "And we – the society – still have to learn to be tolerant of those who have their own position on controversial issues." The nongovernmental Anti-Corruption Action Center (AntAC), cofounded by Shabunin, had demanded Zelenskiy take personal control over the cases of attacks on activists including the "assassination attempt" on Shabunin. The fire prompted concern from Western diplomats who have pressed Ukraine to tackle entrenched corruption and clean up its justice system.
For several years now, the police and other authorities in China have been collecting across the country DNA samples from millions of men and boys who aren't suspected of having committed any crime. In a report published by the Australian Strategic Policy Institute last month, is exposed the extent of the Chinese government's program of genetic surveillance: It no longer is limited to Xinjiang, Tibet and other areas mostly populated by ethnic minorities the government represses; DNA collection — serving no apparent immediate need — has spread across the entire country. The Chinese government denies the existence of any such program, but since the study's publication, the Australian Institute has continued to uncover online scattered evidence revealing the program's enormous scale, including government reports and official procurement orders for DNA kits and testing services. DNA is being harvested across the country: in the southwestern provinces of Yunnan and Guizhou; in central-southern Hunan; in Shandong and Jiangsu, in the east; and up north, in the autonomous region of Inner Mongolia. The Chinese police are not doing this work alone. Evidence continues to accumulate that private companies, both Chinese and foreign, are complicit in this extraordinarily vast, and ominous, assault on the privacy of Chinese citizens.
The U.S. wants to build nuclear power plants that will work on the moon and Mars, and on Friday put out a request for ideas from the private sector on how to do that. The Idaho National Laboratory, a nuclear research facility in eastern Idaho, the Energy Department and NASA will evaluate the ideas for developing the reactor that it calls a fission surface power system that could allow humans to live for long periods in harsh space environments. The reactor must be able to generate an uninterrupted electricity output of at least 10 kilowatts. In addition, the reactor cannot weigh more than 7,700 pounds (3,500 kilograms), be able to operate in space, operate mostly autonomously, and run for at least 10 years. The agency said a specific region on the Martian surface for exploration has not yet been identified. Edwin Lyman, director of Nuclear Power Safety at the Union of Concerned Scientists, a nonprofit, said his organization is concerned the parameters of the design and timeline make the most likely reactors those that use highly enriched uranium, which can be made into weapons. "This may drive or start an international space race to build and deploy new types of reactors requiring highly enriched uranium," he said.
For the low low price of just $110 million, you could have the honor of owning both the Manhattan and Palm Beach residences of the now-deceased sex offender Jeffrey Epstein. Think about all the fodder that will provide for those boring dinner parties, when nobody has anything to talk about. The NYC property was listed by brokerage Modlin Group for $88 million and is located at 9 E. 71st St. If sold at that price, it could be a price record for a Manhattan townhouse, according to Bloomberg. The lengthy description of the NYC property on Modlin's website describes it as the "last and largest of just a handful of goliath mansions built during its era in the 1930's" and the "capstone property of the wealthiest and most prominent block of all of New York City." The Mansion stands with provenance and commanding authority in a neighborhood steeped in New York's richest history. "The property is uniquely positioned," the listing continues "as the perpetual and unobtrusive perspective overlooking the Frick Museum to Central Park can never be blocked by new construction, a rarity in the ever-growing New York City landscape."
450 euro fine, mobile phone confiscation and three months in prison. So much has cost two young Moroccans to have peeked at their cell phone to copy the answers to the exam. Two students were sentenced by a court in Fez after being surprised during the tests for the 'Bac', a national test for university access. According to the newspaper Assabah, the youth were caught "flagrante" during the July 8 exam and immediately arrested as they covertly consulted cell phones illegally introduced into the courtroom. The two were also sentenced to pay a fine equivalent to 450 euros per head and their phones were seized.
NASA will provide live coverage of activities leading up to, during, and following the return of the agency's SpaceX Demo-2 test flight with the agency's astronauts Robert Behnken and Douglas Hurley from the International Space Station. The duo arrived at the orbiting laboratory on May 31, following a successful launch on May 30 on a SpaceX Falcon 9 rocket from NASA's Kennedy Space Center in Florida. NASA and SpaceX are targeting 7:34 p.m. EDT Saturday, Aug. 1, for undocking of the Dragon "Endeavour" spacecraft from the space station and 2:42 p.m. Sunday, Aug. 2, for splashdown, which will be the first return of a commercially built and operated American spacecraft carrying astronauts from the space station. Coverage on NASA TV and the agency's website will begin at 9:10 a.m., Aug. 1, with a short farewell ceremony on station and resume at 5:15 p.m., with departure preparations through splashdown and recovery at one of seven targeted water landing zones in the Atlantic Ocean or Gulf of Mexico off the coast of Florida.
TikTok has blocked a number of hashtags related to the QAnon conspiracy theory from appearing in search results, amid concern about misinformation. It comes days after Twitter banned thousands of QAnon-related accounts. TikTok said it moved to restrict "QAnonTruth" searches after a question from the BBC's anti-disinformation unit, which noticed a spike in conspiracy videos using the tag. The company expressed concern that such misinformation could harm users and the general public. "QAnon" and related hashtags, such as "Out of Shadows", "Fall Cabal" and "QAnonTruth", will no longer return search results on TikTok – although videos using the same tags will remain on the platform. Videos using the "QAnon" hashtag, in particular, have millions of cumulative views and can still be found if a user's algorithm directs them to the associated content. TikTok's intervention comes after Twitter said it would stop recommending content linked to QAnon and block URLs associated with it from being shared on the platform, in an attempt to prevent "offline harm". Sources close to Facebook say the social media site is looking to take similar action over supporters of the conspiracy theory. QAnon groups on the site have hundreds of thousands of members cumulatively.
News Burst 26 July 2020 – Bonus IMG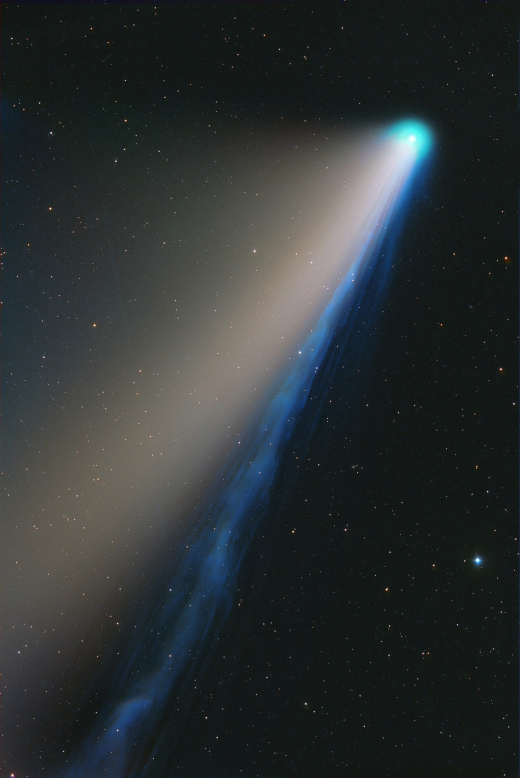 Comet NEOWISE
On July 23rd, Comet NEOWISE (C/2020 F3) made its closest approach to Earth for the next 6,800 years. Michael Jaeger of Martinsberg, Austria, took advantage of the comet's proximity for a close-up photo, and he found some marvelous colors.
The comet's head is green. This is a sign of diatomic carbon, C2, a gas which emits a verdant glow in the near-vacuum of interplanetary space.
The comet's ion tail is blue. Once again, carbon is involved. One of the most abundant gases in comets is carbon monoxide (CO). When CO flows away from a comet's nucleus, it is ionized by solar UV radiation. Carbon monoxide ions (CO+) glow blue when they recapture electrons from the solar wind.
The comet's dust tail is wan yellow. It is, simply, the color of sunlight reflected from comet dust.
The two tails are nicely separated, revealing their individual colors, because they are guided by different forces. The gaseous ion tail is shoved directly away from the sun by solar wind; it acts as a kind of interplanetary windsock. The heavier dust trail, however, isn't so easily pushed around. Specks of dust are like bread crumbs dropped on the comet's orbit; they curve away from the ion tail, tracing the comet's "footsteps" instead of the local breeze.
News Burst 26 July 2020 – Bonus IMG
Sperm Whale
Italian coastguard divers work to free a sperm whale caught in a fishing net at sea north of the Sicilian Aeolian Islands, July 19, 2020.
News Burst 26 July 2020 – Bonus Video
Italian coast guard divers and biologists were working Sunday to free a sperm whale that was entangled in a fishing net near a tiny Mediterranean island. In a coast guard video, a diver can be seen slicing away some of the net in the waters surrounding the Aeolian Island archipelago. Boaters on Saturday had spotted the struggling sperm whale in that stretch of the Tyrrhenian Sea off Italy's west coast and contacted the coast guard. The operation to free the sperm whale was particularly difficult "due to its state of agitation" that didn't allow for continual intervention near the whale, the coast guard said Sunday. Three weeks ago, the Italian coast guard freed another sperm whale ensnared in a fishing net, also in the sea off the Aeolian Islands. Since the start of the year, the coast guard has sequestered illegal fishing nets totaling more than a 100 kilometers (62 miles) in length.. The coast guard says it has stepped up its efforts this year to combat illegal fishing.
News Burst 26 July 2020 – Solar Activity
Stealthy CME Impact
A slow-moving CME that left the sun on July 19th hit Earth yesterday, July 24th. It arrived embedded in a solar wind stream, and made itself known by its magnetic field, which was stronger than that of normal solar wind plasma.
News Burst 26 July 2020 – Active Weather
Central Pacific
Hurricane Douglas – Position E-SE of Hawaii – Wind velocity 90 – 110 kts↓ – Pressure 975 hPa↑ – Moving W-NW at 16 kts – Weakening – Expected over Hawaii from Sunday 65-80 kts winds.
Gulf Of Mexico
Hurricane Hanna Position Coast of Texas – Wind velocity 70 – 85 kts – Pressure 978 hPa – Moving W-WSW at 6 kts ↓ – Slowly weakening.
News Burst 26 July 2020 – Earthquakes
Europe – M4.7 Ionian Islands, Greece
---
Africa – M4.8 Morocco
---
North America – M4.7 NW Canada
---
Central America – M3.6 Puerto Rico
---
South America – M4.6 Colombia/Equador Border
---
Asia – M4.9 China
---
Pacific – M4.8 Papua New Guinea
---
Deepest EQ – M4.4 572 km Fiji
---
Strongest EQ – M5.2 Mid-Atlantic Ridge
---
The earthquakes of the last 12 hours until 17 UTC in the image show how the push from the east continues with this new M5 movement in China. In Europe and the Mediterranean our feeling of a few days ago is confirmed, this last seismic wave would have preferred the African coasts, we had named Algeria and instead it is Morocco on the border with Algeria to suffer this M4.8. Note a deep earthquake of M2.7 in Italy 37 km north of the Stromboli volcano island, which recently erupted, at a depth of 264 km.
This image shows the earthquakes of the last few hours, a new M4.3 in Crete testifies to the arrival of the next seismic wave while in the Canary Islands a swarm on the M2 is occurring due to the arrival of the force that previously set Morocco in motion.
Earthquakes Last 24 Hours – M4 and Above
"… Every farmer in this country is united against this government, and they're blockading the distribution centres of grocery stores to let the public know exactly where their food comes from and what will happen if Mark Rutte, Klaus Schwab, and the rest of the globalists get their way."
Zhao Lijian claimed the US has its own "dirty record" of creating space junk, developing offensive space weapons, and inciting space arms races by openly declaring outer space as an "operational frontier" and a "warfighting domain."
Beings of Light surround us and choose to appear. "Be not forgetful to entertain strangers: for thereby some have entertained angels unaware"
Clicks on the Ads Keep Us Alive ✨
Poetry
If more politicians knew poetry, and more poets knew politics, I am convinced the world would be a little better place in which to live.
John Fitzgerald Kennedy
2022 Server & Site Tech Support 4200 €

71%

71%
Support Disclosure News Italia
We are working hard, and every day, to keep this blog. Like you we are fighting for the truth. If you want to work with us you are welcome, please email us! The blog costs are at our expense, advertising reimburse us very marginally so if you like our work and find it useful buy us a coffee clicking the donation button below that will direct you to your PayPal. We need the help of people like you!
Bitcoin & Cryptocurrencies Donation
1M9dohWnHBwNLSPd6afRaJackrw6wK9bxY