Clicks on the Ads Keep Us Alive 😊
News Burst 24 May 2020
Microsoft's recent patent for a human powered crypto mining system based on sensors that convert physical or mental activity into computer power has generated a lot of interest and captured the imagination of the public, but perhaps some are looking at it a little too closely. Nikita Mikhalkov appearing on an episode of 'Besogan TV', was adamant that the patent is the first step in a satanic plan to microchip the entire global population and it was clear to him by the appearance of the devil's number "666" in the patent application – Microsoft's Crypto Mining System – WO/2020/060606. On the program, Mikhalkov was quoted, "The 060606 part is somewhat alarming. You probably understand this, right? Is this a coincidence or an intentional selection of such a symbol, which in the Apocalypse of John is called the 'number of the beast' – the 666."
While just under 40 million Americans have filed for unemployment since mid March, America's billionaires are doing just fine – watching their fortunes soar a combined $434 billion during the same period. Leading the pack are Jeff Bezos and Mark Zuckerberg, whose fortunes grew by $34.6 and $25 billion respectively, according to the Americans for Tax Fairness and the Institute for Policy Studies' Program for Inequality – based on Forbes data for America's over 600 billionaires collected between March 18 and May 19. Percentage-wise, Elon Musk's wealth grew 48% to $36 billion. On average, American billionaires saw their net worth grow 15% during the two-month period from $2.948 trillion to $3.382 trillion.
Twitter CEO Jack Dorsey just, sheepishly, issue a 'mea culpa'. In a tweet, the outspoken provider of safe-spaces, retweeted an essay by Charles Eisenstein entitled "The Conspiracy Myth" which appears to go against everything Twitter has done. So, we ask in all seriousness, why did Dorsey – who has shown himself, via his actions, to be an enemy of any non-establishment-sanctioned narrative with his suspension and banning of any tweets or twitter-ers that dare to offer alternate views – retweet an essay that raises doubts about the over-arching threat of "conspiracy theories" to snowflakes, promotes the idea of exploring all sides of an argument before dismissing it, and most ironically, rails against "information suppression" and centralized decisions based on someone's "trustworthiness"?
A massive four-alarm fire erupted at San Francisco's Pier 45 on Saturday morning, the city's fire department tweeted. The incident was first reported at 4:17 am local time (7:17 am ET) and has since been contained to a section of the pier.
The San Francisco Fire Department said no injuries had been reported and all occupants at the site were evacuated. They said at least 25% of the pier at Fisherman's Wharf "has been lost to the flames." Twitter handle Dan Whaley snapped several pictures of dense black smoke and luminous flames that could be seen for miles.
Anonymously-sourced media reports published Saturday morning claimed that the White House is looking into the establishment of a panel to investigate complaints of "left-wing bias" in the tech world. Since the earliest days of his presidential campaign, President Trump has alleged that the mainstream media – CNN, the NYT & WaPo – and Silicon Valley – FB, Twitter, Alphabet, Amazon etc. – were conspiring to try and suppress pro-Trump viewpoints on their platforms, while joining together to promote stories that slammed Trump as a racist and a Russian puppet. Many independent media organizations have been banned from Twitter, Facebook etc for flimsy reasons.
Remains of more than 60 mammoths uncovered at the Santa Lucía airport, Mexico. They will eventually be displayed in a museum.
The US Maritime Administration (MARAD) issued an Alert on 17 April 2020 warning that a maritime threat had been reported in the vicinity of Ciudad Del Carmen and Dos Bocas, Mexico, in the Bay of Campeche area in the southern Gulf of Mexico. The nature of the threat was a series of four piracy incidents that took place April 2020. All four incidents involved attacks on offshore support vessels, some involved crew injuries and theft in the southern rim of the Gulf of Mexico.
Swells of up to 10 metres have been recorded off Sydney's coast this weekend and the wet and windy conditions are expected to continue until Tuesday. "We have got a complex low-pressure system off the Sydney coast which has just been sitting there for the last 24 hours, and that's generating a stronger and powerful swell," meteorologist at the Bureau of Meteorology Bimal KC said. "People should stay out of the water." Hazardous surf conditions have also been recorded along the NSW coast, with swells of up to five metres in Eden, Batemans Bay, Port Kembla and Sydney.
A 15-year-old girl who pedaled her injured migrant-worker father more than a thousand kilometers across India after a coronavirus lockdown left them destitute has been invited to try out for the national cycling team. Jyoti Kumari rode a bicycle with her father, Mohan Paswan, sitting on the pillion and holding their belongings from Gurugram city, near New Delhi, to their village in the northeastern state of Bihar, local media reported. They arrived home on May 16 after covering 1,200 kilometers (745 miles) in seven days. With no money to pay rent or buy food and public transport halted, many walked or — like Kumari and Paswan — rode bicycles back to their villages. Singh said the federation would test Kumari to see if she is suitable for competitive cycling.
Soft drinks manufacturer Coca Cola Amatil Indonesia is looking into developing a plastic bottle recycling facility in one of the world's top plastic polluting countries. The soft drinks maker also said it aimed to cut consumption of new plastic resin by up to 25,000 tons a year by 2022 by using recycled plastic. The statement did not mention Amatil's total annual new plastic resin consumption. However, a 2019 report shows that the Coca-Cola Company produced 3 million tons of plastic packaging in 2017, the highest among 31 companies listed in the report.
Sun Activity
Sunspot number: 0
Spotless Days
Current Stretch: 22 days
2020 total: 113 days (78%)
2019 total: 281 days (77%)
Strongest EQ in Europe M5.3 Crete, Greece
Strongest EQ in North America M5.2 Vancouver Island, Canada
2nd Strongest EQ on the Planet M5.9 Southern Mid-Atlantic Ridge
Deepest EQ M4.8 352 km Japan
News Burst 24 May 2020 Bonus Img
Astral Alignment
Tonight, when the sun goes down, step outside and look west. Venus, Mercury, and the crescent Moon are lining up in the sunset sky. Venus and the Moon will pop out of the twilight first, followed by Mercury as the sky darkens.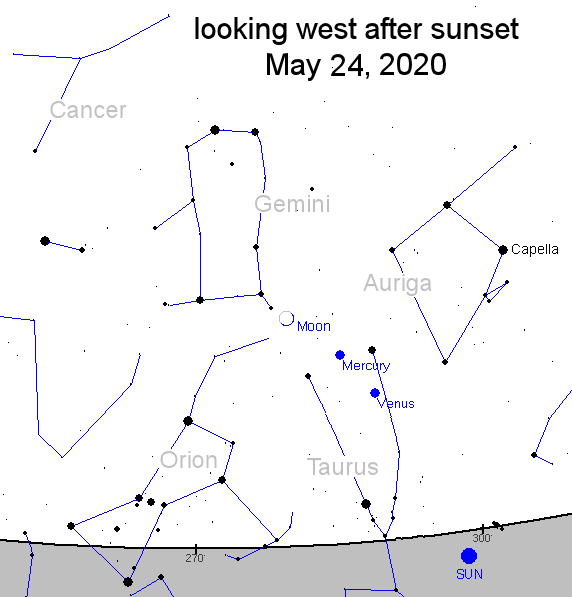 News Burst 24 May 2020 Bonus Img
Fossilized Nodosaur
Scientists are hailing it as the best-preserved dinosaur specimen ever discovered. That's why you cannot see its bones – they remain covered by intact skin and armor. Found accidentally by miners in Canada, this fossilized nodosaur is more than 110 million years old, yet patterns are still visible on the skin. According to the Royal Tyrrell Museum of Palaeontology in Alberta, Canada, which recently unveiled the find, the dinosaur is so well-preserved that instead of a 'fossil', we could safely call it a 'dinosaur mummy.'
News Burst 24 May 2020 Bonus Img
Fossilized Nodosaur
The researchers examining the find were astounded at its nearly unprecedented level of preservation. The creature's skin, armor, and even some of its guts were intact – something they'd never seen before. "You don't need to use much imagination to reconstruct it; if you just squint your eyes a bit, you could almost believe it was sleeping," one researcher said.
News Burst 24 May 2020 Bonus Img
Fossilized Nodosaur
The preservation was so good that researchers were able to tell the dinosaur's skin color by using mass spectrometry techniques to detect the actual pigments. This way they found out that the nodosaur's coloring was a dark reddish brown on the top of the body – and lighter on the underside. Since this dinosaur was an herbivore, its skin color must have played a role in protecting it from the enormous carnivores present at the time. And the fact that we're talking about a massive, heavily-armored dinosaur illustrates just how dangerous those predators must have been.
NASA's Parker Solar Probe may have finally picked up signals of the culprit behind Venus' mysterious "lightning" storms.
"The Space Force should safeguard US interests on the moon. The potential for conflict beyond Earth is coming."
The new constitutional provision mandates that Pyongyang "deter war and protect regional and global peace by rapidly developing nuclear weapons to a higher level," Kim said.
Clicks on the Ads Keep Us Alive ✨
Alone
It's better to be alone, rather than unhappy.
Whitney Houston
2023 Server & Site Tech Support 4200 €

70%

70%
Support Disclosure News Italia
We are working hard, and every day, to keep this blog. Like you we are fighting for the truth. If you want to work with us you are welcome, please email us! The blog costs are at our expense, advertising reimburse us very marginally so if you like our work and find it useful buy us a coffee clicking the donation button below that will direct you to your PayPal. We need the help of people like you!
Bitcoin & Cryptocurrencies Donation
1M9dohWnHBwNLSPd6afRaJackrw6wK9bxY