News Burst 24-25 August 2020
Clicks on the Ads Keep Us Alive 😊
News Burst 24-25 August 2020​ – Featured News
The US House of Representatives has passed a bill to provide $25 billion in support to the US Postal Service and block policy changes that could affect mail-in balloting during the 3 November presidential election. On Saturday, the House voted 257-150 in favor of the bill. The legislation will now be up for a vote in the US Senate, which is expected to vote against it, according to Senate Majority Leader Mitch McConnell. "Senate Republicans are committed to making sure the Postal Service remains well equipped to fulfill its important duties. But the President has already made it clear he will not sign the Speaker's partisan stunt into law. And the Senate will absolutely not pass stand-alone legislation for the Postal Service while American families continue to go without more relief", McConnell said in a statement, released on his official Twitter account on Saturday.
China's extensive damming of the upper Mekong River has reduced water flows, threatening downstream countries Cambodia and Vietnam with environmental harm and food shortages. Ham Oudom, a Cambodian consultant on natural resources and water governance said that downstream countries on the Mekong should confront China forcefully over the harm caused by China's control over water flows on their countries' economies and environment.
Thousands of people have hit the streets of Jerusalem, as protests against PM Benjamin Netanyahu's alleged corruption, as well as mishandling of the coronavirus crisis, continue across the country. Up to 10,000 people hit the streets of Jerusalem on Saturday, according to some estimates, as the protests against Netanyahu continue for the 9th consecutive week. The activists gathered in front of Netanyahu's official residence, and blocked several intersections across the city. As the demonstration escalated into sporadic scuffles between police and protesters, at least 30 people were detained, local media reported.
[Election Day Asteroid] The space rock, first discovered in November 2018, has a small chance of entering Earth's atmosphere on 2 November, but it seems that the election and the United States in general will be safe. The object, dubbed 2018VP1, was first discovered in November 2018 while it was around 450,000 km away from Earth. It has a two-year orbital period and is currently hurtling back again toward our planet. There is a slight chance (0.41 percent) that the 2018VP1 will hit Earth on 2 November – the day before the US presidential election. It measures just 2 meters in diameter, meaning that the 2018VP1 "poses no threat to Earth," NASA said in a statement. "It currently has a 0.41% chance of entering our planet's atmosphere, but if it did, it would disintegrate due to its extremely small size."
A team from the University College London (UCL) has shattered the internet world record speed, achieving a data transmission rate of 178 terabits a second, a speed fast enough to download the entire Netflix library in less than one second. The research team, led by Dr Lidia Galdino, electronic and electrical engineering, UCL, worked with two companies (Xtera and KDDI Research ) and achieved the 178,000,000 megabits per second speed by transmitting data through a wide range of colours of light (wavelengths) than is traditionally used in optical fibre, combining different amplifier technologies to boost the signal power over the wide bandwidth. The speed was maximised by developing new geometric shaping (GS) constellations, manipulating the properties of each individual wavelength. The technique can be deployed on existing infrastructure by upgrading amplifiers, located on optical fibre routes at 40-100km intervals. The record was demonstrated in a UCL Lab, allegedly a fifth faster than the previous world record set by a team in Japan.
Twitter CEO Jack Dorsey is donating $10 million to an anti-racism project led by a professor who wants the federal government to monitor public officials' speech, discipline them, and be responsible for "pre-clearing" all local, state, and federal policies based on how they impact racial equity. In a tweet Thursday, Dorsey said the funds would go to "inform and fuel much needed and overdue policy change." Dr. Ibram Kendi, who leads Boston University's Center for Antiracist Research, noted in his own tweet that Dorsey's donation was granted with "no strings attached." "Your $10M donation … gives us the resources and flexibility to greatly expand our antiracist work," Kendi wrote. Dorsey's donation comes at a time when his company is under intense scrutiny for alleged viewpoint bias the moderation of user content. Twitter declined to comment. Commentator Ben Shapiro responded on Thursday by attacking Kendi's proposals as insane and "anti-Constitutional."
The Sài Gòn Zoo and Botanical Garden in Ho Chi Minh City, Vietnam, one of the world's oldest, has received several tonnes of meat, fruit and vegetable donations to help it take care of its animals amid the second COVID-19 outbreak. The zoo received more than 20 tonnes of meat, fruits and vegetables donated by visitors, individuals and organisations in the city and neighbouring provinces. More than VNĐ2.5 billion (US$107,000) in cash was also included. The donation began after the zoo's social media campaign called for public donations launched last week following its closure due to the spread of the virus. According to its managing board, the zoo is self-financed with income mostly from ticket sales. It closed for two months from March to May following COVID-19 containment measures. It reopened on May 15 and again closed on July 25 after the return of the coronavirus in Đà Nẵng. "We are facing challenges to keep our business alive. We called for help from the public to help us take care of around 1,500 animals, including hundreds of rare species," said Mai Khắc Trung Trực, head of the zoo's animal division.
A black box recorder recovered from a Ukrainian passenger jet mistakenly shot down by Iran in January captured a conversation in the cockpit moments after a missile strike, officials say. Data from the Boeing 737 indicated that the pilots and passengers were alive before a second missile hit 25 seconds later, Iran's aviation authority said. The Ukraine International Airlines (UIA) flight crashed shortly after taking off from Tehran. All 176 people on board were killed. After initially denying any responsibility for the incident, Iran admitted it had shot down the UIA flight "unintentionally", calling it a "disastrous mistake" by Iran's Revolutionary Guards Corps. Iran's air defences had been on high alert at the time. Hours earlier, the country had fired ballistic missiles at two US bases in Iraq in retaliation for the killing of top Iranian general Qasem Soleimani by a US drone strike in Baghdad.
Gardaí, the national police service of the Republic of Ireland, have seized 32 dogs in north Dublin that are are believed to have been stolen, and have been valued at more than €120,000. The dogs were seized after searches at Stockhole, Cloghran in Swords on Saturday. Gardaí said received a call in relation to unusual activity in the area. A total of 32 dogs were seized from the property consisting of three Chihuahuas, four Pugs, one Jack Russell and 24 Dachshunds. The dog wardens estimated the monetary value of all the dogs would be in excess of €120,000, gardaí said. All the dogs were removed to Ashtown Pound where they were being cared for and the owners of the dogs were due to be verified via their microchips, gardaí said.
Tevita Valikoula was convicted today of abetting the theft of 85 kava plants valued at $17,000 Tongan Pa'anga ($7500) at Manuka in May 2019. He will be sentenced in October. Hon Mr Justice Niu found the accused guilty of the offence, after a trial at the Nuku'alofa Supreme Court, Kingdom of Tonga. Kava (Piper Methysticum) wass traditionally used as a beverage in important ceremonies and to greet visitors, as well as for various health purposes. It was used in religious ceremonies where the village chief might contact the ancestors. Nowadays it is drunk in social gatherings to relax and unwind; it is usually taken either in traditional beverage form, a powder mixed with water.
A weed vending machine, the first of its kind, recently debuted at Strawberry Fields dispensary in Pueblo, Colorado, allows Coloradans to purchase cannabis in a contactless environment, reported The Know. Matt Frost, the founder and CEO of Anna, the company behind the vending machines, said these "tricked out vending machines" are designed for customers to purchase flower, edibles, and vape oils without interacting with humans. Frost said Starbuds in Aurora could soon be the second site for the machines. He added, "with COVID and social distancing and contactless, definitely, we have an appeal there, as well." Anna has four vending machines operating at Strawberry Fields. Customers can quickly check in to the machine via a digital display by entering their identification information. Once the product is selected, customers pay by cash or card. The machine will then dispense the weed as a standard vending machine does; the entire transaction takes a couple of minutes. In addition to Colorado, Frost said his vending machines could soon debut in Massachusetts. He noted his machines could end up in gas stations and retail stores selling non-psychoactive cannabis products. With marijuana sales surging this year, and contactless transactions are all the rage today, it wouldn't be shocking if weed vending machines are unveiled in other states.
Rumours about the North Korean leader's alleged poor health began swirling in April, after his lengthy absence from the public spotlight. Chang Song-min, a former assistant to the late former South Korean President Kim Dae-jung, has alleged that Kim Jong-un may be in a coma, which supposedly helps explain his lack of appearances in public over the past couple of weeks, UK and US tabloid newspapers have reported, citing South Korean media. "I assess him to be in a coma, but his life has not ended," Chang was quoted as saying. Chang added that Kim's sister, Kim Yo-jong, is expected to take the reins amid the power vacuum. "A complete succession structure has not been formed, so Kim Yo-jong is being brought to the fore, as a vacuum cannot be maintained for a prolonged period," he said.
In just four days, the reputation of a Buddhist monk who had spent decades fighting for the human rights of Cambodians was destroyed. First, grainy videos appeared on a fake Facebook page, claiming that he had slept with three sisters and their mother. Then a government-controlled religious council defrocked the monk for having violated Buddhist precepts of celibacy. Fearing imminent arrest, the monk fled Cambodia, destined for a life in exile, like so many people who have stood up to Asia's longest-governing leader. The monk, Luon Sovath, was the victim of a smear campaign this summer that relied on fake claims and hastily assembled social media accounts designed to discredit an outspoken critic of the country's authoritarian policies. An investigation found evidence that government employees were involved in the creation and posting of the videos on Facebook.
News Burst 24-25 August 2020 – Bonus IMG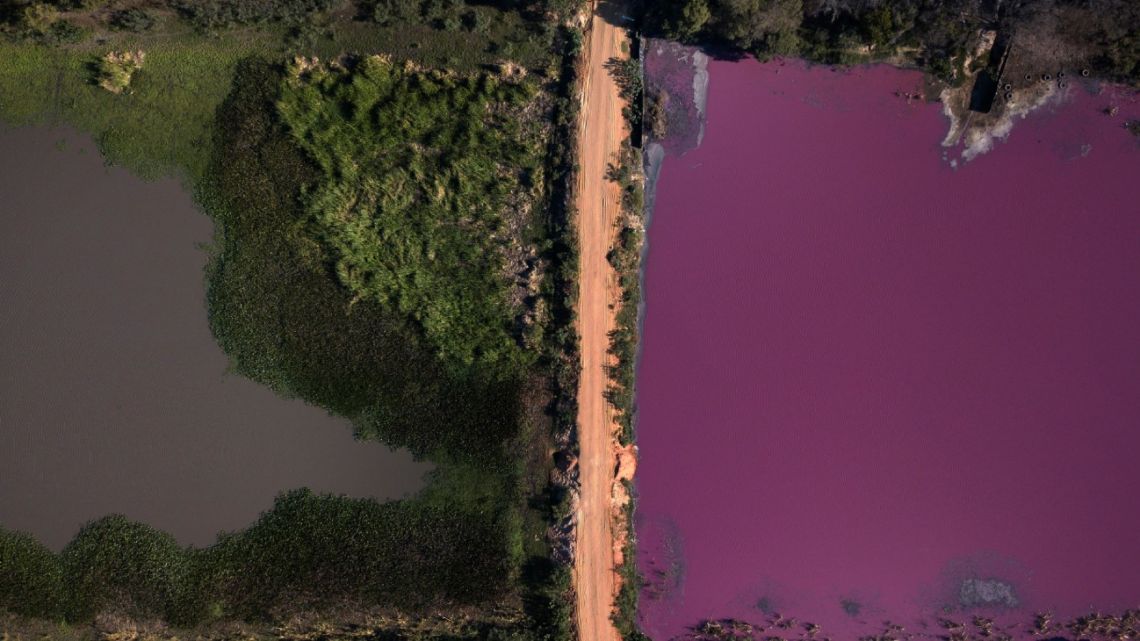 Paraguay
The Cerro Lagoon in the Paraguayan city of Limpio is sharply divided into two parts: one purple, one blue. One part emits a foul odour, the other doesn't. The lagoon was split by construction of an embankment and roadway to carry trucks to and from local factories. Several months ago, people began noticing that the water had changed on one side of the roadway and that fish and birds were dying. They went to local environmental authorities who took water samples. "Three months ago all the fish died in the lagoon, thousands and thousands of them," said one resident, Herminia Meza. "The smell was unbearable and we were overwhelmed by flies. About a month ago the herons died and it turned a reddish color." According to Francisco Ferreira, a technician at the National University Multidisciplinary Lab who is taking water samples at the site, the color of the water is due to the presence of heavy metals like chromium, commonly used in the tannery process.
News Burst 24-25 August 2020 – Bonus IMG
Vøringsfossen Waterfall
From Friday, visitors and passers-by will be able to cross the gorge above the 182-metre tall Vøringsfossen Waterfall via a new footbridge recently completed by the Norwegian Public Roads Administration.
News Burst 24-25 August 2020 – Bonus Video
Trappist Planets
Trappist-1 the jupiter-like system that contains a dwarf star and seven planets, a few of them are very earth-like. They have suggested habitability potential on planets D, E, F and G but have recently backed off of D due to stellar flares and radiation. Meanwhile they have confirmed the presence of tons of water on the others and today they are further investigating the habitability potential based on that stellar radiation and are concluding that even planet E may be too close.
They do qualify that statement by suggesting that UV resistant life could take it and also things under the vast oceans on these worlds could take it too. Why not Planet H? it's covered in ice but that's perfect shielding for its underground ocean. Trappist-1 H is a good bet for microbes cocooned in its icy shell.
News Burst 24-25 August 2020 – Bonus Video
The Tsar Bomba, World's Most Powerful Nuclear Bomb
Just days before the 71st anniversary of the Soviet Union's first atom bomb test in 1949, Russian state-owned nuclear corporation Rosatom has released rare and clear footage of the 1961 test detonation of Tsar Bomba, the most powerful weapon ever created by humans. The 40-minute documentary published by Rosatom on August 20 chronicles the fateful day in October 1961 that the Soviet Union detonated a 50-megaton nuclear weapon on a remote Arctic island. Known simply as "Product 202," the bomb's colossal size and power earned it the moniker "Tsar Bomba" – the king of bombs.
News Burst 24-25 August 2020 – Solar Activity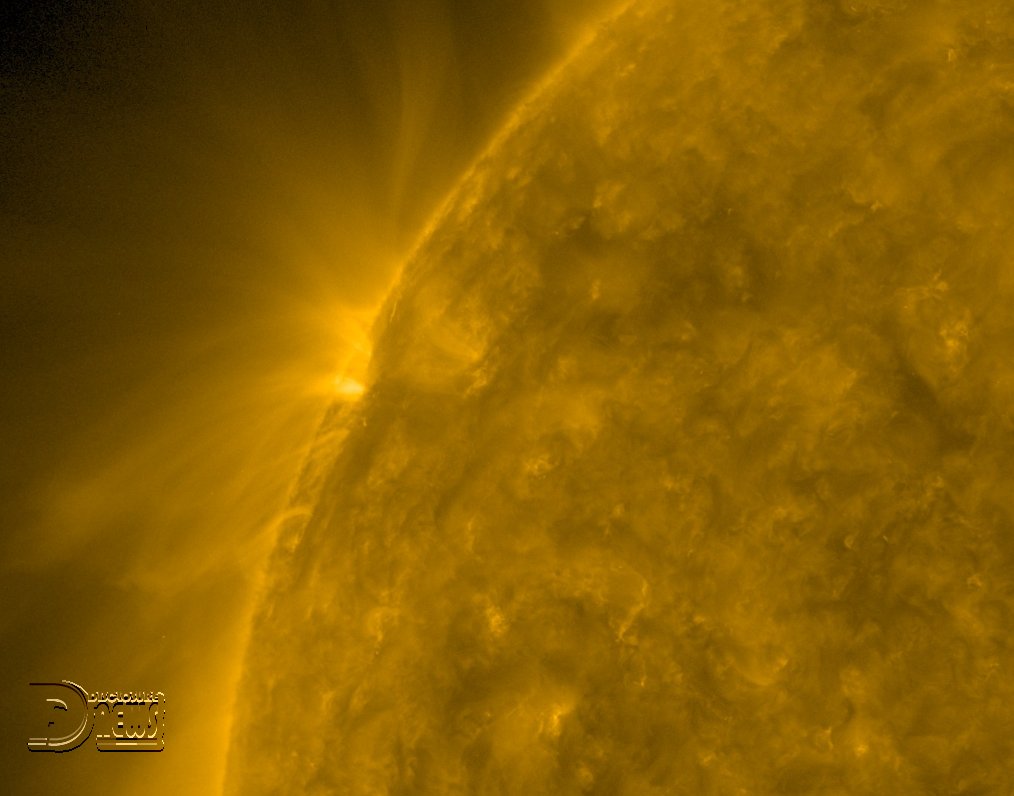 New Active Region
Sunspot number: 0
Spotless Days
Current Stretch: 3 days
2020 total: 159 days (67%)
2019 total: 281 days (77%)
2018 total: 221 days (61%)
2017 total: 104 days (28%)
2016 total: 32 days (9%)
2015 total: 0 days (0%)
2014 total: 1 day (<1%)
2013 total: 0 days (0%)
2012 total: 0 days (0%)
2011 total: 2 days (<1%)
2010 total: 51 days (14%)
2009 total: 260 days (71%)
2008 total: 268 days (73%)
2007 total: 152 days (42%)
2006 total: 70 days (19%)
News Burst 24-25 August 2020 – Active Weather
​Typhoon Bavi (Video)
Position between Taiwan and South Korea – Wind 70-100 kts – Pressure 970 hPa – Moving slowly N-NW at 5 kts – Slowly intensifying.
Tropical Storm Marco
Position Alabama and Florida border – Wind 35-45 kts – Pressure 1008 hPa – Weakening.
Tropical Storm Laura
Position south of central Cuba – Wind 50-60 kts – Pressure 1002 hPa – Moving NW at 17 kts – Intensifying (Forecast for wind at 90-110 kts in the north Gulf of Mexico on Aug. 26-27)
News Burst 24-25 August 2020 – Earthquakes
Europe – M3.3 Iceland
---
Africa – M5.0 Burundi – M5.0 Tanzania
---
North America – M3.3 Idaho
---
Central America – M3.7 Puerto Rico
---
South America – M4.3 Peru
---
Asia – M5.0 Sumatra, Indonesia
---
Pacific – M5.0 Tonga
---
Deepest EQ – M4.3 466 km Philippines 
These three images show the shocks after the deep movement of M7 which took place on August 21 in Indonesia. A number shook on the M5, some mid-high, in the West Pacific. The African Plate still under pressure from the movements in Indonesia. In Central Asia a series of movements along the border of the plates in Myanmar and Northern India. The East Pacific coast also sees an infinite number of earthquakes.
Earthquakes Last 24 Hours – M4 and Above
NATO's newly released space doctrine expands on the alliance's 2019 Space Policy – which recognised space as a new "operational domain", alongside air, land, sea, and cyberspace – and vows to help make its members' space capabilities compatible and interoperable.
Using drones equipped with these lidars, the archaeologists managed to pierce through the thick foliage of the Peruvian jungle and detect the structures buried near of the ceremonial site Chachabamba.
The number of places to search for life in our solar system could be expanded as scientists said they've discovered "compelling evidence" of a "stealth ocean world" on Saturn's icy moon of Mimas.
Clicks on the Ads Keep Us Alive ✨
Creativity
I'm always thinking about creating. My future starts when I wake up every morning... Every day I find something creative to do with my life.
Miles Davis
2022 Server & Site Tech Support 4200 €

52%

52%
Support Disclosure News Italia
We are working hard, and every day, to keep this blog. Like you we are fighting for the truth. If you want to work with us you are welcome, please email us! The blog costs are at our expense, advertising reimburse us very marginally so if you like our work and find it useful buy us a coffee clicking the donation button below that will direct you to your PayPal. We need the help of people like you!
Bitcoin & Cryptocurrencies Donation
1M9dohWnHBwNLSPd6afRaJackrw6wK9bxY