Clicks on the Ads Keep Us Alive 🙂
News Burst 23 July 2020 – Featured News
The Huaihe River Commission of the Ministry of Water Resources issued its highest flood alert Monday after the water level on the major river, located between the Yellow and the Yangtze Rivers, reached dangerous levels. The water level at the Wangjiaba hydrological station on the Huaihe River reached 29.7 meters on Monday, well above the danger level of 27.5 meters.
March 7, 2010 – Vitamin D deficiency has been linked to a rapidly expanding inventory of ailments—including heart disease, cancer and the common cold. A new discovery demonstrates how the vitamin plays a major role in keeping the body healthy in the first place, by allowing the immune system's T cells to start doing their jobs. The new observation of the vitamin's role in T cell activation could have many implications, including vaccine development (in helping the body to recognize new pathogens) and organ transplant (by discouraging the immune system from attacking a new organ), Geisler noted. Additionally, he added, it "could help us to combat infectious diseases and global epidemics." ~ Carsten Geisler, head of the Department of International Health, Immunology and Microbiology at the University of Copenhagen.
The White House Office of Science and Technology Policy and the National Science Foundation (NSF) announced Tuesday the establishment of three quantum computing centers across the nation, involving an investment of $75 million. The new Quantum Leap Challenge Institutes will each receive $25 million to address research and development in the quantum computing space, along with helping to develop curriculum for students in the quantum computing field to help expand the workforce in this area.
The four horsemen of COVID-19 will ensure that tourists visiting one of Sweden's most popular summer destinations "behave well". In an unorthodox move, local authorities on Sweden's Baltic island of Gotland have recruited equestrians posing as medieval knights on horseback to halt the coronavirus in its tracks amid the height of the summer tourist season. The four horsemen, or so-called "COVID Knights" from the regional medieval reenactment group Torneamentum, Sweden's oldest, will visit some of Gotland's most popular tourist attractions this summer, such as its numerous beaches and the medieval town of Visby. To drive the point home, they will be carrying medieval font signs with messages such as "keep your distance", "stay at home if you have symptoms" and "wash your hands often". "If you've got 700 kilos worth of horse coming towards you, you'll do as you're told," Torneamentum project manager Lennart Borg jokingly told the newspaper Aftonbladet.
A UK Government Communications Headquarters (GCHQ) employee lost his job after flashing at a woman from his hotel room window. David McGuire was arrested after the woman, who lived opposite the hotel where the GCHQ employee was staying, took photos and called police, according to The Sun, which added that he believed he had a "willing and curious audience". "Mr McGuire has been humiliated by his actions and has had to leave his job at GCHQ," defence lawyer David Maunder said, as quoted by The Sun. In court, David McGuire agreed to never to commit the offence again and the the case was dropped. "Whatever interpretation one puts on your actions, it was stupid and foolhardy at best," Judge Ian Lawrie said. McGuire faced six charges of exposure spanning five days in May 2019, according to reports.
The Chinese Foreign Ministry said that the US asked it to close down its consulate in Houston, Texas. Beijing condemned the move, promising retaliation if the decision is not reversed. The abrupt demand to shut down the consulate is an "unprecedented escalation" of hostilities, Chinese Foreign Ministry spokesperson Wang Wenbin told reporters. He warned that Beijing will retaliate if the US does not reverse its decision. Wang Wenbin slammed the order to close the consulate as a "political provocation" and "a serious violation of international law." China urges the US to immediately revoke this wrong decision. Otherwise, China will make proper and necessary response. Hu Xijin, editor-in-chief of China's Global Times newspaper, tweeted that Beijing was given 72 hours to vacate the consulate building. "This is a crazy move," he wrote.
Indonesian authorities in West Manggarai regency, East Nusa Tenggara (NTT) have found around 3,600 unauthorized tourist ships operating in Labuan Bajo. West Manggarai Tourism Agency head Agustinus Rinus said the illegal ships, most of which are traditional phinisi (two-masted schooners), had been earning money in the tourist destination without paying taxes to the local administration. Of 4,081 ships inspected between February and July, only about 400 ships carried proper documentation and were registered to the local administration. The inspection was carried out by officials from the West Manggarai administration and Komodo National Park in Labuan Bajo.
Day of the Dead parade faces the coronavirus challenge. Mexico City plans virtual Day of the Dead celebration hoping the digital ceremony can prove that everyone can enjoy themselves while remaining socially distant. About 2 million people attended last year's parade in the capital. From colorful skeletons to celebratory altars and sugary skulls, Día de los Muertos (or Day of the Dead) is a unique tradition that's steeped in history while maintaining an air of celebration.
Fighting poverty through e-commerce. E-commerce has become an emerging business in rural China. Xi Jinping, general secretary of the Communist Party of China Central Committee, said on Monday e-commerce is an emerging business with great potential, which can promote sales of agricultural products, help rural residents shake off poverty and facilitate rural vitalization. Xi made the remarks during his inspection tour in the village of Jinmi in Zhashui county, northwest China's Shaanxi province. Located in the Qinling Mountains, the village has shaken off poverty in recent years by developing the black fungus industry. At the village's training center, Xi chatted with villagers who were preparing for livestreaming marketing of their agricultural products.
Fishermen found a 100 ton dead blue whale stranded and decaying in Kupang Bay, specifically on Na Batu Kepala Beach in Nunhila subdistrict, Alak district, East Nusa Tenggara, on Tuesday afternoon. The blue whale is the largest animal on Earth. Kupang Water Conservation Area Agency (BKKPN) head Ikram Sangadji said on Tuesday said the dead whale was first spotted by fishermen at around 10 a.m. in Kupang waters, before it was moved by the tide and left stranded at the beach at 3 p.m. The Kupang waters are part of the Sawu Sea National Marine Park, which covers 10 regencies in NTT and has been a crossover area for cetaceans.
An international Museum of Happiness opened its doors for the first time here in the Danish capital Tuesday. Fully financed by The Happiness Research Institute (HRI), the 240-square meter museum provides an array of interactive activities, thought experiments, and a display of artifacts of happiness donated by people around the world as reminders of their happiest moments. The museum also offers an international history of happiness, examines the politics of happiness, investigates the anatomy of smiles, and attempts to explain why Nordic countries are considered "happiness superpower". "We hope that people are in there for an hour and come out a little wiser on how they can create greater well-being for themselves, and at the same time make the world a slightly better place," said Wiking Enditem, CEO of HRI.
«45 minute sex chat in which I am a slave: cost 30 euros. 45 minutes video call, with 10 photos, 1 video and 3 dedications: 40 euros». Thus, through the chats of half of Italy, the most varied requests were satisfied. All detailed in a price list. Archived images and videos, but also live, to satisfy the impulses of the moment upon payment of sums within everyone's reach. One Euro per click for a total of 10: «Ten photos of the little feet and a tribute to an audio in which I say bullshit», but also much heavier photos and videos. Twenty-one people reported for child pornography, including a minor boy at the time of the events. He could have been the creator. Also involved a minor girl, both from Foggia, Italy.
Precautionary custody orders were issued for the Carabinieri of Compagnia of Piacenza. The alleged crimes would range from drug dealing, to extortion to torture. This is the first time in Italy that a Carabinieri's barracks is put under seizure. The investigation have uncovered years of illegality. Among the accusation there is also be a forged heath certificate provided by a Carabiniere in order to allow Piacenza's drug dealers to reach Milan to refill the drug stocks during the lockdown.
News Burst 23 July 2020 – Bonus IMG
At 5:36 p.m. on March 27, 1964. Alaska earthquake, the strongest earthquake ever recorded in North America, struck Alaska's Prince William Sound, about 74 miles southeast of Anchorage. The earthquake was so powerful it registered in all U.S. states except Connecticut, Rhode Island and Delaware. Geological surveys taken immediately afterward showed parts of the Alaskan coast sank up to eight feet, other parts rose up to 38 feet and much of the coast moved 50 feet towards the ocean. Coastal forests plunged below sea level and were destroyed by salt water. Tsunami waves reached as far away as Hawaii and Japan.
News Burst 23 July 2020 – Bonus Video
In Event of Moon Disaster
What can former U.S. president Richard Nixon possibly teach us about artificial intelligence today and the future of misinformation online? Nothing. The real Nixon died 26 years ago.
But an AI-generated likeness of him shines new light on a quickly evolving technology with sizable implications, both creative and destructive, for our current digital information ecosystem. Starting in 2019, media artists Francesca Panetta and Halsey Burgund at the Massachusetts Institute of Technology teamed up with two AI companies, Canny AI and Respeecher, to create a posthumous deepfake. The synthetic video shows Nixon giving a speech he never intended to deliver — half a century after the subject it addresses.
News Burst 23 July 2020 – Solar Activity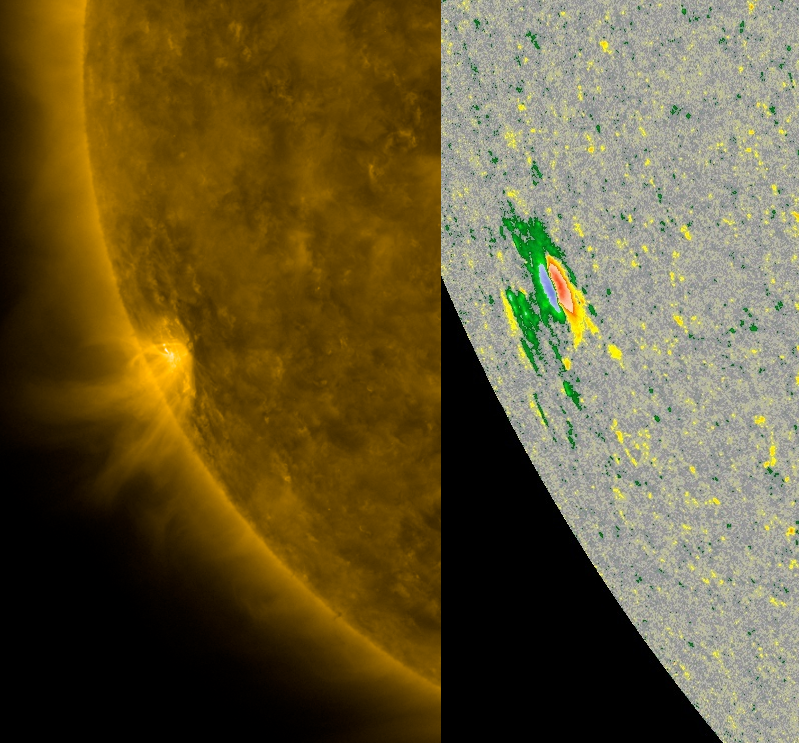 This new spot is another sign of life from strengthening Solar Cycle 25. So far this year there have been 13 sunspots–ten of them (77%) coming from the new solar cycle. This compares to only 17% in 2019 and 0% in 2018. The sun is clearly tipping from one solar cycle to the next. So far this sunspot has been quiet. It has a simple, stable magnetic field that appears to harbor little free energy for strong solar flares.
News Burst 23 July 2020 – Active Weather
Pacific Ocean
The Tropical Storm has become Hurricane Douglas spinning now in the East Pacific. Douglas is expected to move near or over portions of the Hawaiian Islands this weekend, and there is an increasing chance that strong winds and heavy rainfall could affect portions of
the state beginning on Sunday.
Wind 70-85 kts 989 hPa. Moving NW at 14 kts. Intensifying.
Atlantic Ocean
Tropical Storm Gonzalo is starting to get organized to become a Cyclone in the Central Atlantic Ocean. Gonzalo is expected to move near or over the southern Windward Islands this weekend, and could bring direct impacts from winds and heavy rainfall. While it is too soon to determine the magnmtude and timing of those impacts, interests in the southern Windward Islands should monitor the progress of Gonzalo.
Wind 45-55 kts 1000 hPa. Moving WNW at 12 kts. Intensifying.
News Burst 23 July 2020 – Earthquakes
Europe – M4.3 Iceland
---
North America – M7.8 Alaska
---
Central America – M2.6 Puerto Rico
---
South America – M5.1 Colombia
---
Asia – M6.3 China
---
Pacific – M5.1 Vanuatu
---
Deepest EQ – M4.6 164 km Colombia
---
We saw today the very strong shock in the Aleutian Islands and we recalled the huge number of deep earthquakes that have occurred in the last few days, probably the push has also moved westward reaching central China with an M6.3 that occurred at 20:07 UTC. We will now probably see some movement above the M5 to the west.
This image shows M3 and higher earthquakes in the past 48 hours. It can be noted that Iran during the previous days has always remained silent and it is therefore possible that in the eastern part there will be a significant movement on the M5.
Earthquakes Last 24 Hours – M4 and Above
After sparking much speculation as to its origins, a shiny monolith found in a remote United States desert has reportedly been removed "by an unknown party". A mysterious metal monolith found in the remote desert of the western United States, sparking a national guessing game over how it got there, has apparently disappeared, officials said.
Chinese research icebreaker Xuelong 2, or Snow Dragon 2, which carries members of the 37th Chinese antarctic scientific expedition, arrived in Christchurch on Friday after a 17-day voyage. At the "contactless" welcome ceremony, a drone of the University of Canterbury (UC) delivered a Christchurch gift – a Maori element souvenir – to the deck of the ship, where about 100 crew of Xuelong 2 waved hands or small Chinese national flags to local officials standing on shore.
Top doctors have warned 49 elite runners are taking a major health risk by competing in Sunday's New Delhi half-marathon. With New Delhi recording more than 500,000 virus cases, and air quality in the world's most polluted capital hovering between 'unhealthy' and 'hazardous', health experts said the athletes should think twice.
Clicks on the Ads Keep Us Alive ✨
Fear
Fear make you prisoner. Hope can make you free.
Stephen King
2021 Server & Site Tech Support 4200 €

20%

20%
Support Disclosure News Italia
We are working hard, and every day, to keep this blog. Like you we are fighting for the truth. If you want to work with us you are welcome, please email us! The blog costs are at our expense, advertising reimburse us very marginally so if you like our work and find it useful buy usacoffee clicking the donation button below that will directu to your PayPal. We need the help of people like you!
Bitcoin & Cryptocurrencies Donation
1M9dohWnHBwNLSPd6afRaJackrw6wK9bxY