Clicks on the Ads Keep Us Alive 😊
News Burst 2 April 2021 – Featured News
Finland's government has withdrawn its proposal to impose strict lockdowns in several "high-risk areas", including the capital Helsinki, following objections from the country's constitutional law committee. Prime Minister Sanna Marin accepted that the proposed measures were deemed unconstitutional and agreed to send the bill, which would have imposed temporary restrictions on freedom of movement and close contacts, back to the drawing board. Marin accepted the defeat, and at the same time described the COVID-19 situation in Finland as "serious", despite it being one of the least-affected nations in Europe.
A new water quality study conducted by The Guardian and Consumer Reports (CR) revealed that only two out of 120 US tap water samples were fully within recommended safety limits for arsenic, lead, PFAS, or other contaminants. The samples used in the nine-month study came from US water systems servicing over 19 million people combined.
The Italian government has decided to ban the entry of multi-decked cruise ships and other large-capacity vessels into the Venetian Lagoon. This has been demanded by various public organisations and prominent cultural figures for many years.
The 17th paroxysmal eruptive episode since February 16 started at Etna volcano, Italy at 23:00 UTC on Wednesday, March 31, 2021. The Aviation Color Code was raised to Red at 19:11 UTC on March 31 and remains at this level as of 09:32 UTC when the last VONA was issued. 7 people who got lost on the mountain on Wednesday were rescued on Thursday morning.
It's the end of an era for the Rothschilds in Austria. Once the Habsburg empire's top financier, the family that started to do business in Vienna around 1815 is selling its last piece of land in Austria, closing a 200-yearlong history that included booms, busts, crashes and wars. The family branch represented by heir Bettina Burr has agreed to sell two trusts that own about 7,000 hectares (17,300 acres) of forest in the Lower Austria region to the Vienna-based packaging firm Prinzhorn Holding GmbH, according to three people familiar with the deal, who requested anonymity since the transaction has yet to be added to the land register.
Despite all the outrage and the threats of charging "insurrectionists" with sedition—the act of attempting to overthrow the government—proving them based upon actual facts and evidence seems to be increasingly unlikely. For example, Michael Cantrell reported on America's Sheriff that: "Many of the trials for individuals involved in the Capitol riot of January 6th have started and much to the chagrin of liberals everywhere, the charges these folks are facing aren't quite as serious as we were all led to believe they would be. In fact, the Justice Department has now said that the body of evidence in these cases is not as damaging as it was previously thought to be." Further, developing reports indicate that none of the 400 people who have been arrested for their involvement in the riot have been charged with seditionl. The most serious charge that has been brought against a defendant in this incident has been assault. To be clear, there is quite a leap between the charges of assault—and the charges of conspiring to overthrow the government.
The Republican Senate in Arizona has more courage today than all the politicians in the entire country combined. Democrats should have been on board today and the fact that they are absent indicates that they are complicit if any wrongdoing is uncovered. Let's wait and see how well the results of those audits performed by the auditors selected by Maricopa County's Board of Supervisors stack up to the results from this group of auditors selected by the courageous Arizona Senate. We expect there will be material differences and when there are, let's hope the people in Arizona stand up and demand justice.
Amazon recruited a Twitter "troll army" that was code-named "Veritas" whose members were told specifically to target critics and to defend Jeff Bezos' reputation online.
Special prosecutor John Durham is reportedly still actively pursuing his investigation into the origins of the 2016 'Russiagate' scandal in which the Obama administration spied on the 2016 Trump campaign, according to a report. CNN clowns reported Tuesday, citing unnamed sources, that after delays last year that were blamed on the COVID-19 pandemic, Durham's investigators "are now arranging witness interviews" as grand jury subpoenas "also were being used to gather documents in recent months." Durham resigned as a U.S. attorney in February but he agreed to remain on as a special prosecutor to complete his probe.
Microsoft, it was announced Wednesday, has won a contract with the U.S. Army to develop and provide over 120,000 devices augmented-reality headsets, which the Army says will allow soldiers to fight, rehearse, and train using a single platform. An Army press release on Wednesday suggested that the headsets would provide night-vision, thermal vision, and other sensors "integrated into a unified Heads Up Display." "The system also leverages augmented reality and machine learning to enable a life-like mixed reality training environment so the CCF [Close Combat Force] can rehearse before engaging any adversaries," the press release read.
The [Queen] has let it be known that she will not stop Prince Andrew being called to America to give evidence in the Ghislaine Maxwell case. Prince Andrew is at risk of being dragged into the criminal case against Ghislaine Maxwell after a New York court charged the socialite with two new sex trafficking charges. The charges cover a period of time in the early 2000s when Prince Andrew was spending time with Ms Maxwell and her then boyfriend Jeffrey Epstein.
"We're launching a tool that shows you when and where you can get vaccinated, and gives you a link to make an appointment," [King zuck and the 40 thieves]
[Gotham] Gov. Andrew Cuomo's office is reportedly in talks with state lawmakers to create something called the Excluded Workers Fund, which would offer direct payments [$20,000] to "undocumented immigrants and formerly incarcerated individuals" who missed out on work opportunities amid the pandemic.
John Matze, the former CEO of Parler, has launched a legal defense fund for his case against the billionaire oligarch Mercer family and associates. For those of you who haven't heard: Parler's majority shareholder from the billionaire oligarch Mercer family fired John from his own company after he spent years building it up. John has filed a lawsuit for his 40% equity in Parler, which the company claims is worth 3 whole dollars.
PayPal, which last year added the ability to buy, hold and sell cryptocurrency, is pushing it as a payment method across the 29 million or so online merchants connected to the fintech giant. Announced Tuesday, PayPal's Checkout will allow bitcoin (BTC), ether (ETH), bitcoin cash (BCH) and litecoin (LTC) to be seamlessly converted into U.S. dollars or other fiat currencies when making purchases, the same as credit card or a debit card would work inside a PayPal wallet, said PayPal – meaning merchants will not actually be the recipients of cryptocurrencies.
Abdulaziz, an 18-month Saudi toddler, died last week when a swab broke inside his nose while doctors were determining whether he suffered from COVID-19 virus. The boy had a fever and was taken to Shaqra General Hospital in central Saudi Arabia by his parents. Medical staff tested the boy because they suspected his high temperature might be due to COVID-19. During the test, the swab broke inside the child's nose. Doctors performed an operation to extract the swab, which they said was successful, the child's uncle was quoted by local media as saying. When the child woke up following the surgery, his mother repeatedly asked medical staff to check up on her son but a doctor never arrived. At 9 a.m. the child fainted and lost consciousness. The uncle said x-rays showed a blockage in the child's airway. As his condition was deteriorated, his uncle demanded he be transferred to a specialist hospital in Riyadh but the child died even before the arrival of an ambulance.
Miracle Diet Plan
Illuminati Card Game
News Burst 2 April 2021 – Bonus IMG
News Burst 2 April 2021 – Bonus Video
Arcturian Friends, Pasadena CA, March 17, 2021
News Burst 2 April 2021 – Bonus Video
3D Pedestrian Crossing
The use of illusion in art is nothing new, but a small town in Iceland is using the effect to help with public safety and traffic issues. In the small fishing village of Ísafjörður, a 3D pedestrian crossing was painted last month in an effort to slow traffic on a narrow street. The eye-popping illusion gives the effect of walking on air as pedestrians move from one side of the street to the other. Environmental commissioner Ralf Trylla came up with the idea after seeing a similar project in New Delhi, India. Trylla was researching creative ideas on how to slow traffic when he stumbled upon the India project and came together with street painting company Vegmálun GÍH to create the effect. They experimented for several weeks before perfecting the technique and painting the crosswalk. The visual effect is striking, as the optical illusion shifts depending on your perspective. From the air, the white stripes jump up, making them appear as a column of walls. While at ground level, the bars seem to hover just above the ground. Right now the project is experimental, with the town seeing what effect the creative zebra crossing will have before deciding if they'd like to roll out more in other areas of the village.
News Burst 2 April 2021 – Bonus Video
Pleiadian Fleet, Quebec Canada, March 31, 2021
News Burst 2 September 2020 – Solar Activity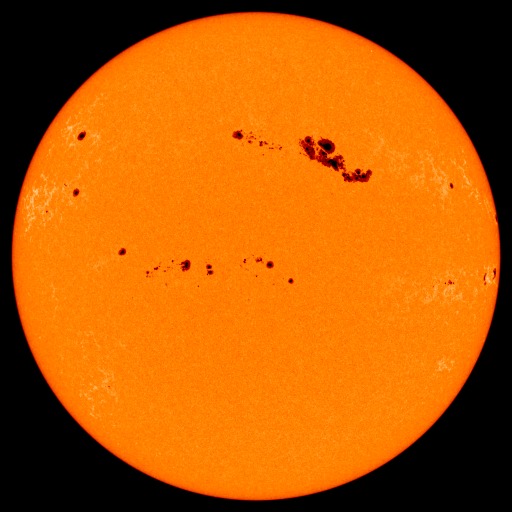 Geomagnetic Storm
20 YEARS AGO, AN EXTREME GEOMAGNETIC STORM: Unlike today's blank sun, the solar disk 20 years ago was peppered with sunspots, including a monster named "AR9393." The biggest sunspot of Solar Cycle 23, AR9393 was a truly impressive sight, visible to the naked eye at sunset and crackling with X-class solar flares. On March 29, 2001, AR9393 hurled a pair of CMEs directly toward Earth. The first one struck during the early hours of March 31, 2001. The leading edge of the shock front was dense (~150 protons/cc) and strongly magnetized — traits that give rise to powerful geomagnetic disturbances. Within hours, an extreme geomagnetic storm was underway, registering the maximum value of G5 on NOAA storm scales. In the hours that followed, Northern Lights spread as far south as Mexico. A second CME struck at ~2200 UT on March 31th. Instead of firing up the storm, however, the impact quenched it. When the CME passed Earth the interplanetary magnetic field surrounding our planet suddenly turned north — an unfavorable direction for geomagnetic activity. The whole episode lasted barely 24 hours, brief but intense.
News Burst 2 April 2021 – Earthquakes
Iran Alert for a M5 Earthquake
Yesterday evening two movements, eastern Iran with M4.3 and Gulf of Aden with M5.1, today a deep earthquake in Northern Afghanistan, M4.1 at 220 km depth. Not difficult to spot the middle point in central Iran in the southern part, here it's possible we will se a movement of M5 in the next couple of days. Cyprus/South Central Turkey are in the same situation.
Earthquakes Last 36 Hours – M4 and Above
News Burst 4 December 2021News Burst 4 December 2021 - Get The News! By Disclosure News.Clicks on the Ads Keep Us Alive 😊 News Burst 4 December 2021 - Featured News Meta, the new name for Facebook Inc., has co-developed a platform that asks people to submit...
Hunter Biden and his friend and therapist Keith Ablow allegedly joked in text messages they exchanged back in 2019 about Hunter's father. Details about the alleged text messages were revealed in a recently released book.
The rise in the number of incidents involving leopards and other wild animals entering residential areas in several states of India and attacking people and livestock have become a major concern across several parts of the country.
NASA's Curiosity Mars Rover took a 360-degree selfie using the Mars Hand Lens Image. The selfie comprises 81 individual images taken on Nov. 20, 2021 – the 3,303rd Martian day, or sol, of the mission.
Clicks on the Ads Keep Us Alive ✨
Fear
Fear make you prisoner. Hope can make you free.
Stephen King
2022 Server & Site Tech Support 4200 €

47%

47%
Support Disclosure News Italia
We are working hard, and every day, to keep this blog. Like you we are fighting for the truth. If you want to work with us you are welcome, please email us! The blog costs are at our expense, advertising reimburse us very marginally so if you like our work and find it useful buy us a coffee clicking the donation button below that will direct you to your PayPal. We need the help of people like you!
Bitcoin & Cryptocurrencies Donation
1M9dohWnHBwNLSPd6afRaJackrw6wK9bxY