News Burst 19 October 2021
Clicks on the Ads Keep Us Alive 😊
News Burst 19 October 2021 – Featured News
The Financial Times earlier reported that the test of the alleged hypersonic glider vehicle by China this summer "caught the US government by surprise" as it purportedly demonstrated the great progress achieved by Beijing in this area. China did not carry out a test of hypersonic weapons, but instead carried out a trial of a spacecraft, Chinese Foreign Ministry spokesman Zhao Lijian has stated. Zhao Lijian added that it was a "routine test" for reusable space rocket technology. The Financial Times pointed at the possibility of the alleged Chinese hypersonic missile flying over the South Pole before hitting US territory. Washington has purportedly concentrated its radar and air defence capabilities on its northern borders expecting a potential missile strike to come from the direction of the North Pole.
Chinese foreign ministry spokesman Zhao Lijian stated that many companies engaged in space travel have carried out similar experiments. "China will work with other countries in the world for the peaceful use of space for the benefit of mankind," the spokesman added.
Facebook has announced a decision to create 10,000 new high-skilled jobs within the European Union (EU) over the next five years, with the aim of building a metaverse. A metaverse is an online world that users can access via technologies like virtual and augmented reality. "At its heart is the idea that by creating a greater sense of 'virtual presence', interacting online can become much closer to the experience of interacting in person", Facebook said.
Former Central Intelligence Agency officer Edward Snowden on Monday criticized the instant messaging app Telegram for not taking down a fake account that published inappropriate content using his identity. "Telegram knows the account is an impersonator, and I don't have an account with them. But they let this guy continue to post insane garbage—as 'Official_EdwardSnowden'—", Snowden tweeted. The fake Snowden channel on Telegram has over 68,000 subscribers
"General Colin L. Powell, former U.S. Secretary of State and Chairman of the Joint Chiefs of Staff, passed away this morning due to complications from COVID-19," read a statement posted to his official Facebook page. "He was fully vaccinated. We want to thank the medical staff at Walter Reed National Medical Center for their caring treatment. We have lost a remarkable and loving husband, father, grandfather and a great American," his family said on Facebook.
The Vienna Tourist Board has just opened an account on OnlyFans, saying that the platform, mainly known for adult content, remained the only place where nude artworks from the city's museums could get "the freedom they deserve." The Austrian capital is "home to some of the world's most famous artworks, many containing nudity. The most prominent social networks have policies in place that ban or censor such works," the tourist board explained.
A veteran Washington state trooper used his last moments on the job to tell the governor whose Covid-19 vaccine mandate essentially ended his career to "kiss my a**," striking a nerve in a nation divided over jab authoritarianism. A viral video of the unidentified trooper began circulating on social media on Saturday, showing him signing off to his dispatcher for the last time while sitting in his patrol car. "This is my final signoff, and after 22 years of serving the citizens of the state of Washington, I've been asked to leave because I am dirty," the officer said. The trooper didn't specify what he meant by "dirty."Governor Jay Inslee ordered in August that Washington's state employees and contractors be fully vaccinated by October 18 or face termination.
The discovery of black holes was the first collision of quantum gravity with general relativity. In 2019, astrophysicists at Western University found evidence for the direct formation of black holes that do not need to emerge from a star remnant. The production of black holes in the early universe, formed from massive seeds aided by gravitational fields soon after the Big Bang, provide scientists with an explanation for what appeared to be the anomaly of extremely massive black holes at a very early stage in the history of our universe. Shantanu Basu and Arpan Das from Western's Department of Physics & Astronomy developed an explanation for the observed distribution of supermassive black hole masses and luminosities, for which there was previously no scientific explanation. They concluded that supermassive black holes form very, very quickly in the early Universe over very, very short periods of time and then suddenly, they stop.
NASA's Lucy probe was launched from its base in Cape Canaveral, Florida, aboard an Atlas V rocket that will send it to explore eight of Jupiter's asteroids over a 12-year journey. Lucy will travel 6.4 million kilometers before reaching her eighth goal, which is the final one, in 2033. The probe is named after the 3.2 million-year-old human skeleton remains found in Ethiopia about a century ago. That discovery in turn took its name from the 1967 Beatles song Lucy in the Sky with Diamonds.
Ten children from various regions of central and northern Italy have regained their eyesight thanks to the first gene therapy, Novartis's voretigene neparvovec, for hereditary retinal dystrophy, carried out at Naples' Ateneo Vanvitelli Hospital, sources said Monday. The therapy, approved and reimbursed in Italy, tackles a rare form of hereditary retinal dystrophy, linked to mutations in both copies of the RPE65 gene, and the therapy began around 15 years ago, with phase 1 testing via collaboration between Vanvitelli University, the Telethon Foundation and the Children's Hospital in Philadelphia.
More than 7,000 people gathered in the Dutch capital Amsterdam to demand an end to the housing crisis in their city, guarantees on the availability and affordability of housing as well as lower rents and a ban on temporary rental contracts. Violent clashes between police and protesters have broken out. According to local media, police arrested at least 50 people for incitement, insult, and illegal weapon possession during the rally, which was held under the motto "Houses for people, not profit". The demonstration came about a month after at least 15,000 protesters rallied in the Dutch capital Amsterdam.
President López Obrador signed a decree on Saturday to regularize used cars that were imported into Mexico illegally. Announced by the president last week, the regularization program will initially be limited to the six northern border states and Baja California Sur but is slated to extend to all 32 states. Registering an auto chocolate (chocolate car), as an illegally imported vehicle is colloquially known, will cost approximately 2,500 pesos (about US $120), López Obrador said after signing the amnesty agreement in Ensenada, Baja California. There are an estimated 500,000 autos chocolate in Baja California alone, and millions across the country. The vast majority come into Mexico from the United States. "We took the decision to regularize cars that don't have papers, now they will be registered," López Obrador said.
News Burst 19 October 2021 – Bonus IMG
News Burst 19 October 2021 – Bonus IMG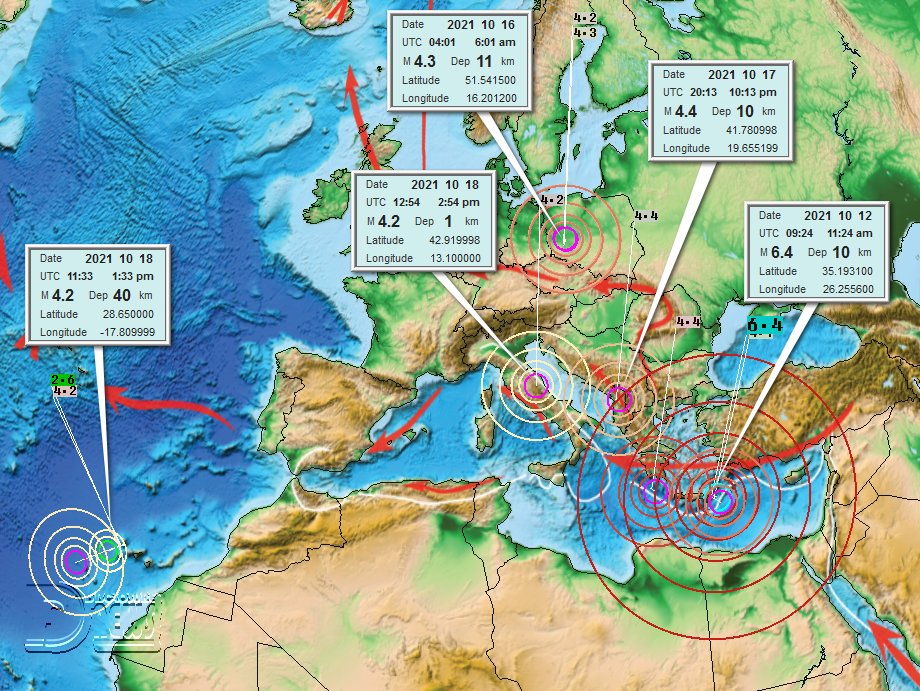 Earthquakes
After the mid M6 Earthquake in Crete on October 12 we can see in the image how the seismic force expanded along the usual directions. Last one in this expansion is the mid M4 in Italy just happened.
News Burst 19 October 2021 – Bonus IMG
Trieste, Italy
Trieste Live Webcam shows the square empty while it is full of protesting peole.
MSM ARE THE VIRUS!
News Burst 19 October 2021 – Bonus Video
June 2021 In Unknown Location
News Burst 19 October 2021 – Bonus Video
News Burst 19 October 2021 – Bonus Video
News Burst 19 October 2021 – Earthquakes
Earthquakes Last 36 Hours – M4 and Above
News Burst 3 July 2022News Burst 3 July 2022 - Get The News! By Disclosure News.Clicks on the Ads Keep Us Alive 😊 News Burst 3 July 2022 - Featured News The U.S. Navy and Air Force research laboratories are wrapping up a five-year joint effort to advance...
Clicks on the Ads Keep Us Alive ✨
Rain
If you want to see a rainbow, you have to learn to love the rain.
Paulo Coehlo
2022 Server & Site Tech Support 4200 €

71%

71%
Support Disclosure News Italia
We are working hard, and every day, to keep this blog. Like you we are fighting for the truth. If you want to work with us you are welcome, please email us! The blog costs are at our expense, advertising reimburse us very marginally so if you like our work and find it useful buy us a coffee clicking the donation button below that will direct you to your PayPal. We need the help of people like you!
Bitcoin & Cryptocurrencies Donation
1M9dohWnHBwNLSPd6afRaJackrw6wK9bxY