Clicks on the Ads Keep Us Alive 😊
News Burst 19 May 2021 – Featured News
In December 2020, President Trump signed a coronavirus relief bill that included an interesting stipulation – the bill set into motion an 180-day time frame in which US intelligence agencies must tell Congress everything they know about UFO sightings, via an unclassified report. Remarkably, in what sounds like the opening crawl of an unimaginative sci-fi film, the report must also include an analysis as to whether or not UFOs pose a threat to national security (perhaps, one day, our puny, primitive weapons will be used to "bring democracy" to a space-faring civilization). As the deadline inches closer, public interest in UFOs has started to spike, recently encouraged by a Fox News interview with Trump's former intelligence director John Ratcliffe, who stated: "Frankly, there are a lot more sightings than have been made public. Some of those have been declassified. And when we talk about sightings, we are talking about objects that have been seen by Navy or Air Force pilots, or have been picked up by satellite imagery, that, frankly, engage in actions that are difficult to explain, movements that are hard to replicate, that we don't have the technology for, or traveling at speeds that exceed the sound barrier without a sonic boom."
One of China's tallest skyscrapers was evacuated on Tuesday (May 18) after it began to shake, sending panicked shoppers scampering to safety in the southern city of Shenzhen. The near 300m high SEG Plaza inexplicably began to shake at around 1pm, prompting an evacuation of people inside while pedestrians looked on open-mouthed from the streets outside. Completed in 2000, the tower is home to a major electronics market as well as various offices in the downtown of one of China's fastest-growing cities. "After checking and analysing the data of various earthquake monitoring stations across the city, there was no earthquake in Shenzhen today," the statement said.
Darwin's Arch in the Galapagos Islands has collapsed, the Ecuadorian Ministry of Environment has revealed. In a statement posted on social media, it said the iconic rock bridge named after the famous English biologist crumbled into the ocean on 17 May due to "natural erosion."
A group of South African fishermen have discovered a rare species of fish that predated dinosaurs. Latimeria chalumnae also known as the "four-legged fossil fish" was found in the West Indian Ocean off the coast of Madagascar. Conservationists, however, argue that the discovery is not good news. Coelacanths normally swim at depths of 100 and 500 metres. But recently more of them end up being caught by fishermen due to the rising demand for shark fins and shark squalene, leading fishermen to use gillnets in deep water during their hunting expeditions. This tendency poses a threat to coelacanths.
The water crisis along the California – Oregon border has reached catastrophic levels, on course to becoming the worst in generations amid historic drought in the area. Federal regulators have shut off irrigation water to farmers, severely impacting the agricultural sector. The water crisis along the region has gone from dire to catastrophic this week. The U.S. Bureau of Reclamation said it will not release water this season into the main canal that supplies the Klamath Reclamation Project– a first time for the 114-year-old irrigation system.
A Supreme Court ruling May 17 holding the state and building material makers responsible for asbestos-related health problems was bittersweet for many of the plaintiffs. 186 plaintiffs died before the top court's first united ruling over lawsuits concerning health damages caused by asbestos. The Supreme Court ordered the state and building material companies to pay damages for cancer or other illnesses that victims developed after years of exposure to asbestos at construction sites. About 1,200 affected workers or bereaved families involved in 33 court battles will be eligible for compensation payments based on guidelines worked on by the ruling Liberal Democratic Party. However, the ruling left out construction workers who may have inhaled the substance while outdoors. And given that nearly 3 million buildings in Japan may still contain the substance, experts say health problems caused by asbestos could continue for years or even decades to come.
Texas Gov. Greg Abbott elicited criticism from Dr. Fauci and a host of Democrats when he decided to drop all COVID-19-linked restrictions in the Lone Star State back in March. Now, as states across the country are falling in line with President Biden's aggressive new mask guidance (clearly intended to encourage more holdouts to accept the vaccine) Texas is reporting a milestone that many of these critics once believed unthinkable: On Sunday, the state's Department of State Health Services reported its first day without a single COVID-19 deaths since March 21, 2020.
Dr. Fauci then: Me wearing a mask after vaccination is not "theater." Dr. Fauci now: Yeah, it was theater.
NVIDIA continues its push to get GeForce GPUs into the hands of gamers rather than crypto miners. The company announced in a blog post that it will halve the hash rate of newly-manufactured GeForce RTX 3080, RTX 3070, and RTX 3060 Ti graphics cards. Any cards shipped from late May onward will have reduced hash rates. The move will affect several of the best mining GPUs.
China has banned financial institutions and payment companies from providing services related to cryptocurrency transactions, and warned investors against speculative crypto trading. Under the ban, such institutions, including banks and online payments channels, must not offer clients any service involving cryptocurrency, such as registration, trading, clearing and settlement.
When the country's CEOs and billionaires start to head to the exits a little bit quicker than usual at the tail end of a 13 year bull market, it may be time to start paying attention. That's what we found noteworthy about a recent Bloomberg piece, which noted that stock sales by some of the world's richest shareholders are "reaping a windfall", thanks to our current inflated equity markets, "to the tune of trillions".
DarkSide, the hacker group behind the recent Colonial Pipeline ransomware attack, received a total of $90 million in bitcoin ransom payments before shutting down last week, according to fresh research. Colonial Pipeline was hit with a devastating cyberattack earlier this month that forced the company to shut down approximately 5,500 miles of pipeline, crippling gas delivery systems in southeastern states. The FBI blamed the attack on DarkSide, a cybercriminal gang believed to be based in Eastern Europe, and Colonial reportedly paid a $5 million ransom to the group. On Friday, London-based blockchain analytics firm Elliptic said it had identified the bitcoin wallet used by DarkSide to collect ransom payments from its victims. That same day, security researchers Intel 471 said DarkSide had closed down after losing access to its servers and as its cryptocurrency wallets were emptied. DarkSide also blamed "pressure from the U.S.," according to a note obtained by Intel 471. In a new blog post Tuesday, Elliptic said DarkSide and its affiliates bagged at least $90 million in bitcoin ransom payments, originating from 47 distinct cryptocurrency wallets. The average payment from organizations was likely $1.9 million, Elliptic said. "To our knowledge, this analysis includes all payments made to DarkSide, however further transactions may yet be uncovered, and the figures here should be considered a lower bound," said Tom Robinson Elliptic's co-founder and chief scientist.
Zerohedge has been permanently suspended by Twitter.
George Sorros IJ4EU is investigating over 60+ Telegram channels to check where the information comes from.
[Rumor] The erupting volcano/fissures Bob, Rag and Nar in Iceland "ate" more than 100 Drones.
CFL-AIO
Illuminati Card Game
News Burst 19 May 2021 – Bonus IMG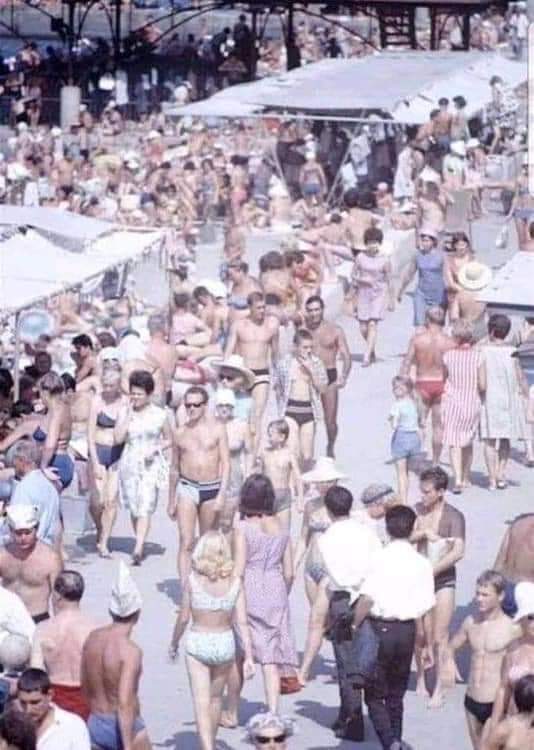 ​A Beach In The 70's.
Not one fat body. How the food industry destroyed us.
News Burst 19 May 2021 – Bonus Video
Chukchi Penkigngei Bay
A total of 50 beluga whales remain stuck in the Chukchi Penkigngei Bay, Russia. It is assumed that they have been in "ice captivity" since January due to an exceptionally thick and fast ice build-up, but specialists only spotted the animals in April. According to zoologist Grigory Tsidulko, the whales have a chance of surviving until the spring thaw, which is expected by mid-June. The Arctic animals are well-adapted to long periods without food, explained Tsidulko — they live on fat reserves attained during the summer months. However, the situation has recently turned more serious –due to the length of time the animals have been trapped and the depletion of the fish reserves– and as a result, the scientists have begun feeding the whales. A similar event occurred in the mid-1980s, but that ended in a large-scale tragedy. In 1984, thousands of beluga whales became trapped in ice captivity. Throughout the winter and spring, local residents used chainsaws to prevent the hole from completely closing up. An icebreaker was even called to help lead the animals out, but unfortunately the belugas did not immediately follow the ship, and many perished. Today's echoing of the 1984 tragedy is a clear indication of how far we are from an "ice free Arctic."
News Burst 19 May 2021 – Bonus Video
Navy Pilots Describe Encounters With UFOs
News Burst 19 May 2021 – Bonus Video
News Burst 19 May 2021 – Bonus Video
Inside The Crater – Iceland
News Burst 19 May 2021 – Earthquakes
Earthquakes Last 36 Hours – M4 and Above
News Burst 12 June 2021 News Burst 12 June 2021 - Get The News! By Disclosure News. Clicks on the Ads Keep Us Alive 😊 News Burst 12 June 2021 - Featured News The Centers for Disease Control and Prevention announced Thursday that it will convene an "emergency...
Clicks on the Ads Keep Us Alive ✨
Conversion
Life sets aside moments of joy and years of pains. It's better you convert the moments in hours and the years in minutes.
Costantino Rozzi
2022 Server & Site Tech Support 4200 €

3%

3%
Support Disclosure News Italia
We are working hard, and every day, to keep this blog. Like you we are fighting for the truth. If you want to work with us you are welcome, please email us! The blog costs are at our expense, advertising reimburse us very marginally so if you like our work and find it useful buy us a coffee clicking the donation button below that will direct you to your PayPal. We need the help of people like you!
Bitcoin & Cryptocurrencies Donation
1M9dohWnHBwNLSPd6afRaJackrw6wK9bxY