News Burst 19 August 2020
Clicks on the Ads Keep Us Alive 😊
News Burst 19 August 2020 – Featured News
After Twitter was caught last month "shadow-banning" Republicans, while giving Democrats unrestricted voice, the social-media giant insisted it has no political agenda. But records of its political contributions show board members, top executives and major shareholders have all given overwhelmingly to Democrats, including Hillary Clinton and Barack Obama, while snubbing Republicans and Donald Trump. Federal records reveal 80 percent of Twitter's corporate PAC contributions in the 2018 election cycle have gone to Democratic candidates, none of whom are moderates. Liberal Democrats also got top dollar in the 2016 race. Twitter has sought to influence Congress and federal agencies on behalf of Democratic causes and against President Trump's policies.
At least one person was killed, and a coronavirus quarantine center damaged, after a 6.6 magnitude earthquake shook the Philippines on Tuesday. The country's strongest earthquake in eight months struck at sea at a depth of 30km (18.64 miles), according to the European Mediterranean Seismological Center. It damaged a hospital and a sports complex being used as a novel coronavirus quarantine center in Cataingan – a central town with a population of more than 50,000 people – which was near the epicenter of the quake. People returning to their homes in the provinces from the capital Manila currently must spend time in isolation.
The unsealed indictment against a retired CIA officer alleges he sold classified and national defense information to China for almost two decades. The case comes amid rising US accusations of Chinese espionage. Alexander Yuk Ching Ma, 67, was arrested on Friday in Hawaii. He faces charges of conspiring with a relative – another former CIA officer, who isn't named – to "communicate classified information up to the Top Secret level to intelligence officials of the People's Republic of China," the US Department of Justice announced on Monday. A naturalized US citizen born in Hong Kong, Ma worked for the CIA between 1982 and 1989, then moved to Shanghai. He moved to Hawaii in 2001, following a meeting with Chinese intelligence officials in Hong Kong that was caught on tape. The video shows Ma "receiving and counting $50,000 in cash" as payment, according to the DOJ.
More than seven hundred million cubic metres of trees were wiped out in British Columbia between 2000 and 2015 by mountain pine beetles, a tiny species native to North American forests, according to Bloomberg, as decades-worth of lumber supplies are being eradicated across the world as a result of the pest's invasion. With around 2.2 million hectares having already been affected by beetles, the outbreak is expected to continue for the next six years. The tiny creature, just 5mm in length, was once part of the forest cycle, but as winters grew warmer due to climate change, the beetles were able to survive in greater numbers and chew through tree bark, with flowing resin attracting even more of them. As a result, with thousands of the insects eating on the trees and laying their eggs inside, hundreds of millions of pines across Canada's timber-rich region were doomed to die. The spruce beetle, have also been destroying log supplies in North America and Europe. Germany and the Czech Republic have been especially affected by the nasty critters, experts note, with the amount of lumber destroyed in Europe from the spruce beetle invasion possibly surpassing those eradicated by their relatives in Canada.
Purdue Pharma LP, the bankrupt maker of OxyContin painkillers, inflicted more than US$2.15 trillion in financial damage on the U.S. economy while pushing highly addictive opioids on Americans for nearly two decades, dozens of states told a judge. Almost every U.S. state and territory will seek to recover a fraction of those alleged losses in Purdue's Chapter 11 case, which the company filed to deal with thousands of civil lawsuits over opioid-relates deaths and injuries. New York's losses alone total more than $165 billion, according to a joint filing by the states on Monday in U.S. Bankruptcy Court in White Plains, New York, where a judge will have to decide how to divvy up Purdue's assets. "The proposed settlement would deliver more than $10 billion in value, including 100% of Purdue's assets, to claimants and communities, and would address the opioid crisis by providing needed funds, as well as millions of doses of lifesaving opioid addiction treatment and overdose reversal medicines." In much of its promotional campaign—in literature and audiotapes for physicians, brochures and videotapes for patients, and its "Partners Against Pain" Web site—Purdue claimed that the risk of addiction from OxyContin was extremely small. Purdue trained its sales representatives to carry the message that the risk of addiction was "less than one percent."
Indian muslim potter Yusuf Zakaria Galwani work on the idols of elephant headed Hindu god Ganesha at his workshop at Kumbharwada inside the Dharavi slums in Mumbai. After the coronavirus pandemic clobbered his pottery business, a Muslim artisan from India's largest slum turned to a Hindu god to revive his fortunes by making environmentally-friendly Ganesha idols for an upcoming festival. In Mumbai's Dharavi slum, Galwani worked alongside his two brothers to create 13-inch tall figurines out of terracotta clay, counting on the god — who is revered as the remover of obstacles — to give his business a much-needed boost.
Cases of type 1 diabetes among children in a small UK study almost doubled during the peak of Britain's COVID-19 epidemic, suggesting a possible link between the two diseases that needs more investigation, scientists said on Tuesday. "When we investigated further, some of these children had active coronavirus or had previously been exposed to the virus." Logan said previous reports from China and Italy had noted that children were being diagnosed in hospitals with new-onset type 1 diabetes during the pandemic. Type 1 diabetes causes insulin-producing cells in the pancreas to be destroyed, preventing the body from producing enough insulin to regulate blood sugar levels. The Imperial team said one possible explanation might be that the novel coronavirus' spike protein might attack insulin-making cells in the pancreas. "More research is needed to establish whether there is a definitive link, … but in the meantime we hope clinicians will be mindful of this," Logan said.
The Democratic Party's 2020 electoral platform includes a call to end the US' "forever wars" – which sounds great, except that a Democratic president started many of those wars and the party has stonewalled efforts to end them.
The Chinese Ministry of Water Resources said on Monday (Aug 17) that 38 tributaries on the upper reaches of the Yangtze were now higher than their warning levels, 19 dangerously so. The southwestern province of Sichuan, which includes a major upstream section of the Yangtze, has raised its flood emergency response to its highest level, the first time it has ever done so, with its rivers overflowing and villages and farmland inundated. The Qingyi river, an upper Yangtze tributary, had seen its worst flooding in a century, Sichuan's flood control authority said, with the city of Yaan forced to evacuate more than 36,000 people as the river burst its banks on Monday. The Yangtze and Huai river basins have seen the highest level of rainfall since records began in 1961, officials have said. As many as 634 rivers throughout the country have exceeded their official flood warning levels.
Malaysia's palm oil producers are embarking on a rare recruitment drive to hire locals and accelerating industry mechanisation as they grapple with a severe shortage of foreign labour due to the COVID-19 pandemic. As the September-November peak production season approaches, companies are erecting banners near plantations and posting online job advertisements boasting free housing, free water and other perks of estate life in a bid to lure workers to do everything from driving tractors to harvesting.
As the overall index of the Tehran Stock Exchange fell sharply for the fourth consecutive day on Sunday, the Islamic Republic President Hassan Rouhani tried to instill optimism saying, "corrective fluctuations in the stock market are normal." After the fall of 65,000 points of the TSE index on Tuesday and about 25,000 on Wednesday last week, Tehran Stock Exchange experienced a drop of more than 72,000 again on Saturday and 90,000 on Sunday. The slide is a historical record in the fall of the country's stock market index by sheer points.
Gunfire was heard at an army base near Mali's capital Bamako on Tuesday, sparking fears of a possible mutiny in the conflict-torn country. According to nearby witnesses, soldiers fired gunshots into the air at a military base in Kati, a town 15 kilometers (nine miles) from Bamako, though it remained unclear who was firing at whom. The Norwegian Embassy gave a clear message to its citizens: "The embassy has been notified of a mutiny in the Armed Forces and troops are on their way to Bamako. Norwegians should exercise caution and preferably stay at home until the situation is clear." Sources said that the leader of the coup could be Colonel Sadio Camara and several high-ranking politicians and officials have been arrested, including the Minister of Finance Abdoulaye Daffe and the chief of staff of the National Guard. Meanwhile, soldiers took up arms in Kati and began arresting senior military officers. The national radio station ORTM has been evacuated. According to ORTM employees, a column of possible putschists is said to be on its way to the station. The French Embassy in the West African country was quick to react, urging people to stay inside their homes.
On Monday, August 17, religious fundamentalists attempted to invade the Integrated Health Center Amauri de Medeiros (CISAM) in Recife (PE), Brazil, to stop a 10-year-old child from carrying out an abortion. The child became pregnant after she was raped by her uncle. The patient was earlier denied her legal right at the University Hospital Cassiano Antônio Moraes in the Espírito Santo State and had to travel to Recife, the capital of Pernambuco State, which is over 1,800 km away, to access the procedure. Following the religious fundamentalists expulsion, the procedure was carried out safely and the child is recovering. In Brazil, abortion is only permitted in cases of rape, or when there is a risk to the health of the mother or if the fetus has anencephaly (the absence of a portion of the brain or skull). In this case, the procedure had even been authorized by a Court in her home State of Espírito Santo. Bolsonaro supporter Sara Winter called on her networks to oppose the abortion and even called the child an "assassin." Winter also revealed the name of the victim, in complete violation of the child's right to privacy.
A newly-discovered asteroid designated 2020 QG flew past Earth at just 0.02 Lunar Distance (9319 km / 5791 miles) on August 16, 2020. This is now the closest near-Earth object to flyby Earth so far this year and the closest on record. It was first observed at Palomar Mountain–ZTF, California, U.S. on August 16, about 6 hours after its closest approach. The object flew past us at 04:09 UTC at a speed (relative to the Earth) of 12.33 km/s.
News Burst 19 August 2020 – Bonus IMG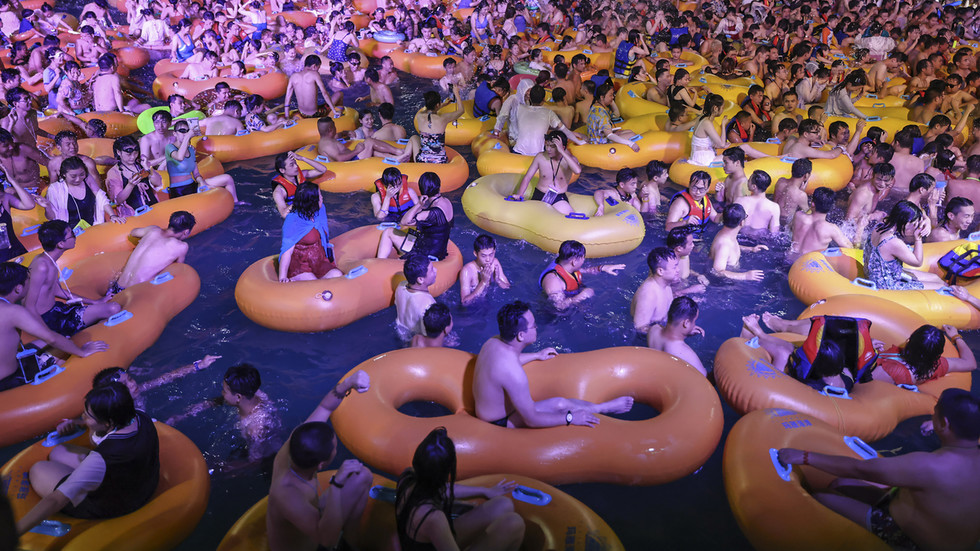 Wuhan Pool Party
The sight of partygoers in Wuhan, China piling into a water park without masks or social distancing seems like a cruel joke to nations where no measures, however disruptive, seem to be helping against the Covid-19 pandemic.
News Burst 19 August 2020 – Bonus IMG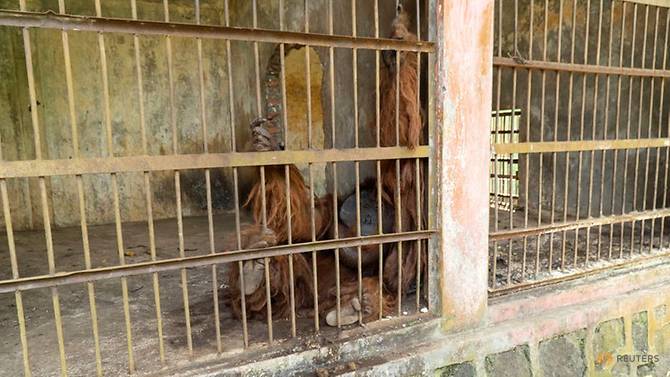 Two Captive Orangutans Rescued In Indonesia
Two critically endangered orangutans have been rescued from captivity on Indonesia's Java island and sent to a rehabilitation centre on Borneo to assess whether they can be released back into the wild, a conservation group said. Both male and estimated to be around 20 years old, were suffering from malnutrition when they were removed from an amusement park and a private family home. "It's very sad to see individuals like Samson and Boboy who should be living free in their natural habitat but instead have been confined to cages for years," said Karmele L Sanchez, programme director of IAR Indonesia. The two Bornean orangutans had been identified as being illegally held in captivity in October last year before a rescue was arranged, said Darmanto, the head of Indonesia's nature conservation agency in Central Java.
News Burst 19 August 2020 – Bonus Video
​Earth's Magnetic Field About to Split in Two, NASA Says
Geologists began expressing concerns about the magnetic field that shields Earth from deadly solar radiation in 2019, when the US National Oceanic and Atmospheric Administration was forced to update its World Magnetic Model a year early after finding that the magnetic north pole was rapidly moving out of the Canadian Arctic and toward Siberia. The US National Aeronautics and Space Administration is tracking an immense, growing, and slowly splitting "dent" in the Earth's Magnetic field. The area, known as the South Atlantic Anomaly, is situated in the southern hemisphere between South America and the southern Atlantic Ocean off the coast of southwestern Africa. According to recent NASA monitoring and modeling, the area is expanding westward and becoming weaker, and expected to completely split into two separate cells, each spanning thousands of kilometres across, soon. NASA says the weakening of the magnetic field in this area threatens to allow more solar radiation to get closer to the surface of Earth, disabling electronics or scrambling or temporarily disabling satellites and other space-based man-made objects that pass through it.
News Burst 19 August 2020 – Solar Activity
A New Sunspot
A new sunspot is growing in the sun's northern hemisphere provisionally numbered AR2772.
A Cme Is Coming
High-latitude sky watchers should be alert for auroras on Aug. 20th when a CME (coronal mass ejection) is expected to graze Earth's magnetic field. Launched into space on Aug. 16th by a slow-motion solar flare, the CME is not heading directly for Earth. Nevertheless, NOAA models of the CME suggest that a glancing blow is likely. Storm levels could reach category G1.
News Burst 19 August 2020 – Active Weather
Hurricane Genevieve
The next 12 hours are the maximum power of Genevieve, wind up to 160 kts. In the video we can see the massive eye with bright sunshine and wind calm.
Position west of Central Mexico – Wind 115-140 kts – Pressure 950 hPa – Moving W-NW at 13 kts – Intensifying in the next 12 hours and than weakening.
​
News Burst 19 August 2020 – Earthquakes
Europe – M3.6 Italy
---
Africa – M5.8 Southwest Indian Ridge
---
North America – M5.0 Alaska
---
Central America – M4.8 Guatemala
---
South America – M4.4 North Argnetina
---
Asia – M6.6 Philippines
---
Pacific – M4.9 Solomon Islands
---
Deepest EQ – M4.4 516 km South of the Fiji Islands 
M6.6 Philippines
In this image we see two deep earthquakes, the first of M5.2 at 580 km and the second of M5.1 at 422 km. Both movements, along with that of M 5.0 in Taiwan, occurred on August 16. At the depth of 580 km, the first movement south of the Philippines could have added a whole unit of magnitude and generate a shallow earthquake up to M6.2, the second slightly less. Today we see a shallow earthquake of M6.6 in the central Philippines. Its position also follows the evolution of seismic waves and in fact it is in the exact intermediate point, or fulcrum of the application of force. A beautiful series of coincidences!
M3.6 Italy
We had seen in the evolution of yesterday's earthquakes how Sicily had been cited as a possible fulcrum point in Italy, instead of Sicily it has been Calabria that suffered a movement of M3.6.
Earthquakes Last 24 Hours – M4 and Above
According to Huawei Finland's cyber security chief Mika Lauhde, who personally admitted to having worked 80-hour weeks with no summer vacation for years, seven-day work weeks would bolster Finland's stance against competitors.
In the late 1990s, in Modena area, Italy, 16 children were taken away from their parents, accused of pedophilia and satanism. The investigation ended with heavy sentences for some of the defendants, who served many years in prison. "It was all lies, I was forced to invent …"
Bill Gates has called on US authorities to build new nuclear reactors in order to deal with climate change. The Gates-founded company TerraPower is building next generation nuclear power plants. The US Department of Energy invested 80 million in TerraPower.
Clicks on the Ads Keep Us Alive ✨
Regret
People rarely do what they believe. They do what is suitable, and then they regret.
Bob Dylan
2022 Server & Site Tech Support 4200 €

3%

3%
Support Disclosure News Italia
We are working hard, and every day, to keep this blog. Like you we are fighting for the truth. If you want to work with us you are welcome, please email us! The blog costs are at our expense, advertising reimburse us very marginally so if you like our work and find it useful buy us a coffee clicking the donation button below that will direct you to your PayPal. We need the help of people like you!
Bitcoin & Cryptocurrencies Donation
1M9dohWnHBwNLSPd6afRaJackrw6wK9bxY