Clicks on the Ads Keep Us Alive 😊
News Burst 18 May
Donald Trump demanded Sunday morning former President Barack Obama and his deputy Joe Biden go to jail for their involvement in the witch hunt against Michael Flynn. Speaking to Fox Business, he dubbed the targeting of his former national security adviser "the greatest political crime in the history of our country". "If I were a Democrat instead of a Republican, I think everybody would have been in jail a long time ago, and I'm talking with 50 year sentences. It's a disgrace what's happened this is the greatest political scam, hoax in the history of our country. And people should be going to jail for this stuff and hopefully, a lot of people are going to have to pay," the President fulminated. The Justice Department decided to drop its case against Flynn 7 May, a big victory for the President given he'd long-argued Obama's White House had gone after Flynn in a bid to damage the incoming administration. The end of Flynn's three-year legal battle followed the release of FBI communications which showed the Bureau leadership discussed whether they should "get [Flynn] to lie" or "get him fired" before interviewing him. It's also been revealed the operation targeting Flynn found no evidence implicating the general in "colluding" with Russia and would've been closed if then-FBI Deputy Assistant Director Peter Strzok, later fired for anti-Trump text messages, hadn't intervened to keep the case open.
A gigantic 26ft long basking shark was spotted Sunday in the waters off a Spanish fishing village and popular (at least before the global COVID-19 quarantine) tourist destination – La Mamola, in the easternmost part of the Costa Tropical. The authorities promptly issued their standard guidelines to pleasure boats to stay away from the spot, although basking sharks are not known to have bitten humans, despite their menacing appearance.
The Chinese ambassador to Israel was found dead in his home north of Tel Aviv on Sunday, Israel's Foreign Ministry said. No cause of death was given and Israeli police said it was investigating. Du Wei, 58, was appointed envoy in February in the midst of the coronavirus pandemic. He previously served as China's envoy to Ukraine.
The Prison Policy Initiative study has determined that 32% of inmates at county jails in US have been set free. "In the last two months, local governments across the U.S. have drastically reduced their jail populations to slow the spread of the coronavirus. The typical jail has reduced its population by more than 30%." Many jails have released up to half of their inmates, with facilities in Oregon, Arkansas and New Jersey releasing between 57% and 63% of their jail inmates.
The President of Madagascar, Andry Rajoelina has called on all African Nations to quit the World Health Organization (WHO) because of the bad faith of Europe towards Africa. The Malagasy president says, Europe created organizations with the desire for Africans to remain dependent on them. Africa has found a medicine against Coronavirus but Europe thinks they have a monopoly of intelligence as such they are refusing to acknowledge it. It is against this backdrop that I invite all African Nations to quit the international organizations in order for us to build ours. Rajoelina has put his reputation and credibility on the line touting the medicine as a cure. He said it cures COVID-19 in 10 days.
Tesla CEO Elon Musk, who usually stays out of politics, has been pretty vocal in recent weeks after Alameda County, California refused to allow him to re-open his Tesla factory. On Sunday morning, the Tesla CEO couldn't have been more clear about his political preference when he tweeted, "Take the red pill." The "red pill" phrase stems from the Matrix where the main character Neo is offered a choice to take the "red pill" which would opens his eyes to an unpleasant truth, or to take the "blue pill" and remain ignorant.
Nepal – Police have arrested a person for allegedly morphing photos of high-level officials, including Prime Minister KP Sharma Oli and posting them on social media. Acting on a complaint lodged with police, Toran Raj Paudel, 22, was taken into custody from Tinpatan Rural Municipality-1 of Sindhuli district and brought to Kathmandu for further investigation into the cybercrime. Cyber Bureau of Nepal Police Headquarters said Paudel had posted the morphed photos of PM Oli and other persons with the intention to spread hatred against dignitaries. He had also used inflammatory and defamatory language against the prime minister and others, officials claimed. The court has remanded him to five-day police custody to proceed further investigation into the case.
Walvis Bay-based namibian club Blue Waters today went door to door distributing food hampers to their players. The club executive delivered 60 food hampers to the players in the privacy of their own homes. The players are from the soccer, netball and cricket codes and who are either school-going or unemployed. Club secretary Tostao Imbili says the players are finding it hard to make ends meets as the club cannot pay their stipends as they are inactive. "We usually pay the players during the sport season but now that it is has been called off as a result of COVID-19, we unfortunately cannot pay them as there are no funds coming into the club coffers," said Imbili.
"The best way to take care of our mental health is to move our muscles, especially our brain," says Bharat Gautam, a nepalese clinical psychologist. "When we paint, we use our mind as well as our hands regularly. The synergy created due to the combination of creativity as well as physical activeness while painting helps people become more mindful; it helps clear your mind, making you feel fresher, more jovial." According to Gautam, "When you paint you get a sense of personal achievement. While other forms of creative avenues, like listening to music, reading books or watching movies are helpful too in coping with uncertain times, they are viewed more as forms of distractions. Painting, on the other hand, helps people express themselves making the experience more fulfilling," he says.
The National Water Commission – Conagua (Mexico) predicts that between 30 and 37 storms will form in the Atlantic and Pacific oceans in 2020, with the most intense activity occurring in September and October. "This year, according to an analysis of ocean conditions from January through April, the season is expected to be more active," Jiménez cautioned.
FINNAIR on Sunday announced it will start scaling up its domestic services gradually in July. "We expect air travel to recover gradually," said Mikko Turtiainen, the director of sales at Finnair. Some flights will not be resumed during the course of the summer, until the airline has developed a better understanding of how passenger demand will recover. News about the possible termination of routes came as a shock, but not necessarily as a surprise, to Kemi and Tornio. "This is a cold shower from Finnair. Flights to Kemi ending altogether is out of the question," characterised Tero Nissinen, the Mayor of Kemi, "With one hand, you're asking the state for hundreds of millions of euros in government guarantees to save your own company and, with the other, you're cutting critical transport connections for exports and the national economy," said Nissinen.
Iran's foreign minister on Sunday warned the United States against deploying its navy in the Caribbean to disrupt Iranian fuel shipments to Venezuela, five Iranian-flagged tankers are heading towards Venezuela. In a letter to United Nations chief Antonio Guterres, Mohammad Javad Zarif warned against "America's movements in deploying its navy to the Caribbean in order to intervene and create disruption in [the] transfer of Iran's fuel to Venezuela". He said any such action would be "illegal and a form of piracy" adding the US would be responsible for "the consequences", according to a foreign ministry statement. A senior official in US President Donald Trump's administration told Reuters news agency on Thursday that the US was considering measures it could take in response to Iran's shipment of fuel to crisis-stricken Venezuela.
The Polish Catholic Church's most senior archbishop notified the Vatican on Saturday of a Polish bishop accused of shielding priests known to have sexually abused children. The referral, unprecedented in the deeply religious country, will test procedures introduced by the Vatican last year to hold to account bishops accused of turning a blind eye to child sex abuse. The Vatican is now expected to assign an investigator to the case. The case came to prominence after a film by brothers Tomasz and Marek Sekielski, released on Saturday, showed how Bishop Edward Janiak, based in the city of Kalisz, failed to take action against priests who were known to have abused children.
Pandemic hits Ukraine's surrogate birthing industry. The global coronavirus pandemic is affecting the surrogate birthing industry. Ukraine, like many countries around the world, has closed its borders to foreigners, preventing new parents from taking their children home.
Sun Activity
A magnetic active region is about to rotate into view over the sun's northeastern limb. Based on its high latitude, it is probably a sunspot from new Solar Cycle 25.
Sunspot number: 0
Spotless Days
Current Stretch: 13 days
2020 total: 104 days (76%)
2019 total: 281 days (77%)
2018 total: 221 days (61%)
2017 total: 104 days (28%)
2016 total: 32 days (9%)
2015 total: 0 days (0%)
2014 total: 1 day (<1%)
2013 total: 0 days (0%)
2012 total: 0 days (0%)
2011 total: 2 days (<1%)
2010 total: 51 days (14%)
2009 total: 260 days (71%)
2008 total: 268 days (73%)
2007 total: 152 days (42%)
2006 total: 70 days (19%)
↓↑
Active Weather
Severe Tropical Cyclone Amphan w/w 145-175 kts↑ 950 hPa↓ Moving North 8 kts Intensifying.
Strongest EQ in Europe M5.3 Crete, Greece
Strongest EQ in North America M5.5 W of California
4th Strongest EQ on the Planet M5.1 Japan
Deepest EQ M5.4 485 km South of Fiji Islands
Severe Tropical Cyclone Amphan
Forecast Track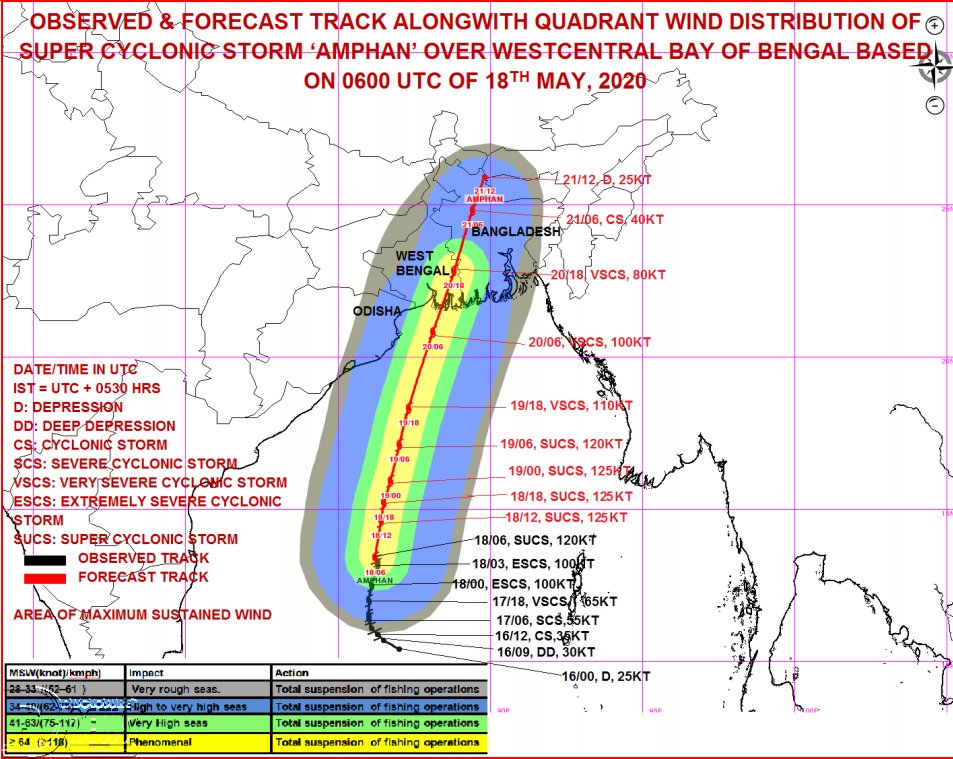 Severe Tropical Cyclone Amphan
"This particular black hole, which is roughly 30 billion times the mass of our Sun, is one of the biggest ever detected and on the upper limit of how large we believe black holes can theoretically become, so it is an extremely exciting discovery."
"Z 229-15 is one of those interesting celestial objects that, should you choose to research it, you will find defined as several different things."
The report explored the idea of the Gateway Process, a classified system that enables anyone to travel through space and time using their consciousness.
Clicks on the Ads Keep Us Alive ✨
Wise Men
Wise men speak because they have something to say; Fools because they have to say something.
Plato
2023 Server & Site Tech Support 4200 €

25%

25%
Support Disclosure News Italia
We are working hard, and every day, to keep this blog. Like you we are fighting for the truth. If you want to work with us you are welcome, please email us! The blog costs are at our expense, advertising reimburse us very marginally so if you like our work and find it useful buy us a coffee clicking the donation button below that will direct you to your PayPal. We need the help of people like you!
Bitcoin & Cryptocurrencies Donation
1M9dohWnHBwNLSPd6afRaJackrw6wK9bxY