Clicks on the Ads Keep Us Alive 😊
News Burst 17 March 2021 – Featured News
Mike Lindell's new social media platform "Vocl" should be released within a few weeks. It's been described as a YouTube/Twitter hybrid that according to him will be incredibly secure.
The "criminal demon hackers" behind the Gab attack used the 420Chan Discord server to orchestrate the criminal hack of the free speech social network. Gab was attacked at the end of last month, with the CEO, Andrew Torba, slamming "mentally ill tranny demon hackers" for the assault. "The same people behind this attack targeted law enforcement officers and their family members last summer," Torba said in his initial statement, noting that the site was working with federal law enforcement to address the breach.
A 57-year-old clarinet teacher who passed away on Sunday less than 24 hours after having the first dose of the AstraZeneca COVID-19 vaccine, seems to have died due to a sudden heart problem.
A proposed new law that tightens patriotic loyalty tests for Hong Kong politicians could also ensnare the city's judges, further threatening its vaunted judicial independence, say legal scholars, lawyers and diplomats. They warn that the so-called "negative list" – which proscribes unpatriotic acts – under the oath-taking Bill is far too vague and could put judges under intense pressure if their rulings and judgments are viewed as challenging the government. The Bill, launched last month and due to be debated in the city's legislature this week, is part of a new drive by the Chinese and Hong Kong governments to ensure only "patriots" govern the city.
The encrypted messaging app Signal, recommended by Tesla's Elon Musk, appeared to have been blocked in China on Tuesday (Mar 16), closing off one of the last American social media platforms still freely available in the country.
A preliminary plan to require people to pay an entry fee to climb Mount Fuji was approved by a Fujisan World Cultural Heritage Council working group on March 15 in an online meeting. Currently, climbers who hike up from the mountain's Fifth Station onward are asked to pay a 1,000-yen ($9) maintenance and conservation fee. But some don't pay, since doing so is only voluntary. To solve the unfair situation, the working group, consisting of Yamanashi and Shizuoka prefectural officials tasked to deal with the issue, agreed to work toward making the entry fee for climbers mandatory in February.
The Recording Industry Association of America said in a shocking report released last fall that vinyl records outsold CDs in the first half of 2020 in the United States.
A fifth-generation US F-22 Raptor fighter jet has made an emergency landing, with its nose down on the runway of Eglin Air Force Base in Florida. The incident is the latest in a series of similar failures that the F-22, touted by some as "the most lethal combat plane in the world", has suffered in the past several years.
Foreign diplomats residing in Pyongyang are prohibited from going out into the streets on Tuesday, 16 March, the Russian Embassy in North Korea announced on its Facebook page. The ban covers local and foreign personnel of all foreign embassies without exceptions, with the measure effective from 5 a.m. until 10 p.m. local time.
A life support system to be loaded onboard lays the foundation for manned space missions. A private space technology start-up based in Huzhou, East China's Zhejiang Province has been keeping its pace close to the national program, with an ambitious goal of initiating an orbital space biology lab around 2025, firm founder Cheng Wei told the Global Times on Sunday.
Brazilian federal police raided a church whose pastor had prayed for a "massacre" of Jews, Israeli media reported. A Brazilian pastor, Tupirani da Hora Lores, at his Geracao Jesus Cristo church, prayed for the Holocaust to be repeated, and had his congregants echo his words.
US tech giant Apple has agreed with the Russian Finance Ministry to ensure the preinstallation of Russian applications on its devices, the Vedomosti newspaper reported on Tuesday, citing a source in the ministry. Under the measure, when an Apple device purchased in Russia is activated for the first time, the user should see a dialog box where they will be asked by default to set up applications from the list approved by the government, the source explained. However, there will be an option to suspend the installation by removing the checkboxes in front of certain applications.
[KING ZUCK]: Facebook Global Planning Lead Reveals Need for Government Intervention: 'The Single Biggest Thing is this Company Needs to be Broken Up'…'No King in the History of the World has been the Ruler of Two Billion People, but Mark Zuckerberg is' [NEW YORK – Mar. 15, 2021] Project Veritas released a new undercover video today in which Benny Thomas, Facebook's Global Planning Lead, revealed that Facebook has too much power and that government action is not only warranted but necessary to limit the damage the Big Tech giant does to society.
The pope is calling for a "new world order."
Moderna to launch vaccine trial on kids as young as 6 months old. Moderna's trial will enroll nearly 7,000 children from ages 6 months to 12 years in the U.S. and Canada, according to the company.
Russia will ban Twitter from the country in 30 days if the platform does not remove illegal content, including child pornography, information on committing suicide, and drug-related content. Vadim Subbotin, deputy head of Roskomnadzor, Russia's equivalent of the FCC, said Twitter was not reacting to the regulator's requests to remove illegal content "as they should," and that the social network would be blocked in the country in a month if its failure to comply continues.
Eliza
Illuminati Card Game
News Burst 17 March 2021 – Bonus IMG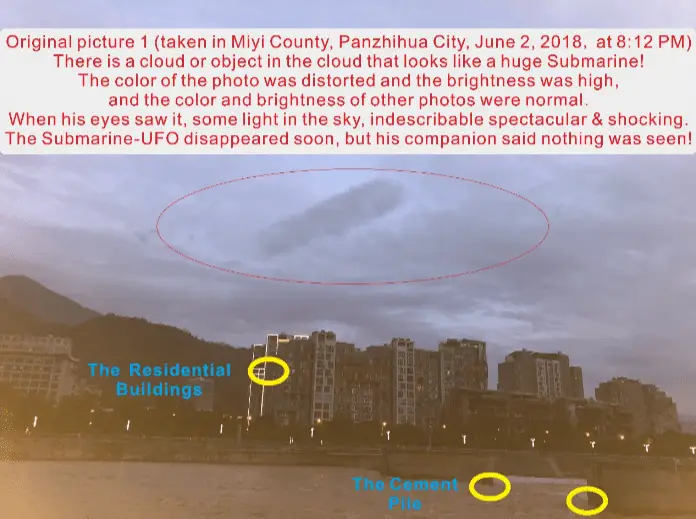 ​City Panzhihua, Province Sichuan
I am a UFO enthusiast from China. I took a picture of a huge and luminous Submarine-UFO at 20:12 on June 2nd, 2018, over a crowded city. ~ Mr. Wang
News Burst 17 March 2021 – Bonus Video
Kansas City, MO 15 March 2021
Pleiadian Craft
WITNESS: I heard a loud sound that made me look out the window where I observed an oval uap flashing blue and red lights while spinning as it flew. The next uap was surrounded by white lights pulsating, moving back and forth at high speed.
News Burst 17 March 2021 – Bonus Video
News Burst 17 March 2021 – Earthquakes
Earthquakes Last 36 Hours – M4 and Above
News Burst 28 May 2022News Burst 28 May 2022 - Get The News! By Disclosure News.Clicks on the Ads Keep Us Alive 😊 News Burst 28 May 2022 - Featured News Earlier this week, news broke that former Louvre director Jean-Luc Martinez was being questioned by French...
US craft have had at least 11 "near misses" with UAP, Deputy Director of Naval Intelligence Scott Bray said during a congressional hearing.
A network of "lost" cities located in the Llanos de Mojos savannah-forest of Bolivia has been discovered using a novel new technology.
Vietnamese hacker Ngo Minh Hieu in his 20s, he made $100,000 a month hacking and selling some 200 million US social security numbers.
Clicks on the Ads Keep Us Alive ✨
Dark and Light
We can easily forgive a child who is afraid of the dark; the real tragedy of life is when men are afraid of the light.
Plato
2022 Server & Site Tech Support 4200 €

64%

64%
Support Disclosure News Italia
We are working hard, and every day, to keep this blog. Like you we are fighting for the truth. If you want to work with us you are welcome, please email us! The blog costs are at our expense, advertising reimburse us very marginally so if you like our work and find it useful buy us a coffee clicking the donation button below that will direct you to your PayPal. We need the help of people like you!
Bitcoin & Cryptocurrencies Donation
1M9dohWnHBwNLSPd6afRaJackrw6wK9bxY