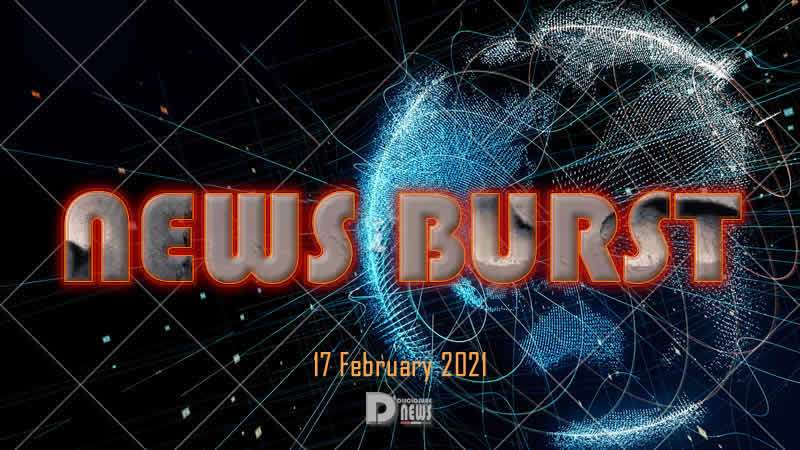 News Burst 17 February 2021
Clicks on the Ads Keep Us Alive 🙂
News Burst 17 February 2021 – Featured News
Cybersecurity researchers on Monday disclosed details of a now-patched flaw in the Telegram messaging app that could have exposed users' secret messages, photos, and videos to remote malicious actors. The issues were discovered by Italy-based Shielder in iOS, Android, and macOS versions of the app. Following responsible disclosure, Telegram addressed them in a series of patches on September 30 and October 2, 2020. The flaws stemmed from the way secret chat functionality operates and in the app's handling of animated stickers, thus allowing attackers to send malformed stickers to unsuspecting users and gain access to messages, photos, and videos that were exchanged with their Telegram contacts through both classic and secret chats.
Experimental genetic testing of Siberia's teenagers to detect and correct deviant behaviour. Six local schools are taking part in a first of its kind project in Russia by Novosibirsk city's department of education, the Institute of Cytology and Genetics, and VedaGenetics company. The experimental research studies genes influencing levels of aggression, creativity and intellect in students aged from 11 to 17 years old. Generic results go back to schools where teachers combine them with earlier psychological tests, and decide if a child's behaviour needs to be corrected to 're-channel energy into more peaceful direction' with help of extra-curricular activities and psychologists. 'According to scientists, pupils with a prominent gene of aggression will likely be successful in sport. 'Should they be late into active physical activity, they might turn into hooligans, trouble-makers and even criminals', reported the Komsomolskaya Pravda newspaper.
A Facebook group with thousands of members, which opposes Israel's vaccination deployment and has devised strategies for sabotaging it, has been shut down by the tech giant for the second time in as many weeks. The group is one of many in Israel that stands accused of spreading misinformation about vaccines against Covid-19 and causing a slowdown in the pace of immunization in the country. Israel has vaccinated some 43 percent of its population with at least one shot of the Pfizer-BioNTech vaccine, but some officials have complained about growing refusal from the remaining part of the society to take the shot.
Jennifer K. Gates, daughter of Microsoft founder Bill Gates, tried mocking the numerous conspiracy theories surrounding her "genius" father after receiving a Covid-19 vaccine, only to face a wave of ridicule herself. "Sadly the vaccine did NOT implant my genius father into my brain – if only mRNA had that power…..!" Jennifer Gates wrote on Instagram, adding a winky face emoji. The statement accompanied an image of her after she had received a Covid-19 vaccine.
President Joe Biden has gone beyond purging the legacy of Donald Trump to scrub that of Barack Obama too, taking down the White House petitions page. The media was too busy gushing over his Valentine's Day display to notice. All links to 'We the People,' the petition page launched out by the Obama administration in 2011, now redirect to the main White House website. Neither the 'Contact' nor 'Get Involved' links, which used to lead to it, do so anymore. Apparently, this has been the case since January 20, when the Biden administration took over both the White House and its website. Yet for the past four weeks, not a single mainstream media outlet has noticed its disappearance.
The Dutch government has been told by the court to reverse its coronavirus pandemic curfew after The Hague ruled there was no legal basis for it and called it an infringement on people's rights. In a statement, The Hague declared that the government's use of the Extraordinary Powers of Civil Authority Act – an emergency act which allows the state to bypass the legislative process to impose a curfew in "very urgent and exceptional circumstance" – was not justified in this case during the Covid-19 crisis. "The Preliminary Relief Judge ruled that the introduction of the curfew did not involve the special urgency required to be able to make use of the [act]," the Hague continued, noting that the government had had time to discuss such a curfew beforehand, before ruling that "the use of this law to impose curfew is not legitimate."
Ahead of his testimony in front of congress, Robinhood CEO Vlad Tenev is reportedly in hiding from angry client mobs, living out of a hotel in an undisclosed location. Tenev has received threats on his life and is just biding his time waiting to speak with U.S. lawmakers this week, the report notes. He has avoided going home since the incident took place, due threats on his life, one source told Bloomberg. Tenev has "been making grim jokes about feeling hated" in private conversations, the report continued.
Texas Gov. Greg Abbott is deploying "maximum resources to local officials" as the state responds to record-breaking winter weather and incredibly cold temperatures. Over 2.7 million Americans in Texas are experiencing power outages due to an icy storm that hit the state last week, according to poweroutage.us. Another 103,000 people reported outrages in Louisiana, while nearly 51,000 are left without power in Mississippi.
Astronomers believe that only in the Milky Way there are nearly 50 billion stars orbited by planets that have all necessary conditions to host life. So how come we have not come across any human-like species yet? UFO hunters have probably found an unusual ally at Harvard University, after the school's Professor Ali Loeb argued that it was rather "presumptuous" for people to believe that we are "the only intelligent beings in this vast cosmos". "In fact, to imagine we humans are alone in space is not merely arrogant, it is scientific nonsense," Loeb wrote in a Daily Mail column.
Mercenaries
Illuminati Card Game
News Burst 17 February 2021 – Bonus IMG
Australia
Alien-looking creatures have been discovered on Australia's shores, along the east coast. The mysterious 'aliens' from the ocean actually are known as Blue Dragon, or Glaucus atlanticus, a rare sea slug. While Blue Dragons, which swim upside down to show off their bright colour, don't breathe fire, their sting is considered to be very painful; they may strike if they're in their defensive mode.
News Burst 17 February 2021 – Bonus IMG
Yury Vlasov
Russian president Vladimir Putin has paid tribute to "legendary" Soviet weightlifting Olympic champion Yury Vlasov, an inspiration of Arnold Schwarzenegger, who died on Saturday at the age of 85. Vlasov set an unprecedented 31 world titles during his illustrious career, becoming the first weightlifter to clean and jerk more than 200kg, and won gold at the 1960 Rome Olympics in the 90+kg category.
News Burst 17 February 2021 – Bonus Video
Coacalco, Mexico 2/8/2021
This is a small Pleiadian Craft that is unoccupied. It is measuring Vibrational Frequency and taking photos. It will return to a larger Craft in a Fleet and then all will return to the Mothership when signaled. Neioh
News Burst 17 February 2021 – Bonus Video
News Burst 17 February 2021 – Bonus Video
Tempe, Arizona 12-Feb-2021
News Burst 17 February 2021 – Bonus Video
Texas
People sleeping in running cars in Dallas, Texas, to stay warm. Sim going wild.
News Burst 17 February 2021 – Bonus Video
45 Returns
This is unbelievable! 45 returns to Mar-a-Lago this afternoon, after an awesome day out on the links.
News Burst 17 February 2021 – Earthquakes
Earthquakes Last 36 Hours – M4 and Above
-31 °C / -23
Lowest operating temperature of most cold-resitant mobile phone.
A group of nearly 70 'believers' gathered in Dublin in December to carry out an 'Exorcism of the Dail' ritual while the country was under COVID lockdown.
Cybersecurity researchers today unwrapped a new campaign aimed at spying on vulnerable Tibetan communities globally by deploying a malicious Firefox extension on target systems. Threat actors aligned with the Chinese Communist Party's state interests delivered a customized malicious Mozilla Firefox browser extension that facilitated access and control of users' Gmail accounts.
News Burst 26 February 2021News Burst 26 February 2021 - Live Feed​. By Disclosure News.Clicks on the Ads Keep Us Alive 🙂 News Burst 26 February 2021​ - Featured News India imposed tough new rules on social media platforms on Thursday (Feb 25) as it accused US tech...
Clicks on the Ads Keep Us Alive ✨
Future
I look forward to a great future for America - a future in which our country will match its military strength with our moral restraint, its wealth with our wisdom, its power with our purpose.
John F. Kennedy
2021 Server & Site Tech Support 4200 €

64%

64%
Support Disclosure News Italia
We are working hard, and every day, to keep this blog. Like you we are fighting for the truth. If you want to work with us you are welcome, please email us! The blog costs are at our expense, advertising reimburse us very marginally so if you like our work and find it useful buy usacoffee clicking the donation button below that will directu to your PayPal. We need the help of people like you!
Bitcoin & Cryptocurrencies Donation
1M9dohWnHBwNLSPd6afRaJackrw6wK9bxY