Clicks on the Ads Keep Us Alive 😊
News Burst 17 April 2020
Two days after Turkey passed a prisoner amnesty law, one of the most notorious Turkish Mafia bosses has been released from prison as part of a program to release 90k offenders, some of whom were violent criminals. Alaattin Cakici, who was convicted for murder and racketeering, is well known for having close ties to an ultra-nationalist party that is working in a coalition with President Erdogan's AKP. Critics have criticized the amnesty program for leaving thousands of journalists and civil-society activists behind bars.
[Removal] Robby Browne, one of the city's most celebrated residential agents, who was known as much for his exuberance as he was for closing high-profile deals, died Saturday. Browne had been battling cancer for several years but recently contracted coronavirus, sources confirmed. He was a millionaire broker who "died at home". Aold multiple units to Jeff Bezos in his own building. Hosted the Clintons at his home in Bridgehampton. A "very good friend" of Don Lemon. -A big fan of Marina Abramović, Michael Bloomberg, & the Pope. This was a REMOVAL.
Just hours after President Trump, General Milley, and now the mainstream US media, increase the rhetoric volume on the source of the "Chinese Virus", with questions about leaks from the Wuhan Lab growing louder, American firms producing medical goods in China have been slapped new export restrictions, stranding much of the supplies in warehouses across the country. This new hurdle comes at a time when shortages of masks, test kits, and other medical equipment have materialized in many hospital systems across the US. Suppliers, brokers, and State Department memos reveal that large sums of protective gear lay on pallets in Chinese warehouses, unable to receive necessary shipping authorizations to the US. For example, 1.4 million COVID-19 test kits sit in a warehouse in China, unable to ship from PerkinElmer Inc.'s Suzhou factory because "it lacks certification required by the new rules."
US airplane manufacturer Boeing on Thursday revealed that all commercial plane production at its facilities in the area of Puget Sound, Washington, would resume operations next week. The notice comes after Boeing suspended its operations last month due to the COVID-19 pandemic. The report notes that around 27,000 people in the Puget Sound region will restart production on the 747, 767, 777 and 787 airplane models.
Brazilian Health Minister Henrique Mandetta says he has been dismissed from office by President Jair Bolsonaro. Bolsonaro and Mandetta have had different views on combating COVID-19. While the former health minister was an advocate of social isolation, Bolsonaro insisted on only isolating citizens from the "risk group" – seniors and those with chronic diseases. Mandetta has also been against using hydroxychlorochinum to treat coronavirus. Bolsonaro announced later on Thursday that oncologist Nelson Teich has been appointed new health minister.
Former National Security Agency (NSA) contractor Edward Snowden has applied for extending Russian residence permit for another three years, his lawyer Anatoly Kucherena told TASS on Thursday. "Yes, recently we submitted documents for extending the residence permit for three more years. We hope the decision will be positive," the lawyer said, noting that the issue of obtaining Russian citizenship was not discussed at the moment.
The European Union said it will scrutinize Google and Apple Inc.'s proposed contact-tracing technology to ensure it meets the bloc's new standards governing the deployment of Covid-19 apps. Alphabet Inc.'s Google and Apple late last week announced they would add technology to their platforms to alert users if they have come into contact with a person with the coronavirus. While the system is voluntary, it has the potential to monitor about a third of the world's population.
Human sacrifice, Lord Shiva's statue, nuclear institute, God Particle, European laboratory in a cavern, mini black holes all makes for a heady mysterious mix. When a creepy grainy video emerges from inside a haloed scientific institution showing a so-called 'human sacrifice' being committed at that global temple of learning where more than 100 nations are co-operating in Geneva called the European Organization for Nuclear Research or CERN, it spooked many. CERN has launched an internal investigation to get to the truth of the matter while confirming the veracity of the video as having been shot within its highly secure premises, but called it a 'fictional' depiction. This act has riled many scientists especially in India since the 'human sacrifice' is shown being conducted with the backdrop of giant statue of Lord Shiva in his Nataraja pose performing the 'tandava' or the cosmic dance. The over 5-m-tall statue was gifted by the Indian government to the Geneva-based atomic research centre about a decade ago.
The Twitter chief executive and co-founder @Jack may lose his job in what is likely to become a face-off with the powerful Wall Street investment powerhouse Elliott Management. The cutthroat firm, led by Paul Singer, has bought $1 billion worth of stock in Twitter and has nominated four directors to its eight-person board. If the current talks break down, those seats would most likely be used to oust Mr. Dorsey from Twitter, especially if Elliott gets backing from other investing giants (which it has, according to numerous sources) and from the markets (which reacted well to Elliott's move by pushing Twitter shares upward from $32 to $36 this week, in a very down market reeling from the coronavirus threat).
[2019] Twitter CEO Jack Dorsey described being served a nearly raw goat that Mark Zuckerberg had killed himself in a wide-ranging interview in which he addressed his controversial trip to Myanmar and admitted he always identified with the man behind the curtain in Wizard of Oz. When asked about his "most memorable encounter" with the Facebook founder, Dorsey told Rolling Stone, "Well, there was a year when he was only eating what he was killing." "He made goat for me for dinner. He killed the goat," Dorsey continued, adding, "He kills it with a laser gun and then the knife." Dorsey then said Zuckerberg told him that they were having only goat and salad for dinner. When the goat came out of the oven "it was cold." He added: "I don't know if it went back in the oven. I just ate my salad."
According to Bloomberg, gasoline in Fargo, North Dakota has hit 12 cents a gallon at 'the rack' – the wholesale market where gas station owners buy fuel before marking it up at the pumps – which have become "little more than makeshift storage for ballooning inventories." "When you see gasoline down around 12 cents a gallon, no one is going to be making money," said Ron Ness, President of the North Dakota Petroleum Council, who added that it's nearly impossible for retailers to turn a profit at that price.
The Chinese city of Wuhan – ground zero for the China virus pandemic – has revised its fatality count. The revision was necessary to "address incorrect reporting, delays and omissions of cases," city officials said, with the new numbers increasing Wuhan's death tally by 50 percent.
Due to the global coronavirus crisis, the Swedish International Development Cooperation Agency (Sida) has announced plans to invest SEK 20 million ($2 million) to improve access to contraception and abortion products in Africa. Sida Director General Carin Jämtin, former Social Democrat party secretary and former Development and Cooperation Minister, warned of a "sharp increase in HIV, unwanted pregnancies, unsafe abortions and increased maternal mortality" amid the coronavirus pandemic. According to Sida, closed borders and the focus on battling Covid have meant that other health issues have been neglected, which means that the availability of contraceptives and abortion products is decreasing. The extra support will be thus provided to the organisation DKT International and will be spent on replenishing the stock of condoms and other contraceptives, as well as abortion kits. A total of six countries will receive assistance: the Democratic Republic of Congo, Ethiopia, Kenya, Mozambique, Tanzania and Uganda. This step has been described as "filling the market that already exists and is likely to grow in the near future".
The Soyuz MS-15 manned spacecraft with three International Space Station (ISS) crewmembers on board has landed in Kazakhstan, 147 km to the southeast of the city of Zhezqazghan . Roscosmos cosmonaut Oleg Skripochka and NASA astronauts Andrew Morgan and Jessica Meir are on board the spacecraft. The crew has returned to Earth due to the novel coronavirus pandemic. All astronauts will undergo medical check-ups, after which they will be transported to Baikonur. After that, Skripochka will head to Moscow, and his US colleagues will travel to the USA. All personnel working with the astronauts on land have been tested for COVID-19. Russian astronauts Anatoly Ivanishin and Ivan Vagner remain at the station along with their NASA colleague Chris Cassidy, who has been appointed commander of the station.
Earth is approaching a stream of debris from Comet Thatcher (C/1861 G1), source of the annual Lyrid Meteor Shower. If forecasters are correct, the Lyrids will peak on the night of April 21-22 with as many as 15 meteors per hour. These meteors are best seen from the northern hemisphere where the radiant is high in the sky before dawn.
Sun Activity
Sunspot number: 0
Spotless Days
Current Stretch: 12 days
2020 total: 82 days (76%)
2019 total: 281 days (77%)
2018 total: 221 days (61%)
2017 total: 104 days (28%)
2016 total: 32 days (9%)
2015 total: 0 days (0%)
2014 total: 1 day (<1%)
2013 total: 0 days (0%)
2012 total: 0 days (0%)
2011 total: 2 days (<1%)
2010 total: 51 days (14%)
2009 total: 260 days (71%)
2008 total: 268 days (73%)
2007 total: 152 days (42%)
2006 total: 70 days (19%)
Active Weather
Low Jeruto Dissolved
Strongest EQ in Europe M4.5 Italy
Strongest EQ in North America M5.3 Alaska
Strongest EQ on the Planet 6.0 Honduras
Deepest EQ M4.6 350 km Kashmir, India
Deepest EQ M4.6 513 km South of the Fiji Islands
News Burst 17 April 2020 Bonus Img
Earthquakes
Expansion in Europe after the M4.5 earthquake in Italy with movements on the M3 in Romania (16/4) and Poland (17/4). An M4.5 occurred south of Iceland. A new seismic wave arriving after the strong movements in Myanmar, Nepal and today in the Hindukush area. Large area of silence in Iran, possible movements up to the M5 here?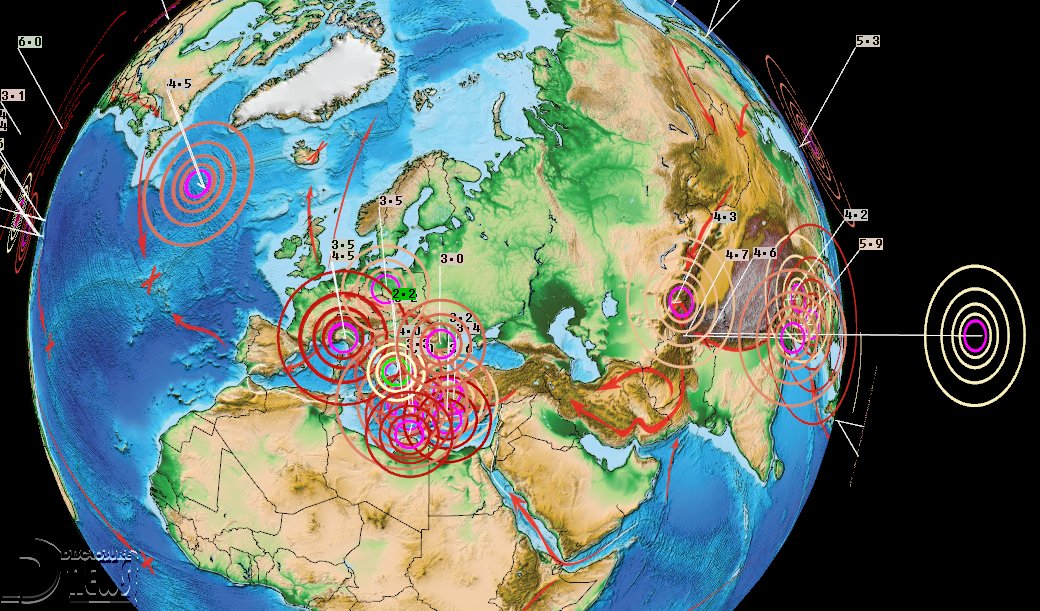 News Burst 17 April 2020 Bonus VIDEO
[custom-twitter-feeds layout=list screenname="2016Disclosure" includewords="#NewsBurstLive" num=12 autoscroll=true showheader=false]
Clicks on the Ads Keep Us Alive ✨
The Impossible
Start by doing what's necessary; then do what's possible; and suddenly you are doing the impossible.
Francis of Assisi
2022 Server & Site Tech Support 4200 €

64%

64%
Support Disclosure News Italia
We are working hard, and every day, to keep this blog. Like you we are fighting for the truth. If you want to work with us you are welcome, please email us! The blog costs are at our expense, advertising reimburse us very marginally so if you like our work and find it useful buy us a coffee clicking the donation button below that will direct you to your PayPal. We need the help of people like you!
Bitcoin & Cryptocurrencies Donation
1M9dohWnHBwNLSPd6afRaJackrw6wK9bxY