News Burst 16 April 2020 – Live Feed
Clicks on the Ads Keep Us Alive 😊
News Burst 16 April 2020
A crack unit of elite marshals and detectives stopped an alleged plot to blow up Central Park's iconic Alice in Wonderland statute. Officers from the New York/New Jersey Regional Fugitive Task Force, a joint unit of the US Marshals Service and NYPD investigators, arrested 30-year-old Kevin Fallon at a hotel in the Theatre District on Saturday 11 April. Mr Fallon had allegedly threatened to blow up the famous New York landmark and kill his father and ex-girlfriends, saying "this is going to hurt. None of you are safe. I am lethal", according to a criminal complaint reported by The New York Daily News. Depicting characters from Lewis Carrol's classic novel, the Alice in Wonderland statue has been a fixture of Central Park since 1959.
A source has told the New York Post that Smollet, 37, had a sexual relationship with alleged 'attacker' Abel Osundairo. The insider claims the pair visited a Chicago bathhouse for gay men on multiple occasions, and that there should be records of their visits. Osundairo has previously denied an insinuation by Smollet's lawyers that the pair were sexually involved; he sued for defamation but the case was dismissed. Osundairo and his brother, Ola, claim Smollet paid them to orchestrate an attack on him in January of last year. The case made international headlines and Smollet was later charged with lying to police but the case was dropped. A special prosecutor later picked up the chase and in February of this year Smollet was charged on six new counts of lying to police; he is awaiting trial.
Oil prices sank on Wednesday after the United States reported a 19 million-barrel increase in inventories, the biggest weekly build ever, while forecasts showed global demand crumbling to its lowest levels in a quarter of a century due to the chinavirus pandemic. The grim figures undercut the weekend agreement between numerous global producers to cut output in coming months, making clear that supply reductions would not be enough to prevent storage from filling and leaving numerous barrels stranded.
Rachel Maddow's brother David Maddow works for Twist Bioscience. Twist Bioscience is owned by Boris Nikolic, Jeffrey Epstein changed his will before he died to make Boris Nikolic the executor. Bill Gates is one of his investors. Boris Nikolic, Managing Director, Biomatics Capital – Dr. Nikolic is a physician and investor who previously served as chief advisor for science and technology to Bill Gates, leading select for-profit and not-for-profit investment activities. His investments spanned the life science, information technology and health care sectors, including companies such as Foundation Medicine, ResearchGate, Schrodinger and Nimbus Therapeutics. Dr. Nikolic completed postdoctoral training in transplantation immunology at Harvard Medical School and served as an assistant professor of medicine at Massachusetts General Hospital/Harvard Medical School. He has authored more than 70 articles, patents and patent applications, and has co-founded several biotechnology companies that have since been acquired. Dr. Nikolic earned his M.D. from University of Zagreb School of Medicine in Croatia, and clinical training at University Hospital Centre in Zagreb.
[Petiton to the White House] We Call For Investigations Into The "Bill & Melinda Gates Foundation" For Medical Malpractice & Crimes Against Humanity. As we look at events surrounding the "COVID-19 pandemic," various questions remain unanswered. On Oct. 18th of 2019, only weeks prior to ground zero being declared in Wuhan, China, two major events took place. One is "Event 201," the other is the "Military World Games," held in none other than Wuhan. Since then a worldwide push for vaccines & biometric tracking has been initiated. At the forefront of this is Bill Gates, who has publicly stated his interest in "reducing population growth" by 10-15%, by means of vaccination. Gates, UNICEF & WHO have already been credibly accused of intentionally sterilizing Kenyan children through the use of a hidden HCG antigen in tetanus vaccines. Congress & all other governing bodies are derelict in duty until a thorough and public inquiry is complete. LINK 
A tone-deaf Microsoft ad featuring performance artist Marina Abramovic has been memory-holed after it was pilloried online. Was it her 'spirit cooking' notoriety from the Podesta emails or are people just sick of wealth-flaunting? An ad featuring the Serbian performer's latest project, a "mixed reality" installation incorporating Microsoft's HoloLens virtual-reality platform, clearly touched a nerve before it was removed earlier this week. The video received over 25,000 "thumbs down" on YouTube before it was yanked and, while comments were turned off, it's safe to say the reception was a frosty one.
Scientists in Australia have made a significant if somewhat strange breakthrough in the development of non-addictive, but equally effective, alternative painkillers to opioids… by using spider venom. Dr Christina Schroeder and her team of researchers at the University of Queensland have created novel tarantula mini-proteins by using the venom of a Chinese bird spider, "considered extremely aggressive and highly venomous." The mini protein, called Huwentoxin-IV, binds to pain receptors in the body and has been engineered for greater potency and targeting of specific pain receptors. The experimental new pain-relief drug has thus far proven highly effective in trials on mice and could one day lead to the development of alternatives to morphine-like drugs, such as fentanyl and oxycodone, which have plagued countries like the US throughout the global opioid crisis.
Russian President Vladimir Putin instructed the government to provide direct gratuitous state assistance to small and medium-sized businesses in the amount of 12,130 rubles ($162) per employee. "In addition to the support measures that are already being taken I propose providing small and medium-sized companies of the affected sectors with direct gratuitous financial assistance from the state," Putin said at a meeting with members of the government. "The amount of support for a particular company will be calculated taking into account the total number of its employees as of April 1 of this year, proceeding from an amount of 12,130 rubles per employee per month, "Putin stated.
Iran's Revolutionary Guard fired two missiles at Ukraine's flight 752 on January 8 in the wake of Iran's missile attacks on Iraqi military bases hosting U.S forces. Iranian authorities took responsibility for downing the flight and killing 176 passengers and crew members onboard the plane after three days of denials and later claiming that 'human error" was responsible for shooting the plane. Radio Farda has learned that Iran has sent the draft of a memorandum of understanding (MoU) to the Ukrainian Foreign Ministry according to which Ukraine and the families of the victims are to accept "human error" as the cause of the crash. The said document also stipulates that Ukraine and the families of the victims should not pursue criminal and judicial action against Iran in return for the payment of compensation by Iran and releasing the plane's flight recorder's contents after they are analyzed.
One of Brazil's most wanted people, an alleged drug baron accused of running international cocaine operations for the country's biggest gang, has been arrested in Mozambique. Gilberto "Fuminho" Aparecido dos Santos, believed to be the leader of the First Capital Command (PCC), was arrested in an international sting that included agents from Brazil, Mozambique and the US Drug Enforcement Administration. Mozambican police confirmed the arrest on Tuesday. He is accused of shipping tonnes of cocaine around the world, the Brazilian federal police said "The accused was considered the largest cocaine supplier" for the PCC, and had been on the run for more than 20 years, it said. Dos Santos was arrested at the Montebelo Indy, a luxury hotel in Maputo, along with two Nigerian nationals. He had arrived in the southern African country in mid-March.
Google has been ordered to turn over all Hillary Clinton emails from a Gmail account believed to contain backups to communications from her personal server which her IT specialist, Paul Combetta, reportedly scrubbed using BleachBit. Combetta allegedly used the Google account to transfer Clinton's emails from a laptop to a server at Platte River Networks, after which BleachBit was used to remove all traces from the device. On Wednesday, watchdog group Judicial Watch announced that Google had been served with a subpoena seeking all Clinton email from January 21, 2009 until February 1, 2013 from her time at the Obama State Department where she served as Secretary of State. The issue of Gmail backups was raised during an August, 2019 hearing by US District Court Judge Royce Lamberth, who ordered JW to "shake this tree" and pursue the issue. Lamberth referenced a report released by Sen. Chuck Grassley (R-IA) in which he said he had some 'very troubling information' about Combetta – who was granted immunity by the Obama Justice Department.
Just as the premium between physical and paper precious metals prices was starting to fade a little, the US Mint has decided to temporally halt all production at its West Point facility in New York because of the risk to employees from COVID-19. The timing of the decision to halt supply could not come at a worse time with demand for both gold and silver coins soaring near record highs. The Mint had previously redirected some silver bullion production to its Philadelphia facility, Michael White, a spokesman, said in an email.
Sun Activity
Sunspot number: 0
Spotless Days
Current Stretch: 10 days
2020 total: 80 days (75%)
2019 total: 281 days (77%)
Active Weather
Tropical Depression Jeruto Sounth Indian Ocean WV 30 Kts 1004 hPa – Moving West-South-West 5 Kts
Strongest EQ in Europe M4.1 Greece
Strongest EQ in North America M3.9 California
Strongest EQ on the Planet 5.7 Colombia
Deepest EQ M4.1 130 km Nepal
After the strong M4.7 off the coast of Syria on April 15 early morning with an M4 swarm we have seen a M4.1 in Northern Greece yesterday afternoon. Today the seismic force reached Italy that was hit all along with M3s in the south, M2 in Central Italy and M3.6 in the northwest. France, Pyrenees and Spain will probably see some low M3 in the next few days.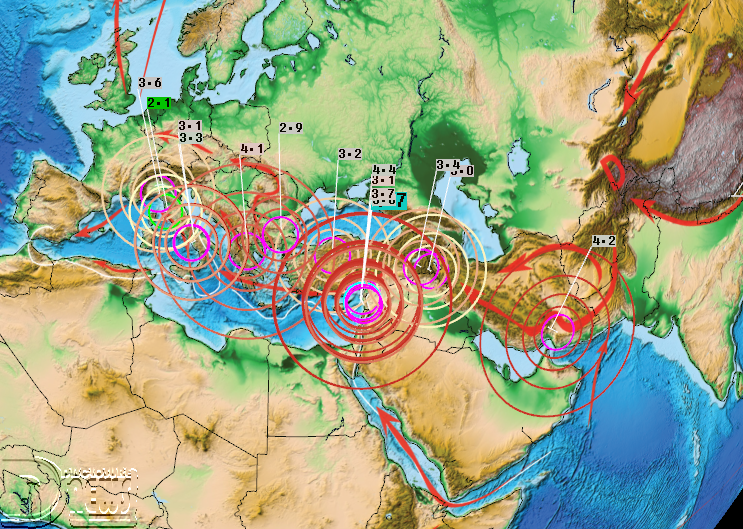 News Burst 16 April 2020 Bonus Img
Bright Comet Swan
A new comet is heading for the sun. Discovered just a few days ago, Comet SWAN (C/2020 F8) is bright, green, and an easy target for backyard telescopes. The comet seems to be experiencing an outburst, releasing "massive quantities" of hydrogen-rich material. It could become visible to the naked eye next month if it does not fall apart first.
News Burst 16 April 2020 Bonus Img
[custom-twitter-feeds layout=list screenname="2016Disclosure" includewords="#NewsBurstLive" num=12 autoscroll=true showheader=false]
Clicks on the Ads Keep Us Alive ✨
Enemies
Always forgive your enemies. Nothing annoys them so much.
Oscar Wilde
2022 Server & Site Tech Support 4200 €

47%

47%
Support Disclosure News Italia
We are working hard, and every day, to keep this blog. Like you we are fighting for the truth. If you want to work with us you are welcome, please email us! The blog costs are at our expense, advertising reimburse us very marginally so if you like our work and find it useful buy us a coffee clicking the donation button below that will direct you to your PayPal. We need the help of people like you!
Bitcoin & Cryptocurrencies Donation
1M9dohWnHBwNLSPd6afRaJackrw6wK9bxY