News Burst 15 July 2020 – Featured News
The police have dismantled an international human trafficking network in Barcelona, Spain, which has led to the arrest of 12 individuals, the majority of which were of Sub-Saharan and Moroccan nationality. Searches have been carried out in the provinces of Burgos and Barcelona, as well as overseas. Police carried out three searches in Portugal, two in Germany and one in the Netherlands. Almost 1,000 victims have been identified in this operation, including women and children.
A deranged white man traveling from Alaska to Chicago threatened to kill passengers if they would not accept Jesus was a black man. The Alaskan Airlines plane made an emergency landing in Seattle.
Ghislaine Maxwell refused to open the front door to the FBI and tried to flee to another room when they raided her $1million home, prosecutors claimed today. The FBI smashed down the door and discovered a mobile phone wrapped in tin foil which prosecutors called a 'seemingly misguided effort to evade detection'. Jeffrey Epstein's former girlfriend 'vigorously denies' charges against her. Maxwell's lawyers argued she is not a flight risk and is 'not Jeffrey Epstein'. They also said she had not been in contact with pedophile Epstein for more than a decade before he died in a New York prison last year. Filings in a separate lawsuit show Maxwell and Epstein emailed in 2015. Her lawyers deny she was in hiding – something prosecutors allege – and say she 'maintained regular contact' with the federal government since Epstein's arrest They say she is the victim of a smear campaign of 'open season' from the media. They argue she is at risk of contracting COVID-19 if she stays in the Brooklyn jail. Her request was filed in the US District Court in Manhattan eight days after her arrest at her luxury home in New Hampshire.
A 40-year-old man was arrested near Bordeaux, France, on charges of managing darknet sites, the hidden part of the internet, allowing "thousands of surfers the world over to have access to child pornography photos and videos. "the Prosecutor of the Republic of Bordeaux, Frédérique Porterie announced in a statement. Stopped on 7 July, the 40-year-old was identified as "one of the top ten global goals". The man, of French citizenship, was stopped by agents of the Central Office for the Suppression of Violence against People (OCRVP), in collaboration with Europol, in charge of the fight against the international child pornography networks of the darknet.
Last month, Apple rolled out a new iOS 14 privacy feature "paste notifications" to the developers. Reportedly, this feature intimates the users when the content on their clipboard is accessed by any external apps. In a matter of a few days, 53 apps including the popular content creation app TikTok were exposed for allegedly reading the copied data on the clipboard. Another renowned app, LinkedIn was caught spying on the sensitive user data on every keystroke.
New Delhi: Many Indians fly kites on festive occasions, but synthetic kite strings have been banned in since 2017 as they injure thousands of birds every year. In a heart warming act, Bareilly city police in Uttar Pradesh employed a giant crane to rescue a pigeon tangled up in kite string. Competition can be pretty cutthroat and some people use metal and glass coated strings – in order to cut other people's kite strings. Last year, the Animal Welfare Board of India's said that at least 2,000 birds were injured and 500 died during the annual kite flying festival in Gujarat. The sharp kite strings can also prove fatal for two-wheeler riders and pedestrians causing all kinds of injuries from lacerations to fatal throat injuries.
Planetary geophysicists have used a new numerical model to determine that the moon is in fact 85 million years younger than previously thought, having formed from the extremely violent and unlikely collision of two protoplanets. The boffins at the German Aerospace Center, led by Maxime Maurice, produced a model to more accurately calculate what exactly happened when the protoplanet Theia smashed into a nascent, and still-forming, Earth about 4.425 billion years ago. Previous estimations had suggested the moon formed around 4.51 billion years ago – that is, about 85 million years earlier. The new model suggests, however, that it was millions of years later when the molten Earth was still in the process of taking shape and covered in a vast ocean of liquid magma, that the collision took place. It was then, they say, that Theia blindsided the world we call home, firing off a large globule of magma into space, which would later form the moon that orbits our planet to this day.
Bangladesh police said on Monday they have arrested three men over the trafficking of hundreds of young women taken to Dubai on the promise of jobs in hotels and then forced into sex work. The victims were paid a month's salary up front and told they would work as housekeepers or dancers. But when they got to Dubai, many were forced to have sex for money and beaten if they refused, police said. Among the three arrested was a man suspected to be the group's leader, who had been in hiding in Bangladesh since being deported from Dubai earlier this year. [Dubai, a pirate place …]
The Nepal Embassy in India this week rescued 21 Nepali women who had been stranded in India following abortive attempts to travel to Persian Gulf countries for employment. The women were headed to Oman, Kuwait and Iraq, the countries the government of Nepal has banned as destinations for female domestic workers. Earlier, in February 2019, Manipur authorities had rescued 179 Nepali nationals—147 women and 32 men—before they could cross Moreh along the India-Myanmar border, which has emerged as the new route for the trafficking of Nepalis to the Gulf. A majority of the female labour destinations in the Gulf have openings for domestic workers, a profession that the Nepal government deems unfit for Nepali women as they face risks of sexual and financial exploitation and human trafficking. This means that women seeking jobs as domestic workers in those countries have no option but to take illegal routes with the help of human traffickers. The open border between Nepal and India has been a bane in this regard, as traffickers can easily find escape routes via India.
In Italy, there are at least 1,660 victims of human trafficking, with an ever-growing number of minors affected. In a single year, the percentage of child victims rose from 9% to 13% of the total.
"A quarter of suspected or identified trafficking victims in Europe are children and the main goal of human traffickers is sexual exploitation – a new report released by Save the Children finds. Out of 20,500 victims who were registered in the European Union 56% of cases were related to trafficking for sexual exploitation, while 26% of cases were related to labor exploitation.
One in four victims is under 18 and two out of three victims are women or girls," the report states. "Although this data represents only the surface of a mostly hidden issue, the increasingly younger age of the victims and the prevalence of sexual exploitation were also confirmed . One in five victims do not exceed the age of 15 and sexual exploitation affects almost 9 out of 10 cases," it added.
Puolanka, a small town in the centre of Finland, is become famous for its particular brand of pessimism. Recurring themes are town's declining population and lack of much to do. Tommi Rajala doesn't particularly like his town, but he's comfortable with that. He is, after all, the director of the Puolanka Pessimist Association. Located about 650 kilometres north of Helsinki, Puolanka tends to make headlines for all the wrong reasons. Its steadily declining population and high rate of unemployment are complemented by a 2 p.m. sunset in winter. And yet, Rajala and other Puolanka residents are leaning into what many might call a grim situation by making pessimism the town's brand. They've produced signs warning people against visiting. Their cheeky YouTube videos acknowledging the town's many shortcomings have garnered tens of thousands of views. And they've even created a musical called The Pessimism Musical.
China's pursuit of offshore resources in parts of the South China Sea is "completely unlawful", US Secretary of State Mike Pompeo has said. He condemned Beijing's "campaign of bullying to control" disputed waters that are potentially energy-rich. China, which has been building military bases on artificial islands in the area for years, said the US "deliberately distorts facts and international law". The US has long opposed China's actions but not called them illegal until now. Brunei, Malaysia, the Philippines, Taiwan and Vietnam contest China's claim to almost all of the South China Sea. The countries have wrangled over territory for decades but tension has steadily increased in recent years. Beijing claims an area known as the "nine-dash line" and has backed its claim with island-building and patrols, expanding its military presence there, although it insists its intentions are peaceful.
Final preparations for the launch from Japan of the United Arab Emirates' first Mars mission were under way Monday, but there was a chance of a delay because of bad weather, a Japanese rocket provider said. The liftoff of the UAE's Mars orbiter named Amal, or Hope, on a Japanese H-IIA rocket is scheduled for early Wednesday from the Tanegashima Space Center in southern Japan, in what would be the Arab world's first interplanetary mission. A final decision will be made Tuesday before the roll out of the rocket, said Keiji Suzuki, launch site director for Mitsubishi Heavy Industries. A seasonal rain front was expected to cause intermittent lightning and rain over the next few days, he said.
Ghislaine Maxwell has been denied bail. Now to ensure her guards have enough coffee to get through the night without napping, and double-check the security cameras.
Users of Facebook-owned messenger service WhatsApp are reporting outages around the globe, sending many scurrying onto other social media platforms to complain. WhatsApp users in nearly a dozen countries including the US, Brazil, Germany, India, UK, France, Netherlands, Lebanon, and Mexico have been reporting outages since about 4pm EST, according to DownDetector, which tracks social media outages.
News Burst 15 July 2020 – Bonus IMG
A car with the number plate "COVID 19" has perplexed Adelaide Airport staff, who say it has been parked there for months. A photo of the grey BMW sedan was sent to ABC Radio Adelaide by airport worker. The car had been there since "February or even earlier", and was definitely there from mid-March when most airport staff went on four weeks of forced leave. He said the car had a cover over it which was blown off by windy weather in April, creating more intrigue about the car — and particularly its number plate. He said staff had speculated about why such an expensive car would be left at the airport, parked in one of the spaces closest to the terminal. "It's a high-end vehicle so it's going to have to be someone on a fair dollar to get a vehicle like that, but you'd think a family member would have gone to get it." Staff are only meant to leave their vehicles in the car park for up to 48 hours, Mr Spry said. In South Australia, custom number plates have to be approved by the Registrar of Motor Vehicles. It takes at least 10 days for a personalised number plate to go from purchase to being issued, South Australian Industry Minister David Pisoni told ABC Radio Adelaide. The BMW in question is registered until September 26, 2020, according to the State Government's EzyReg website. There are no cars interstate with the registration "COVID 19", according to state government websites. However, in NSW a Volvo car has the registration "COVID" and a Suzuki motorcycle in the Northern Territory has the same number plate.
News Burst 15 July 2020 – Bonus IMG
Police in the municipality of Bahía de Banderas were assigned to a different type of duty last Sunday, July 5th, when a curious crowd gathered to catch a glimpse of an elephant seal, which are rarely seen in Mexico. Police were sent to the beach to keep people back who were arriving to watch as the large mammal sunbathed in the community of San Pancho. Environmental personnel from Grupo de Investigación de Mamíferos Marinos A.C. (GRIMMA) on the scene recommended that people simply leave the seal alone. The elephant seal was nicknamed "Panchito".
News Burst 15 July 2020 – Bonus IMG
Budelli island, located in the extreme north of Sardinia, it officially and definitively passes into the public heritage of the La Maddalena Park. After a long judicial dispute that weighed on this corner of paradise, famous for its pink beach, the plan was approved. Nothing to do, therefore, for the ambitions of the New Zealand tycoon Michael Harte, who had bought Budelli for about 3 million euros and who was said ready to carry out an eco-sustainable project.
News Burst 15 July 2020 – Solar Activity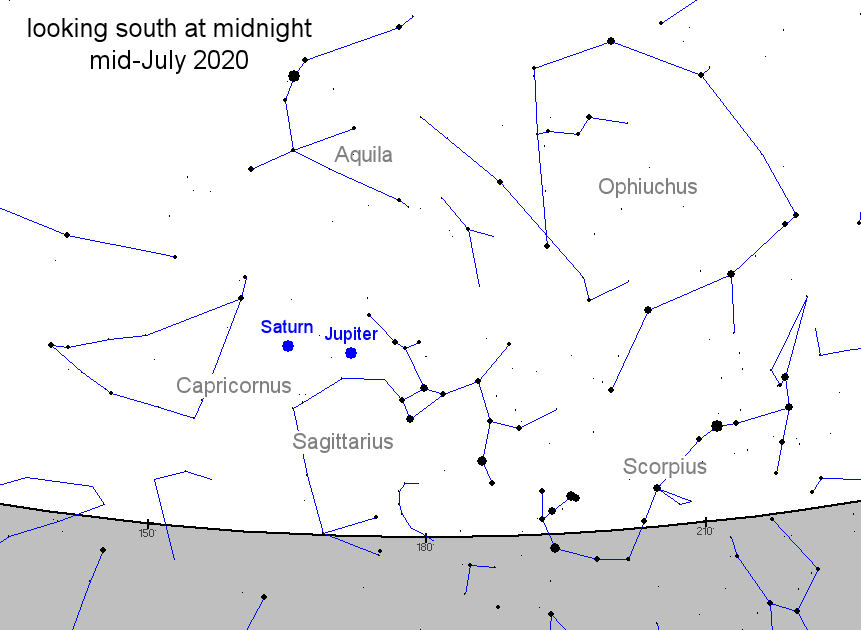 Tonight, Jupiter it at opposition, opposite the Sun and making its closest approach to Earth. The giant planet rises at sunset and stays up all night long. Look for it right beside Saturn.
Sunspot number: 0
Spotless Days
Current Stretch: 3 days
2020 total: 146 days (74%)
2019 total: 281 days (77%)
News Burst 15 July 2020 – Earthquakes
Europe – M4.4 Iceland
---
North America – M3.6 California
---
Central America – M4.6 El Salvador
---
South America – M4.6 Chile
---
Asia – M5.2 Japan
---
Pacific – M5.2 Balleny Islands Region
---
Deepest EQ – M4.8 286 km Marianna Islands
As mentioned in this morning update published in the previous News Burst, the Azores, after Iceland, have seen the expected movements that have nearly reached the M4 and it would seem that all the force of this seismic wave has been released in the North Atlantic. The next wave is flowing from Asia.
Earthquakes Last 24 Hours – M4 and Above
Public Investment Fund 's purpose is to transition Saudi Arabia's economy away from the traditional oil market and into the future with sizeable investments in various developing industries.
Language has become the main terrain on which the culture wars sweeping the Western world are played out.
NATO's newly released space doctrine expands on the alliance's 2019 Space Policy – which recognised space as a new "operational domain", alongside air, land, sea, and cyberspace – and vows to help make its members' space capabilities compatible and interoperable.
Clicks on the Ads Keep Us Alive ✨
Enlightenment
It is paradoxical, yet true, to say, that the more we know, the more ignorant we become in the absolute sense, for it is only through enlightenment that we become conscious of our limitations. Precisely one of the most gratifying results of intellectual evolution is the continuous opening up of new and greater prospects.
Nikola Tesla
2022 Server & Site Tech Support 4200 €

52%

52%
Support Disclosure News Italia
We are working hard, and every day, to keep this blog. Like you we are fighting for the truth. If you want to work with us you are welcome, please email us! The blog costs are at our expense, advertising reimburse us very marginally so if you like our work and find it useful buy us a coffee clicking the donation button below that will direct you to your PayPal. We need the help of people like you!
Bitcoin & Cryptocurrencies Donation
1M9dohWnHBwNLSPd6afRaJackrw6wK9bxY