Clicks on the Ads Keep Us Alive 😊
News Burst 14 July 2021 – Featured News
In Norway, 1,157 more children were born in the first half of this year than at the same time last year, a solid 4.4 percent increase. In some counties, the increase was even more substantial. For instance, Sogn og Fjordane tops the list with a 37-percent jump, followed by a 20-percent increase in Nordland. This increase left demographers at Statistics Norway (SSB) puzzled, as it clearly goes against the established trend of people tending to have fewer children – or none at all – in times of crisis.
Fans from Denmark have filed an official complaint with the Danish Football Association (DBU) over perceived degrading treatment at Wembley during the Euro semifinals. While some allegedly had bottles, profanities, and even urine hurled at them, others reported beatings, Danish TV2 reported. Other instances of unbecoming behaviour listed in the complaint include children being spat or shouted at during the match, which ended in English victory.
According to the Federal Aviation Administration, some Boeing 787 Dreamliners have a manufacturing defect. The authorities said on Monday that several of the planes, which haven't been delivered to customers yet, had issues "near the nose" of the aircraft and that the company would have to address them. "This issue was discovered as part of the ongoing system-wide inspection of Boeing's 787 shimming processes required by the FAA", an official statement read. "Although the issue poses no immediate threat to flight safety, Boeing has committed to fix these airplanes before resuming deliveries. Based on data, the FAA will determine whether similar modifications should be made on 787s already in commercial service".
An American envoy accused of endangering lives by breaking and stealing a railway sign from a busy train junction left Russia to return home to the US rather than face potential criminal action, officials in Moscow have said. Foreign Ministry spokeswoman Maria Zakharova explained that the Russian government had issued a protest to Washington over the incident, which took place last spring. The Foreign Ministry had announced the day before that the authorities had evidence confirming that an employee of the US diplomatic mission in Moscow was behind the theft of a railway pointer signal from a junction outside a station in Ostashkov, near the Central Russian city of Tver. Officials say it was a vital piece of infrastructure and its removal threatened the lives of train passengers.
The UK Supreme Court is hearing a case arguing that male and female-only categories on passports are 'degrading' and 'illogical', and X would hit the spot better. It's not just gender, a whole new world of courtroom dramas featuring fascinating identity-based legal cases is opening up. Here's one: a Dutch bloke doesn't quite like his true age – ie: the days that have passed since the day he was born – because it makes him seem a bit old. Emile Ratelband was 69 when he petitioned the court to say he felt 20 years younger and his doctors said he was sprightly for his age. He wanted to be 49.
Russia's UralVagonZavod machine building company, part of Rostec State Corporation, has started serial supplies of Terminator-2 tank support fighting vehicles for the Russian Armed Forces. The machine is designed to operate alongside tanks in a single tactical formation and eliminate enemy troops that pose a threat to them, as well as attack other targets. Weighing 44 tonnes, the BMPT-72 Terminator-2 is armed with two 30mm 2A42 automatic cannons that can load ammunition of 850 rounds, a 7.62 mm PKTM Kalashnikov tank machine gun (2,100 rounds), and a laser-guided Ataka-T anti-tank missile system. The original tests started as early as 2007, but the military couldn't decide how and in what circumstances exactly the new vehicle would be used. For a long time there was no consensus on the project among the top brass at the Russian Defense Ministry.
A man hailed by mainstream media outlets for standing in line for six hours to cast his ballot in last year's Democratic primary has been arrested for voting illegally. He faces up to 40 years in prison if convicted. Hervis Rogers, 62, was a felon on parole at the time he voted in the November 2018 general election and the March 2020 Democratic primary, according to a two-count indictment by Texas prosecutors. His arrest set off a storm of criticism from the ACLU, anti-incarceration activists, and left-wing pundits, who claimed that it was unjust and racist, since Rogers is black.
Wildfires on permafrost are ravaging Yakutia – or the Sakha Republic, the largest and coldest entity of the Russian Federation. There are some separate 300 fires, now covering 12,140 square kilometres. The savage summer fire season has seen major outbreaks around the Road of Bones, an arterial highway built by victims of repression in the Soviet era between Yakutsk – the regional capital and coldest city in the world – and the port of Magadan. Blogger and activist Roza Dyachkovskaya along with many Yakutians reached actor and environmentalist Leo DiCaprio who told her: 'I and my management will look into it then we will talk with the authorities in charge to see how we can be of help.'
Friends of Christian Emmanuel Sanon, reportedly a doctor and a pastor, said he could not have plotted an assassination of the country's president, Jovenel Moïse. Sanon, who, since 2011, has openly expressed a willingness to rule the country, arrived on the island with a mission to "save Haiti from hell" via religion, one of his associates from Florida anonymously detailed in an interview with the AP. The associate declared that the purported evangelist pastor would never take part in a plot to kill the leader of Haiti.
Over 160 new unmarked graves that purportedly contain the remains of indigenous children have been discovered near the former Canadian school colloquially known as "Canada's Alcatraz". The Kuper Island Indian Residential School was located on Penelakut Island before being demolished in the 1980s, and received its grim reputation after several of its students died trying to escape by swimming to Vancouver Island. The finding comes after around 1,000 similar graves containing the remains of students were found near former Catholic schools across Canada.
Former President Donald Trump on Monday released a letter he received from a former federal prosecutor in Pennsylvania last month, outlining how the attorney was pressured by former Attorney General William Barr against investigating claims of voter fraud and election irregularities in the state.
News Burst 14 July 2021 – Bonus IMG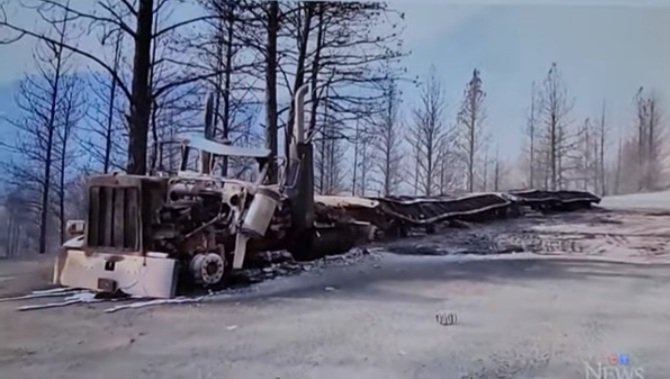 Tectonic Weapon – Plasma fired in Lytton, Canada
News Burst 14 July 2021 – Bonus Video
Yokosuka, Japan Us Navy Base July 2021
News Burst 14 July 2021 – Earthquakes
Earthquakes Last 36 Hours – M4 and Above
News Burst 5 May 2022News Burst 5 May 2022 - Get The News! By Disclosure News.Clicks on the Ads Keep Us Alive 😊 News Burst 5 May 2022 - Featured News 50% of Italians are against the supply of heavy weapons to Kiev. Such data is cited by Tagesschau with...
Clicks on the Ads Keep Us Alive ✨
Heart
Your vision will become clear only when you can look into your own heart. Who looks outside, dreams; who looks inside, awakes.
Carl Jung
2022 Server & Site Tech Support 4200 €

64%

64%
Support Disclosure News Italia
We are working hard, and every day, to keep this blog. Like you we are fighting for the truth. If you want to work with us you are welcome, please email us! The blog costs are at our expense, advertising reimburse us very marginally so if you like our work and find it useful buy us a coffee clicking the donation button below that will direct you to your PayPal. We need the help of people like you!
Bitcoin & Cryptocurrencies Donation
1M9dohWnHBwNLSPd6afRaJackrw6wK9bxY