News Burst 13 September 2021
Clicks on the Ads Keep Us Alive 😊
News Burst 13 September 2021 – Featured News
The FBI has declassified a long-sought memo detailing its investigation into the support the 9/11 hijackers received. Families of the victims of the attacks believe it's enough to draw conclusions about Saudi involvement. The document released on Saturday is from 2016, when the now-closed FBI investigation into Saudi links to the terror attacks was still active. Families of 9/11 victims have asked multiple administrations for its release, expecting it to provide proof implicating the Saudi government or Saudi officials. Riyadh denied any connection to the plot.
[Uncovering the Cover-UP] FBI releases first secret 9/11 files showing anonymous Saudi embassy staffer "helped two hijackers in LA and let them stay at his apartment before the attack".
Actress and activist Rose McGowan has accused California Governor Gavin Newsom's wife of trying to convince her not to go public with the Harvey Weinstein sexual abuse story. She will detail the allegations on Sunday. Newsom's chief rival, Republican Party candidate Larry Elder, said he and McGowan will hold a press conference on Sunday afternoon, during which McGowan will detail how "Gavin Newsom's wife, Jennifer, attempted to bribe and silence her from speaking out about Harvey Weinstein's sexual abuses."
Roger Waters the former Pink Floyd frontman spoke to RT's Going Underground on the anniversary of the 9/11 attacks and the 1973 US-backed coup in Chile, which led the right-wing dictator Augusto Pinochet to power. The 9/11 terrorist attacks could have been a wake-up call for the US and the world to reassess priorities, but instead it fueled extremism and helped funnel public resources into the coffers of war profiteers, Waters told presenter Afshin Rattansi. The US response to the terrorist attacks "empowered extremism on all levels of all factions, not just jihadists from the Middle East and elsewhere. All of us have been encouraged to spend more and more energy on destroying each other and the world rather than using our energy to solve the evident problems," he added.
Police and health authorities in Minnesota, US are investigating a case of "emotional abuse" at a local nursing home. Two aides at the Johnson Memorial Hospital and Home in the small town of Dawson, who are said to be around 17 years old, allegedly abused one of the female residents with dementia, the local Fox channel reported on Saturday. One evening back in May, the girls danced in "a sexually provocative manner" in front of the elderly woman with dementia, who sat on a couch in a lounge, according to the now-revealed report from the Minnesota Department of Health (MDH). The nursing home workers "treated the resident in a manner which a reasonable person would find derogatory, humiliating or harassing," the MDH report concluded, stating that "emotional abuse was substantiated." They were fired two days after the incident, and the elderly woman has since died from unrelated causes.
There's a lot to criticize, from soldiers patrolling state borders and policing the streets of Sydney, to people being arrested for merely posting about lockdown protests on social media, to police accessing QR-tracing information and firing projectile weapons at lockdown protesters, to news broadcasters naming and shaming Covid patients who violate isolation orders, to the frequently ineffective hotel quarantine system for travellers being replaced with purpose-built quarantine facilities and Orwellian surveillance apps. The states of both Victoria and New South Wales have begun moving toward reopening after the Delta variant proved zero-Covid goals unattainable even amid strict lockdowns, but will do so by adding Australia to the growing list of nations that have implemented the dangerously authoritarian policy of vaccine passports. ~ Caitlin Johnstone
PM Boris Johnson will announce this week that he is scrapping plans that would have required vaccine passports for entry to nightclubs, cinemas, and sports grounds.
The SpaceX Inspiration4 private mission to Earth orbit is now slated to launch next Wednesday (Sept. 15), one day later than previously scheduled. If all goes according to plan, the mission will launch from NASA Kennedy Space Center in Cape Canaveral, Florida to bring the all-civilian crew into space. The mission, called Inspiration4, includes four private citizens who will fly on a Crew Dragon spacecraft for an Earth-orbiting mission. Billionaire Jared Issacman, founder of Shift4 Payments, purchased the flight as part of an effort to raise millions for St. Jude Children's Research Hospital. He is joined by Haley Arceneaux, Sian Proctor and Chris Sembroski.
The Czech police earlier in the day confirmed that a Russian national was detained at the Prague Airport due to an arrest warrant issued by Ukraine. Earlier in the day, Alexander Molokhov, the head of a working group on international legal issues at Crimea's mission under the Russian president, said that a participant in the events in Crimea in 2014 that resulted in its reunification with Russia was detained at the Prague Airport. According to Molokhov, the person detained was Alexander Franchetti. "The Czech Republic, apparently, decided to justify its inclusion on the list of countries unfriendly to Russia and to curry favour with Ukrainian neo-Nazis. Today, the famous hero of the Crimean Spring, Alexander Franchetti, was illegally detained at the Prague Airport", Molokhov said. Kiev has brought charges against Franchetti, who is now facing deportation to Ukraine, the official added.
A group of Afghan Air Force pilots who sought refuge in Uzbekistan after the Taliban overran the Afghan government will be transferred to a U.S. military base. The pilots could be transferred as soon as the weekend under a deal reached between the U.S. and Uzbekistan, the Journal reported, cited people familiar with the matter. The Afghans are expected to fly to the U.S.'s military base in Doha, Qatar, where they will be processed for further travel. It wasn't clear where the pilots would ultimately settle.
"Every record has been destroyed or falsified, every book rewritten, every picture has been repainted, every statue and street building has been renamed, every date has been altered. And the process is continuing day by day and minute by minute. History has stopped. Nothing exists except an endless present in which the Party is always right." ~ George Orwell, 1984
Leaked Zoom Call shows Health Officials in North Carolina plotting and scheming about how to inflate the COVID case numbers so they can increase public fear levels to get more people to submit to the shot!
News Burst 13 September 2021 – Bonus IMG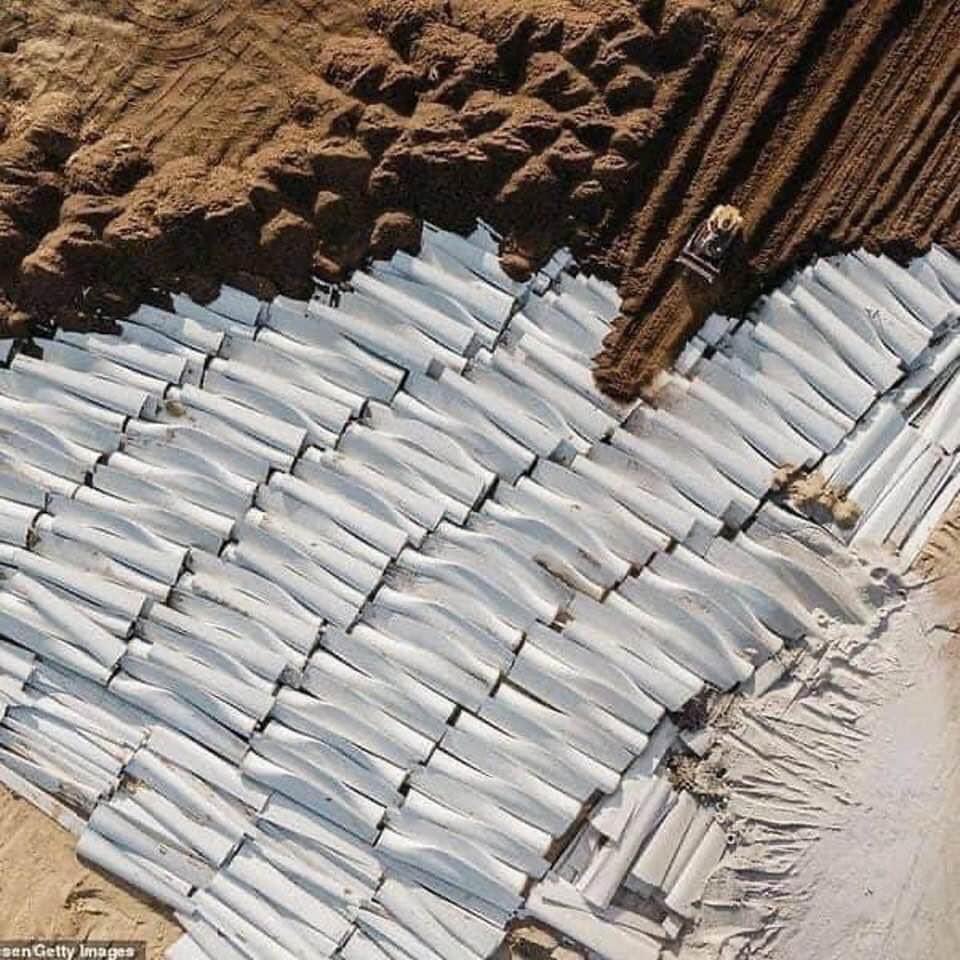 Windmill
The yellow thing in the middle above the white is a bulldozer. It is burying Windmill blades used for green energy. Why? Because these blades need to be disposed of and there is presently no way to recyle them. That's how green energy works!
News Burst 13 September 2021 – Bonus Video
Buffalo, NY – 8/25/21
Arcturians are letting us see their technology for disclosure.
WITNESS: 8:24pm an object comes in from SW close to my house displaying a light. 3 min later another object comes in and makes a sharp turn east, continues out of view.
News Burst 13 September 2021 – Bonus Video
Expect To See A Lot More Fairies
News Burst 13 September 2021 – Earthquakes
Earthquakes Last 36 Hours – M4 and Above
News Burst 7 August 2021News Burst 7 August 2021 - Get The News! By Disclosure News.Clicks on the Ads Keep Us Alive 😊 News Burst 7 August 2021 - Featured News The Mexican government sued United States gun manufacturers and distributors Wednesday in U.S....
Clicks on the Ads Keep Us Alive ✨
Love All
Love all, trust a few, do wrong to none.
William Shakespeare
2022 Server & Site Tech Support 4200 €

47%

47%
Support Disclosure News Italia
We are working hard, and every day, to keep this blog. Like you we are fighting for the truth. If you want to work with us you are welcome, please email us! The blog costs are at our expense, advertising reimburse us very marginally so if you like our work and find it useful buy us a coffee clicking the donation button below that will direct you to your PayPal. We need the help of people like you!
Bitcoin & Cryptocurrencies Donation
1M9dohWnHBwNLSPd6afRaJackrw6wK9bxY