News Burst 13 October 2021
Clicks on the Ads Keep Us Alive 😊
News Burst 13 October 2021 – Featured News
Filipino ninja doctors may soon be sneaking into the homes of Covid-19 vaccine refuseniks to inject them in their sleep. At least that's the idea proposed by the country's trigger-happy president. The unorthodox approach to boosting vaccination rates was touted by Rodrigo Duterte during his latest 'Talk to the People' address on Monday. "I know many people are still hesitant," the president said, as quoted by local media. So find them in your barangays (neighborhoods). Let's enter their houses and vaccinate them while they are asleep. End of story.
A family of four in Indiana claims they were given Covid-19 vaccinations in error after showing up at a Walgreens location for flu shots – not the first time such a mix-up has been reported at the pharmacy chain. Alexandra and Joshua Price of Evansville, Indiana told local media that they and their two young children were scheduled for flu shots at a local Walgreens on October 4, but were instead administered coronavirus shots by mistake. Though no Covid vaccine is approved for children younger than the age of 12, the Price family says their four- and five-year-old were given full adult doses of the Pfizer shot.
Hundreds more Southwest flights have been canceled or delayed, as rumors of a staff "sickout" in protest over Covid-19 vaccine mandates persist. SouthWest's union says no such action is taking place, but others aren't convinced. Some 355 Southwest Airlines flights were canceled and 571 delayed as of Monday morning, according to data from FlightAware. The cancellations and delays came after the airline, known for its budget fares, canceled around 2,000 flights over the weekend, leaving passengers stranded at airports throughout the US.
Lego has been working to rid its products of gender labels, removing male and female-specific ones and prohibiting customers from searching online for toys based on the sex of their child, its chief marketing officer has revealed. After a recent survey discovered that 71% of boys were worried about being mocked or bullied if they played with toys marketed towards girls, Lego's chief product and marketing officer, Julia Goldin, told The Guardian that the toy company had been "working hard to make Lego more inclusive."
Instagram has introduced a new feature to the app that will alert users about outages or technical issues as soon as they occur. "Today we're announcing two new features to help give people more information about Instagram outages and their account status, directly in the app," the social networking service said. The first feature will warn users about all the technical issues and when they will be fixed in the activity feed. The technical decision is currently undergoing testing in the United States. The second tool was designed to keep users in the loop about whether their account is at risk of being disabled. In the future, the tool will also give people a clear understanding of how their content is being distributed and recommended within the social network.
Actor William Shatner, Captain Kirk of "Star Trek" fame, and Blue Origin's Audrey Powers, the vice president of missions and flight operations, will fill the last two seats on the company's second crewed flight, due to blast off from New Shepard's west Texas launch site in just over a week, on Oct. 12. Rumors were swirling in late September that the 90-year-old actor would be on the company's second flight, which today's announcement confirms. "So now I can say something," Shatner wrote on Twitter today.
NASA has announced the launch date for an upcoming mission to punch an asteroid in the face with a high-speed spacecraft. The mission, called the Double Asteroid Redirection Test (DART), is scheduled to launch at 10:20 p.m. PST (7:20 p.m. EST) on Nov. 23, and it could help the world's space agencies figure out how to divert potentially lethal asteroids from impacting Earth, according to a NASA statement. The target is a binary asteroid (two space rocks moving in tandem) called Didymos, which consists of one larger asteroid measuring about 2,600 feet (780 meters) in diameter and a smaller "moonlet" measuring about 525 feet (160 m) across.
Mexico – Former Pemex CEO Emilio Lozoya, accused of receiving multimillion-dollar bribes while head of the state oil company during the previous federal government, was photographed by journalist Lourdes Mendoza while eating dinner with four companions at the Chinese restaurant Hunan, located in the capital's affluent Lomas district. Mendoza asserted on Twitter that her photos serve as evidence of an "impunity pact" between the ex-Pemex chief and the federal Attorney General's Office (FGR). "[The FGR] accuses innocent people while he enjoys the high life to which he is accustomed. The height of shamelessness," she wrote.
Ex-Facebook data scientist Sophie Zhang has told CNN that she is ready to testify against her former employer before Congress. Zhang went public with her criticism of the social networking giant in September 2020. In an interview with the US broadcaster on Sunday, Zhang said she was encouraged by the apparent bipartisan support for action on children's online protection, in the wake of congressional testimony by another Facebook whistleblower, Frances Haugen.
Shortly after noon on Monday, an airplane crashed near the Santana High School campus in Santee, a suburban city in San Diego County, California, police officials stated. According to reports, the aircraft crash might have killed at least two people since the plane reportedly struck a UPS truck before hitting the ground.
Department of Homeland Security (DHS) Secretary Alejandro Mayorkas issued an order on Tuesday to end mass arrest operations at work sites in the United States suspected of hiring illegal immigrants. The DHS will instead focus on cracking down on employers who exploit illegal immigrants, including through substandard wages, imposing unsafe working conditions and facilitating human trafficking, he said.
Grinning school-age children who took part in a NASA YouTube video about space exploration with Kamala Harris have been revealed to be child actors. The 'Get Curious with Vice President Harris' video was filmed in August and tweeted out by the Vice President on October 7 to celebrate World Space Week. It appeared to viewers that the children she was with were all normal kids. However it has now been revealed that they are paid actors who auditioned by sending in a monologue and three questions they would ask a world leader.
Two companies of La Palma island, Ticom Soluciones and Volcanic Life, which have been feeding using stranded animal by drone for five days. Through it they transport food and water to the animals trapped in the upper area of Todoque, after being surrounded by lava.
News Burst 13 October 2021 – Bonus IMG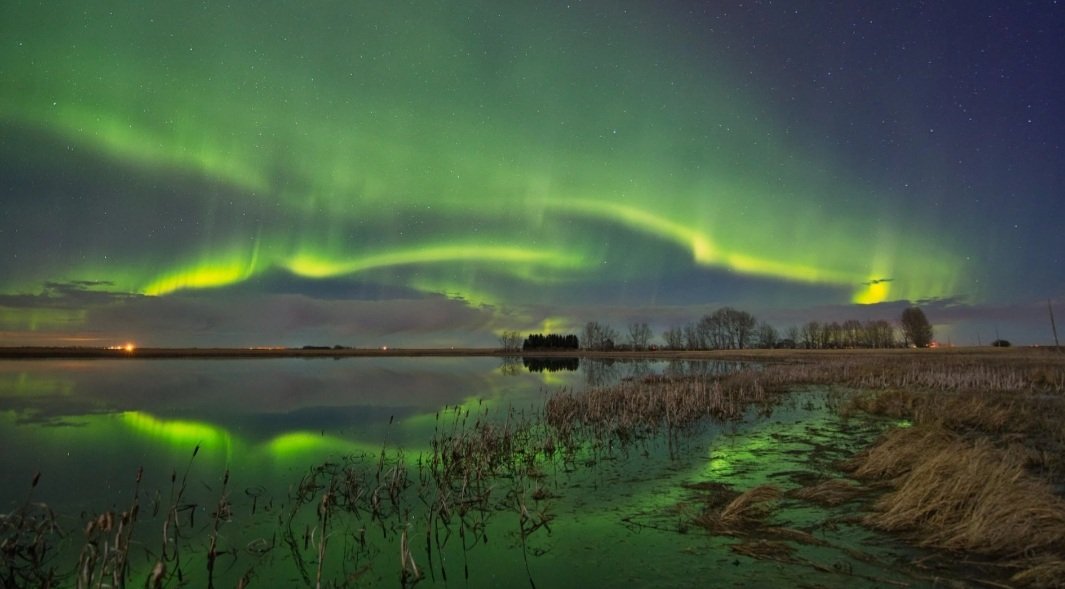 Aurora Over Alberta,  Canada
News Burst 13 October 2021 – Bonus Video
NARCAP Technical Report 20
An independent analysis of a March 19, 2020 Aviation Safety-Related Incident involving UAP, Unidentified Aerial Phenomena, over Mexico, Monterrey, Nuevo Leon.
Airline pilot (19 years exp. + 10 years of military flight exp.): "I have never in my life been witness to such phenomena however my first officer and I were in complete awe. I have multiple still photos and 4 videos that I would love to share with your network and with the world. forgive a slight delay in the submission as i had my doubts about reporting such occurrences but have no doubts as to what was witnessed. forgive some of the chatter and expletives but this was otherworldly. I have still photos as well."
News Burst 13 October 2021 – Bonus Video
Denver, CO 10/4/2021
This is a Pleiadian Operation. It is a pod that holds direct laser focus for very close up imaging and chasing objects to obtain images.
It is not occupied and will return on command to a Craft which is part of a large Fleet. The Mothership will call all Crafts in to depart. ~ Neioh
News Burst 13 October 2021 – Bonus Video
News Burst 13 October 2021 – Bonus Video
News Burst 13 October 2021 – Bonus Video
News Burst 13 October 2021 – Earthquakes
Earthquakes Last 36 Hours – M4 and Above
News Burst 29 April 2020 News Burst 29 April 2020. By Disclosure News.Clicks on the Ads Keep Us Alive 🙂 News Burst 29 April 2020 Scandinavian Airlines (SAS) said on Tuesday it would reduce its workforce by as many as 5,000 full-time positions, due to the COVID-19...
Clicks on the Ads Keep Us Alive ✨
Quiet
It takes two years to learn to speak and sixty to learn to keep quiet.
Ernest Hemingway
2022 Server & Site Tech Support 4200 €

51%

51%
Support Disclosure News Italia
We are working hard, and every day, to keep this blog. Like you we are fighting for the truth. If you want to work with us you are welcome, please email us! The blog costs are at our expense, advertising reimburse us very marginally so if you like our work and find it useful buy us a coffee clicking the donation button below that will direct you to your PayPal. We need the help of people like you!
Bitcoin & Cryptocurrencies Donation
1M9dohWnHBwNLSPd6afRaJackrw6wK9bxY