News Burst 13 November 2020
Clicks on the Ads Keep Us Alive 😊
News Burst 13 November 2020 – Featured News
Three airline trade groups are calling for the adoption of digital health passports like the World Economic Forum- and Rockefeller-backed CommonPass in place of the quarantines and border closures that have slashed their profits. Oneworld, Star Alliance, and SkyTeam – three of the largest global airline groups which together represent 60 percent of the world's passenger air capacity – issued a statement praising smartphone-based health pre-clearance apps like CommonPass on Wednesday, urging governments to mothball the "blunt instrument" of quarantines and lockdowns and adopt intrusive digital health technology instead.
Media Research Center tracks funding from Soros-backed entities and cited a Los Angeles Times report dated 2018 that claimed the former hedge fund manager had spent over $16 million on county races outside of California. The same report alleged that the billionaire's spending in California had surpassed $2.7 million. Gainor adds that the archon's Open Society Foundations awarded the American Civil Liberties Union (ACLU) a grant of $50 million in 2014 in support of its nationwide campaign to reform criminal justice policies. "Soros knows that district attorneys and states' attorneys have incredible power. He threw $2 million into the campaign of Cook County States Attorney Kim Foxx, who dropped the charges in the Jussie Smollett case," stated Dan Gainor, vice president at Media Research Center.
[Clown Over Clown] Dr. Michael Osterholm, who serves as director of the Center of Infectious Disease Research and Policy at the University of Minnesota, is the latest "scientist" to join Biden's "special coronavirus transition advisory team. "A nationwide lockdown would drive the number of new cases and hospitalizations down to manageable levels while the world awaits a vaccine," Osterholm told Yahoo Clowns on Wed.
Vietnam – The information minister this week singled out Netflix and newcomer Apple TV for not paying tax, saying foreign platforms earn an estimated $44 million a year in revenues from a skyrocketing subscriber base across Vietnam. "Some cross-border platforms have neither paid taxes nor operated in accordance with the laws, creating unfair competition," Nguyen Manh Hung told Vietnam's national assembly Tuesday.
Almost half of all the surveyed teachers in Norway found it demanding to teach students about topics that may be offensive. Among others, one in three is afraid to show caricatures of Islamic Prophet Muhammad during classes, admittedly for fear of the consequences.
A conservation group has reported the theft of 44 adult iguanas from its breeding facility in Juchitán, Mexico. The motive for the theft was unclear but it's likely that the iguanas will end up in a stew. Endemic to the region, the reptiles make for a popular meal in Juchitán and other Isthmus towns. According to the Foro Ecológico, 200 iguanas are killed for their meat every day. That number rises to 500 per day during Easter week when iguana meat is commonly used to make stews and fill tamales.
"Think about mid-ocean ridges on Earth,' planetary scientist Mike Brown wrote on his blog, "with their black smokers belching scalding nutrient-rich waters into a sea floor teaming with life that is surviving on these chemicals. It doesn't take much of an imagination to picture the same sort of rich chemical soup in Jupiter's fourth largest moon's ocean leading to the evolution of some sort of life, living off of the internal energy generated inside of Europa's core. If you're looking for Europa's whales – which many of my friends and I often joke that we are – this is the world you want to look for them on."
"The Great Reset, the 4th Industrial Revolution, the 4th Turning, the Great Awakening, and Artificial Intelligence. These are the real themes that are shaping the socio-political, cultural, and ideological landscape of our lives in 2020. The push for lockdown and quarantine towards a Great Reset is increasingly understood by critics as program of mass enslavement and collective punishment, population reduction, presented within the trappings progressive talking points. Now that humanity faces the real daunting probability of a lockdown regime on the flimsy pretext of a virus with a 99.9% survival rate, we need to understand something about prisoners and the Great Awakening. The Great Awakening is the product of how actually imprisoned people respond to imprisonment. Just as a person deprived of vision develops an outstanding sense of smell and hearing, a person deprived of physical freedom develops a profound and reified spiritual or supernatural freedom, which is the awakening. In a strange twist of fate, the more that people are locked down, the more they awaken. We are caught between two seeming contradictions which in fact reconcile each other. On the one hand we understand that everything happens for a reason and that justice always prevails in the end, and on the other hand we know that the possible destiny that we can have only comes at the cost of tremendous struggle, self-discipline, moral fortitude, and sacrifice. This much is the mindset of the awakened, of the political soldier, in the course of the fight against the Great Awakening and within the age of the 4th Turning". ~ Joaquin Flores
UK – Earlier in the day, a senior government source revealed that the Royals won't be able to jump the queue for a coronavirus vaccine. Hours after the report appeared, some royals fans insisted that the Queen receive the coronavirus vaccine first in return for her "years of service." Others think that the Royals should take the vaccine first to prove the public that it's safe and effective.
A survey conducted by archaeologists ahead of an elevator construction project in the Jewish Quarter of Jerusalem resulted in the discovery of a small jug containing gold coins that was buried about a thousand years ago. According to the media outlet, the jug in question was "not much bigger than a coffee cup", with the coins – four in total – contained within dated to "between the years 940 and 970".
Former Indian cricket team captain Mahendra Singh Dhoni said he was retiring from international cricket in August 2020, ending an almost 16-year-long career. "He has about 40 to 50 acres of farmland and is busy growing organic crops such as papaya and banana there," Dhoni's manager and childhood friend Mihir Diwakar said, and now has taken to poultry and the launch its own brand of organic fertiliser.
Honda announced on Nov. 11 that its Legend is the first vehicle in the world to receive a semi-autonomous classification that allows driving with no hands on the steering wheel in traffic congestion on expressways. The automaker plans to put the luxury sedan equipped with the automated driving system on sale within fiscal 2020, which ends in March 2021. According to the transport ministry, the automated driving system is a level 3 on the five-level scale for self-driving technology. That means a driver can allow the system to take full control of the vehicle but must be ready to override if the situation dictates. Honda says the system will be put into use for the first time in the world.
A sequence of powerful explosions occurred at Stromboli volcano, Italy starting at 20:04 UTC on November 10, 2020. The event lasted about 6 minutes and produced an eruption column of 100 m. The products of the explosion were mainly distributed over the Sciara del Fuoco and led to abundant pyroclastic material rolling down.
[Yes We Scan!] An EU council of ministers resolution spearheaded by French Prime Minister Emmanuel Macron and Austrian Chancellor Sebastian Kurz of the conservative Austrian People's Party would mandate that apps such as Telegram, Signal, and WhatsApp provide European intelligence services with backdoor access in order to allow them to better monitor the conversations of their citizens.
Interference
Illuminati Card Game
News Burst 13 November 2020 – Bonus IMG
Paraskevidekatriaphobia
The irrational fear of Friday the 13th is called Paraskevidekatriaphobia. The unlucky nature of the number "13" originated with a Norse myth about 12 gods having a dinner party in Valhalla. The trickster god Loki, who was not invited, arrived as the 13th guest, and arranged for Höðr to shoot Balder with a mistletoe-tipped arrow. Balder died, and the whole Earth got dark. The whole Earth mourned. It was a bad, unlucky day. According the tradition said to have begun in the Middle Ages or even Biblical times. Some say the superstition arose from Jesus' last supper, where is it thought there were 13 people present on the night before his death – which occurred on a Friday.
News Burst 13 November 2020 – Bonus IMG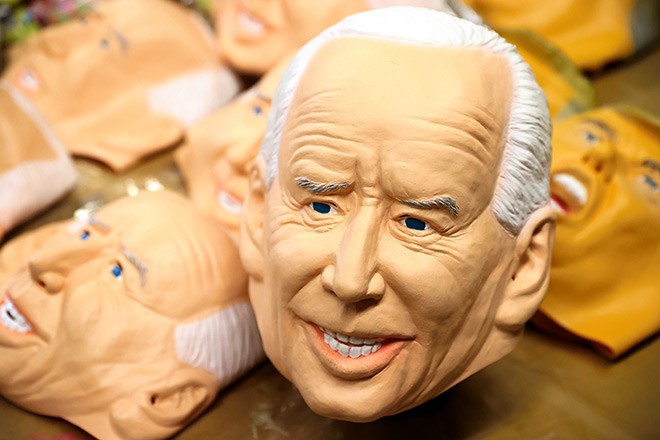 Saitama Studio
A manufacturer in Japan didn't wait until all the votes were counted before selling a rubber mask of President-wannabe Joe Biden. A Saitama studio started producing the Biden masks more than a month before the Nov. 3 U.S. presidential election. About 800 masks of the Delaware Democrat were completed. But after Biden was projected to win the race, the company kicked up operations a notch, and has set a goal of making an additional 2,000 Biden masks by the end of the year. Ogawa Studios has produced rubber masks caricaturing celebrities and politicians. It has sold 25,000 masks of the current White House resident, Donald Trump. On the mask priced at 2,400 yen ($23), Trump appears on the verge of shouting angrily. The Biden mask, meanwhile, shows a gentle smile. "Mr. Trump has a strong personality," said Koki Takahashi, 30, who works at the company. "In contrast, we had a difficult time finding facial characteristics (for Biden). I hope he gets more media exposure and his mask sells for a long time." [KEK!]
News Burst 13 November 2020 – Bonus Video
Stromboli
A sequence of powerful explosions occurred at Stromboli volcano, Italy starting at 20:04 UTC on November 10, 2020. The event lasted about 6 minutes and produced an eruption column of 100 m. The products of the explosion were mainly distributed over the Sciara del Fuoco and led to abundant pyroclastic material rolling down.
News Burst 13 November 2020 – Earthquakes
Earthquakes Last 36 Hours – M4 and Above
News Burst 16 June 2021 News Burst 16 June 2021 - Get The News! By Disclosure News. Clicks on the Ads Keep Us Alive 😊 News Burst 16 June 2021 - Featured News Emily Reilly, an attorney at the UN Office of the High Commissioner for Human Rights (OHCHR), came...
According to Huawei Finland's cyber security chief Mika Lauhde, who personally admitted to having worked 80-hour weeks with no summer vacation for years, seven-day work weeks would bolster Finland's stance against competitors.
In the late 1990s, in Modena area, Italy, 16 children were taken away from their parents, accused of pedophilia and satanism. The investigation ended with heavy sentences for some of the defendants, who served many years in prison. "It was all lies, I was forced to invent …"
Bill Gates has called on US authorities to build new nuclear reactors in order to deal with climate change. The Gates-founded company TerraPower is building next generation nuclear power plants. The US Department of Energy invested 80 million in TerraPower.
Clicks on the Ads Keep Us Alive ✨
Man
Man is born free, and everywhere he is in chains.
J.J. Rousseau
2022 Server & Site Tech Support 4200 €

3%

3%
Support Disclosure News Italia
We are working hard, and every day, to keep this blog. Like you we are fighting for the truth. If you want to work with us you are welcome, please email us! The blog costs are at our expense, advertising reimburse us very marginally so if you like our work and find it useful buy us a coffee clicking the donation button below that will direct you to your PayPal. We need the help of people like you!
Bitcoin & Cryptocurrencies Donation
1M9dohWnHBwNLSPd6afRaJackrw6wK9bxY