News Burst 13 August 2020 – Featured News
In a 'feeding frenzy' of banning everything except what [they] like, Google succeded and left only Amazon and Ebay on the search results… than was forced to claim that a major 'glitch" has disrupted search results. Users around the world reported bizarre results to searches, such as a concentration of links to major e-commerce companies like Amazon and wildly inaccurate responses to requests for recipes. It is currently believed that the issue has been fixed but Google has yet to release the full details of the supposed 'error'.
Recent solar conditions indicate a persistent decline in solar activity, possibly similar to the past solar grand minima, scientists reporting. During such periods of low solar activity, the fluxes of galactic cosmic rays (GCRs) increase remarkably, presenting a hazard for long‐term crewed space missions and affecting Earth's climate system. The current situation resembles the Dalton minimum of 1790 – 1830 or the Gleissberg minimum of 1890 – 1920. "During the next solar cycle, we could see cosmic ray dose rates increase by as much as 75 percent," said lead author Fatemeh Rahmanifard of the University of New Hampshire's Space Science Center.
Recent reports of dramatic declines in insect abundance suggest grave consequences for global ecosystems and human society. Most evidence comes from Europe, however, leaving uncertainty about insect population trends worldwide. Using >5,300 time series for insects and other arthropods, collected over 4–36 years at monitoring sites representing 68 different natural and managed areas, to search for evidence of declines across the United States. Some taxa and sites showed decreases in abundance and diversity while others increased or were unchanged, yielding net abundance and biodiversity trends generally indistinguishable from zero. This lack of overall increase or decline was consistent across arthropod feeding groups and was similar for heavily disturbed versus relatively natural sites. The apparent robustness of US arthropod populations is reassuring. Yet, this result does not diminish the need for continued monitoring and could mask subtler changes in species composition that nonetheless endanger insect-provided ecosystem services.
Scientists using a supercomputer have created 2D and 3D computer models of the pockmarked asteroid Psyche, revealing that it may be the metal core of a failed planet. Ahead of NASA's 2022 mission to Psyche, which has been dubbed the 'journey to a metal world,' researchers wanted to gather as much intel about the asteroid as possible, including its composition. By simulating asteroid impacts which could have created the vast craters on the space object's surface, scientists have deduced that Psyche, the largest asteroid in our solar system's main belt, is actually "like a big metal sponge." "Psyche is an interesting body to study because it is likely the remnant of a planetary core that was disrupted during the accretion stage, and we can learn a lot about planetary formation from Psyche if it is indeed primarily metallic," said Wendy K. Caldwell, one of the lead researchers at Los Alamos National Laboratory. The results of the team's simulations corroborate the current theory that Psyche could be made up of large amounts of Monel, a potentially extraterrestrial alloy found previously in the Sudbury crater in Canada.
On Tuesday, Russian President Vladimir Putin announced that his country had registered the world's first coronavirus vaccine, named 'Sputnik V'. The president said that one of his daughters had tested the drug on herself. Developed by Moscow's Gamaleya Research Institute of Epidemiology and Microbiology, the dose is based on a platform already used for six other vaccines, according to Russian Minister of Health Mikhail Murashko. All the volunteers developed high titers [concentration levels] of antibodies to Covid-19, Murashko noted. He also said that "none of them had serious complications" after receiving the vaccine. After vaccination, immunity to Covid-19 can last up to two years, the Health Ministry claimed. 'Sputnik V' will be available to the general public on January 1, 2021. Vaccination will be voluntary in Russia. The Russian Direct Investment Fund and the Gamaleya Institute of Epidemiology and Microbiology have launched a new website with information about 'Sputnik V'.
The deadline to file objections over India's Environment Impact Assessment draft 2020 expired on Tuesday. However, of the 400,000-500,000 responses received, Ministry of Environment officials have revealed only 50 main concerns will be scrutinised because of repeated objections. Several environmental groups and websites were running a campaign against the Environment Impact Assessment (EIA) draft 2020, including Fridays for Future — the India chapter of the international environmental campaign led by Greta Thunberg — before they were blocked by a public sector company, National Internet Exchange of India (NiXI), chaired by a top bureaucrat from India's Department of Information Technology. From putting an end to making government documents public for "projects of strategic importance", to a clause allowing project promoters to report violations themselves, different sections have received red flags from environmental activists. While the minister's claim of the notification being just a draft is acceptable, the blocking of websites such as Fridays for Future, Let India Breathe, and There is No Earth B, which were advocating a cause, have raised concerns with critics of the government's environmental policy. Activists have described the move as a process to silence them.
The indian festival of Janmashthmi marks the auspicious birth of the Hindu God Krishna, who is believed to be the eighth reincarnation of Lord Vishnu – the one responsible for the preservation of life. The prayer rituals of Janmashthmi commenced Wednesday at midnight, with Krishna-worshipers placing idols, usually gold or copper, of the infant god in tiny cradles and dressing the figurines in colourful clothes. Sweets and home-churned butter are offered to the deity. The devotees break their day-long fast with fruits, curd, and sweets at sunset and culminate the day with Sanskrit chants dedicated to Lord Krishna.
French police are investigating an unprecedented spate of horse killings, which have seen a number of animals mutilated across the country. A recent case in Cortambert, a village in the central-eastern department of Saone-et-Loire, on Friday. A local official told Reuters that the unexplained attack was "absolutely barbaric". There have been about 10 similar cases across France since the start of the year, often occurring in the north of the country, according to a Paris police spokesperson. The spokesperson said there had also been cases between 2014 and 2016, with similar killings and mutilations reported in Belgium and Germany, but the recent spike in incidents in France was extremely unusual. "We do not understand the motivation. Is it a satanic rite, insurance fraud, some macabre trophy hunt or an internet challenge? We don't know. It is very traumatising," police said. The attacks have involved different types of horses, as well as one donkey, with mutilation of an ear being a common factor, the spokesperson added. It was also revealed that no meat had been taken from the carcases of the animals. On Tuesday, local media reported that the regional Bourgogne-Franche-Comté Horse Council had called on all farmers and residents in areas where horses are kept to be "vigilant" over inappropriate or suspicious behaviour. Cruelty to animals is punishable in France with up to two years imprisonment and a maximum fine of 30,000 euros.
More than a million cats are killed in Vietnam for their meat every year in a secretive, brutal and growing trade that risks spreading diseases to humans, an undercover investigation has found. Pets and strays are stolen from the streets and even from people's homes, trafficked across the country without food or water, and slaughtered in unsanitary and agonising ways, according to campaigners. Thieves have even clashed violently with cat owners, and in some cases have been reportedly killed in brawls. A live cat is sold for around £5 a kg, and 1kg of raw meat costs £6.50. Restaurants offer dishes prepared with cat meat for about £5, the research found. While the consumption of dog meat in Asia is increasingly being discussed in public, the equally brutal cat meat trade is still relatively unknown.
Japan International Cooperation Agency (Jica) programme officer Say Bora said on Tuesday that waste management is a pressing priority for the Kingdom of cambodia and that people's attitudes towards waste disposal needed to change. As the Ministry of Environment seeks funding from Japan to support a plastic waste project, such waste continues to pile up in the Kingdom, especially in Phnom Penh. Bora said in the capital, piles of household rubbish regularly accumulate and clog sewage pipes, which can lead to flooding. Implementing proper waste management techniques aims to improve living environments while also diminishing the threat of floods. "We see a lot of garbage floating in the city's sewer system. Tackling the problem requires different approaches, [including] improving garbage collection services and changing the people's behaviour," he said. Gomi Recycle 110, a private Japanese company with plastic waste recycling technology, he said, is building a recycling factory in collaboration with Jica in Svay Rieng province. The factory is expected to start operating soon.
Sales of dog and cat meat have risen in Vietnam and Cambodia since the outbreak of the coronavirus because people believe it has "warming" properties that head off flu viruses, an investigation has found. Even some hospital doctors recommend the meat to patients, claiming it helps protect them from cold weather and recover from surgery, according to campaigners. But experts say caging the animals in large numbers and slaughtering them in insanitary conditions actively increases the chances of starting dangerous diseases, and there is no evidence of the meat having any beneficial effects. Before the outbreak, about 10 million dogs and cats were slaughtered for eating in Vietnam, Cambodia and Indonesia every year, according to Four Paws. But its investigators said they had witnessed and heard how sales of the meat in the region had risen during the global pandemic.
China's domestic ivory trade ban came into effect in 2017 and along with it came ramped-up policing. It led to a shift in the dynamics of wildlife crime in the region as prices and demand for raw ivory dropped, leading criminal networks to switch to processed ivory which is easier to transport. The WJC investigation gathered video evidence of the illegal production and open sale of ivory in Cambodia at stores in Phnom Penh and Sihanoukville, operated by Chinese traffickers, offering carved ivory and other wildlife products. Using a wood manufacturing business as a cover story, one factory was mass-producing carved ivory jewellery using computer-operated machinery. Tiger teeth and claws were also being sold on the premises. However traffickers have since redirected their attentions to more vulnerable regions. Sarah Stoner, WJC's director of intelligence, said: "Inevitably, crime has gone underground and is resurfacing in countries with less law enforcement capacity to tackle wildlife crime, such as Cambodia."
Lebanese and international investigators have yet to identify the owner of the 2,750 tons of ammonium nitrate which sat languishing in Beirut's port for seven years before it detonated amid an accidental warehouse fire on Aug.4, killing over 200 people and injuring more than 6,000. It was estimated to be worth $700,000 by 2013 prices, but no one ever came forward to claim it. It's still a mystery even after Cypriot authorities at the request of Interpol late last week finally interviewed the man who originally abandoned Rhosus, a Russian businessman named Igor Grechushkin, during the ship's ill-fated intended trip to deliver the substance to an explosives maker in Mozambique. Under international maritime conventions and some domestic laws, commercial vessels must have insurance to cover events such as environmental damage, loss of life or injury caused by a sinking, spill or collision. Yet the Rhosus was uninsured, according to two sources familiar with the matter.
News Burst 13 August 2020 – Bonus IMG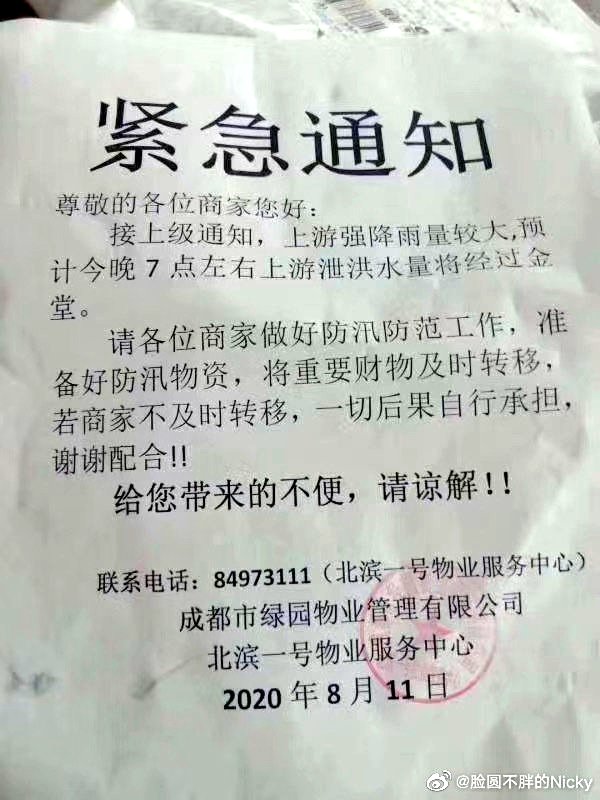 China
Urgent notification released in the morning on Aug 11 to notify people that released floodwater from upstream would arrive at 7:00 pm, and asked people to prepare from themselves. Businesses are responsible for all the consequences if they failed to move their stuff on time.
News Burst 13 August 2020 – Bonus Video
Chengdu, China, today. 今天的成都!
News Burst 13 August 2020 – Solar Activity
Sdo Eclipse Season
On Aug. 11th, just before 0700 UTC, half of the the sun vanished. NASA's Solar Dynamics Observatory (SDO) recorded the event from geosynchronous orbit 22,000 miles above Earth. This strange image means SDO eclipse season is underway. Every year around this time, the body of the Earth can pass directly between SDO and the sun, producing eclipses of unusual beauty. The alignment happens every day around 0700 UT and can last for up to 72 minutes. The ongoing eclipse season will end in approximately 10 days.
News Burst 13 August 2020 – Active Weather
​Hurricane Elida
Located west of Baja California. Wind 55-65 kts – Pressure 995 hPa – Moving NW at 10 kts – Quickly weakening.
Tropical Depression Eleven
Position 1000 miles east of the Lesser Antilles. Wind 30-40 kts – Pressure 1007 hPa – Moving W-NW at 12 kts – Slowly intensifying.
News Burst 13 August 2020 – Earthquakes
Europe – M3.5 Greece
---
Atlantic – M5.0 South Sandwich Island
---
Africa – M6.0 Tanzania
---
North America – M3.9 California
---
Central America – M4.9 El Salvador
---
South America – M4.6 Central Chile
---
Asia – M5.0 China / Japan
---
Pacific – M4.8 New Zealand
---
Deepest EQ – M4.5 254 km North Argentina
Tanzania
M6.0 Earthquake about 70 km off the coast of Dar Es Salaam in Tanzania, depth 15 km. This movement comes after another M4.9 in Mozambique two days ago on August 11. The seismic force generated by the deep earthquakes of the previous days crossed to Africa from the Pacific through the Indian Ocean.
Earthquakes Last 24 Hours – M4 and Above
The Senate Homeland Security Committee voted on Wednesday to authorize subpoenas for dozens of Obama-era officials involved in 'spygate,' including former FBI Director James Comey, former CIA Director John Brennan, former DNI James Clapper — and longtime US intelligence operative Stephen Halper, who the Obama administration paid nearly half-a-million dollars to help the FBI spy on the 2016 Trump campaign.
BP Plc said the relentless growth of oil demand is over, becoming the first supermajor to call the end of an era many thought would last another decade or more. Oil consumption may never return to levels seen before the coronavirus crisis took hold, BP said in a report on Monday. The U.K. giant is describing a different future, where oil's supremacy is challenged, and ultimately fades.
The smaller Crafts leaving are able to flatten and be completely stacked or stored out of site in the Small Craft it is in. In these moments, there is a huge amount of data that is being collected and cameras are being dispersed with other equipment that will measure Vibrational Frequency in the area, return to the Craft it came from and then all Crafts will return to the Mothership which is stationed 4 miles above in this case. Neioh
Clicks on the Ads Keep Us Alive 🙂
Love
To fear love is to fear life, and those who fear life are already three parts dead.
Bertrand Russell
2021 Server & Site Tech Support - 4200 €

0.2%

0.2%
Support Disclosure News Italia
We are working hard, and every day, to keep this blog. Like you we are fighting for the truth. If you want to work with us you are welcome, please email us! The blog costs are at our expense, advertising reimburse us very marginally so if you like our work and find it useful buy usacoffee clicking the donation button below that will directu to your PayPal. We need the help of people like you!
Bitcoin & Cryptocurrencies Donation
1M9dohWnHBwNLSPd6afRaJackrw6wK9bxY