News Burst 13-14 May 2020
Clicks on the Ads Keep Us Alive 😊
News Burst 13-14 May 2020
A Chinese rocket measuring around 100 feet long took an uncontrolled plunge back into the atmosphere on Monday, becoming the largest piece of space junk to crash back down to Earth in decades. The Long March 5B rocket was launched on May 5, carrying an unnamed prototype of a newly-designed Chinese crew capsule. After about a week in orbit, the core stage of the rocket re-entered the atmosphere at around 11 a.m., moving at thousands of miles per hour. "It is the most massive object to make an uncontrolled reentry since the 39-tonne Salyut-7 in 1991," tweeted Jonathan McDowell, a Harvard astrophysicist who tracks objects in orbit. A bit of the spacecraft measuring about the size of a small bus splashed into the Atlantic Ocean off the coast of West Africa, according to the US Space Command, which was tracking the re-entry. Dead satellites and old rocket stages regularly re-enter the atmosphere, but they are rarely as massive and often equipped with means to steer them safely back, typically over the South Pacific.
Tesla Inc. has escalated a showdown with local health authorities and has reopened its car-making plant in Fremont, Calif., beyond minimal operations.
An Alameda County spokesperson said Tuesday that county health authorities have received and are reviewing Tesla's TSLA, -0.23% safety plan. "We will issue an update when we have more to share," the spokesperson said. The authorities confirmed Monday Tesla had reopened the plant beyond basic operations, and that they had notified Tesla it could only maintain minimal work until an approved plan is in place. It is unclear whether Tesla would suffer any consequences for reopening without a plan in place. Chief Executive Elon Musk started the latest volley of shutdown complaints late Monday, when he vowed to reopen the plant, Tesla's sole U.S. car-making facility, in defiance of the regional shutdown order to curb the spread of the coronavirus.
The consortium of buyers of Imperial Brands' cigar business, who will be acquiring the world renowned Cohiba brand, have mostly remained under the radar. The deal itself has also been "shrouded in a smoky veil of secrecy". Imperial decided last month to sell its premium cigar business for $1.1 billion to Allied Cigar Corporation. Imperial's brand portfolio also includes Romeo y Julieta and Montecristo. Allied Cigar is a private firm that was incorporated in Hong Kong on March 10, according to registry filings. Chiu King-yan, who is the CFO of Macau's biggest junket operator, SunCity Group Holdings Ltd., was listed as a board member. Chiu is also a director of Summit Ascent Holdings Ltd., the Hong Kong-listed firm behind a hotel and casino complex near Vladivostok, Russia. It's unusual for an acquisition this large to go off without transparency on who the acquirer is. This is complicated by the fact that the deal includes Imperial's 50/50 joint venture in Cuba, which distributes and sells the Cohiba, Romeo y Julieta and Montecristo brands. Cuba has been isolated by U.S. sanctions for decades, making it tough for the two countries to do business.
YouTube CEO Susan Wojcicki admits that the company knows its users don't like the video giant rigging its own algorithm to boost "authoritative" mainstream sources, but that they do it anyway. For several years now, the company has artificially gamed its own search engine to ensure that independent content creators are buried underneath a wall of mainstream media content. This rigging is so severe that the company basically broke its own search engine, with some videos posted by independent creators almost impossible to find even if the user searches for the exact title. In an interview Wojcicki said the decision to push "authoritative" search results was made after the Nice massacre, but that even after the change, these results were performing poorly in terms of engagement. "In the years since Wojcicki made this decision, YouTube has rigged the site heavily in favor of authoritative sources to the point that they're now 10x more likely to top search results for some news events while YouTubers won't even get recommended for breaking news," reports Reclaim the Net. The company's disdain for its own user base was also underscored by its Chief Product Officer Neil Mohan insulting non-mainstream YouTube creators as basement-dwelling idiots.
Namibian regions with a high number of rural schools, amongst them Hardap, Omaheke and Erongo are finding the e-learning mode challenging. Education directors from these regions said schools in their regions still face connectivity challenges, making e-learning difficult or impossible for pupils. Omaheke director of education Pecka Semba said the region has 47 schools, which is fewer than other regions, but the challenges they face are worse than those of other regions. "These 10 schools are not connected in terms of the latest technology. Our region has the largest number of marginalised tribes, including the San in Namibia, and they do not have the means to connect and their parents do not have the literacy level to assist." He added 80% of these are rural schools, and 12 schools have no access to internet or any form of connectivity.
About 100 street vendors from Havana, Hakahana and Wanaheda in Windhoek, Namibia were arrested by the police for violating emergency regulations yesterday. "Some vendors even have children with them," Kalanula told at the Wanaheda Police Station, where a crowd had gathered, trying to communicate with friends and relatives who had been detained. "If you don't want people to sell, give them food," told Ester Andreas, a street vendor who previously also had her goods confiscated after she was released.
The alcohol retail monopoly of Finland, Alko, has revealed that it sold a total of 9.1 million litres of alcoholic beverages in April, the first full month under the state of emergency declared by the government on 16 March. The amount represents an increase of 23 per cent from April 2019. The sales of rosé wines increased by as much as 40 per cent, while those of red wines rose by 35 per cent and white wines by 28 per cent. The sales of sparkling wines contrastively fell by two per cent year-on-year, presumably due to the uncharacteristically muted festivities on May Day. Finland shut down its borders to non-essential travel on 19 March. Bars, cafés and restaurants, meanwhile, have not been allowed to serve eat-in patrons since 4 April.
K GROUP, the Finnish group of car, grocery and building hardware retailers said it has updated its climate goals and intends to become carbon neutral by 2025 and eliminate all emissions from its operations and transport by 2030. "We at K Group intend to minimise our emissions by 2025. We will compensate for the remaining emissions between 2025 and 2030. Our aim is to have no need for compensation and make our operations emission free by 2030." K Group is formed by its retailers and Kesko. The retail giant has not purchased any non-renewable electricity for its properties in Finland since 2017. Its objective is now to increase the share of renewable heat and electricity in not only its other countries of operation, but also purchases made by the retailers. Kesko in 2017 became Finland's first company to set science-based targets for its emissions.
Twenty-five Nepalis students in Thailand just want to come home. They are fast running out of money and want to come home, but they aren't hopeful of any help from the government. Nepalis stranded in Thailand demonstrate at the Nepali Embassy in Bangkok. Students in Phuket, all students at the Kathmandu Academy of Tourism and Hospitality, now had nowhere to work and limited supplies of food to survive on. "All we want is to return home," Tamang told. "With the resort shutting down due to Covid-19, we have no choice but to come home. How long can we live on aid from other people?" "We booked a flight to return to Nepal on March 20, but that flight was cancelled," she said. "We then booked another on March 22, but that too was cancelled because the Nepal government banned all international flights." With money running out, the students then wrote a letter to Ganesh Dhakal, the Nepali Ambassador to Thailand, asking for help in taking them home. But the embassy told them that nothing could be done without the intervention of the Nepali government, said Tamang. "They told us that their hands were tied and they could do nothing except pass on our application to Kathmandu," she said.
Austria and Germany plan to open their border in mid-June after it was closed for two months in the fight against the coronavirus pandemic, the government in Vienna said Wednesday. "From June 15, the opening of the border between Germany and Austria will be possible," Tourism Minister Elisabeth Koestinger told state radio station O1. Restrictions on crossing the border will begin to be eased from May 15, enabling business trips and family visits to take place, she added. The German and Austrian chancellors, Angela Merkel and Sebastian Kurz spoke Tuesday and "agreed on a gradual opening" of the border", the minister said. Both nations consider they have the virus under control and were among the first in Europe to start lifting the measures taken to halt the spread of the pandemic.
South Korea has raised the age of consent for sex to 16 from 13 as it seeks to strengthen protection for minors following accusations the existing law on sex crimes was too weak. Previously, teenagers aged 13 or older were held to be legally capable of consenting to sex, resulting in controversial cases and critics saying that sex offenders were escaping without punishment due to the low benchmark. Despite its economic and technological advances, South Korea remains a traditional and patriarchal society, where victims of sexual assault have been shamed for coming forward. The age of consent was raised to 16 in order to "protect teenagers from sex crimes at a fundamental level", the South's Justice Ministry said in a statement.
With the Olympics postponed due to the coronavirus, top Japanese fencer Ryo Miyake has swapped his metal mask and foil for a bike and backpack as a Tokyo UberEats deliveryman. The 29-year-old, who won silver in the team foil at the 2012 London Olympics and was itching to compete in a home Games, says the job keeps him in shape physically and mentally — and brings in much-needed cash. "I started this for two reasons — to save money for travelling [to future competitions] and to keep myself in physical shape," he told. "I see how much I am earning on the phone, but the number is not just money for me. It's a score to keep me going." Japanese media have depicted Miyake as a poor amateur struggling to make ends meet but he himself asked for his three corporate sponsorships to be put on hold — even if that means living off savings. "When I get orders in the hilly Akasaka, Roppongi [downtown] district, it becomes good training," he smiles.
Myanmar's military has conceded its troops abused prisoners in Rakhine State after a video of soldiers battering blindfolded detainees spread on social media — a rare admission of wrongdoing by a force often accused of acting with impunity. The video, which emerged on Sunday, shows plain-clothed men punching and kicking the heads of handcuffed and blindfolded detainees. Myanmar's armed forces are locked in an increasingly brutal war with the rebels, who are fighting for more autonomy for ethnic Rakhine Buddhists. Some security force members interrogated the prisoners in a way "not in accordance with the law" and action would be taken against those responsible, the statement said, without giving details on what punishments await.
Facebook unveiled an initiative Tuesday to take on "hateful memes" by using artificial intelligence, backed by crowd sourcing, to identify maliciously motivated posts. The leading social network said it had already created a database of 10,000 memes — images often blended with text to deliver a specific message — as part of a ramped-up effort against hate speech. Facebook said it was releasing the database to researchers as part of a "hateful memes challenge" to develop improved algorithms to detect hate-driven visual messages, with a prize pool of $100,000. Facebook's effort comes as it leans more heavily on AI to filter out objectionable content during the coronavirus pandemic that has sidelined most of its human moderators. Facebook said AI has become better tuned at filtering as the social network turns more to machines as a result of the lockdowns.
Saudi Arabia will enforce a round-the-clock nationwide curfew during the five-day Eid al-Fitr holiday later this month to fight the coronavirus, the interior ministry said Tuesday, as infections spike. A full lockdown will be reimposed around the country from May 23-27. The period coincides with the Muslim festival that marks the end of the holy fasting month of Ramadan. Authorities are yet to announce whether they will proceed with this year's hajj — scheduled for late July — but they have urged Muslims to temporarily defer preparations for the annual pilgrimage. Last year, some 2.5 million faithful travelled to Saudi Arabia from across the world to participate in the hajj, which Muslims are obliged to perform at least once during their lifetime.
The mayor of Los Angeles on Tuesday quickly backpedaled from his top health director's extension of the stay-at-home order that would now last through July, after residents were furious about further quarantines
A newly published list of US officials who were interested in National Security Agency (NSA) records on Trump adviser Michael Flynn includes President Barack Obama's chief of staff, as well as Vice President Joe Biden.
Comet SWAN (C/2020 F8) has crossed the celestial equator, and it is now visible from the northern hemisphere. The comet has faded a little since its naked-eye outburst last week, but it is still an easy binocular object at magnitude +6. To see it, wake up early and look east just before sunrise.
Sun Activity
Sunspot number: 0
Spotless Days
Current Stretch: 11 days
2020 total: 102 days (76%)
2019 total: 281 days (77%)
Strongest EQ in Europe M4.3 Off Portugal Coast
Strongest EQ in North America M3.6 Idaho, Texas
Strongest EQ on the Planet M6.6 Solomon Islands
Deepest EQ M6.2 250 km Tonga
News Burst 13-14 May 2020 Bonus Img
Southern Coronal Hole
Solar wind flowing from this Southern Coronal Hole could reach Earth May 17th.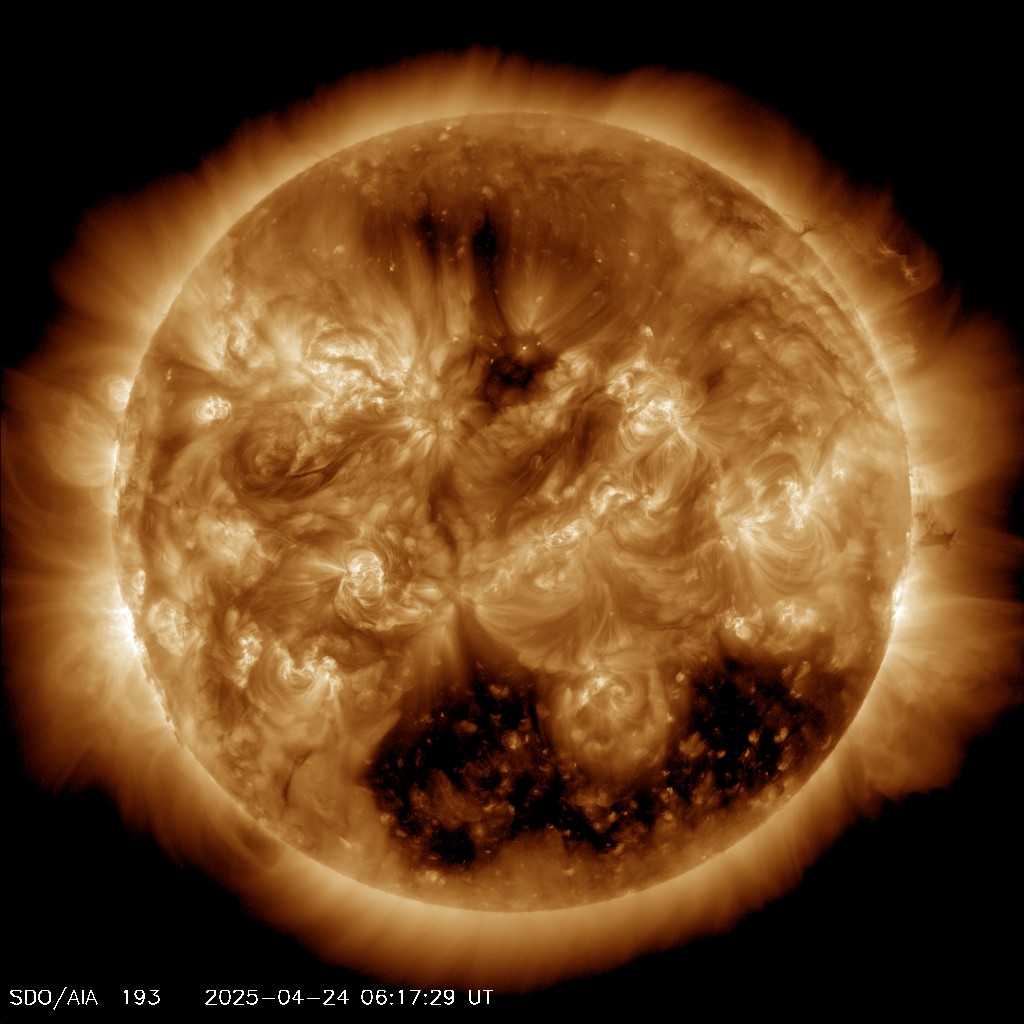 Bill Gates has called on US authorities to build new nuclear reactors in order to deal with climate change. The Gates-founded company TerraPower is building next generation nuclear power plants. The US Department of Energy invested 80 million in TerraPower.
The 37-year-old leader of the DPRK recently referred to K-Pop as a "vicious cancer," that has the potential to corrupt North Korean youths with unsavory "attire, hairstyles, speeches, behaviors."
The Dutch-based online accommodation travel agency Booking. com allegedly evaded payment of around 153 million euros in value added tax in Italy during the period from 2013 to 2019, according to an investigation by finance police in the northwestern region of Liguria.
Clicks on the Ads Keep Us Alive ✨
Dice
God does not play dice with the universe.
Albert Einstein
2022 Server & Site Tech Support 4200 €

3%

3%
Support Disclosure News Italia
We are working hard, and every day, to keep this blog. Like you we are fighting for the truth. If you want to work with us you are welcome, please email us! The blog costs are at our expense, advertising reimburse us very marginally so if you like our work and find it useful buy us a coffee clicking the donation button below that will direct you to your PayPal. We need the help of people like you!
Bitcoin & Cryptocurrencies Donation
1M9dohWnHBwNLSPd6afRaJackrw6wK9bxY