Clicks on the Ads Keep Us Alive 😊
On Tuesday, a picture of a very large grasshopper in Sankhamul posted to social media left many wondering if the locust swarm that has devastated parts of Asia, Africa and the Middle East was on its way to Nepal. More than a week ago, a similar insect had been sighted around Kathmandu's Bhotahity and there were anecdotal reports from Patan. Government officials, however, have dismissed fears, saying there is no indication that locust swarms are headed in Nepal's direction, and that there is no need to worry. Locusts are slightly larger than other grasshoppers in size, although they come from the same grasshopper family. They can be differentiated based on colour. according to Ram Krishna Subedi, senior plant protection officer at the Plant Quarantine and Pesticide Management Centre. It is likely that a few hundred locusts that broke off from the swarms in India could've ended up in Nepal, he said.
With movement restrictions in containment zones at Pune and Pimpri-Chinchwad, mails and couriers are piling up at different post offices as mail carriers are unable to visit houses for doorstep deliveries. According to the standard operating procedure (SOP) adopted by India Post, deliveries are only being done in non-containment areas. Post offices are operating with 50 per cent staff and are open for an hour less than usual. The lockdown has also affected international operations of India Post. Only evacuation and cargo flights are operating at present, so delivery of international mail items to foreign destinations may not be possible as per delivery standards mentioned in the Citizen's Charter or standards agreed otherwise.
News Burst 11 June 2020 – Live Feed
"To help protect our national interests in the Arctic and Antarctic regions, and to retain a strong Arctic security presence alongside our allies and partners, the United States requires a ready, capable, and available fleet of polar security icebreakers that is operationally tested and fully deployable by fiscal year 2029," Mr. Trump said. He also wants to identify two new bases in the U.S. for the fleet, and two international bases.
Two Russian cosmonauts aboard the International Space Station played chess against an Earth-bound grandmaster on Tuesday, in a celebration of the first such game half a century ago. Equipped with an electronic chessboard, cosmonauts Anatoly Ivanishin and Ivan Vagner played in zero gravity against 30-year-old Russian former child prodigy Sergei Karyakin. The game was broadcast live and ended in a draw after about 15 minutes.
The Philippines is investigating the proliferation of fake Facebook accounts using the identities of students, journalists and government officials, which appeared after an anti-terror law protest, the justice secretary told Reuters on Monday. The University of the Philippines first identified the accounts over the weekend following the protest on its campus on Thursday. Those spotted carried names of students who were among eight people arrested during the protest. Dozens of Facebook users have since posted screenshots of accounts using their names and urged friends to report the duplicates. Facebook in May said it estimated the prevalence of fake accounts among its worldwide monthly active users at 5%.
Gender inequality is not only shaping the experience of the crisis, but also prospects for resilience and recovery of countries around the world, as they continue to reel under the devastating social and economic impacts of the Covid-19 pandemic, according to a UN report. The new report – Gender, Climate and Security: Sustaining Inclusive Peace on the Frontlines of Climate Change – has established the close links between gender, climate, and security, showing that women on the frontlines of climate action are playing a vital role in conflict prevention and sustainable, inclusive peace. "Unequal access to land tenure, financial resources, and decision-making power can create economic stress for entire households in times of crisis, leaving women disproportionately exposed to climate-related security risk," Inger Andersen, UNEP's executive director was quoted as saying in the statement. "The climate crisis stretches well beyond just climate, and tackling it effectively requires responses that address the links between gender, climate and security–we must ensure no one is left behind." "Gender inequality, climate vulnerability, and state fragility are strongly interlinked," said UNDP Administrator Achim Steiner.
Chickens in Pakistan have been feasting on captured locusts under an initiative to combat swarms of the insects that are threatening food supplies in the impoverished country. Prime Minister Imran Khan has endorsed plans to expand a pilot project in the breadbasket province of Punjab, where villagers earned cash by gathering locusts that were then dried out, shredded and added to poultry feed. Farmers are struggling as the worst locust invasion in 25 years wipes out entire harvests in Pakistan's agricultural heartlands. Muhammad Khurshid from Pakistan's food ministry and biotechnologist Johar Ali set up the programme, drawing on efforts in war-ravaged Yemen, where authorities have encouraged people to eat the protein-rich locusts amid famine. The pair chose Punjab's Okara district, where farmers had not used any pesticides that would make locusts unsuitable for consumption.
The Central de Abasto, one of the world's biggest fruit and vegetable markets, has become a hotspot for COVID-19 infections in Mexico. Every day, thousands of Mexicans crowd Central de Abasto, a massive food market, that is a linchpin of the capital's food supply, though it sits at the heart of a major hotspot for the coronavirus.
Obscure Indian firm's cyber spying targeted investors, government officials and activists worldwide. A little-known Indian IT firm offered its hacking services to help clients spy on more than 10,000 email accounts over a period of seven years. Delhi-based BellTroX InfoTech Services targeted government officials in Europe, gambling tycoons in the Bahamas, and well-known investors in the United States , judges in South Africa, politicians in Mexico, lawyers in France and environmental groups in the US. "This is one of the largest spy-for-hire operations ever exposed," said Citizen Lab researcher John Scott-Railton. The "cyber mercenary" services are widely used, he said, noting "Our investigation found that no sector is immune." Operating from a small room above a shuttered tea stall in a west-Delhi retail complex, BellTroX bombarded its targets with tens of thousands of malicious emails, according to the data reviewed by Reuters. Some messages would imitate colleagues or relatives; others posed as Facebook login requests or graphic notifications to unsubscribe from pornography websites.
A young student from Seattle has been revealed as a senior female ISIS agent responsible for recruiting women to join the terror group. On Twitter, she is known as @_UmmWaqqas, and is pictured shrouded head-to-toe in black; an inscrutable and high-ranking officer of ISIS who boasts more than 8000 followers online, and is in close contact with the British, Americans and the jihadi brides in Syria. Channel 4 News has since revealed her identity as a woman in her 20s who went to school in the US, and by her friends' accounts grew up as a regular teenager in a Western world. Although her official Twitter account has been suspended, @_UmmWaqqas' tweets are available on Favstar, an online service that tracks Twitter and its usage. The news site discovered the woman's identity by closely reading Tweets pertaining to her "offline" world, and matching the pictures she posted on Twitter to popular locations in Seattle. Eventually, they were able to identify @_UmmWaqqas's movements, based on a timeline of her events and her activities, as well as tracking her name on Facebook.
In a bid to encourage "informed discussion" on social media, micro-blogging site Twitter said it is testing a new prompt wherein it shall ask the user if they would like to open an article first before retweeting it on their handles. Retweeting a post or an article allows the user to pass along information with the option to add one's own comments to the post. The social media network is now trying to regulate the spread of such information to "promote informed discussion". In a tweet, it said: "sharing an article can spark conversation, so you may want to read it before you tweet it."
Amazing Face-Changing Performance
Yesterday, a magnetic filament connected to sunspot AT2765 exploded. The debris mostly fell back to the surface of the sun and the rest is not heading our way. It will miss Earth. No auroras are in the offing as a result of the event.
News Burst 11 June 2020 – Live Feed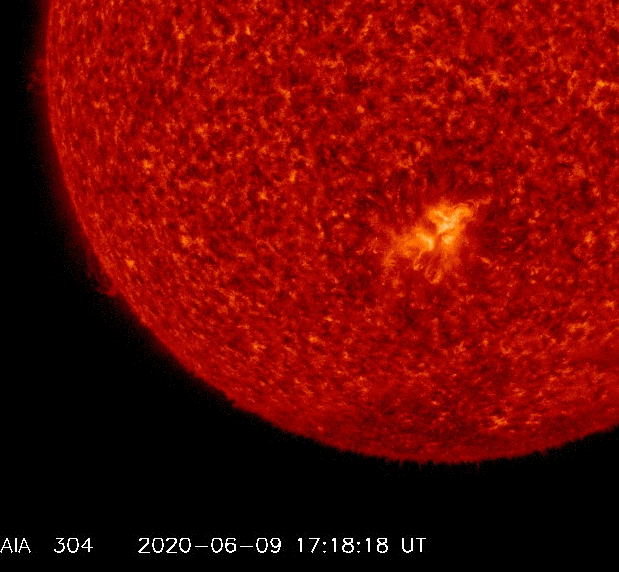 Strongest EQ in Europe M4.5 Ionian Islands, Greece
Strongest EQ in North America M4.0 Alaska
Strongest EQ on the Planet M6.0 Saint Helena
Deepest EQ M5.9 539 km Fiji
News Burst 11 June 2020 – Live Feed
A series of strong deep Earthquakes in the Western Pacific in Tonga in Fiji are likely to put into motion the surrounding areas, both to the west in the area of New Caledonia/Vanuatu where a high M6 could occur, and to the south towards New Zealand, to the Kermadec Islands, where a movement up to M6 is possible. The area east of Bali, Indonesia is also at risk of an M5 EQ.
In Europe the push is released intensely to the Ionian Islands and in Eastern Europe in Romania and Poland, Italy has seen movements to the south and north, a movement could occur on the high M3 in the center, alternatively the same shock could occur in North Africa.
Mysterious 'hollow island' spotted by Google Maps. It's quite dark and some users suspect it may have been censored as it doesn't look like an ordinary Google Maps island.
A mysterious repeating fast radio burst has been discovered as the cause of a set of cosmic explosions. Called FRB 121102, the largest set of fast radio bursts, or FRBs events, registered so far, was detected by researchers during testing of China's Five-hundred-meter Aperture Spherical radio Telescope, or FAST, as it was being commissioned.
While they are thought to be everywhere, axions are predicted to be virtually ghost-like, having only tiny interactions with anything else in the universe.
Clicks on the Ads Keep Us Alive ✨
Tryth
It's hard to know the truth, but sometimes it's very easy recognize a lie.
Albert Einstein
2022 Server & Site Tech Support 4200 €

52%

52%
Support Disclosure News Italia
We are working hard, and every day, to keep this blog. Like you we are fighting for the truth. If you want to work with us you are welcome, please email us! The blog costs are at our expense, advertising reimburse us very marginally so if you like our work and find it useful buy us a coffee clicking the donation button below that will direct you to your PayPal. We need the help of people like you!
Bitcoin & Cryptocurrencies Donation
1M9dohWnHBwNLSPd6afRaJackrw6wK9bxY