News Burst 10-11 May 2020
Clicks on the Ads Keep Us Alive 😊
News Burst 10-11 May 2020
German airline giant Lufthansa said Friday it will fly twice as many aircraft in June as in recent weeks and return to some European destinations, but the flight plan remains a shadow of pre-coronavirus operations. Spots beloved of holidaymakers like Spanish island Mallorca, Crete and German North Sea retreat Sylt will return to the timetable, with 160 aircraft aloft bearing Lufthansa's crane or the logos of subsidiaries Swiss and Eurowings. More details of the 106 planned destinations will be published next week, Lufthansa said.
Moroccan police seized 3.5 tons of cannabis resin onboard a truck at the Tit Mellil motorway toll station near the city of Casablanca today, May 10. On May 4, police seized 7.2 tons of cannabis resin from a truck bearing false license plates at the station. According to the DGSN's 2019 report, security services seized a total of 179,657 tons of cannabis and its derivatives.
Hundreds of riot police have descended on protests in Hong Kong shopping centres as hundreds of demonstrators voiced their anger with the authorities they say are abusing social distancing laws to restrict civil liberties. In Moko mall in Mong Kok on Sunday (local time), a policeman shot pepper balls at protesters and journalists who were one floor above after a water bottle was thrown towards a group of officers from that level. Police arrested at least 11 people, including a 12-year-old girl.
The Maltese ambassador to Finland Michael Zammit Tabona has stepped down in the wake of a Facebook post where he compared German chancellor Angela Merkel to Nazi dictator Adolf Hitler. In a Facebook post on Friday – which was Victory in Europe Day – Zammit Tabona said that "75 years ago we stopped Hitler. Who will stop Angela Merkel? She has fulfilled Hitler's dream to control Europe." [Qualis pater, talis filius]
The German Constitutional Court made an unexpected and significant ruling last week against the ECB and Quantitative Easing. In the midst of a pandemic and an important presidential election, it is very easy to miss globally significant events. Here is one that is way under the radar: The German Constitutional Court ruled the ECB's QE Program Could be Illegal. That is a landmark ruling that challenges the independence of the ECB and the authority of the Court of Justice of the European Union (CJEU).
The EU has attempted to defend the fact that it allowed the communist Chinese government to censor a letter it wrote before it was published in a Chinese newspaper, erasing a sentence that stated the coronavirus originated in China. The letter, co-written by the bloc's 27 ambassadors, was published in China's English-language newspaper China Daily on Tuesday. However, the EU agreed to allow censors to remove the sentence, which stated "But the outbreak of the coronavirus, in China, and its subsequent spread to the rest of the world over the past three months…" It is the second time in the space of two weeks that the EU has rolled over for Chinese censorship, having previously softened criticism of the communist regime in a report documenting how governments have pushed "disinformation" about the coronavirus pandemic.
Patriotism is Russia's national idea, Russian President Vladimir Putin said on Sunday, cautioning, however, against flag-waving moods. "Yes, it's patriotism, I think there can be nothing else here," Putin said when asked about the Russian national idea. But patriotism should not be spurious, he stressed in an interview with the program 'Moscow. Kremlin. Putin". According to the president, "patriotism means devoting oneself to the development of the country, its progress". "But this does not mean that we must keep clinging to our heroic past, we must look ahead, into our no less heroic and successful future, and this is the ticket to success," the Russian leader stressed.
Spokesperson for the government of Iran Ali Rabiei has stated that the Islamic Republic is ready for a prisoner swap with the US, and sets no preconditions, according to a news agency. "We are ready to exchange Iranian and American prisoners and we are prepared to discuss this issue, but the Americans have not responded yet", Rabiei said.
Frankly, this is the final straw. Tesla will now move its HQ and future programs to Texas/Nevada immediately. If we even retain Fremont manufacturing activity at all, it will be dependen on how Tesla is treated in the future. Tesla is the last carmaker left in CA. ~ Elon Musk
As he stated he was going to do yesterday, Tesla CEO Elon Musk filed an 18-page lawsuit that asked a federal judge to allow him to re-open his factory in Fremont. "Alameda County's power grab not only defies the governor's orders, but offends the federal and California constitutions," the lawsuit said. The suit argues that Alameda County "had violated the due process and equal protection clauses of the Fourteenth Amendment and sought an injunction that would allow the company to operate."
The Department of Justice has dropped all charges against Lt. Gen Mike Flynn putting another nail in the Russia, Russia, Russia coffin. So what comes next? Well look for US federal attorney John Durham to bring criminal charges against the FBI's bad actors. Charges could be brought against FBI agent Peter Strzok and FBI lawyer Lisa Page. These two reconstructed the damning interview narrative against Flynn. Then there is Deputy Director of the FBI, Andrew McCabe who set up the plan to take down Flynn as well as his boss FBI chief James Comey. That's the chain of command when it comes to the Flynn trial. However once the FISA declassification is released by Durham we will discover the bad actors in the intelligence agencies. The FISA declassification release could include a number of indictments of intelligence chiefs for spying on Americans. The biggest boom could be that President Obama was updated on all these nefarious actions in his Daily Intelligence briefings. Time will tell how expansive this attempted coup radiated.
The Afghan government has released 1,000 members of the Taliban movement and expects the group to respond by setting free government security forces personnel and speeding up the preparation of direct talks, the Afghan National Security Council said on Saturday. The prisoner exchange and launch of the intra-Afghan talks became possible after the Taliban and Washington reached a peace deal in Qatar in February. Under the agreement, the US and NATO troops are to be pulled out from the country within 14 months, and the intra-Afghan talks between the militant group and the government have been set to start on March 10. However, the talks have been delayed due to Afghanistan's electoral crisis and mutual disagreements over the release of prisoners.
Ethiopia has admitted that they shot down on Monday a Kenyan plane carrying humanitarian and medical supplies, killing all six people onboard. In a statement to the African Union, the Ethiopian military said they interpreted the plane's "unusual flight" as a "potential suicide mission," adding the crew did not inform authorities of any aircraft flying to the country. "Because of lack of communication and awareness, the aircraft was shot down," the military said. "The incident was performed by non-Amisom troops of Ethiopia, which will require mutual collaborative investigation team from Somalia, Ethiopia and Kenya to further understand the truth," it added. All six passengers onboard died on Monday after the plane was shot down in the southwestern town of Bardaale in Somalia. Kenya expressed its shock over the incident, saying the plane was on a humanitarian mission amid the coronavirus pandemic.
German intelligence has revealed that Chinese President Xi Jinping asked World Health Organization (WHO) Director-General Tedros Adhanom Thebreyesus to cover up the severity of the coronavirus pandemic in January, according to Der Spiegel. During a January 21 conversation – one week after the WHO assured the world there was 'no clear evidence of human-to-human transmission' – Xi reportedly asked Tedros not to reveal that the virus was in fact transmissible between humans, and to delay declaring that the coronavirus had become a pandemic – despite the virus qualifying as one by the WHO's own former guidelines. And while the WHO announced on the 22nd that data collected through their own investigation "suggests that human-to-human transmission is taking place in Wuhan," which they said more analysis was required "to understand the full extent," they waited all the way until March 11 to declare the virus a pandemic.
Earth is about to cross a fold in the heliospheric current sheet, a vast wavy structure in interplanetary space separating regions of opposite magnetic polarity. The crossing, called a "Solar Sector Boundary Crossing," is expected on May 11th and could trigger geomagnetic activity around Earth's poles.
Sun Activity
Sunspot number: 0
Spotless Days
Current Stretch: 8 days
2020 total: 99 days (76%)
2019 total: 281 days (77%)
Strongest EQ in Europe M4.4 Crete, Greece
Strongest EQ in North America M4.7 Vancouver Island, Canada
Strongest EQ on the Planet M5.5 Chile
Deepest EQ M3.9 750 km Indonesia (Let's look at Ecuador on the opposite side of the Planet)
News Burst 10-11 May 2020 Bonus Img
Human Cloning & Mind Control Programs
"It takes time to remove/install the right people" = To remove and replace with a controlled [sleeper].
"Farm Born" = Double Agents (Double Meanings).
Puppets & Puppet Masters = Human Cloning & Mind Control Programs.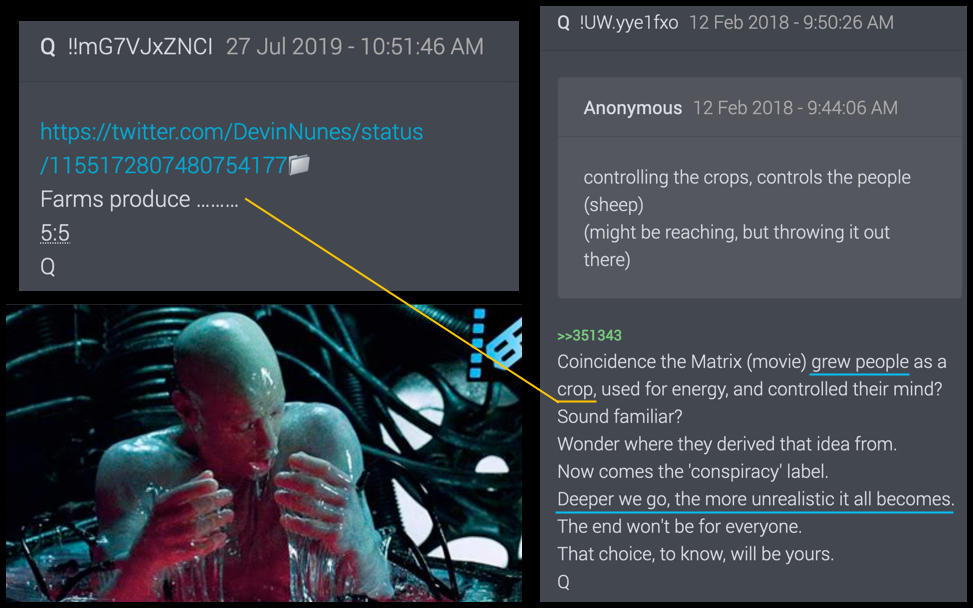 News Burst 10-11 May 2020 Bonus Img
Earthquakes
This is how the seismic forse has been "neutralized" in South & Central Europe, large amount of smaller quakes instead of few large ones, meanwhile at Svalbard Islands the total force summed up again and released an M4.5, same as the one in the Mediterranean
News Burst 10-11 May 2020 Bonus Img
Perelman was awarded a Fields Medal for this work, but declined to accept it. Sir John Ball, president of the International Mathematical Union, spent a day trying to convince Perelman to accept it, but failed miserably.
The ancient Egyptians practiced astronomy and mathematics with astonishing accuracy, mapping out their cities and monuments according to the motion of the stars.
In late March, a stunning visual takes shape when five planets line up beneath the moon in a display sometimes called a planetary parade or alignment.
Clicks on the Ads Keep Us Alive ✨
Educated Mind
It is the mark of an educated mind to be able to entertain a thought without accepting it.
Aristotele
2023 Server & Site Tech Support 4200 €

25%

25%
Support Disclosure News Italia
We are working hard, and every day, to keep this blog. Like you we are fighting for the truth. If you want to work with us you are welcome, please email us! The blog costs are at our expense, advertising reimburse us very marginally so if you like our work and find it useful buy us a coffee clicking the donation button below that will direct you to your PayPal. We need the help of people like you!
Bitcoin & Cryptocurrencies Donation
1M9dohWnHBwNLSPd6afRaJackrw6wK9bxY