Clicks on the Ads Keep Us Alive 😊
News Burst 1-2 May 2020
According to Reuters, the United States is putting pressure on Saudi Arabia to cut its oil production, pointing out that U.S. President Donald Trump threatened the Saudis, in the absence of a response, to withdraw military support. Citing four sources, the agency said that Trump called Saudi Crown Prince Mohammed bin Salman on April 2 and told him that if OPEC countries did not start cutting oil production, he would be unable to stop U.S. lawmakers from passing a law to withdraw U.S. forces from the Gulf Kingdom.
Classified sightings of alleged UFOs in Britain have finally been revealed thanks to a freedom of information request, years after the once specially set up UFO wing of the Royal Air Force was shut after 50 years, on the grounds that there was allegedly no evidence of a potential threat coming from outer space. The newly released records cited by the edition show the top UK hot spots – more than 56 places across England, as well as areas of Scotland, Wales, and even the Channel Islands – where unidentified flying objects were reported from 1959 to 2009. The files offer lengthy descriptions of the alleged evidence of extra-terrestrials' activity.
Kim Jong Un, the 36-year-old leader of the Democratic People's Republic of Korea (DPRK) dispelled weeks of Western rumors that he had died or been overthrown, appearing at a public ceremony on April 30 in the industrial city of Sunchon.
In a process called "Preparing for a Different Future". British Airways wants rid of 12,000 of its 42,000 staff. The figures set out by the airline in letters to trade unions reveal that BA envisages 22 per cent fewer flights when aviation finally gets back in the skies. Many services to and from its main base, Heathrow airport, will be culled. This, though, creates a problem. BA's most valuable asset is its slot portfolio at Heathrow. In normal times, a strict "use them or lose them" rule applies for the precious permissions to take off and land at Europe's busiest hub. Moving most or all flights from Gatwick around to Heathrow provides a solution.
There is outrage in Luxembourg after some of its citizens were fined by France for inadvertently straying across the frontier. The Luxembourg Times reports that unnamed residents of the border village of Rumelange unwittingly wandered into territory belonging to Ottange, the village just across the border in France. They had strayed across the border without an Attestation de déplacement et de voyage – the certificate required for international travel into France. Worse still, they were in a public park in the department of Moselle on a Sunday, breaching the local ban on access to open spaces at weekends. The penalty is unknown.
A Tokyo hotel converted to accept patients with mild symptoms, a humanoid robot will be there to offer support and encouragement – as well as admonishments and warnings. "You can't fight the coronavirus on an empty stomach. Please eat well to get healthy," is among the messages that the pint-sized Pepper robot will be delivering to coronavirus patients waiting out their quarantine at one Tokyo establishment. The local government has been working with hotels to secure rooms for patients with mild symptoms, hoping to free up space in hospitals that are feeling the strain.
The robots were unveiled at the Apa Hotel & Resort in the capital's Sumida Ward, and Tokyo Gov. Yuriko Koike came to inspect them. Another robot, a humanoid, is designed to interact with patients. At the unveiling, the robot said, "I pray for your fast recovery".
Canadian Prime Minister Justin Trudeau has said the country is banning the use and trade of assault-style weapons immediately. Trudeau cited numerous mass shootings in the country. He announced the ban of more than 1,500 models and variants of assault-style firearms, including the AR-15 and other weapons that have been used in a number of mass shootings in the United States. "Canadians need more than thoughts and prayers," Trudeau said.
Tanzania: twelve cattle were yesterday found dead near a gold refinery plant in Shenda village Mbogwe District Geita Region after drinking suspected poisonous water. Samples from the dead cattle have been taken by local government authorities in the district for a laboratory examination to establish the cause of cattle's deaths. The village chairman further said the dead cattle were yesterday removed from the area and later burnt to ashes for fear that if consumed can cause serious health problems. The owner of the Gold refinery where the suspected poisonous waters is believed to have leaked from didn't show up at the scene despite being informed of the incident.
Rolls-Royce suspended production at its Goodwood, England, factory in March 2020 in response to the coronavirus pandemic, but there's at least one part of its business that's not affected by the temporary shutdown. The 250,000 bees that live and work near its factory are on track to set another production record in 2020. The company has 250,000 honey bees on its employee roster. The rivalry between Rolls-Royce and Bentley continues in the world of beekeeping. In 2019, Bentley built two giant hives for 120,000 bees near its headquarters in Crewe, England. Bees are an often-overlooked part of the ecosystem. Plants depend on pollination to reproduce, and bees are nature's main pollinators; we'd ultimately have less food if bees were eradicated from the planet. They're endangered in many parts of the world, which is why some automakers are choosing to give them a home.
The City of Windhoek wants Chinese telecom giant Huawei to install an internet network that will enable 5G connections in Namibia's capital. Opposition city councillors are, however, concerned that there was a lack of consultation to determine the safety of the project. The plan, which also aims to turn the city into a so-called smart city by 2022, was approved by council last year. The Windhoek City Police, according to documents, recommended that the matter will need wider consultation with national stakeholders on safety before implementation.
Nepal: If everything had gone to plan, a month from now, Shiva Bohara of Thuli Bheri Municipality would have been out on the hills of Dolpo, combing the slopes for yarsagumba. But this year, like everything else, the Covid-19 pandemic has even shut down collection of the lucrative caterpillar fungus. The local governments decided to halt yarsagumba collection this year. According to estimates, around 100,000 people in the mountain region will be deprived of the income this season.
Yarsagumba, known by the scientific name Ophiocordyceps sinensis, is a small parasitic fungus that grows within a variety of caterpillars in the Himalayan region. It kills the caterpillar and emerges from the dead body as a thin stem. Yarsagumba is prized in a number of countries, particularly in China, for its alleged aphrodisiac and healing properties.
The Japan government plans to exempt a tax on beverages with a high alcohol content used for disinfection if they carry a "do not drink" sign. The exemption will remain effective as long as the health ministry approves the use of such products as a substitute. Industry groups for alcoholic drink-makers have complained that the liquor tax is blocking the spread of drinks with high alcohol content for use in disinfection as it prevents the industry from lowering their prices.
Airlines remodel idle passenger planes into air freighters to keep cargo moving. Growing demand for distribution of emergency supplies, such as face masks, around the globe is also prompting aviation firms to make such moves, with some flights temporarily seeing freight unit prices more than 2½ times previous levels. Japan Airlines Co. plans to run approximately 1,200 flights between March to May to mainly East Asia, Europe and the United States as international cargoes, as they were and will be suspended as passenger flights. Similarly, All Nippon Airways Co. has operated more than 300 cargo flights this April to China and other countries using its passenger aircraft. Both JAL and ANA are loading freight onto carry-on luggage racks.
In early 2020, Finnish Customs carried out intensified controls of oranges imported from Israel due to the discovered presence of bromopropylate, a pesticide that is prohibited in the EU. Customs has rejected about 104 000 kg of oranges. Customs examined and rejected the first consignment of oranges in February. Bromopropylate is a pesticide used in repelling ticks that are found in citrus fruit. The EU prohibited the use of bromopropylate entirely in 2011, as it could not be proven as safe for consumers.
Japan is readying protocols to address the possibility of an encounter with unidentified flying objects, Defence Minister Taro Kono said on Tuesday. According to the official, the protocols will cover how to respond to such encounters as well as how to record and report them. Kono said Japan's aviation has so far had no encounters with any flying objects that can be qualified as unindentified but it is important to have protocols for such an eventuality in light of the recent videos published by the United States. The US Navy earlier this week confirmed the authenticity of two videos captured by cameras aboard US military jets featuring mysterious flying objects spotted in 2004 and 2015.
The Five Eyes intelligence agencies of the US, the UK, New Zealand, and Australia have allegedly accused China of scrapping evidence of the coronavirus outbreak, in what they claim amounts to an "assault on international democracy". In a 15-page research dossier, obtained by The Daily Telegraph, the Five Eyes painted an alleged picture of "how the Chinese government deliberately covered up the coronavirus by […] destroying evidence from the Wuhan laboratory and refusing to provide live virus samples to international scientists working on a vaccine", according to the Australian newspaper. The dossier also claimed that Chinese authorities denied COVID-19 could be spread between humans until 20 January, "despite evidence of human-human transmission from early December". The Five Eyes also blame the World Health Organisation (WHO) for supporting Beijing's stance.
Iran has angrily reacted to the designation of Tehran-backed Lebanese Hezbollah as a terrorist group in Germany, but the reaction has been limited regardless of the strongly worded statement by the Iranian Foreign Ministry Spokesperson. Iranian Supreme Leader Ayatollah Ali Khamenei and President Hassan Rouhani were not observed to react to the designation and the ban on the activities of Hezbollah in Germany on April 30.
Sun Activity
Sunspot number: 0
Spotless Days
Current Stretch: 1 days
2020 total: 90 days (7a%)
2019 total: 281 days (77%)
Solar wind flowing from the indicated coronal hole should reach Earth on May 4-5.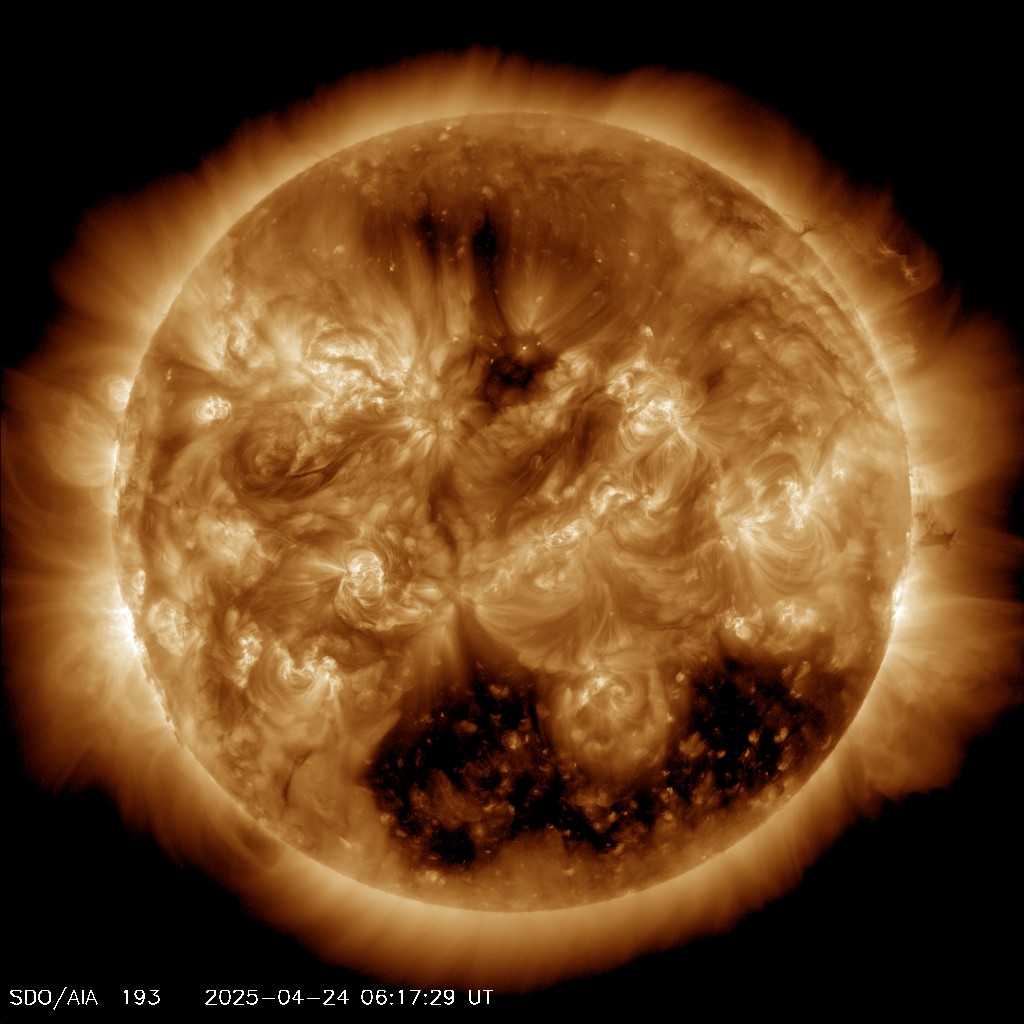 Strongest EQ in Europe M4.5 Bulgaria
Strongest EQ in North America M3.7 Oklahoma
Strongest EQ on the Planet 5.0 Iran
Deepest EQ M4.5 620 km Ndoi Island, Fiji
News Burst 1-2 May 2020 Bonus Img
Apple Tracking
Apple's latest iPhone update has entered you automatically into a tracking (tracing) program. Here's where it's located.
News Burst 1-2 May 2020 Bonus VIDEO
"Even if Iran gets a nuclear weapon… any country using a nuclear weapon, that means they're having a war with the rest of the world," Crown Prince Mohammed bin Salman said.
Shackleton Crater maintains temperatures below -173 °C. Due to the Moon's inclination angle. A significant portion of this expanse remains veiled in shadow, forming what experts call "cold traps."
The dark energy, a conjectured unidentified force believed to be accountable for the observed accelerated expansion of the universe, is attributed to nearly 69 percent of the total cosmic content.
Clicks on the Ads Keep Us Alive ✨
Miracle
There are only two ways to live your life. One is as though nothing is a miracle. The other is as though everything is a miracle.
Albert Einstein
2023 Server & Site Tech Support 4200 €

70%

70%
Support Disclosure News Italia
We are working hard, and every day, to keep this blog. Like you we are fighting for the truth. If you want to work with us you are welcome, please email us! The blog costs are at our expense, advertising reimburse us very marginally so if you like our work and find it useful buy us a coffee clicking the donation button below that will direct you to your PayPal. We need the help of people like you!
Bitcoin & Cryptocurrencies Donation
1M9dohWnHBwNLSPd6afRaJackrw6wK9bxY