News Burst 1-2 August 2020
Clicks on the Ads Keep Us Alive 😊
News Burst 1-2 August 2020 – Featured News
The Chicago Tribune has demoted a longtime columnist who blamed George Soros for violence in Chicago and other major US cities. John Kass, who has been on Page 2 of the newspaper for 23 years, wrote in his July 22 column that it is "the big cities run by Democratic mayors, where murder and gang shootings are out of control and where once vibrant downtown areas are on their way to becoming ghost towns. But these Democratic cities are also where left-wing billionaire George Soros has spent millions of dollars to help elect liberal social justice warriors as prosecutors. He remakes the justice system in urban America, flying under the radar. "The Soros-funded prosecutors, not the mayors, are the ones who help release the violent on little or no bond." On Monday, Tribune editor-in-chief Colum McMahon announced that he would reorganize the placement of the newspaper's columnists and separate news coverage from opinion columns. Kass will also lose his title of lead columnist. The news was first broken by independent media blogger Robert Feder.
Owners of a Michigan bed and breakfast have removed a Norwegian flag outside of their business after being accused of promoting racism from people who think that it is a Confederate flag. Kjersten and Greg Offenecker, owners of The Nordic Pineapple, hung the flag opposite of the American flag after they moved into the Civil War-era mansion in 2018, the Lansing State Journal reported. They took both flags down last week. The red flag, with a blue cross superimposed on a white cross, is a nod to Kjersten Offenbecker's grandfather, who was born in Norway. The Norwegian flag has the same colors as the Confederate flag, but the patterns and symbols are different. The Confederate flag is red with a blue "X" containing white stars. The couple said they never would have thought anyone would mistake the Norwegian flag for something else. Several community members have urged the couple to put the Norwegian flag back up, but the Offenbeckers say they won't until they can figure out a way to make sure it is not mistaken for the the Confederate flag.
Zimbabwe's government on Wednesday signed a deal with former white farmers to pay them billions of dollars in compensation roughly two decades after they lost their land in often violent invasions. But because the government does not readily have the money, the farmers will be part of a team tasked with raising the cash. About 4,000 farmers lost large swathes of land when Zimbabwe's late leader Robert Mugabe launched the land reform program which he said was aimed at addressing colonial-era land inequities. White farmers had owned the majority of prime farmland. Agricultural land now belongs to the government. The government will borrow on international markets and the farmers will be part of a "joint resource mobilization committee" tasked with raising the money, according to the agreement. Emmerson Dambudzo Mnangagwa, who took power in 2017 after Mugabe was forced to resign, has encouraged former white farmers to apply for pieces of land.
Plane overloaded with drugs crashes in Papua New Guinea. According to authorities, the plane had flown to Papua New Guinea from Mareeba in Far North Queensland, flying at about 3,000 feet to avoid being detected by radar. A light Cessna aircraft overloaded with cocaine crashed on take-off on its way to Australia 26 July. The crash exposed a Melbourne-based crime syndicate and resulted in the arrest of five men who allegedly had links to the Italian mafia, the report says. They have been charged with plotting to import over 500 kilos of cocaine, as well with other related offences. The detainees are facing a maximum sentence of life imprisonment, if found guilty. The pilot surrendered himself to police a couple of days after the accident and was arrested, too.
Japan's middle class is gradually shrinking, a recent study by Shigeto Nagai, chief economist at Oxford Economics and a former director-general at the Bank of Japan, warns. Japanese academics have discussed ways in which the problem could be solved. The trend is caused by the growing poverty in the country which followed the 1997–98 Asian financial crisis, according to Nagai, who is blaming the country's "life-time employment system" for hampering the development of the middle class. Speaking to CNBC, the economist said that a "more dynamic human resource allocation" could help Japan find a way out.
Newly unsealed files tied to the Jeffrey Epstein sex-trafficking case imply that former US President Bill Clinton visited the investor's private island along with "young girls," and that the FBI knew well about the minors' abuse. Comprising hundreds of pages of documents, the trove was released on Thursday night following a judge's order last week to have it unsealed, over the objections of Ghislaine Maxwell, a former girlfriend to Epstein who has recently been charged as an accomplice in his alleged sex-trafficking operation.
Prince Andrew lobbied the US government in a bid to strike a "favourable" plea deal for pal Jeffrey Epstein over his 2008 underage prostitution case, legal papers claim. The allegation is made in startling documents released by a US judge relating to former Epstein "sex slave" Virginia Roberts – also known as Virginia Giuffre. Two unnamed Epstein victims – named only as Jane Doe 1 and Jane Doe 2 – allege the American relied on help from the Prince and other powerful pals to sort a reduced sentence from the US Attorney for South Florida. Epstein pleaded guilty to soliciting a minor for prostitution in 2008 as part of a controversial "sweetheart deal" with federal authorities in the sunshine state. He eventually served just 18 months behind bars and was allowed out on work release six days a week. Documents have been hidden since 2015 but were unsealed today as part of criminal case against Epstein's alleged madam, Ghislaine Maxwell. Attorney Brad Edwards of Fort Lauderdale, who represented three of the young women, said in 2011 that he believed that none of the women identified as victims in the federal investigation were told of the deal, calling the decision "outrageous". Now two of the women are bringing a case against the prosecutors, claiming their rights were violated because they were not consulted on the secret deal.
The recent unsealing of court documents put attention back on Clinton's connection to Epstein on Friday. During a conversation with lawyer Jack Scarola, Guiffre said she was on the island with Epstein and Clinton. "Ghislane, Emmy [another girl who was allegedly a regular at Epstein's house], and there was 2 young girls that I could identify. I never really knew them well anyways. It was just 2 girls from New York," Guiffre said. She told Scarola that Clinton stayed in Epstein's home with the other women and that she had a recollection of Epstein telling her that Clinton "owes me favors." However, she wasn't told what the favors were and she said she wasn't sure if Epstein was being serious about it or if it was a joke.
Mikhail Khachaturyan's body was found on a staircase in a Moscow apartment block in July 2018, with dozens of knife wounds to his chest and neck. A few hours before his death, he had returned from a psychiatric clinic, lined up his three daughters to chastise them for the messy apartment and pepper-sprayed their faces, according to investigators and the sisters' lawyers. His eldest daughter Krestina, who has asthma, fainted. That was the night that the Khachaturyan sisters — Krestina, 19, Angelina, 18, and Maria, 17 — decided to kill their father. They attacked him with a hammer, a knife, and the same can of pepper spray he had turned on them earlier. The next day the three were arrested and confessed to the killing, saying they had endured years of sexual, physical and emotional abuse from their father, according to their lawyers and the Russian prosecutor general's office. Last summer the sisters were indicted on charges of premeditated murder, sparking an uproar among activists in Russia, which is grappling with a far-reaching domestic abuse problem. Legal proceedings against the sisters began on Friday, and are expected to continue for some time. The prosecution requested that sisters be banned from taking part in public events — there are several demonstrations planned in their support — and extend bans on internet access and talking to the media, each other and other participants of the trial for six months.
Local fishermen found 11 pilot whales stranded on Lie Jaka and Bekel beaches in Ledeunu subdistrict, Sabu Raijua regency, East Nusa Tenggara, Indonesia on Thursday morning. Only one made its way to the open sea while the other 10 died. "A fisherman identified as Riwu Willa found five whales at first while looking for seaweed in Lie Jaka Beach. Other fishermen then found another six around a dock in Bekel Beach, "Sabu Raijua Police chief Adj. Sr. Comr. Jack Seubelan said on Thursday. Authorities later buried the dead whales at the beach, but only after locals had cut up four of them and distributed the meat. The burial was done on Thursday by residents who were guided by officials of the Kupang Water Conservation Area Agency (BKKPN) by phone as they could not arrive at the beach until the next day.
A senior executive for pharmaceutical giant AstraZeneca has confirmed that his company cannot face legal action for any potential side effects caused by its Covid vaccine. Those affected will have no legal recourse. AstraZeneca is one of 25 pharmaceutical companies worldwide already testing their Covid vaccines on humans, in preparation for injecting hundreds of millions of people. These are flush times for Britain's largest pharmaceutical company, worth something in the order of £70 million. They have just reported bumper profits of $12.6 billion in the last six months alone. But despite its healthy balance sheet, AstraZeneca is unwilling to be held responsible for any potential side effects of its 'hopeful' vaccine candidate. In other words, the company is completely protected, or indemnified, against lawsuits from people who are injected with their vaccine and experience negative effects, regardless of how severe or long-lasting they are.
The blood sport 'gives identity to the municipality of Tianguistengo,' the mayor declares cockfighting 'a cultural asset'. In Mexico the tradition of cockfighting is present in the states of Aguascalientes, Campeche, Chihuahua, State of Mexico, Hidalgo, Jalisco, Michoacan, Puebla, San Luis Potosi, Veracruz, Yucatan, Zacatecas and no state animal protection law establishes a prohibition for it. The fights of roosters have different conceptions: sport, hobby, business or show, game of chance, bet, cultural and social element; and they are very controversial because they can generate passion or disapproval of the modern Mexican population.
News Burst 1-2 August 2020 – Bonus IMG
Aliens built the pyramids obv

— Elon Musk (@elonmusk) July 31, 2020
Elon Musk took to Twitter on Thursday night to share some historical knowledge that few dare to talk about. "Aliens built the pyramids [obviously]," the Tesla and SpaceX founder wrote, hinting that Pharaoh Ramses II was probably out of this world too.
News Burst 1-2 August 2020 – Bonus Video
Apple Fire
Massive fire ongoing in South California, named 'Apple Fire'. The fire broke out exactly above the San Andreas Fault and coincidentally other did the same along the faults in the area.
News Burst 1-2 August 2020 – Solar Activity
A new sunspot is emerging near the sun's northeastern limb. Tentatively numbered AR2769, the fast-growing 'spot is inset in this magnetic map of the sun's surface from NASA's Solar Dynamics Observatory. The sunspot's magnetic polarity (-/+) marks it as a member of Solar Cycle 25. This is 12th time this year that a sunspot from the new cycle has appeared, a clear sign that Solar Cycle 25 is coming to life. AR2769 is crackling with minor B-class solar flares. This activity could intensify as the sunspot continues to grow.
News Burst 1-2 August 2020 – Active Weather
Tropical Storm Hagupit​
Hagupit located East of Taiwan will edge closer to the east China coast in the next couple of days. Wind 45-65 Kts Pressure 996 hPa Moving NW at 8 kts Slowly intensifying.
News Burst 1-2 August 2020​ – Earthquakes
Europe – M4.6 Azores Islands
---
Africa – M4.8 Southwest Indian Ridge
---
North America – M4.9 Alaska
---
Central America – M4.4 Mexico
---
South America – M5.0 Venezuela
---
Asia – M4.9 Indonesia
---
Pacific – M6.0 Papua New Guinea
---
Deepest EQ – M6.4 479 km Philippines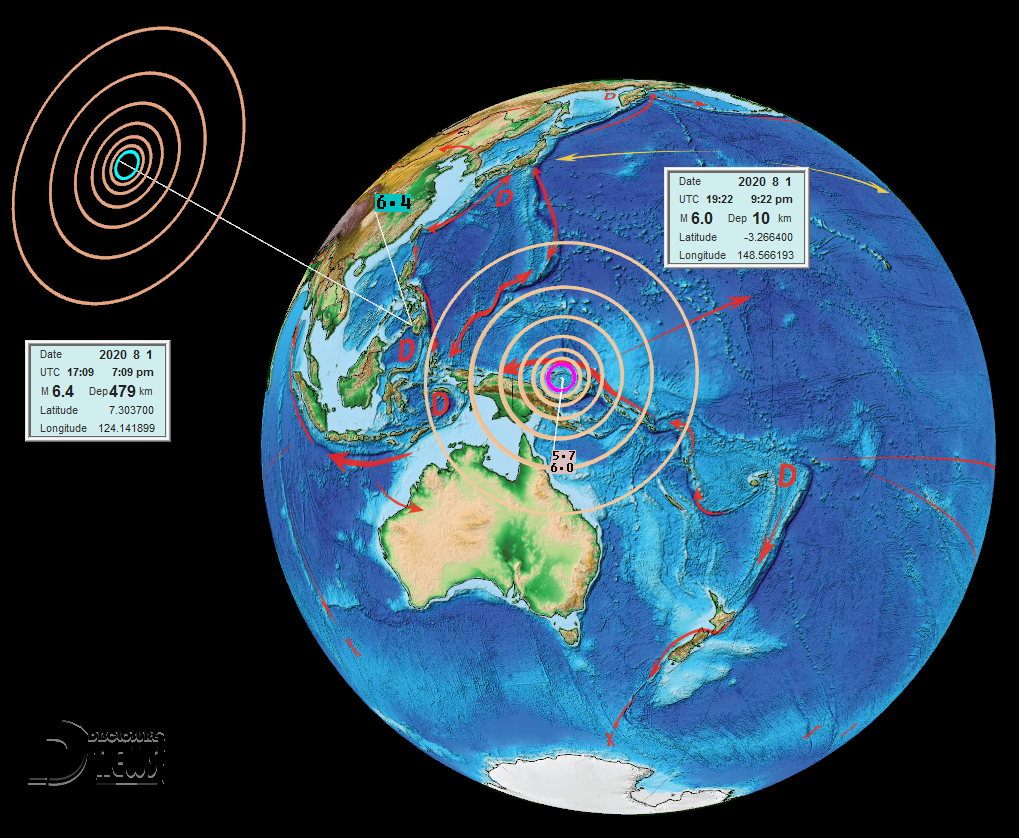 Strong push from below in the West Pacific, possible large shallow earthquakes in the surrounding areas.
Earthquakes Last 24 Hours – M4 and Above
Using drones equipped with these lidars, the archaeologists managed to pierce through the thick foliage of the Peruvian jungle and detect the structures buried near of the ceremonial site Chachabamba.
The number of places to search for life in our solar system could be expanded as scientists said they've discovered "compelling evidence" of a "stealth ocean world" on Saturn's icy moon of Mimas.
Hubble Telescope has spotted a black hole engaged in the formation of new stars, rather than swallowing them up.
Clicks on the Ads Keep Us Alive ✨
Flies
Flies never rest, because there's so much shit.
Alda Merini
2022 Server & Site Tech Support 4200 €

51%

51%
Support Disclosure News Italia
We are working hard, and every day, to keep this blog. Like you we are fighting for the truth. If you want to work with us you are welcome, please email us! The blog costs are at our expense, advertising reimburse us very marginally so if you like our work and find it useful buy us a coffee clicking the donation button below that will direct you to your PayPal. We need the help of people like you!
Bitcoin & Cryptocurrencies Donation
1M9dohWnHBwNLSPd6afRaJackrw6wK9bxY