QAnon Update February 10 – The Countdown Has Begun
QAnon Update February 10 – The Countdown Has Begun. By Interstellar. Source 8Chan. Updated 22:22 UTC
Clicks on the Ads Keep Us Alive 🙂
Q !!mG7VJxZNCI ID: 4ba8cc No.5099089 Feb 10 2019 02:12:49 (UTC)
Dems, MSM, & Big Tech blame Russia for everything to divert public attention from the TRUTH. Q posts questions to get us to think for ourselves & do OUR OWN research. Fake new media is the real "GARBAGE" & enemy of the people.
#QAnon post No. 2678…
Link to #NBCNews #Twitter/#Q hit piece.
#Russia continues to be used by #DSMedia & #Minions from the #Swamp. As the news isn't, they can only be seen for what they are, the #EnemyOfThePeople!
Once again FakeNews tries to downplay Q and label it a whack conspiracy. Connects it to pizzagate. Blames "Russian trolls".
Q !!mG7VJxZNCI ID: 4ba8cc No.5099142 Feb 10 2019 02:15:15 (UTC)
Q linked to NASA Countdown 101 which explains countdowns & pauses or built-in "holds" that don't impact overall sked.
Q drop 2676 ref'd "[-30]" re: Mueller probe conclusion.
Guessing Q is letting us know there are built-in "holds" in The Plan.
Interesting post by Q. NASA shuttle countdown pauses from time to time to allow for targeting of precise window. Q correlating to the great awakening. Q was silent for a little while to allow for certain tasks to complete without impacting overall schedule.
#QAnon – No, there's been no failure to launch:
"Pauses in countdown, or "holds," are built into countdown to allow launch team to target a precise launch window, & cushion of time for certain tasks & procedures without impacting overall schedule."
Q !!mG7VJxZNCI ID: f9fa3a No.5100113 Feb 10 2019 03:05:00 (UTC)
Mueller "BLOCKADE" end is near. Yesterday during hearing Whitaker confirmed Horowitz/Huber investigating CP FISA abuse & other "matters" (U1, HRC emails, CF).
He also told former AG Ed Meese on Wed about Huber's investigation.
Correction: Whitaker met w/Meese on 2 Jan (not last Wed).
"...the source could not confirm to CNN when Huber will finish his investigation, or whether he has been able to substantiate any of the GOP's allegations."
Good catch, @M2Madness! Not sure if intentional & if so, what it implies but there was an 11 Feb 2018 post with her name only & no context.
Q !UW.yye1fxo No.83 Feb 11 2018 21:12:25 (UTC)

Ruth Bader Ginsburg.
Q
#QAnon suggests we read between the lines (below), because, once the blockade ends, we are good to go.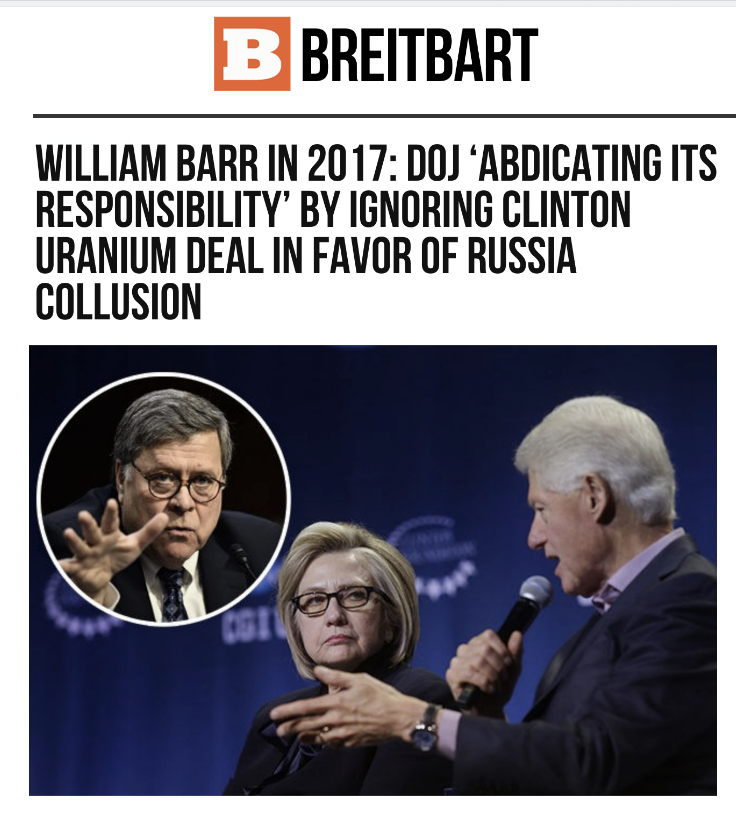 #QAnon #Q Coincidence?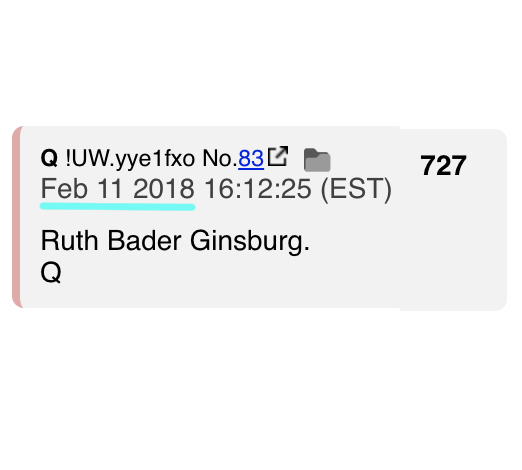 Q !!mG7VJxZNCI ID: acc52d No.5101092 Feb 10 2019 03:54:04 (UTC)
[-30]
[-45]
[-60]
[-90]
-Blockade removal ['Scaramucci' model]
–[RR] removal [Goodbye #2 [#1 _ oversight of Mueller]
–[Ohr] removal
–[1-4] removal
-Barr install
-Barr (w/ Whitaker) review [RR] notes re: strong reservations to DECLAS due to sources & methods + Foreign CLAS (irreparable harm) > OIG review prior to executing order
-Barr (w/ Whitaker) pull DECLAS review assignment from OIG [cite: executive order from POTUS does not require special oversight – DOJ/FBI (Wray) fully capable in reviewing and commenting re: OP integrity (sources & methods) etc.]
-Barr executes order to DECLAS + provide members of H committee long requested supplemental documentation in C setting [scope memo + CLAS] as required by US Law.
-Whitaker remain DOJ senior staff
-Barr meeting Huber & OIG
-OIG report
-House D's threaten subpoena of Barr/Whitaker re: DECLAS, SC report, Huber, etc….
-House D's use subpoena power to ……………………Acts 1, 2, and 3. [spill +30]
-Meeting w/ NK > DENUC plan/process > sanctions lift meets subj A, B food for people (aid)
UK/AUS narrative shift re: in_country spy campaign v. POTUS (hops 1 to 2; 2 to 3; 3 to 4; 4 to target)
-D sky is falling push to public (scare to control)(projection)
-Public Awakening
-Narrative damage control
-Placeholders active
-Wall discussion end (public awareness of D's)
-Red/Green Castle per orig plan
Dark to Light.
Q
Part 1: Countdown markers over next 90 days? Whitaker temp AAG role was to clean house at DOJ. Remove Mueller blockade (incl RR, Ohr, + 1-4?). Barr & Whitaker know [RR] excuses to stall DECLAS not legit. Wray capable of making determination re: DECLAS repercussions.
Part 2: Barr to DECLAS & give 2nd (redacted) SC scope memo to H Intel Cmte. Barr to meet w/OIG & Huber. OIG rpt complete. Dems will use subpoenas to stall release. NK de-nuke plans/process > lift sanctions & provide aid. UK/AUS to shift narrative away fm FVEY spying on POTUS.
Part 3. Dems to push more fake ("Russia"!) news projecting their treasonous activities on POTUS. People catching on & waking up. Wall debate will end on 15 Feb > exposed Dems' irrational position. Army Corps of Engineers will finish building the wall.
"Placeholders active" indicates we will soon see the items outlined on the /patriotsfight/ read-only board unfolding in the news. Lots of "future proves past" incoming!
#QAnon post No. 2681…
This is #ThePlan. All of the drops & events that have lead us to research & raise the level of understanding of both the overall concept & the reason for the step by step exposure of the facts, so that the sleepers would be exposed slowly, ushering them along, toward the #GreatAwakening.
An overview, of #GeoPoliticalChess, is laid out in this drop & presents in a less obtuse, how2 formulae.
From temp appointment scenarios to #RR's removal, #Barr & #Whitaker engaged in the #DECLAS logistics, Whitaker stays, Barr is meeting w/ #Huber & #Horowitz's crew, further #OIGReports & more.
It wraps up w/the expected #Dem reactionary #Panics, positive #NK talks, #UK/#Aus #FVEY's, & the continued damage control efforts that will be forthcoming from #DSMedia & the #GreaterSwamp. As well, there are efforts, w/in the plan, 2redirect or cease #FakeNews narratives as they surface.
All is moving w/military precision, as expected, according to #ThePlan.
The #BorderWall talks are close.
#Youtube link to a great vid ==> This Video Will Get Donald Trump Elected.
Complex post by Q. Certainly not the first. Appears Q giving us a timeline of what to expect in next 90 days. However, #qanon also reminding us this timeline can be paused (think nasa shuttle countdown – previous post) to allow events to track with military planning.
Q told us to read between lines. Mueller/Rosenstein blockade about to end. Whitaker was put in place to handle the removal of this RR mueller blockade. Timing is right on target. Qanon was silent past couple weeks to allow events to catch up to timeline; also, keep in mind that Huber investigation is vast and spans 50 states and involves 470+ lawyers and investigators. @potus and Qanon timeframe likely revolves around Huber's investigation and prosecution. "Holds" must be built into timeline as NASA does with shuttle launch.
AAG Whitaker removed Rosenstein (or is about to remove him) from Mueller oversight meaning AG now oversees Mueller. He also removed Ohr and numbers 1-4 in power behind Ohr at DOJ. Next step: Barr becomes new AG after blockades removed and bad actors cleaned out from DOJ. Both Barr and Whit review Rosenstein notes regarding why he would not declassify FISA and OIG report.
Barr will then pull the responsibility of reviewing the FISA and reports from OIG based on @potus order to declass. Wray capable of ensuring there is no classified material being disclosed that would harm US operations or sources.
Barr follows procedures and law and provides to House committee in closed session to review. House committee on intel will try to quash and prevent declass of FISA and OIG report. Whitaker stays on as senior DOJ attorney to help Barr wade through battle And yes we could be dealing with hours and not days t minus 90 hours. I hope so. With q referring to placeholders being in place, I tend to think we are dealing with days since it will take time for all of this disclosure to come out on each "placeholder" item.
#QAnon gives us the countdown markers for the next 90 days. Whitaker's acting AG role was to clean house at DOJ & remove the Mueller blockade, including RRosenstein, Ohr, & "1-4″(?). Barr & Whitaker onto RR's excuses to stall DECLASsification. Wray capable of determining.
Once Barr's installed, he'll (w/ Whitaker) review [RR]'s notes on his reservations to DECLAS due to sources & methods + (irreparable harm) to FORN CLAS & pull the DECLAS review assignment from OIG citing that a POTUS EO doesn't require IG oversight of ops integrity.
Barr will execute our President's order to DECLASsify + provide members of House committee the long-requested supplemental documentation in classified setting [the SC "scope memo" + the dox CLASsification] as required by US Law.
Whitaker is slated to remain on DOJ senior staff, and, Barr meeting Huber & OIG, then, the OIG report, [spill in +30]. But, the House D's threaten to subpoena Barr/Whitaker re: the DECLAS, SC report, Huber, etc….
House D's'll use subpoenas to stretch over 3 acts.
The North Korea de-nuke plans to progress to lifting sanctions for aid. UK and Australia to shift narrative away from #FiveEyes spying on POTUS in our country by using the "hops" from peripheral figures concentrically to bullseye our President as Adm Rogers revealed.
Dem's will push their sky is falling narrative to scare and attempt to control the public through the media, and project their treasonous activities onto our POTUS. But, the public are awakening, and narrative damage control is in place.
The 11/11 placeholders are active and slated within the countdown markers.
Q !!mG7VJxZNCI ID: 39082e No.5109544 Feb 10 2019 20:53:21 (UTC)
https://thehill.com/opinion/white-house/429292-the-case-for-russia-collusion-against-the-democrats
Define 'Projection'.
How do you fix something that is known to be broken (corrupt)?
Do you first need to remove those responsible?
Think FBI/DOJ 'exit' list.
How do you 'restore' the image (public faith) of our most prestigious 'law enforcement' institutions?
Hold people accountable?
Equal justice under the law?
The battle begins (as seen today) w/ public opinion.
The FIGHT to win PUBLIC FAVORABILITY.
The FIGHT to control the NARRATIVE.
How do D's control the NARRATIVE?
1) FAKE NEWS MEDIA push of 'by design' narrative [daily updates – 4am]
2) FAKEWOOD echo of 'by design' narrative
3) SOCIAL MEDIA stream/promote of 'by design' narrative + censor/block/ban of challenger(s) of that narrative
Do they provide evidence to support their conclusions?
POTUS/RUSSIA narrative – evidence?
None.
POTUS racist narrative – evidence?
None.
POTUS …………(you can play this game all day long)
'None'.
What do they count on?
How many experiments have been conducted by the C_A re: mind control?
Psych 101: If you hear & see something over and over again by multiple (supposedly credible) news agencies, elected officials, actors/actresses, documentaries on TV, movies, internet, social media, foreign press etc. all pushing the same narrative/conclusions…….what happens?
Do FACT-LESS claims become FACTS in the minds of many?
Do they count on the fact that w/ work, family, stresses of life, etc. that the typical person does not have enough time in the day to research topics for themselves and therefore would believe narratives projected in the echo chamber w/o the need to provide facts or substance other than opinion?
Why do they try so hard to keep you DIVIDED by race, gender, class, ……?
Notice an increase in this push over the past 2-years?
Are you stronger together/UNITED or DIVIDED?
If you dare to challenge their narrative are you cast out [banned] by society as a threat/conspiracy theorist etc..?
Are you cast out by members of your own family?
'DIVIDED'
'Group-Think'
THEY DO NOT WANT YOU TO THINK FOR YOURSELF.
A FREE-THINKING 'LOGICAL' PERSON WHO DRAWS CONCLUSIONS BASED ON FACTS ARE, PUT SIMPLY, A THREAT TO THEIR CONTROL/POWER GRIP.
ALL THEY CARE ABOUT IS CONTROL [I.E. POWER].
WITH CONTROL COMES PERSONAL GAIN.
They want to keep you poor and in need of government assistance.
Bigger the gov't, the more CONTROL they have, the more POWER they possess.
When you are in need, you are weak.
When you are weak, you are not strong.
When you are not strong, you do not FIGHT BACK.
This is as real as it gets.
They never thought she would lose.
Why? See above re: Control.
Transparency is the only way forward.
Transparency is the only way to PROVE TO THE PUBLIC that everything SOLD TO YOU as TRUTH was nothing but a FAKE NARRATIVE DESIGNED TO KEEP, YOU, THE PEOPLE, POWERLESS, AND KEEP THEM, IN CONTROL [I.E. IN POWER].
FAKE NEWS' [propaganda arm of the Democrat machine] sole responsibility is to prevent the TRUTH from ever being disseminated to the masses.
Mass Infiltration (everywhere).
Transparency is the only way forward re: public opinion.
Prosecution is the only way forward re: save & defend the rule of law.
Prosecution and Transparency is the only way to save our way of life.
Q
Part 1. Premise of Trump-Russia collusion hoax was classic projection to divert focus fm REAL HRC-Russia collusion. Once guilty parties indicted/prosecuted, public trust restored. MSM, H-wood, Social Media push propaganda to hide the TRUTH from the public.
Part 2. C_A has used mind control for decades. Repetition of lies fm MSM, H-wood, schools, celebs, etc. creates false reality for many. [They] want to divide us knowing a divided nation is easier to conquer. TRUTH is their enemy. This is why they attack POTUS (& Q).
Part 3. D's have ripped off their mask & showing their true socialist colors. [They] tout "transparency" but really want only to cover up their crimes & push fake crimes onto POTUS. Prosecution & Transparency will be the long-overdue nail in the D Party's coffin.
New Q post (2682).
#Qanon thread for 2/10/19 – stage is set. As Q has posted many times, Democrats operate via projection…they project their crimes and prejudices onto patriots. The real Russia collusion is between the Democrats and Russia.
Q cites to a brilliant article published by the Hill laying out a strong case for collusion between the Clintons and Russia via Uranium 1/Rosatom. Bill Clinton received $500k donation from Rosatom for a speech at same time HRC was crawling into bed with the Russians.
Ample evidence of concern for espionage was raised via EU think tank, but this did not stop the Clintons. Q saying the stage is set to disclose the U1 treason of the Clintons. Q references back to list of fired FBI officials. Only way forward to is to first clean house of all bad apples; only way to fix system is to remove all bad actors; corrupt FBI/DOJ prevents repair. Only way to restore trust and respect for FBI/DOJ is to show public these bad seeds are not above the law and they will be prosecuted for treason to full extent of law.
Under the powers of the "Old Guard", equal justice under the law has not been applied; instead, a "pay for play" system reigned; if you were a deep state participant and/or paid into the system, justice worked for you. We are watching a systematic destruction of the Old Guard @Potus is recapturing the public narrative and wresting it away from the Deep State. The Dems have controlled the public narrative through deceit, manipulation, blackmail, mind control, dictatorial power, division (along race, wealth, gender, religion).
Dems have had an unfair advantage for far too long. 4am memos circulated from CIA to FakeNews to keep narrative uniform; FakeNews and Fakewood follow marching orders and propagate Dem talking points; social media giants further control narrative and censor any challenges to narrative.
Zero evidence supporting their narrative; they implement the narrative and control it through specific mind control/persuasion techniques developed and refined for years by the CIA. Qanon told us about the types of experiments conducted by CIA on citizens in prior posts.
They count on the narrative becoming ingrained in the public's mind through years of repetition by "trusted" sources, many who who are inserted as controlled opposition (think @JackPosobiec , Alex Jones, @Cernovich ); the public wants to believe that politicians on right and love our Country and that they just disagree on political issues like taxes, religion, etc. They have been programmed and taught to believe what the FakeNews and FakeWood feeds them day after day.
The Deep State relies on the fact that the public is busy with work, life, etc. and does not have time to research and investigate as patriots and anons do; what happens when you turn off the tv, shut off the FakeNews, and began to research an issue like pizzagate for example? U WAKE UP to the truth and realize you have been lied to and lulled to sleep.
Patriots united are unstoppable; the Democrat taskmasters fear a united public united around truth and exposing of lies and treason. They've worked overtime to keep the public divided the last 2 years of Pres Trump's presidency to weaken the patriot movement; the only way they win is by keeping us divided; they see their power has slipped away; they see that 350 million patriots worldwide are awake; this truth terrifies the Cabal to their core.
@realDonaldTrump and hundreds of million patriots are an existential threat to the Old Guard. The Cabal teaches their "sheep" to label anyone who bucks the system or questions the narrative as conspiracy nuts.
The FakeNews and Fakewood run with the conspiracy label and repeat it over and over about a matter like Qanon or pizzagate. The CIA then implements MK Ultra and uses a mind control victim to carry out a shooting or a mass casualty event in the name of Qanon or pizzagate, and then associates every patriot with that person.
Our families fall for it and many want nothing to do with you if you dare question the narrative or follow Qanon. A free thinking patriot is a threat to their power structure, their socialist system, their piggy bank. they will kill all of us and destroy hundreds of millions of people before giving up their power and control. With control comes power…think Clintons and Hussein they accumulated wealth through power of their positions. They then maintain power after they are out of office and increase their wealth. They believe they are gods (royal bloodlines), and the rest of us exist as sheep to serve them and satiate their perverted lusts.
The Democrats never thought Hillary would lose because they have maintained control of the narrative and the sheep for generations…They never anticipated @Potus and the US Military would implement the first part of the "Great Awakening". Transparency is key.
LIght shines in the darkness and the darkness cannot comprehend it. Prosecution of the Deep state is essential so the public will know the truth and will know that even those in power who have gamed the system for so long will be brought to justice. It is happening. Jail Time/Execution.
Q !!mG7VJxZNCI ID: c3856a No.5110466 Feb 10 2019 21:52:24 (UTC)
Would you know if not posted by individuals on social media?
FAKE NEWS attempting to 'CONTROL' the narrative by not providing coverage?
Do the protests in EU go against the narrative that majority of people are for globalism, open borders, and mass immigration?
1. Dilution of citizen voice
2. Dilution of citizen vote
3. Dilution of national independence
>Police turned against its own citizens
>Citizens turned against its own police
>People v People
Controlled media > prevent mass awareness
If the news doesn't report the facts (ie, truth) – how do people get informed in order to be heard?
Silence the people.
Localize disruption.
Target leaders of disruption (quietly take action).
Deploy scare tactics & political cross-talk
Control volume.
The media no longer represents the will of the people.
Think for yourself.
Research for yourself.
Trust yourself.
Sheep no more.
Q
MSM doesn't want us to know protests against globalism are occurring worldwide; it goes against their false narrative that most people support globalism, open borders, & mass migration. If it weren't for social media, nobody would know about this.
Qanon post 2683
But for social media, 8chan, twitter, etc, we would have no way of knowing that patriots all over the world are fighting back against the "Old Guard"…this is what the Cabal did not account for in 2016. FakeNews will not cover these historic events.
Q sets out the strategy of the Cabal to squash patriots…it's not working; patriots all over the world are done with being controlled by the elite few who want to cram socialism down our throats to maintain power and enrich themselves. The public must wake up; What is happening in Europe is massive and unprecedented.
Had Hillary been elected, we would see the exact same thing in the US right now; thank God for president @realDonaldTrump and the US Military and patriots like @GenFlynn ; be wary of people even on the right who try to steer you from truth or who try to build a following to enrich themselves or who have ulterior motives. Be wise. Be careful about believing people because of their popularity or their identity. use your mind. Ask God for wisdom.
Q !!mG7VJxZNCI ID: c3856a No.5110730 Feb 10 2019 22:04:06 (EST)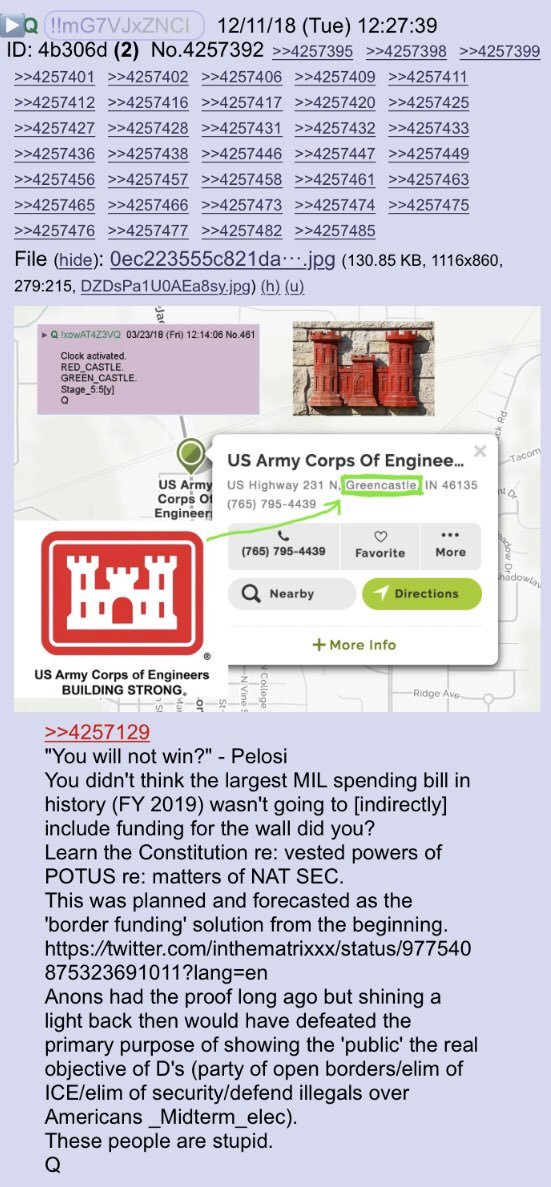 "President is on sound legal ground to declare a National Emergency. There have been 58 National Emergencies declared since the law was enacted in 1976, and 31 right now that are currently active, so this is hardly unprecedented." Congressman @tommcclintock

— Donald J. Trump (@realDonaldTrump) February 10, 2019
Stage set?
Public border-wall fight necessary to bring public awareness re: true intentions of D party.
Anons knew?
Narrative Fight.
Dark to Light.
Q
We've known the plan was always going to be to have Army Corps of Engineers build the wall. The shutdown showdowns are to help wake more people up to the fact that Dems don't want to secure the border. Drug & human trafficking are big business. They also want illegals' votes.
Qanon post 2684
Red Castle Green Castle – wall is being built by the US Army Corp of Engineers; plan is being implemented; military precision; @Potus could have declared Natl Emergency a couple of months ago. Why did he not: to expose motives of the Democrats.
American Public now see why the Democrats do not want a wall…cuts off their supply of voters, trafficking, and drugs. @Potus has exposed true intentions of Democrats relating to illegal immigration and abortion within a matter of weeks, and he will still build the Wall.
QAnon T-Shirt - PAIN!
Support DNI with our Hand Screen Printed T-Sihrt
Colors Available: Black, White (others on request)
Size Available: S M L XL XXL
Pure Cotton 130 g.
Shipping Included
Payment via PayPal (Specify Size, Color and Shipping Address)
Clicks on the Ads Keep Us Alive 🙂
Creativity
I'm always thinking about creating. My future starts when I wake up every morning... Every day I find something creative to do with my life.
Miles Davis
2019 Server Cost Support - 2400 €

90%

90%
Support Disclosure News Italia
We are working hard, and every day, to keep this blog. Like you we are fighting for the truth. If you want to work with us you are welcome, please email us! The blog costs are at our expense, advertising reimburse us very marginally so if you like our work and find it useful buy usacoffee clicking the donation button below that will directu to your PayPal. We need the help of people like you!
Bitcoin & Cryptocurrencies Donation
1M9dohWnHBwNLSPd6afRaJackrw6wK9bxY
Flower of Life Sticker Pack - 10 Stickers - 5 White 5 Black 9.5 x 9.5 cm