QAnon Update December 21 – Syria
Clicks on the Ads Keep Us Alive 🙂
Q !!mG7VJxZNCI ID: 28b403 No.4400956 Dec 21 2018 02:02:56 (UTC)
Rogers departure. Intel.
Sessions departure. Law.
Kelly departure. Warfare/MIL
Mattis departure. Warfare/MIL
Notice a pattern?
Q
OH, HELL YEAH!
Adm Rogers (& military intel) + Sessions (investigations) = KEY (info).
Kelly & Mattis w/POTUS & military = STONE.
We have the Keystone.
Military Tribunals coming soon.
For those confused about Keystone. This is my understanding.
KEY = info/intel.
STONE = force/strength > power to act on info/intel.
ADM Rogers & NSA military intel + info fm Sessions' investigations = KEY.
Kelly/Mattis + POTUS & military = STONE.
KEY + STONE = KEYSTONE.
QAnon Update December 21 - Syria
Q !!mG7VJxZNCI ID: 28b403 No.4401036 Dec 21 2018 02:05:49 (UTC)
Chemical attack in Syria?
Public 'pull out' of troops in Syria….
History will not repeat itself this time.
Q
Re-read past drops on Syria.
https://qanon.pub/?q=Syria
Last time @realDonaldTrump announced intent to pull troops out of Syria, DS launched FF chem attack to keep us there. No Name made secret trip to Syria 2 months earlier.
QAnon Update December 21 - Syria
Q !!mG7VJxZNCI ID: 9cade3 No.4408964 Dec 21 2018 15:42:54 (UTC)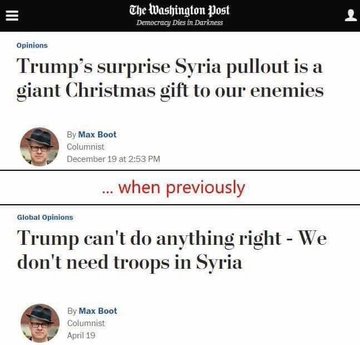 Why do people trust the FAKE NEWS media?
Anons can play this game all day long.
Compare & Contrast.
FAKE! FAKE! FAKE!
Q
Max Boot can't make up his mind. Just another Nevertrump propagandist who happens to be a Sr Fellow in Nat'l Security Studies at CFR, & was foreign policy adviser to No Name in his 2008 presidential election bid. Go figure.
https://en.m.wikipedia.org/wiki/Max_Boot
QAnon Update December 21 - Syria
#QAnon post No. 2639…
When these began they carried the label side by sides. We're looking at 2 articles from #WaPoClown, #DSMinion #MaxBoot. The flip in the #TalkingPoint #Narrative is plainly evident.
QAnon Update December 21 - Syria
Q blasts FakeNews reports on @Potus pull out of Syria. Of course Max Boot is there to peddle the crud they dish out. We know the game. If FakeNews says it, the reverse is true.
QAnon Update December 21 - Syria
Q !!mG7VJxZNCI ID: 879143 No.4409412 Dec 21 2018 16:12:27 (UTC)
Actions have consequences, and whether we're in Syria or not, the people who want to harm us are there & at war. Isolationism is weakness. Empowering ISIS is dangerous. Playing into Russia & Iran's hands is foolish. This President is putting our national security at grave risk.

— Hillary Clinton (@HillaryClinton) December 21, 2018
HUSSEIN "ISIS JV TEAM…."
Did ISIS form on HUSSEIN's watch?
Did HUSSEIN take care of business or allow them to expand?
How long did it take POTUS to ERADICATE and DESTROY ISIS?
THE AMERICAN PEOPLE ARE WAKING UP TO THE TRUTH.
https://www.investors.com/politics/editorials/197-military-officers-purged-by-obama/
Why did HUSSEIN attempt to destroy our military (weaken)?
What was the 16-year plan to destroy America?
Why did HUSSEIN install traitors at the highest levels of our Gov't?
Think DOJ.
Think FBI.
Think C_A.
Think NAT SEC.
Why did HUSSEIN bring people into the WH who HATE AMERICA and what we stand for?
What years did HRC serve as Sec of State?
What years did ISIS expand?
Why did HUSSEIN put restrictions on US MIL COMMAND re: ABILITY TO ATTACK TARGETS AT WILL > WH DIRECT APPROVAL REQ FOR EACH ACTION?
FACTS NOT FICTION.
BLIND SHEEP FOLLOW.
EYES ON TARGET.
Q
#QAnon post No. 2640…
#HRC #Tweets #Playbook spin. #Nonsense
#Hussein enabled the structuring of #ISIS, as he funded them & aided by keeping our military engagements from them. Militarily speaking, both he & his gang were junior leaguers driven by fanaticism.
Link to story we all remember, the #HusseinMilPurges!
The 16 year plan to destroy #America was to be brought home by #Hillary. They never thought she would lose!
#Hussein worked a #SeditiousAgenda to establish #Socialism in the least & a #Caliphate at best. This was the #NWOGlobalist Plan. During 2009 to 2013, #HRC worked for #ThePlan & personal gain while living the life of #TheGrandDame & exposing her as a #NarsisisticSociopath.
#Hussein had a phone & a pen, & worked endlessly to forward his masters goals.
The #GreatAwakening is here!
QAnon Update December 21 - Syria
Q posts Hillary's Twitter post calling out @Potus for pulling our troops from Syria. This sickens me; both Hillary and Hussein funded and formed ISIS (indirectly via Saudis and other Jihadis) as Qanon told us months ago. She is evil and demented! Husssein called ISIS JV!
Hussein let ISIS thrive and referred to them as "JV"…@Potus came in and wiped ISIS out (the core of ISIS) in a few weeks. Hussein attempted to destroy the US military because it was the last roadblock to globalists taking over the world and implementing the NWO.
Our amazing military suffered mightily under Hussein. There is no way he was not intentionally trying to destroy the greatest fighting force the world has ever known. The article Q posted demonstrates the manner in which Hussein tried to take out the military via the Generals.
Qanon is reiterating prior posts where Q discussed the "16 year plan" of Hussein and then Hillary (2nd 8years) to destroy America as we know it. Hussein is evil to the core and traitor! He installed traitors and Islamists in the highest positions in govt (think Brennan).
Hussein hates America and therefore he brought in and appointed people at senior positions in Govt (FBI, CIA, DOJ, etc) who hated America. ISIS expanded while HRC was Sec of State…there is a clear correlation between her time as Sec of State and ISIS expansion (2009-2013). Hussein restricted and tied the hands of the US Military command intentionally and required direct approval for the commanders to engage in warfare and attacks (think Benghazi and Afghanistan).
Q mentions the 16 year plan to destroy America. This was first mentioned by Q on 1/21/18. Hussein accomplished the first 8 years of the plan by weakening and defunding our military and having patriot Generals removed, and by placing traitors in leadership positions. Hussein installed rogue operators at the CIA, FBI, State Dept, DOJ levels. His traitors leaked classified intel to enemies and threats like China and Russia as well as Iran. He shifted command away from Generals by requiring many operation decision involving attacks be approve by him. His "handler" Valerie Jarrett targeted "good guy" patriots in the military and government to remove from positions of power.
They sold off special access programs to rogue intel agencies and governments. Snowden's prism/keyscore was devastating to US Mil; Hussein weakened the conservative base via IRS audits and refusal to approve non-profits (Louis Lerner); as well as constant attacks from MSM. Q goes down the list as to how Hussein was trying to destroy America (open borders, Kill NASA, prevent space domination, WAR).
Q then lists how HRC was going to finish off the USA…It's truly horrific what the deep state was doing through these two evil monsters…they were willing to kill off most of the population of the US to accomplish their evil goal.
QAnon Update December 21 - Syria
Clicks on the Ads Keep Us Alive 🙂
Together
Me only have one ambition, y'know. I only have one thing I really like to see happen. I like to see mankind live together - black, white, Chinese, everyone - that's all.
Bob Marley
2019 Server Cost Support - 2400 €

81%

81%
Support Disclosure News Italia
We are working hard, and every day, to keep this blog. Like you we are fighting for the truth. If you want to work with us you are welcome, please email us! The blog costs are at our expense, advertising reimburse us very marginally so if you like our work and find it useful buy us a coffee clicking the donation button below that will direct to your PayPal. We need the help of people like you!