QAnon July 31 2019 – [24hr Warning]
QAnon July 31 2019 – [24hr Warning]. By Interstellar. Source 8Chan. Updated 10:00 UTC
Clicks on the Ads Keep Us Alive 🙂
Q !!mG7VJxZNCI ID: 231874 No.7266402 Jul 31 2019 00:17:15 (UTC)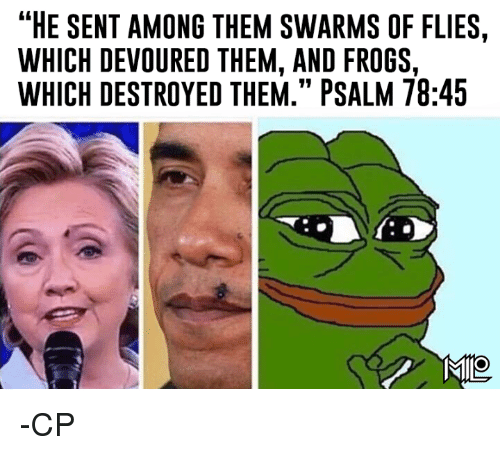 Not sure who "CP" is. Here's some commentary on Psalm 78:45.
#QAnon 3562…
Psalm 78:45 quote.
#DoItQ+
Q !!mG7VJxZNCI ID: 231874 No.7266574 Jul 31 2019 00:23:13 (UTC)
Let us pray that the Lord will free the victims of human trafficking and help us to respond actively to the cry for help of so many of our brothers and sisters who are deprived of their dignity and freedom. #EndHumanTrafficking

— Pope Francis (@Pontifex) July 30, 2019
Godfather III
It's going to be BIBLICAL.
Q
Godfather III: Vatican Storyline Has Real-Life Basis
"It is a story of corruption in all sectors of society, including the Catholic Church, and the Godfather's realization that 'the higher I go, the crookeder it becomes.'"
"The Godfather: Part III (1990) interweaves a fictional account of two real-life events: the 1978 death of Pope John Paul I and the Papal banking scandal of 1981-1982."
#QAnon 3563…
@Pontifex Tweet – Mama always said: If you have nothing good to say…
Q: What real-life events influenced the storyline of "The Godfather: Part III"
One of the hallmarks of The Godfather film trilogy is the fact that many of its characters and plot points are inspired by real-life figures and historical events. The Godfather: Part III (1990) interweaves a fictional account of two real-life events: the 1978 death of Pope John Paul I and the Papal banking scandal of 1981-1982.
Nearing the end of his life, Michael Corleone (Al Pacino) attempts to legitimize his criminal empire and save his soul through charitable acts. One of his latest business ventures involves a stock purchase in International Immobiliare, an international real estate holding company. Now the company's biggest shareholder, Michael offers to buy out the Vatican's 25% share.
Since Archbishop Gilday (Donal Donnelly), head of the Vatican Bank, has accumulated a massive deficit, he is more than willing to take Michael's $600 million offer. However, Pope Paul VI, who is gravely ill, must approve the deal.
International Immobiliare bears a strong resemblance to Società Generale Immobiliare, an Italian real estate and construction company. Originally founded in Turin in 1862, Società Generale Immobiliare then moved to Rome in 1870. Over the years, the Vatican become the company's largest shareholder but sold most of its shares to the American conglomerate Gulf and Western in the late 1960's when it became involved in the Banco Ambrosiano scandal.
Banco Ambrosiano was Italy's second largest privatized bank when it collapsed in 1982. Headquartered in Milan, the Vatican Bank was the financial services' biggest shareholder. Chairman Roberto Calvi, a Milan native, involved the bank in questionable dealings before he was later found hanged by his neck from the Blackfriars Bridge on the edge of the financial district of London.
The Godfather: Part III's Frederick Keinszig (Helmut Berger), Calvi's fictional counterpart, meets the same grisly end. Archbishop Gilday (who shares similarities with Paul Marcinkus, an American archbishop of the Roman Catholic Church who served as the President of the Vatican Bank from 1971 to 1989) is also gunned down by Corleone associate Al Neri (Richard Bright).
However, at the center of all this real-life and fictionalized criminal activity, is the death of Pope Paul VI and his successor, Pope John Paul I. Shortly after arriving in Sicily, Michael gives confession to Cardinal Lamberto (Raf Vallone), who at the time is favored to become the next Pope. Once the Cardinal becomes Pope, his reformist agenda is seen as a threat to the questionable activities taking place behind the scenes. Although Michael ultimately eliminates his former business partners in the Vatican, his actions cannot save the new Pope, who is later found poisoned.
Besides the events surrounding the Papal Banking scandal, there have been many conspiracy theories in regard to what actually led to the real-life death of Pope John Paul I only 33 days after his inauguration. One of these theories claims that Albino Luciani, as he was known before the prestigious position, was murdered by the Soviet Union. Others insist that he was killed due to his intentions to reestablish the Tridentine Mass, which from 1570 to 1962 was the most widely used Mass liturgy in the world. However, this particular rite ended after the introduction of the Mass of Paul VI in 1969.
Q !!mG7VJxZNCI ID: 865964 No.7270476 Jul 31 2019 04:00:46 (UTC)
Article describes texts btwn McCabe & MI5 (UK) intel counterpart Jeremy Fleming re: role UK had in Crossfire Hurricane, "namely the role foreign intelligence services played in the FBI's decision to initiate an investigation into the Trump campaign."
#QAnon 3564…
The Guardian ==> Secret texts cast light on UK's early role in Trump Russia inquiry
Was they mean to say, is the top UK spy agency, helped to create the fabrication known as Russia Collusion.
Secret texts cast light on UKs early role in trump-Russia collusion. Text messages between MCCabe and UK MI5 Jeremy Fleming coming to light and show MI5 and senior leader MCCabe were colluding re taking down.
Guardian basically saying FBI And MI5 has credible evidence to justify investigating Russia collusion and initiating crossfire hurricane. They are acknowledging that Strzok met with Alexander downer but spinning it to coast the true purpose of meeting to get lost in narrative. Their lies are outright BS! GCHQ was suspicions of connections between Trump and Russians. Such a load of crap.
Q !!mG7VJxZNCI ID: 865964 No.7270598 Jul 31 2019 04:08:18 (UTC)
Transcripts are out tomorrow. The first demonstrable proof to show that not only did we not collude, but the whole world was against us and Donald Trump still won in 2016! When it's all said and done, the story will be of a global effort to take us down that backfired big time!

— George Papadopoulos (@GeorgePapa19) July 31, 2019
See Guardian article.
How do you get ahead of a story?
Coincidence?
Q
Wonder how he knew? Who tipped him off about the article?
#QAnon 3565…
@GeorgePapa19 Tweet on the coming start of the DECLAS & how foreign spy agencies engaged in the conspiracy to place a bad actor in the executive seat.
Guardian trying to get ahead of @GeorgePapa19 transcripts coming out tomorrow and trying to shape narrative beforehand. Qanon posts tweet from @GeorgePapa19 about transcripts coming out tomorrow.
Q !!mG7VJxZNCI ID: a8ec29 No.7271105 Jul 31 2019 04:41:49 (UTC)
[24hr Warning]
Be vigilant.
See something.
Say something.
Know your surroundings at all times.
Q
[They] will need a change of news cycle with declassified texts, etc being released to the public. So predictable. Keep your heads on a swivel.
#QAnon 3566…
Q drops an all points 24hr alert…
"Be Vigilant."
False Flags ] ??? [
[they] are in panic mode and know Q is about to drop the MOAB… be prepared
UPDATED 21:15 UTC – USA total pop: 328 million COVID-19 deaths: 100,000 [lockdown] Japan total pop: 126 million [condensed (island)] COVID-19 deaths: 850 [no lockdown] 2 + 2 = 5? Q
UPDATED 20:00 UTC – [D]s in coordination w/ [D]&[F] assets have launched [as known] a full-scale insurgency attack against the people of the United States in an effort to regain power by any means necessary. All assets deployed. [Current landscape] coordinated and deliberate events to impact [rig] P_election. WAR. The future of our Republic is at stake. Survival as a Nation. We Rise or We Die. We, the People. Q
Only when information [truth] becomes free [uncontrolled] will people awaken to the levers of control placed upon them. Only then will people find the will to change. Only then will people regain control [power]. Q
Clicks on the Ads Keep Us Alive 🙂
Impossible
You need to demand the impossible, so the impossible will happen.
Eraclito
2020 Server Cost Support - 3200 €

72%

72%
Support Disclosure News Italia
We are working hard, and every day, to keep this blog. Like you we are fighting for the truth. If you want to work with us you are welcome, please email us! The blog costs are at our expense, advertising reimburse us very marginally so if you like our work and find it useful buy usacoffee clicking the donation button below that will directu to your PayPal. We need the help of people like you!
Bitcoin & Cryptocurrencies Donation
1M9dohWnHBwNLSPd6afRaJackrw6wK9bxY