QAnon July 23 2019 – Change We Can Believe In
QAnon July 23 2019 – Change We Can Believe In. By Interstellar. Source 8Chan. Updated 09:30 UTC
Clicks on the Ads Keep Us Alive 🙂
Q !!mG7VJxZNCI ID: 209dbd No.7150048 Jul 23 2019 21:18:25 (UTC)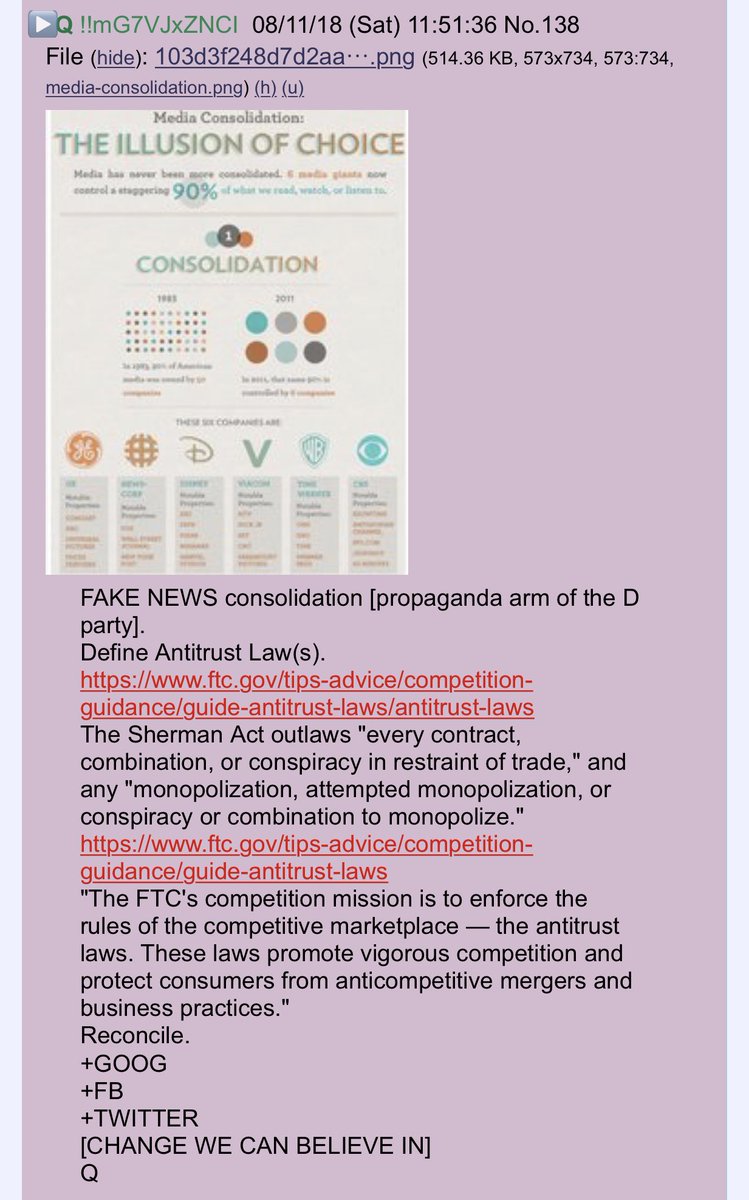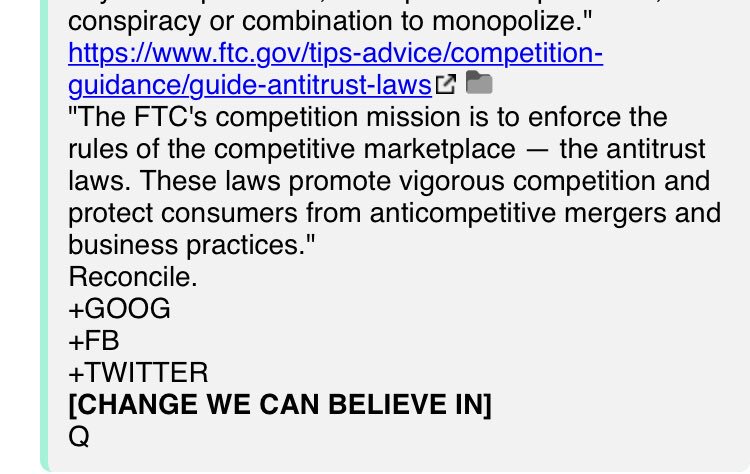 [CHANGE WE CAN BELIEVE IN]
Q
Great news!!
After Barr nails BigTech for violating anti-trust laws (among other illegal activities), here's hoping he goes after MSM!
"Some platforms will collapse under own weight of illegal activities."
#QAnon 3468…
Redrop of 1841 ==> The illusion of choice – re: the corporate hold on media (propaganda) outlets & how big tech & social media platforms are in need of AntiTrust investigations.
2nd image is a detail from 1841, focused on @TrumpStudents Tweet with confirmation of the DOJ's move to investigate Social Media.
"Change we can believe in". Major antitrust suit being prepped to go after social media companies for suppressing conservative voices and break up the monopolies of Goog FB and Twitter. Q of course told us this was coming last year. Wheels of justice move slow… additionally, @potus needed to get his Judges appointed and DOJ cleaned out.
Q laid the predicate in September. Big tech censorship and evidence of same led to the inevitable Anti trust investigation which will result in a DOJ lawsuit which will result in the break up of the social media monopolies and eradication of social media censorship.
Q !!mG7VJxZNCI ID: 38cc52 No.7150840 Jul 23 2019 22:12:14 (UTC)
Targets ('models') made to fill out an extensive background report?
Targets ('models') asked in detail re: family?
Targets ('models') generally 'green lit' based on 'loner' 'insecurity' 'depressed' P_eval?
Targets ('models') generally 'green lit' based on 'humble' 'poorer' family background? [prevent possible 'legal' retaliation]
THE SPIDER-WEB CONNECTS THOSE MOST TRUSTED, THOSE MOST RICH, THOSE MOST POWERFUL, …………..
SAFE?
FREE?
Highest Level Security + MAX Protect
Q
R. Chandler's "models" look miserable, drugged, and/or frightened. They targeted insecure, depressed, poor loners. Info on models & powerful clients was classified at the highest levels providing max protection to those involved.
#QAnon 3469…
@SeanCordicon Tweet ==> How Ray Chandler ties directly to Epstein. She can spot a weak, vulnerable youth.
SeanCordicon… The spiderweb, their machinations, which actions are recorded, lead to the rich, famous & power wielding.
Q links to a twitter account which posts a photo of two of the "models" used by Rachel Chandler. There's a connection between these "sex slaves/models" and Epstein via MC2 modeling agency. Q explains how the cabal targets these girls… sick.
It's quite sad how these poor kids are preyed upon and taken advantage of by these monsters. The little ones have dreams; they want to be valued; they want to be wanted. They see a chance to model and they think this is their big break. They think , wow, someone thinks I'm beautiful enough to be a model… they are rejected or abused by their fathers and/or foster homes in many scenarios, and they fall prey to these monsters. They research out their backgrounds to find those who are compliant victims who can't fight back or can't afford to fight back and then they groom them.
By the time the victims realize it they are already captured and have no way out. It's heart breaking. It's a spider web where they are the prey and the cabal is the predator. The child handlers use these victims to ensnare many others in a black mail situation, or as a form of currency for their elite friends. Who would ever believe a little 13 year old "runaway" against the words of a powerful international player or politician? God knows. God sees. God judges. God is using @potus to rain down his fierce wrath and justice on these child rapists.
Rachel Chandler's miserable drugged, & frightened "models"'re targeted, insecure, downtrodden loners for powerful clients where info was classified at highest levels to provide max protection for the rich & powerful elite. The targets ('models') were made to fill out an extensive background report & asked in detail about their family. They were approved where 'loner', 'insecurity', 'depressed' came out on their eval. Ray Chandler's targets ('models') were approved from 'humble' 'poorer' family backgrounds so as to mitigate potential legal retaliation.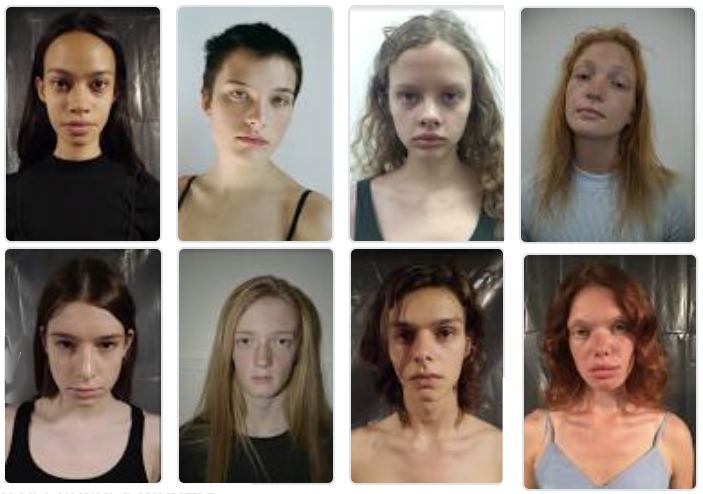 Rachel Chandler's "modeling" agency was really an Ebay for trafficked children. The shop window was Instagram. The customers were the pedowood and DC elite. Epstein was the CEO, Chandler the Director of procurement. They better believe PAIN is coming. NO DEALS!
Q !!mG7VJxZNCI ID: 38cc52 No.7151215 Jul 23 2019 22:35:02 (UTC)
Today I penned a letter to Attorney General William Barr, Deputy Attorney General Jeffrey Rosen, and FBI Director Christopher Wray calling for an investigation into Antifa under the Racketeer Influenced and Corrupt Organizations Act (RICO). pic.twitter.com/ptY0syxPrn

— Senator Ted Cruz (@SenTedCruz) July 23, 2019
Q
Nice to finally see something being done about these Antifa thugs. Thank you, @SenTedCruz! Plenty of video & written evidence of RICO violations. Hopefully this investigation will lead to those who have been funding them (cough, George Soros, cough).
#QAnon 3470…
@SenTedCruz Tweet ==> Antifa needs to be investigated using the RICO Act!
To that, Ted Cruz wrote to AG Barr, DAG Jeffrey Rosen & Christopher Wray calling for action.
Q !!mG7VJxZNCI ID: 02dd3a No.7152657 Jul 23 2019 23:59:31 (UTC)
Breaking: DOJ Russia review targeting key figure, conclusion in Mueller report. Prosecutors seek access to professor Joseph Mifsud to determine if any improper surveillance occurred on George Papadopoulos. https://t.co/OPADMA94C5

— John Solomon (@jsolomonReports) July 23, 2019
Bigger than most realize.
[Be Ready], [Bob]
Q
[So ready!]
"There is now compelling evidence Mueller omitted or misrepresented important facts about Mifsud and Papadopoulos that could change the public's understanding of events. And those aren't the only omissions and factual errors to emerge."
#QAnon 3471…
@jsolomonReports Tweet ==> The DOJ wants to interrogate one of the key early figures, which surfaced in the Mueller report, Joseph Mifsud. Link thru to The Hill's article by John Solomon on Joseph Misfud and the Mueller Report's findings.
Mueller in the kill brackets. Bigger than we know. John Solomon interview linked. Of all the witnesses that allegedly lied during Mueler investigation, Misfud was never prosecuted for perjury and has had no jail time. Mueller used the FBI investigation based on Misfud lies that @GeorgePapa19 was going to connect Russian intel with @potus. In reality Misfud was the one working with the Russians as a double agent to assist laying the false narrative for the Trump Russia collusion. US Attorney Durham has opened investigation into Misfuds lies and Muelers use of time goes lies to build his case against @potus for Russian collusion.
Clicks on the Ads Keep Us Alive 🙂
Dream
You can't reach anything if you don't dream about it. Everything in existence, was before conceived like a dream, everything achieved, was before thought. One thing is sure, if you can't imagine... you can't achieve.
Stephen Littleword
2020 Server Cost Support - 3200 €

44%

44%
Support Disclosure News Italia
We are working hard, and every day, to keep this blog. Like you we are fighting for the truth. If you want to work with us you are welcome, please email us! The blog costs are at our expense, advertising reimburse us very marginally so if you like our work and find it useful buy usacoffee clicking the donation button below that will directu to your PayPal. We need the help of people like you!
Bitcoin & Cryptocurrencies Donation
1M9dohWnHBwNLSPd6afRaJackrw6wK9bxY