QAnon April 25 2019 – Nothing Can Stop What Is Coming
QAnon April 25 2019 – Nothing Can Stop What Is Coming. By Interstellar. Source 8Chan. Updated 10:00 UTC
Clicks on the Ads Keep Us Alive 🙂
Q !!mG7VJxZNCI ID: 6a5197 No.6303277 Apr 25 2019 02:41:21 (UTC)
[11:00]
Listen very carefully to statements made by Joe D.
It's happening.
Q
Posted couple clips already. This is full segment. Di Genova: This was a plot to exonerate HRC and if she lost, frame Trump. Dossier was created KNOWINGLY by Brennan. FISC has relayed findings to DOJ > 4 FBI contractors spied on Rs for 4+ years.
#QAnon 3317…
Link to YouTube video ==> Ingraham Angle – 24th Apr '19.
Text points to 11min into the video where Joe Di Genova begins to break down the conspiracy to circumvent the Constitution and the will of The People.
Wow right on point Q! New QAnon. Q said to listen to Joe Di Genova just now on @IngrahamAngle. I just tweeted about it as did a few others. Listen carefully.
Q !!mG7VJxZNCI ID: 6a5197 No.6303367 Apr 25 2019 02:45:14 (UTC)
Q !!mG7VJxZNCI ID: 6a5197 No.6303277 Apr 25 2019 02:41:21 (UTC)

https://www.youtube.com/watch?v=4_yMcVq6-ak
[11:00]
Listen very carefully to statements made by Joe D.
It's happening.
Q
>>6303277
Same filename & image as 14 May 2018 drop. Pain coming.
#QAnon 3318…
Drop has the Punisher skull frequently symbolic of #PAIN…
#Phase3
#Justice
Q !!mG7VJxZNCI ID: 6a5197 No.6303319 Apr 25 2019 02:43:04 (UTC)
At 19:19 Di Genova: "There's a hero in this entire story. His name is ADM Mike Rogers. He was the head of the NSA. He discovered the illegal spying. He went personally to the FISC & briefed the Chief Judge and worked with her. Barr knows who lied to the FISC."
4 FBI contractors spied on Republicans for more than 4 years before the 2016 election. Joe diGenova says "@JohnBrennan isn't going to need one lawyer; he's going to need five".
Joe diGenova says there will be a report out on @Comey in 2 weeks that will be a "bombshell". He said there will be criminal referrals.
"Future proves past". We knew from the start of this Q op that ADM Rogers met with POTUS w/o Hussein's "authority" to warn him he was being spied on at Trump Tower prompting him to move his entire operation to NJ. Now we learn he helped FISC identify those who were illegally spying.
#QAnon 3319…
Nod to a real "Hero" in this process to reclaim The Republic and bring those engaged in the conspiracies to Justice, Adm Mike Rogers [ ! ]
Q mentions Admiral Rogers. Joe D said on Hannity Adm Rogers is a hero. He told @potus that the spying was taking place and Joe said on Hannity Adm Rogers was working with chief of FISA Court for several months to find out who was responsible for illegal FISA warrants.
Q told us as early as October 2017 that Adm Rogers was the one who warned @potus about Hussein's illegal spying causing @potus to move his transition HQ from Trump tower to Mar a Lago. Adm Rogers working for months with chief Judge of FISA Courts to expose this scum.
Q !!mG7VJxZNCI ID: b9f8c7 No.6304364 Apr 25 2019 03:53:51 (UTC)
I knew the FakeNews would attempt to connect the Militia leader who was arrested on the border with #qanon. Sure enough they try to do it indirectly via the group he is a part of: United Constitutionalists Patriots…the charge: the UCP discusses #Qanon. pic.twitter.com/r5YthACzck

— De_Oppresso_Liber (@Sun_Q_Tzu) April 25, 2019
You attack those you fear the most.
Nothing can stop what is coming.
Nothing.
Q
#QAnon 3320…
@Sun_Q_Tzu Tweet on a Deep State Media mention of Q in a story about the New Mexico militia leader, Larry Hopkins, that was arrested by the FBI for doing the same job that over stretched Border Patrol agents are attempting to do.
I got "Q'ed" again… As q said, the cabal attacks those they fear the most… we need to support this patriot all the more!
I'm honored that Q would use my post to reiterate that this D-5 avalanche of exposing evil deeds and punishing the evil doers cannot be stopped. Nothing can stop it! I'm pumped! We are ready for the PAIN Q!
Q !!mG7VJxZNCI ID: b9f8c7 No.6304470 Apr 25 2019 03:58:06 (UTC)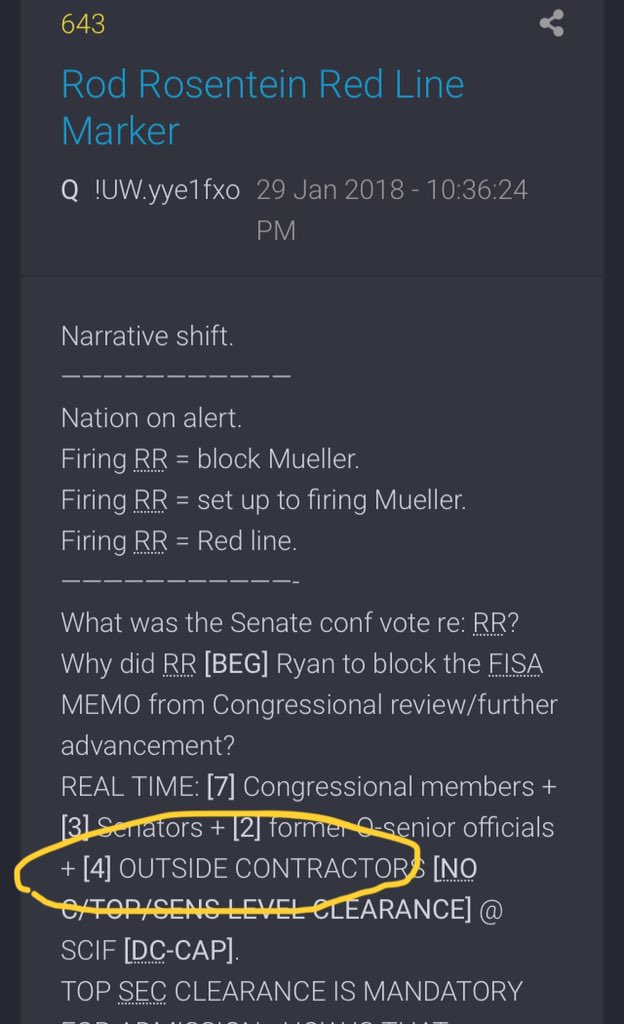 This is why we are here.
Good find, Anons.
[4] Contractors?
Joe D. stated tonight?
Nothing to see here.
Q
Another "Future proves past". Joe Di Genova said 4 contractors spied on Republicans for 4+ years before 2016 election. 29 Jan 2018 we learned 7 members of Congress, 3 Senators, 2 former Hussein officials and 4 contractors without top-level clearances met in a SCIF in DC.
#QAnon 3321…
Image of 643 which tells us of the SCIF meeting of 7 Congressmen, 3 Senators, 2 former Hussein Admin officials, and as JoeD told us tonight, the "4contractors" that had been spying on Republicans for 4 years prior to the 2016 elections [ ! ]
Q !!mG7VJxZNCI ID: b9f8c7 No.6304666 Apr 25 2019 04:07:10 (UTC)
Q telling us to "stay tuned" for MANY more Q proofs. I'm loving this more than I can say! To all the naysayers and anti-Q Hatriots… enjoy the show. 😏
Kudos to @DarnelSugarfoo for the Q shout-out!
#QAnon 3322…
Link 2 @DarnelSugarfoo Tweet on the "4contractors" Joe Di Genova noted and drop No. 643 from #Q.
Joe D confirms what Q told us in Jan 2018 re the 4 FBI contractors. Further QAnon proof @JackPosobiec and @ScottAdamsSays… are you guys ready to admit you're wrong about Q? We are waiting…
Q !!mG7VJxZNCI ID: 819412 No.6305138 Apr 25 2019 04:34:00 (UTC)
This tweet by Hussein was posted the year after the spying by the 4 contractors mentioned by Di Genova is believed to have started (in 2012). They just love to flaunt their criminal/treasonous activities.
#QAnon 3323…
Link to Hussein's "I spy…" Tweet, from 15th February 2013…
Will it age well?
It does appear that he was telling the truth…
For what that's worth… Gives me an excuse to add another image here at the end of this 25th April 2019 run of Q Drops.
Q trolling Hussein… this tweet from Hussein will not age well at all… Hussein thought he was being slick and having a secret laugh with his cabal friends after posting the "I Spy" tweet on 2/15/13. Who's laughing now traitor?
Clicks on the Ads Keep Us Alive 🙂
Rain
If you want to see a rainbow, you have to learn to love the rain.
Paulo Coehlo
2020 Server Cost Support - 3200 €

1%

1%
Support Disclosure News Italia
We are working hard, and every day, to keep this blog. Like you we are fighting for the truth. If you want to work with us you are welcome, please email us! The blog costs are at our expense, advertising reimburse us very marginally so if you like our work and find it useful buy usacoffee clicking the donation button below that will directu to your PayPal. We need the help of people like you!
Bitcoin & Cryptocurrencies Donation
1M9dohWnHBwNLSPd6afRaJackrw6wK9bxY
Flower of Life Sticker Pack - 10 Stickers - 5 White 5 Black 9.5 x 9.5 cm