QAnon 30 May 2020
Terrorists
Clicks on the Ads Keep Us Alive 🙂
Q !!Hs1Jq13jV6 ID: c06c87 No.9378157 May 30 2020 16:05:48 (UTC)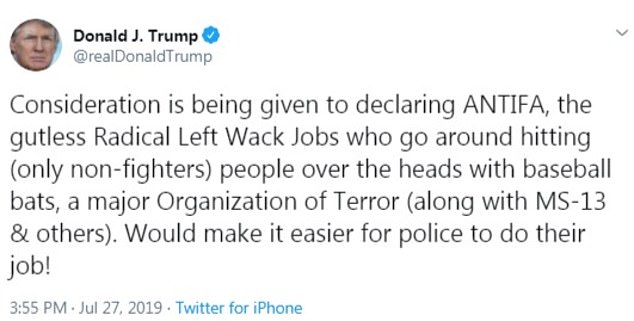 https://2009-2017.state.gov/documents/organization/119629.pdf
Irregular warefare.
Insurgency.
Insurgency is the organized use of subversion and violence to seize, nullify or challenge political control of a region. As such, it is primarily a political struggle, in which both sides use armed force to create space for their political, economic and influence activities to be effective. Insurgency is not always conducted by a single group with a centralized, military-style command structure, but may involve a complex matrix of different actors with various aims, loosely connected in dynamic and non-hierarchical networks. To be successful, insurgencies require charismatic leadership, supporters, recruits, supplies, safe havens and funding (often from illicit activities). They only need the active support of a few enabling individuals, but the passive acquiescence of a large proportion of the contested population will give a higher probability of success. This is best achieved when the political cause of the insurgency has strong appeal, manipulating religious, tribal or local identity to exploit common societal grievances or needs. Insurgents seek to gain control of populations through a combination of persuasion, subversion and coercion while using guerrilla tactics to offset the strengths of government security forces. Their intent is usually to protract the struggle, exhaust the government and win sufficient popular support to force capitulation or political accommodation. Consequently, insurgencies evolve through a series of stages, though the progression and outcome will be different in almost every case.
Location(s) [cities] loss-of-control?
[D] controlled?
Define 'stand down' [safe haven] order.
Define 'organized' group.
Coordination of 'organized' [& funded] group(s) in [D] controlled 'safe haven' cities across US [pre_knowledge to group(s)]?
https://banks.house.gov/news/documentsingle.aspx?DocumentID=1548
https://fitzpatrick.house.gov/media-center/press-releases/fitzpatrick-condemns-antifa-and-political-violence
https://thehill.com/homenews/senate/454038-2-republican-senators-introduce-resolution-to-label-antifa-as-domestic
Thank you for playing.
Have a Nice Day.
Q
Soros' army of insurgents doing everything "by the book". FBI should label Antifa extremist ideology. Antifa should be labeled domestic terrorists. Senators agree.
Antifa was organized in accordance with the Deep State playbook for overthrowing Countries by using insurgencies.
Potus has called Antifa out as a terrorist group but DOJ has not yet adopted this designation. Repubs requested Antifa be designated a terrorist organization. The question is When? Why haven't they been rounded up and arrested already? I think Potus and AG Barr waiting for the most opportune time and are collecting additional evidence so the terrorist designation and forthcoming tribunals against those funding and organizing Antifa (soros, Schiff,) behind the scenes will lead to air tight cases and convictions. I'm praying this will finally lead to the arrest of Soros in the next month or two.
Antifa and BLM were active last summer And they've been relatively quiet until now. They were given a stand down order until now. They have been hiding in Democrat controlled cities and states and further organizing the last few months. Dems are now pulling out all stops and have activated their army of losers for the beginning of summer.
People appear to be waking up to these facts. How is it that organized riots came together within 48 hours of George Floyd's death in several Democrat controlled cities? Many of the African American protesters who have legitimate reasons to be angry and protest are calling these scrawny losers dressed in black for instigating destruction of businesses.
Q !!Hs1Jq13jV6 ID: c06c87 No.9378188 May 30 2020 16:07:09 (UTC)
Q !!Hs1Jq13jV6 ID: c06c87 No.9378157 May 30 2020 16:05:48 (UTC)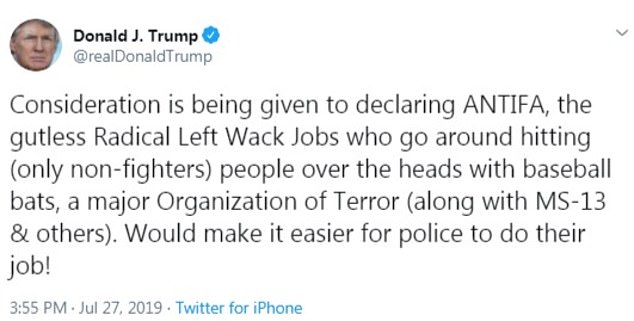 https://2009-2017.state.gov/documents/organization/119629.pdf
Irregular warefare.
Insurgency.
Insurgency is the organized use of subversion and violence to seize, nullify or challenge political control of a region. As such, it is primarily a political struggle, in which both sides use armed force to create space for their political, economic and influence activities to be effective. Insurgency is not always conducted by a single group with a centralized, military-style command structure, but may involve a complex matrix of different actors with various aims, loosely connected in dynamic and non-hierarchical networks. To be successful, insurgencies require charismatic leadership, supporters, recruits, supplies, safe havens and funding (often from illicit activities). They only need the active support of a few enabling individuals, but the passive acquiescence of a large proportion of the contested population will give a higher probability of success. This is best achieved when the political cause of the insurgency has strong appeal, manipulating religious, tribal or local identity to exploit common societal grievances or needs. Insurgents seek to gain control of populations through a combination of persuasion, subversion and coercion while using guerrilla tactics to offset the strengths of government security forces. Their intent is usually to protract the struggle, exhaust the government and win sufficient popular support to force capitulation or political accommodation. Consequently, insurgencies evolve through a series of stages, though the progression and outcome will be different in almost every case.
Location(s) [cities] loss-of-control?
[D] controlled?
Define 'stand down' [safe haven] order.
Define 'organized' group.
Coordination of 'organized' [& funded] group(s) in [D] controlled 'safe haven' cities across US [pre_knowledge to group(s)]?
https://banks.house.gov/news/documentsingle.aspx?DocumentID=1548
https://fitzpatrick.house.gov/media-center/press-releases/fitzpatrick-condemns-antifa-and-political-violence
https://thehill.com/homenews/senate/454038-2-republican-senators-introduce-resolution-to-label-antifa-as-domestic
Thank you for playing.
Have a Nice Day.
Q
>>9378157
'War[e]fare' misspelling unintentional.
On the move.
Q
Typo in "war[e]fare" was unintentional. I'm sure plenty going on behind the scenes between POTUS & FLOTUS heading to the launch today and having to deal with all these Soros Funded Riots.
Q !!Hs1Jq13jV6 ID: 833dbf No.9378487 May 30 2020 16:28:45 (UTC)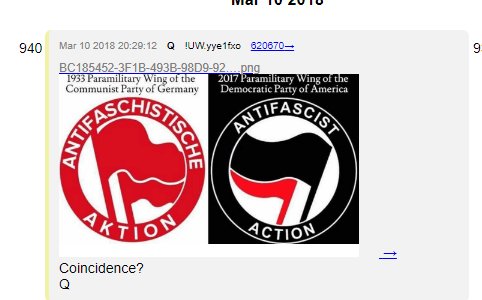 Anti-American?
Domestic terrorists?
Organized?
Fascists?
Extreme Radical(s)?
Violent?
POTUS action coming.
Homeland Security _FBI_DOJ action coming.
Investigations may lead to [D][F] 'support' targets.
Q
YES! POTUS action coming to deal w/these anti-American terrorists. Looking forward to DHS, DOJ, FBI actions too. Investigations will most certainly lead to Soros & Dems both [D]omestic & [F]oreign support orgs (e.g., Brennan Center for Justice & Open Society Foundation?).
Q !!Hs1Jq13jV6 ID: 833dbf No.9378677 May 30 2020 16:37:58 (UTC)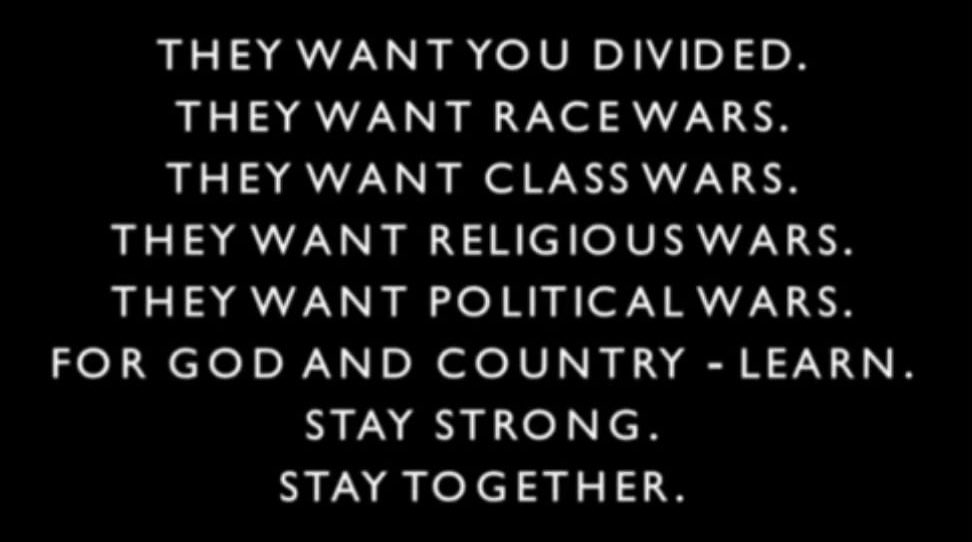 @kate_awakening had just used this same meme in a reply to POTUS! This is EXACTLY what they want. I was up most of the night watching all the coverage on TV & social media. The sheer hatred I saw was stunning but much of it contrived by Soros' goons.
I'm praying this major action is coming in the next week or two. It's discouraging watching ANTIFA and BLM destroy small businesses and hurt innocent people with no consequences them let one of Qs prior posts. Once a terrorist designation is applied to them, they will be deemed enemy combatants. We will discover the foreign and domestic money behind ANTIFA.
We know the US Army infiltrated ANTIFA amd has been spying on them building a case against
Congrats to my friend @kate_awakening on getting "secretly Qued"!
Q !!Hs1Jq13jV6 ID: dfeca6 No.9379818 May 30 2020 17:58:39 (UTC)
An ARMY of volunteers in Minneapolis helping neighbors clean up business damage. "Bring a broom" they were told. What a sight. pic.twitter.com/OjzXpEXCLk

— Matt Finn (@MattFinnFNC) May 30, 2020
God bless these beautiful souls. What a shame that they have to spend their Sat cleaning up the mess left behind by a bunch of pathetic, anti-American Soros THUGS.
Q !!Hs1Jq13jV6 ID: 2ed5a0 No.9380132 May 30 2020 18:19:47 (UTC)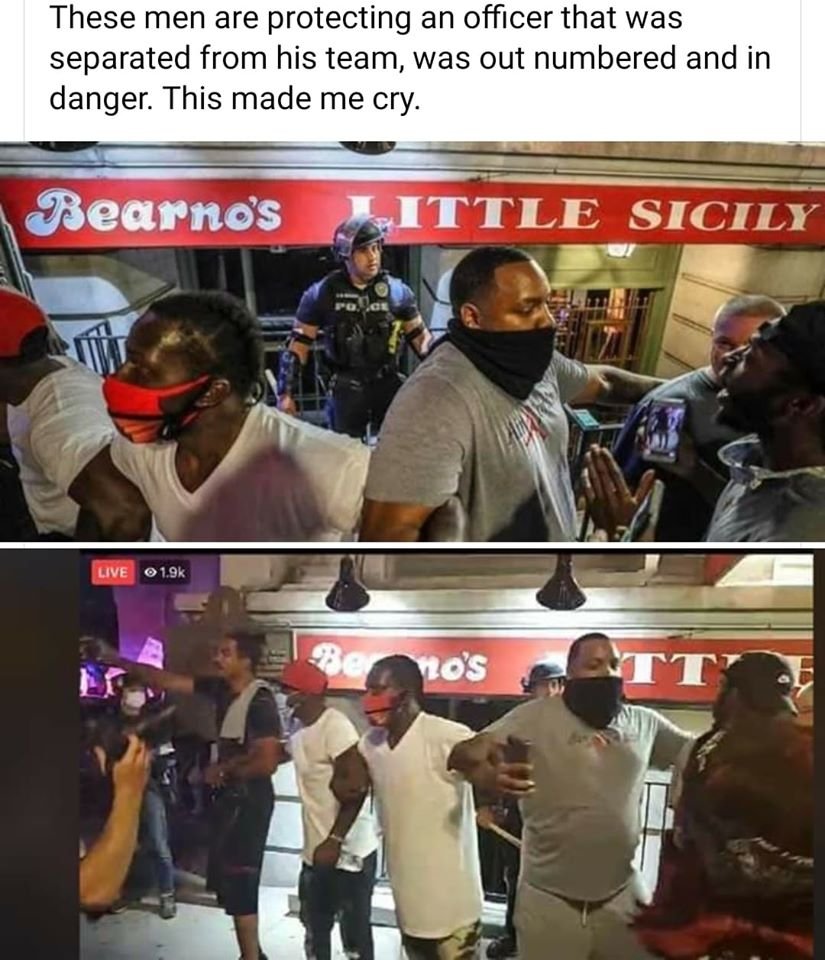 Saw these pics earlier from @ScubaSteveing. God bless these men. They are NOT the ones rioting, attacking people, & destroying property. Antifa & BLM are the agitators. I'm sure they are just as disgusted with these outsiders destroying their communities.
The majority of These Americans subjected to the slavery of the Deep State are good Americans. They simply want justice. I think they are waking up to the truth of who is ultimately responsible for the cycle of poverty, the violence and the hate.
Q !!Hs1Jq13jV6 ID: 2ed5a0 No.9380476 May 30 2020 18:39:37 (UTC)
AG Bill Barr:

"In many places, it appears the violence is planned, organized & driven by anarchtic left extremist groups—far left extremist groups using Antifa-like tactics."pic.twitter.com/VFlIHg54nk

— Daily Caller (@DailyCaller) May 30, 2020
I believe POTUS has intel Antifa plans on showing up tonight at WH & elsewhere wearing MAGA gear. MN Gov & MSM already trying to paint violent rioters as "white supremacists/nationalists". Would strongly advise staying FAR away.
It's almost as if Q knew AG Barr would be speaking on this topic before he spoke on it.
Q !!Hs1Jq13jV6 ID: 58b904 No.9382690 May 30 2020 21:37:32 (UTC)
Boente said in recently leaked memo that material put into public record re: Flynn was not exculpatory. Memo undermines DOJ's latest position that material re: Flynn was mishandled by prosecutors.
All resignations tracked here:
resignation.info
Update the list of firings to include top lawyer at FBI Dana Boente.
It's about time he was fired.
Q !!Hs1Jq13jV6 ID: 63d310 No.9383164 May 30 2020 22:11:47 (UTC)
Insurrection Act of 1807.
[Determination that the various state and local authorities are not up to the task of responding to the growing unrest]
Call the ball.
Q
If POTUS goes this route, "it would represent a significant escalation & a determination that the various state and local authorities are not up to the task of responding to the growing unrest."
Potus giving Local authorities one more chance to act to quell the riots and then Military stepping in.
Basically President Trump is giving local authorities a chance to correct the path they are on but they will not take it because they are beholden to Soros and the Democrat power brokers. They will crash and burn.
Call the Ball def attached.
Have faith in Humanity. We are in this together. WWG1WGA!!! Q
UPDATED 22 UTC — Perhaps some understood the significance of the music posted yesterday. How many of our brothers and sisters play this song prior to the drop (LZ)? It's going to be a very hot summer. Add to your playlist. Q
UPDATED 8 UTC — Why would [D]s block a bill that stops infanticide [allow abortions up to point of birth] and does not provide new restrictions on abortion itself? How is taxpayer funded [PP] allowed to donate [large sums] of taxpayer funds to select members of [D] party? Is this about a woman's right to choose OR SOMETHING ELSE?
Clicks on the Ads Keep Us Alive 🙂
Conversion
Life sets aside moments of joy and years of pains. It's better you convert the moments in hours and the years in minutes.
Costantino Rozzi
2020 Server Cost Support - 3200 €

79%

79%
Support Disclosure News Italia
We are working hard, and every day, to keep this blog. Like you we are fighting for the truth. If you want to work with us you are welcome, please email us! The blog costs are at our expense, advertising reimburse us very marginally so if you like our work and find it useful buy usacoffee clicking the donation button below that will directu to your PayPal. We need the help of people like you!
Bitcoin & Cryptocurrencies Donation
1M9dohWnHBwNLSPd6afRaJackrw6wK9bxY