QAnon 24 June 2020
Seditious Conspiracy
Clicks on the Ads Keep Us Alive 🙂
Q !!Hs1Jq13jV6 ID: 13fbce No.9729490 Jun 24 2020 15:22:06 (UTC)
The People's General.
Soon.
***
Q
With the awesome news re: Fed Appeals Court ordering Judge Sullivan to dismiss the case against General Flynn, we will soon see him back in action!! Cannot WAIT! Congratulations @GenFlynn & @SidneyPowell1! ⭐⭐⭐
The peoples General.
General Flynn.
Justice is coming.
Soon.
Q !!Hs1Jq13jV6 ID: 13fbce No.9729708 Jun 24 2020 15:36:36 (UTC)

🚨Peter Strzok notes from 1/4/17 released in Flynn case:

Discussion among Obama, Comey, Yates, Biden, and Susan Rice.

Biden: "Logan Act"

Obama: "Have the right people on" Flynn case.

Comey: The Flynn/Kislyak calls "appear legit." pic.twitter.com/20a3z46Z9Z

— Techno Fog (@Techno_Fog) June 24, 2020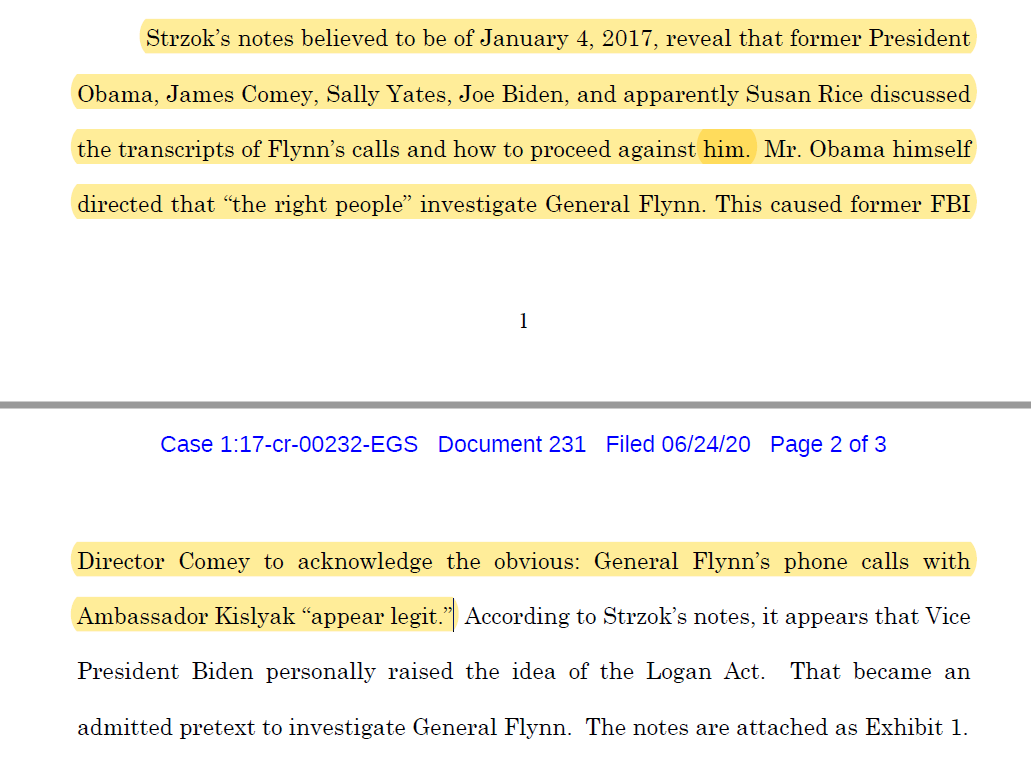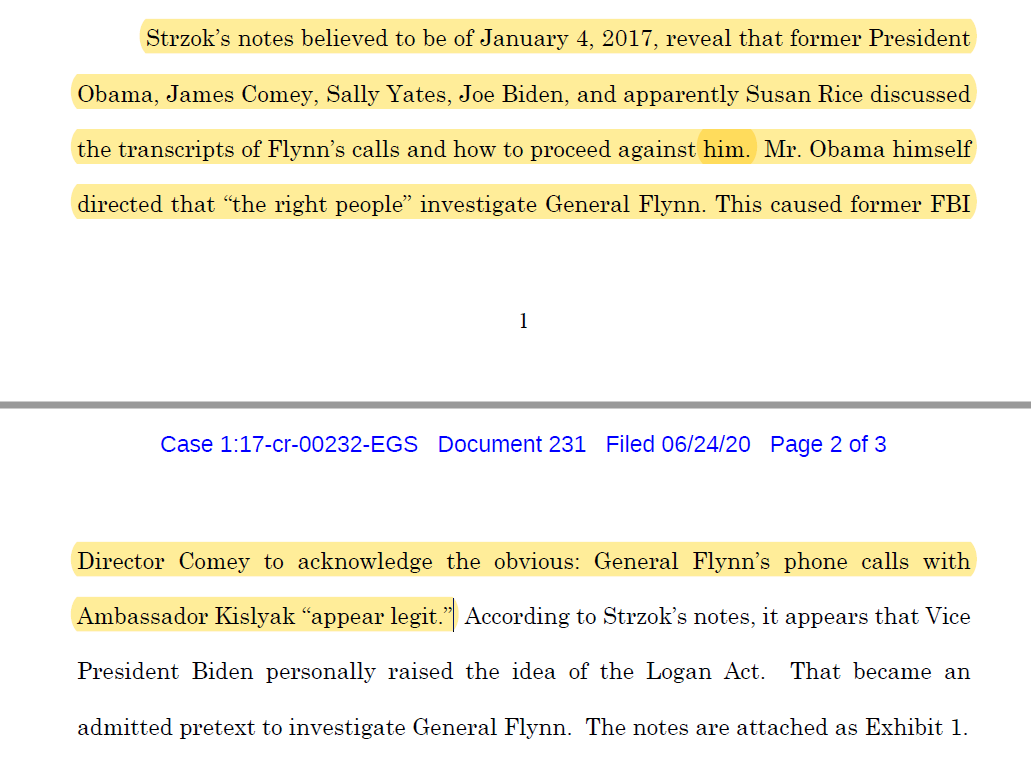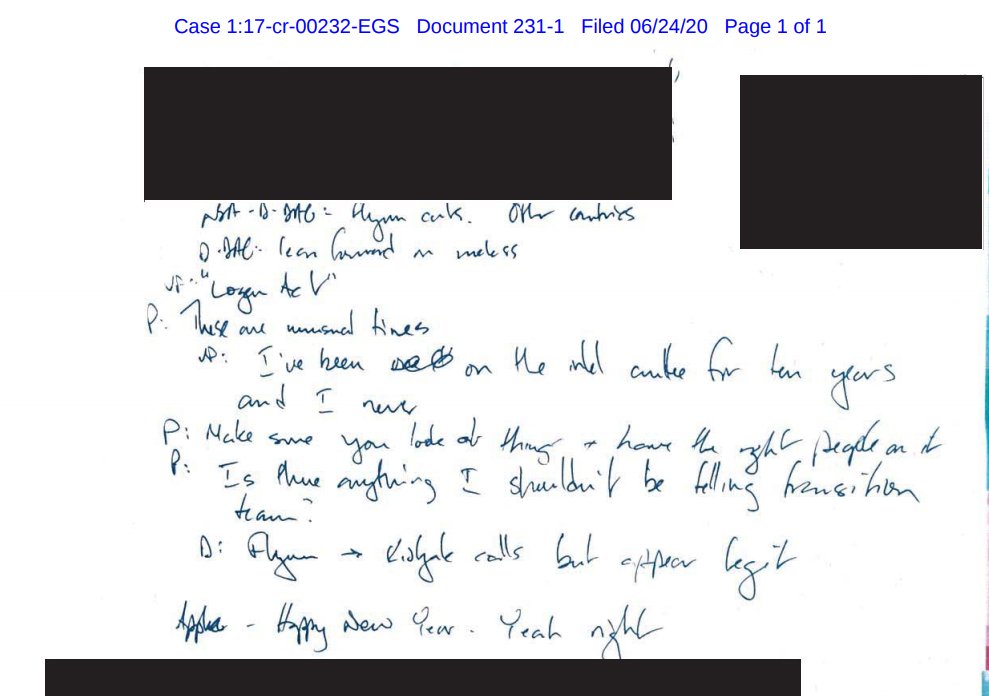 They never thought she would lose.
Careless.
Q
Yesterday @DavidBrodyCBN asked POTUS what crime he's accusing Hussein of committing.
POTUS: "Treason. It's treason."
Can't believe they were stupid enough to keep records of their coup plans. They KNEW @GenFlynn was innocent.
They never thought she would lose. They were careless. Traitors being exposed. This is a huge reveal. Shows Hussein directing action against General Flynn and Biden was in on it as well. They knew it was based on a fraudulent predicate
Q !!Hs1Jq13jV6 ID: ef914d No.9730310 Jun 24 2020 16:20:43 (UTC)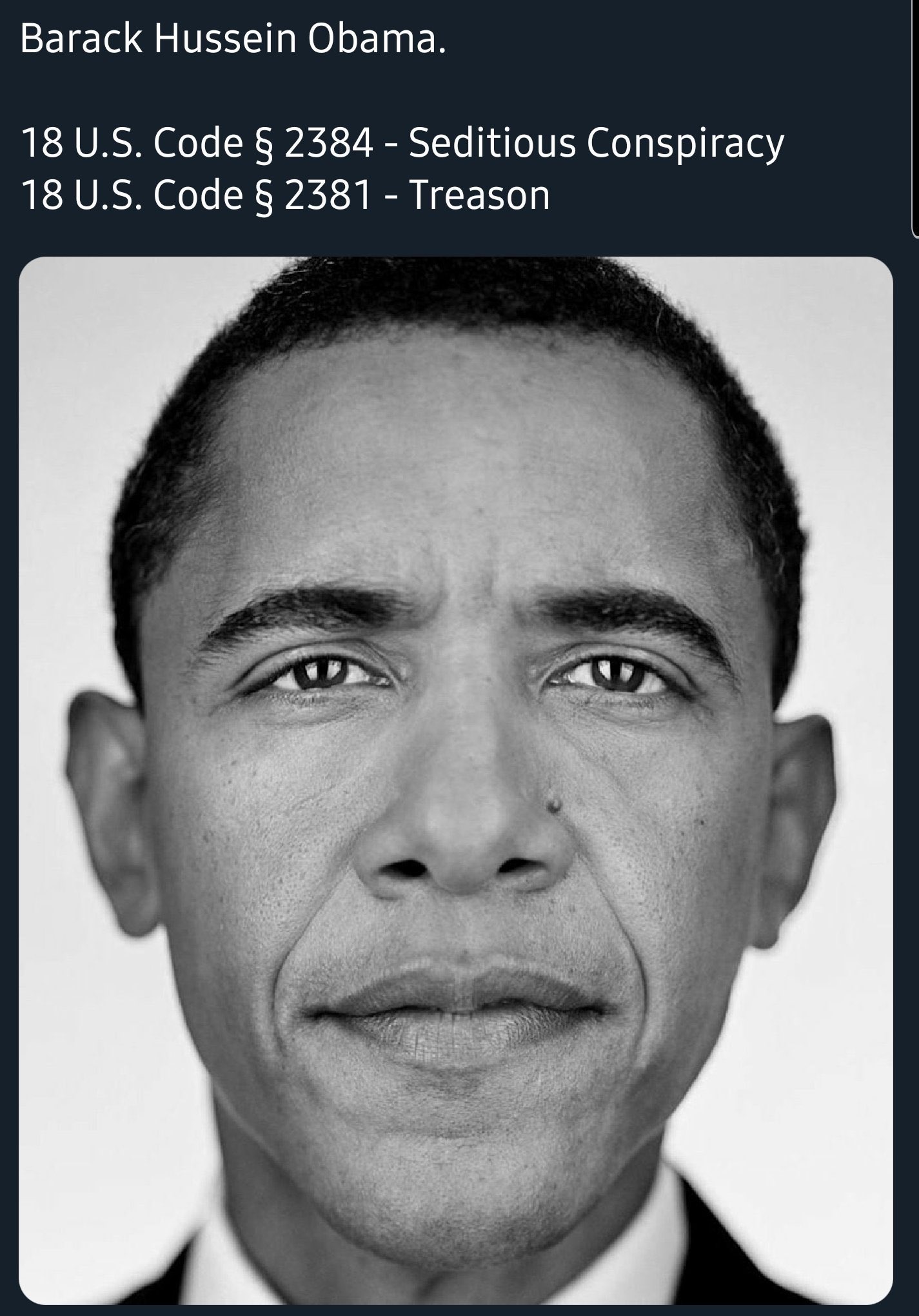 Add Biden?
Memes are important.
Q
@WarNuse has compiled an extensive thread with all of these treasonous, seditious bastards involved in "The Coup D'état".
Q !!Hs1Jq13jV6 ID: f4ac89 No.9730975 Jun 24 2020 17:01:36 (UTC)
You have been selected to help serve your Country.
Never retreat from the battlefield [Twitter, FB, etc.].
Use other platforms as a form of centralized command and control.
Organize and connect [bridge through linking].
Source meme(s) material from battlefield and/or garage [highlight & share][take & drop]
Mission 1: Dispute [reject] propaganda push through posting of research and facts
Mission 2: Support role of other digital soldiers [one falls another stands (rises)]
Mission 3: Guide [awaken] others through use of facts [DECLAS 1-99 material and other relevant facts] and memes [decouple MSDNC control of info stream] _ask 'counter' questions to initiate 'thought' vs repeat [echo] of MSDNC propaganda
Mission 4: Learn use of camouflage [digitally] _primary account suspended-terminated _use of secondary
Mission 5: Identify strengths / weaknesses [personal and designated target(s)] re: Twitter & FB [+other] example re: meme(s) failure to read through use of ALGO [think Tron (MCP_master control program)] _dependence on person-to-person capture [slow response time unidentified user(s)]
Game theory.
Information warfare.
Welcome to the Digital Battlefield.
Together we win.
Q
Yesterday @GenFlynn told us to get ready. Day before Q told us not to surrender the digital battlefield. Today, we get our marching orders. Counter MSM lies, spt fellow warriors, redpill others w/facts & memes, have backup acc & avoid pitfalls that get people suspended.
Q lays out our mission as digital soldiers.
You are awake for a reason patriots.
The battlefield is Twitter, Facebook and Instagram. These are the big social media platforms where the world is watching. It's great to have backup accounts on Parler, but for now @Potus is here, the world is here, and the battle is here on Twitter.
Q is telling us to use other platforms (like Parler) as a form of centralized command and control. Organize with other patriots and connect. Form groups of your peers on Twitter that you tend to interact with for the purpose of coordinating joint efforts to expose the Deep state and promulgate the patriot message.
Link other accounts for more exposure. Memes are an effective way to fight this battle as they avoid Twitter and FB suppression algos. If you use someone else's meme, do source it but spread it around and save it for future use. http://Qproofs.com has compiled several memes.
Mission 1: dispute Deep State propaganda by citing to research and facts
Mission 2: support other digital soldiers, and if one is taken down, take their place and keep spreading the message. This fight is so much bigger than any one of us. If you are using your real identity to promote the MAGA message and you get doxxed or you get harassed, consider becoming an anon. This happened to me in 2018 and I became an anon. I have much more freedom to post as a result.
Mission 3: @Potus is about to declass a ton of classified info related to the coup and crossfire hurricane. When he does, be prepared to use it to wake up the public and use the info to meme. These efforts decouples the MSDNC control of the info stream.
Q is reminding us to use the Socratic method as he does and ask questions to cause people to think. People tend to interact more with tweets or threads that ask questions. You can state a lot of truth in a question if you pose it properly.
Mission 4: Learn to hide yourself digitally to avoid bot detection. Use secondary accounts to spread memes. Have a backup account and list it in your profile.
Mission 5: learn from your mistakes and learn when Twitter suspends your account for 12 hours. My account been suspended once for 12 hours for using a key trigger word. I have not used that word since and I try to be careful how I word certain things to avoid the algos. Sometimes it does not matter.
Twitter and FB have larger Q accounts and patriot accounts targeted so use a secondary account or a friend to spread important memes or messages.
This is the informational warfare battlefield. Game Theory
Q !!Hs1Jq13jV6 ID: f4ac89 No.9731054 Jun 24 2020 17:06:33 (UTC)
Anonymous ID: a4abe1 No.9731023 Jun 24 2020 17:04:50 (UTC)

>>9730975
I do solemnly swear (or affirm) that I will support and defend the Constitution of the United States against all enemies, foreign and domestic; that I will bear true faith and allegiance to the same; that I take this obligation freely, without any mental reservation or purpose of evasion; and that I will well and faithfully discharge the duties of the office on which I am about to enter: So help me God. WWG1WGA
>>9731023
Take the oath.
Mission forward.
Q
40 years ago, I took the Oath of Enlistment. That oath has no expiration date. This oath is slightly different and I am happy to re-up in POTUS' Digital Army!
I needed to read these last two posts from Q. It's discouraging spending time doing this analysis only to see Twitter algorithms heavily suppress Q analysis…
Q giving the oath to digital soldiers. This is the informational warfare battlefield patriots. General Flynn knew it and prepared us for it when he gave us the term "digital soldiers"
Q !!Hs1Jq13jV6 ID: f4ac89 No.9731255 Jun 24 2020 17:17:11 (UTC)
This has never been attempted.
Use of general public to counter the narrative [propaganda] push by controlled media.
Analysis [start-to-now] indicates situational awareness [decoupling of MSDNC control of information (channels 1-99)] of general public expanding at massive pace.
Attacks indicate [can be defined as] loss of generalized information control.
Need to expend ammunition [muster network to defend and coordinate attacks] to counter.
MIL-CIV Alliance.
Q
POTUS said @ 1 Nov '18 rally, "We have to bypass the media in order to get straight to the people." "We've gone around them like no one in history has gone around them."
Analysis shows WE have the upper hand. They have to keep expending ammo to counter.
What Q is doing with patriots has never been attempted.
General Flynn is leading this battle behind the scenes. This plan has been in the making for many years. You are part of that plan patriot.
Q has been training patriots to assist in preparing the public to counter the MSDNC narrative (propaganda). The number of people reading and posting about Q analysis indicates situational awareness and indicates that the public is waking up to the control of information by the MSDNC. Channels 1-99 indicates the number of ways the Fake News and Globalists have controlled the flow of information to the public for years. One such channel is the tv. Another is the internet. Another is Hollywood movies. Another is Hollywood music, etc, etc.
They never contemplated the tool of social media being used against them to wake up the public. You know they are losing control of the info flow when the attacks increase. They expend ammo because they are in a panic that they are being decoupled.
This is the largest joint operation between the US Military and civilian patriots ever.
Q !!Hs1Jq13jV6 ID: 90276d No.9731559 Jun 24 2020 17:32:07 (UTC)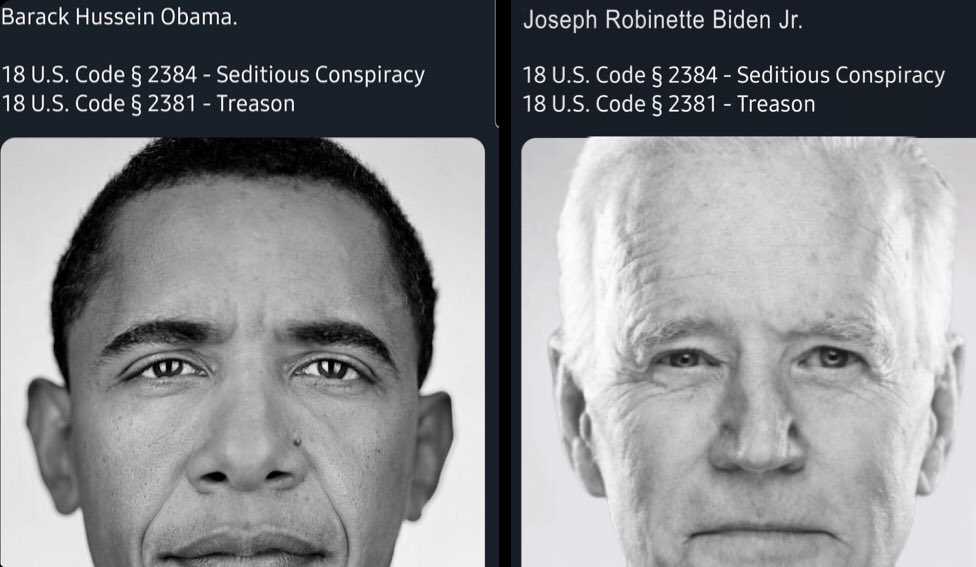 Biden said last month: "I know nothing about those moves to investigate Michael Flynn."
Acc to Strzok's notes, he suggested using Logan Act.
Q !!Hs1Jq13jV6 ID: 0c5740 No.9732807 Jun 24 2020 19:05:48 (UTC)
We know @CYBERCOM_DIRNSA and @DNI_Ratcliffe are "Good". I would imagine NSA has plenty of intel (SIGINT data) on bad actors to share with Ratcliffe. Remember, FISAs work both ways.
Q !!Hs1Jq13jV6 ID: 0c5740 No.9732889 Jun 24 2020 19:11:28 (UTC)
"The scale this generates is disproportional enough to distort public perception: In 2018, ISD identified close to 30m uses of the word "QAnon" across Twitter, YouTube and forums such as Reddit and 4chan."
Numbers today dwarf past estimates.
Handle w/ care.
Q
Q !!Hs1Jq13jV6 ID: 0c5740 No.9732923 Jun 24 2020 14:12:54 (UTC)
Q !!Hs1Jq13jV6 ID: 0c5740 No.9732889 Jun 24 2020 19:11:28 (UTC)

Worth remember – Feb 2019
https://www.theguardian.com/commentisfree/2019/feb/18/online-conspiracy-theorists-democracy
"The scale this generates is disproportional enough to distort public perception: In 2018, ISD identified close to 30m uses of the word "QAnon" across Twitter, YouTube and forums such as Reddit and 4chan."
Numbers today dwarf past estimates.
Handle w/ care.
Q
>>9732889
[ing] error.
On the move.
Q
Stats from Feb '19 worth remember[ing]. All you need to do is look at your own Twitter analytics to see how much engagement you're getting IN SPITE of censorship/shadowbanning. Our reach is MASSIVE. It's why all assets are actively trying to silence us.
[infiltration] Only those who could[can] be controlled [via blackmail or like-beliefs] were installed in critical leadership positions across all political and non-political Control and Command Positions [CCP]. Traitors everywhere.
Do not mistake silence for inaction.
Information Warfare. Nothing Can Stop What Is Coming. Nothing. WWG1WGA!!! Q
Clicks on the Ads Keep Us Alive 🙂
Dreams
Dreams are today's answers to tomorrow's questions.
Edgar Cayce
2020 Server Cost Support - 3200 €

87%

87%
Support Disclosure News Italia
We are working hard, and every day, to keep this blog. Like you we are fighting for the truth. If you want to work with us you are welcome, please email us! The blog costs are at our expense, advertising reimburse us very marginally so if you like our work and find it useful buy usacoffee clicking the donation button below that will directu to your PayPal. We need the help of people like you!
Bitcoin & Cryptocurrencies Donation
1M9dohWnHBwNLSPd6afRaJackrw6wK9bxY