QAnon 22 May 2020
Worth Remembering
Clicks on the Ads Keep Us Alive 🙂
Q !!Hs1Jq13jV6 ID: 46a577 No.9272754 May 22 2020 03:52:30 (UTC)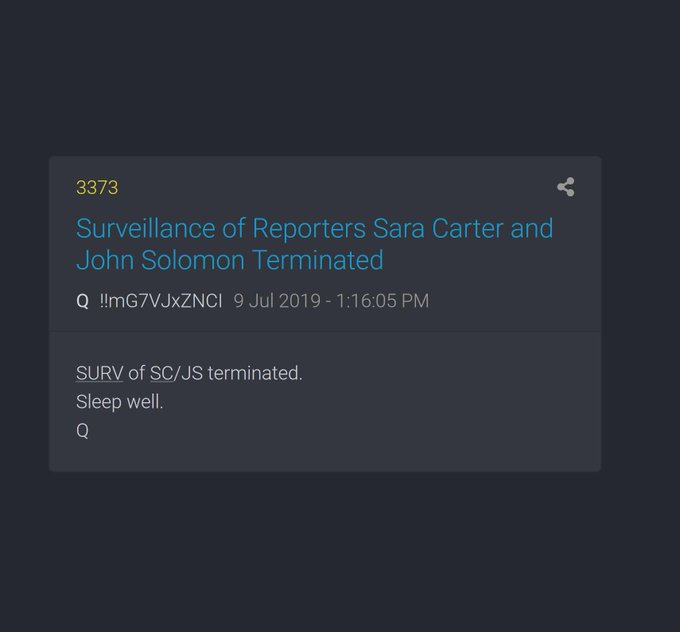 Yovanovitch monitored reporters (eg. JS/SC). Removed from post May '19. JS/SC surveillance ended 8 Jul '19. Firing of StateDept IG related? Fox News: "Relevant to upcoming DECLAS events?"
Looks like Hussein Appointed ambassador to Ukraine, Yovanovitch, was one of the persons who requested that @jsolomonReports and @SaraCarterDC be spied upon and monitored while in Ukraine.
UPDATED 23 UTC — Important to understand. MSDNC [+social media] projection we are the minority is false. WE ARE THE MAJORITY AND GROWING EVERY SECOND OF THE DAY. MSDNC [+social media] projection we are divided is false. WE ARE UNITED AND ONLY GETTING STRONGER. People are awake and see what is happening. Patriots have no skin color. Humanity is good. Q
UPDATED 17:30 UTC — You are witnessing the greatest [coordinated] disinformation campaign to ever be launched against the american people. Information warfare. Infiltration v invasion. Insurgency. Irregular warfare. [D] efforts to regain power. Q
Updated 22:00 UTC — Insurgency can be defined as 'the organized use of subversion and violence to seize, nullify, or challenge political control of a region.' Counterinsurgency may be defined as 'comprehensive civilian and military efforts taken to simultaneously defeat and contain insurgency and address its root causes'.
Clicks on the Ads Keep Us Alive 🙂
Tired
When your legs are tired, walk with your hearth.
Paulo Coehlo
2020 Server Cost Support - 3200 €

74%

74%
Support Disclosure News Italia
We are working hard, and every day, to keep this blog. Like you we are fighting for the truth. If you want to work with us you are welcome, please email us! The blog costs are at our expense, advertising reimburse us very marginally so if you like our work and find it useful buy usacoffee clicking the donation button below that will directu to your PayPal. We need the help of people like you!
Bitcoin & Cryptocurrencies Donation
1M9dohWnHBwNLSPd6afRaJackrw6wK9bxY